The world of dog food can seem very confusing, especially for first time dog owners. There seem to be so many decisions to make! Many products claim to be natural and packed with high quality ingredients but what ingredients does a dog need and what supplements help to keep them healthy? Nutro dog food is boutique premium dog food that is becoming more popular. Even though it can trace its origins back a century or so, its modern dog food recipes are impressive and dogs love them.
In the following Nutro dog food review you'll find all the facts to help you decide if Nutro dog food is right for you and your dog.
The 10 Top-Rated Nutro Dog Foods
Is Nutro a Good Dog Food?
To decide if Nutro dog food is a good dog food we analyzed Nutro dog food reviews and compared it to other dog food brands. In this Nutro dog food review, we consider the origins of the company, their current practices, the range of Nutro products for adults dogs and puppies, the ingredients in Nutro formulas, the Nutro dog food good points and bad points, and the reasons why you should choose this brand for your dog.
The Early Beginnings of Nutro
No Nutro dog food review is complete without a look at how the company started. It began with a man called John Saleen who purchased a small Californian pet food company in the 1920s. He came up with the Nutro dog food name and the company operated locally for many years. In 1976 it was purchased by Mars Incorporated but it was not until 1986 and the introduction of the Max line of products that sales took off and their dog food brands became available internationally.
The NUTRO Company Today
These days, the Nutro company stands out from other dog food brands in the way it provides reliable information on what dog foods should contain. Owners can find out what dog food needs to contain to maintain a healthy weight, a healthy metabolism, a healthy skin, a healthy digestion and all of their other dietary needs.
The Nutro company is a leading advocate for providing dog owners with the knowledge they need to choose great quality dog food for their fur baby containing natural ingredients. They provide dog foods that are not packed with an inexpensive filler that brings little in the way of nutritional value. Each ingredient delivers essential nutrients or vitamins and minerals that your furry friend needs. Their product line is the natural choice and are made using ingredients sourced from local framers. They use vitamin E as a preservative which means that Nutro products are the natural choice pet food with no potentially harmful chemicals.
Nutro Product Lines – Differences and Which One You Should Choose
No dog is left out with Nutro products. Here's a quick summary of the range of dog foods that they offer.
Nutro Natural Choice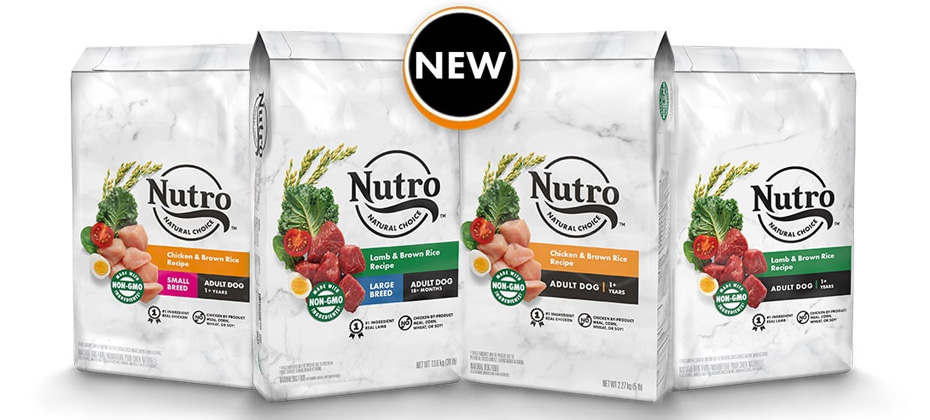 Image credit: Nutro
The first ingredient in these recipes is real meat or fish to provide healthy protein. There are whole grains for sustained energy release and to help with digestion. These dog foods are loaded with omega oils to promote a shiny coat. There are options for all ages and breeds as well as a weight management option for dogs that need to carefully control their weight.
Nutro Ultra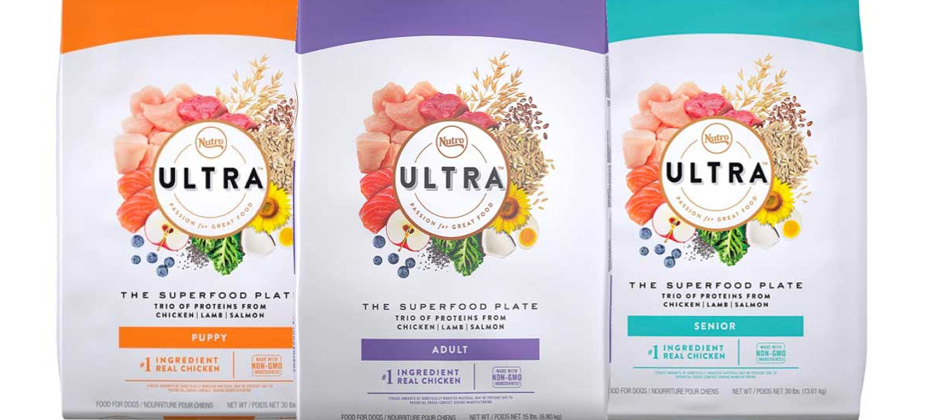 Image credit: Nutro 
All NUTRO ULTRA™ recipes follow the 'feed clean' philosophy and contain only high-quality ingredients from trusted farmers. The dog foods recipes are made with non-GMO ingredients. In this range you will be sure to find a delicious dog food that will suit your pooch. There are recipes for all ages and breeds as well as wet dog foods for fussy eaters.
Limited Ingredient
The limited ingredient range is suitable for dogs with allergies and food intolerances. You will find grain free dog foods and recipes that do not contain chicken or beef. The recipes do not compromise on taste and dogs still find them irresistible.
You may also like our review of the Best Grain Free Dog Food.
Ingredient Analysis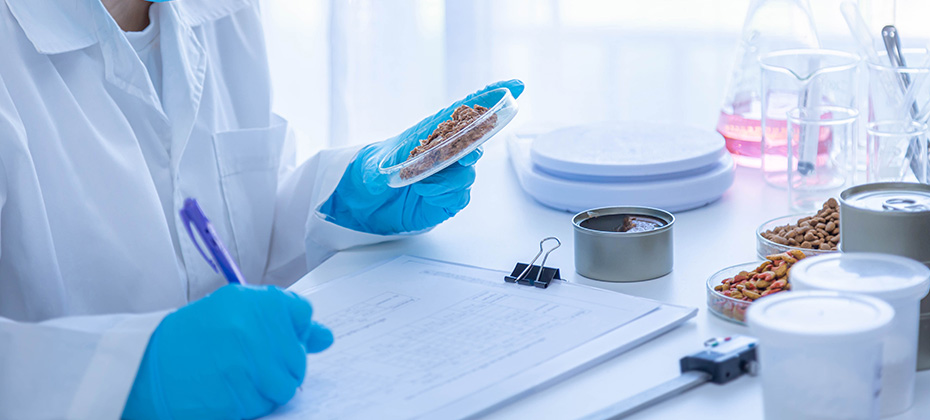 The ingredients of all Nutro dog food good recipes are listed on the packaging. They contain high quality sources of animal protein as the first ingredient such as salmon meal or farm raised chicken. Meat meals contain concentrated protein and help dogs to maintain a healthy weight. The high protein content helps dogs to build strong muscle. As well as fresh meat, the recipes often contain fruits (for vitamins and minerals), vegetables such as sweet potato for antioxidants, and beet pulp for healthy digestion.
The dog food recipes are designed specifically for different life stages. Adult dogs require a different nutritional profile to a growing puppy. The ingredients analysis will also vary by breed size as the dietary needs of a large breed are different to small breeds. They require more calories but need additional supplements to support their joints.
Read here our guides on the Best Large Breed Dog Food and Best Dog Food for Small Breeds.
Nutro Dog Food Recall History
You can find out about recalls of Nutro dog food by reading Nutro dog food reviews. Pet food recalls are issued when there are concerns about the safety of a particular product line. There have been two recalls to date.
The first recorded recall related to varieties of NUTRO® dry dog and cat food products that may have contained small pieces of melted plastic. The issue was identified promptly and only a very small number of products had reached stores. It is thought that the plastic originated from a worker's safety hat and the recall was issued as a precaution as it was not likely that any contamination would have reached the final product.
The second related to Nutro Chewy treats on December 12th 2015. There was a potential mold problem with the product. The recall applied to Nutro CHEWY Treats with Real Apples in a 4 ounce size. Specific affected lot numbers were detailed by the company.
Warning: When buying online, always ensure that you are purchasing a legitimate product, as there are many companies that will sell imitation products that can be easily mistaken for the real thing.
Featured image credits: Nutro  
Frequently Asked Questions
Vets recommend balanced dog food recipes that contain a high-quality source of protein. Some dog food reviews list vet-recommended products but you need to find a dog food review that relates to the type of dog that you have and their specific dietary needs.
Use dog food reviews to find a quality dog food that suits your breed of dog and any health issues that they have such as food intolerances, digestive issues or joint problems. A quick way to check that a food has a complete and balanced recipe is to look out for AAFCO approval. Always speak to your own vet if you have specific concerns.
You should always use the food before the use-by date. Dried food will last longer than wet recipes. You can only keep wet dog food for a day or so in the refrigerator and then it will need to be discarded. Bags of dried food, however, will last for several weeks in a cool, dry place if you seal the bag.
The NUTRO™ brand is constantly looking for ways to improve their products. The core dry dog food is now NUTRO™ NATURAL CHOICE™ which is available for several protein choices and for different sized breeds and life stages. The new recipes have retained the natural ingredients and vitamins and minerals with high-quality chicken, lamb, beef or venison meal. However, other ingredients such as kale and spinach have been added.
Also, the NUTRO dry dog food has a new, contemporary look. The bags have a bold and simple design focusing on ingredients and making the marketing message clear.
Nutro makes a total of eight dog foods that are suitable for large breed dogs. They have very different nutritional needs to small breeds. The Nutro Natural choice dry food range has a chicken and brown rice and a lamb and brown rice recipe that is suitable for large breeds adult dogs aged over 18 months. The first ingredients are high quality lean proteins and real meat.
Large breeds need special puppy dry food to protect the joints of pups under 18 months which have to be able to stand up to a lot of strain in later life. The growth rate of a large breed puppy must be carefully controlled. The range includes Nutro Natural choice chicken and brown rice recipe and lamb and brown rice recipe. There's also Nutro Ultra dog food superfood plate recipe which is a high protein recipe containing chicken, lamb and salmon as dry kibble.
Nutra produce a dry food for senior large breed dogs that will keep your furry friend healthy when they are aged over 6 years. It contains glucosamine and chondroitin to help aging joints.
Finally, as healthy weight management is so important in large breed dogs, there is a Nutro natural choice product specifically for weight management. It is a careful blend of protein and fiber to help dogs lose weight in a managed way.
Nutro have ranges of foods to suit all life stages including seniors. There is a senior version of the Nutro natural choice range, a senior recipe within the Ultra range and wet recipes that may suit an older dog that cannot manage kibble.
These recipes meet the specific health needs of an older dog and are tasty enough to tempt dogs whose appetite is not as great as it once was.
Nutro foods do not contain corn, wheat or soy. Whole grains such as brown rice are healthy for dogs as they help with digestion and are a source of fiber. However, many dogs have allergies or food intolerances to corn, wheat and soy so they are not included by several brands of dog foods. Grain free dog food can still cause allergies if dogs are allergic to other ingredients. If you are concerned about dog allergies, you should talk to your vet. Your dog may need a limited ingredient diet and there are products in the Nutro range that can help with this.