Are you looking for the
best dry dog food
for your large dog? Well, look no further! We have compiled a list of the top 10 large breed dog foods available on the market right now. When it comes to our large breed dogs, we like to know that we are going everything we can to help them develop in the best way that their breed should be. By providing them with the proper nutrition, we can at least ensure that their body can handle the rapid growth and impact these beautiful large breed dogs have to go through. Whether you are looking for grain-free, low carb, high calcium, or anything in between, to ensure a large breed dog is taken care of properly, you need to give them the right kind of large breed sustenance geared around helping bigger dogs to grow. We hope that with this guide and FAQ, we can answer any questions and queries you may have about how to feed large dogs with some of the best high-quality, nutritionally good kibble going.
10 Best Foods for Large Breed Dogs
Best Large Breed Dog Food: Buying Guide & FAQs
Large Dog Nutrition & Dietary Needs
Large Breed dogs require a lower caloric density in their food, and so you ideally want a caloric density of 3,200 to 4,100 kcal/kg, which is the recommended amount and can be found on the packaging of all dog foods. In addition, high Protein content above 25% is a prime amount, the fiber content of between 2% and 4%, and a 9% dry matter basis of fat is perfect for large breed dogs.
Are the nutritional requirements different for a puppy?
Something that a lot of people are unaware of with large breed puppies is that due to their rapid rate of growth in their first year, it is essential that their bodies are fueled correctly and provided with sufficient nutritional density. Large and giant breed dog food needs to contain at least 9% fat and 30% high-quality protein, and between 0.8% to 1.2% calcium to meet their growing needs.
You may also like our review of the Best Large Breed Puppy Food.
Which large breed food should I get my dog?
This again is extremely dependent on the dog in question, as just like humans, they each have their own tastes, tolerances, and allergies. It is not worth going into finding dog foods with the plan of avoiding grains for example, as grain intolerance is specific to the dog, not the breed. So just try something, and if it doesn't work out, try another. Many dogs tend to change their tastes in food over the course of their life, and you are highly unlikely to find the one for you with the first bag you purchase. In fact, puppies in particular can be extremely fussy as they figure out their tastes, just like human babies!
What to Look for in a Dog Food for Large Breeds
You should be considerate of their joints, as the rapid growth process in their first 2 years takes its toll and can cause joint problems. supplements such as chondroitin, glucosamine, and MSM in their food can help to maintain their joints and keep them moving.
Our Top Pick
Out of the 10 best large breed dog food we managed to rustle up, one, in particular, stood out to us for its all-around excellent quality, balanced nutrition, and fair price.
Eagle Pack Chicken & Pork Large Breed Dry Food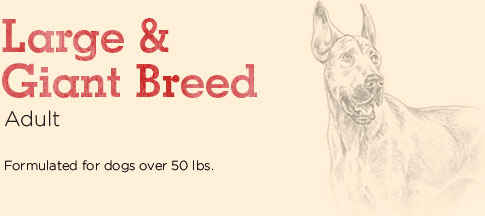 After over 30 years of strong development, this USA-made brand proudly produces a high-protein food that is perfect for fueling your dog for the entire day. Their use of glucosamine, omega fatty acids, and antioxidants provide your pup with all the right nutrients to have the perfect coat, healthy joints, and a good strong immune system. So if your furry pal enjoys exploring the environment on their walks, you know that they're protected.
Best Dog Food for Large Breeds FAQs
All large breed dogs actually have a slower metabolic rate than their smaller brethren. Thanks to this, they can burn calories slower and power themselves on less fuel. As a result, they don't require as many calories in their meals, as counterintuitive as that may seem. This doesn't mean that they need to eat less than a small breed. It is more about the caloric density of their meal, meaning they need to consume fewer calories for each pound that they eat.
As your puppy is growing, certain complications can arise from malnutrition, so as they are growing, you will need lookout for signs of the following possible health problems:
Bloat: This is when a dog's stomach fills with food, fluid, or gas and subsequently twists. It is extremely dangerous, urgent, and fatal if left untreated. Contact your vet immediately if you notice the following symptoms: a distended, painful and swollen abdomen, heaving without vomiting, restlessness, pacing, panting and heavy breathing, excessive drooling, and a general look of distress.
Obesity: Severe weight gain can be caused by an incorrect balance in their diet, too many treats, or too much fat that they cannot burn off.
Orthopedic disease: There is something known as "knuckling" with large breed puppies, which means that if they are not receiving the correct nutrition, their tendons are unable to keep up with their bone growth resulting in their feet curling under. This can cause them to fall frequently, struggle to rise, be lethargic, become lame or irritable, or even stop them from being able to walk altogether. This is fixable with the proper dog foods.
It isn't necessarily the end of the world if you occasionally feed your dog food that is not meant for their size. I think we've all probably done it! But it is important to know that the large breed dog form has been specifically formulated to suit a larger dog's needs. So feeding them food formulated for a different dog size would mean that they are potentially not getting the correct nourishment.
There is, however, one exception, and that would be if you have a dog that sits on the borderline between medium and large. If so, then it may be that medium-breed dog food is fine. However, it is always worth quickly checking with your veterinarian if you are unsure.
This entirely depends on the breed in question. Large breed dogs start from 50 pounds in weight and 22 inches in height but can grow as big as 1oo pounds in weight and 60 inches in height. When ensuring that they get as much as they need, always check the feeding chart for the recommended amount.
All dog food you buy should come with a feeding chart on the back. This will advise the correct amount of food according to the size and weight of your particular breed and dog to ensure that you get the maximum benefit for the food.