If you are a busy professional or one with no-fixed work schedule, have you considered hiring a dog-walker? Hiring a dogwalker is also great if you're looking to get some work done without your pet getting in the way. Plus, your dog gets to unwind and unleash all that pent-up energy, relieving you off one more responsibility.
First things first, let us tell you that if your dog doesn't like someone, you probably shouldn't either. If this is your first time hiring a professional dog walker, you really need do your research. After all, who wants to handover their precious little buddy to some shady guy next door?
To make your life easier, we have come up with all the things you must consider before hiring a professional dogwalker of your own. Without further ado, let's get started: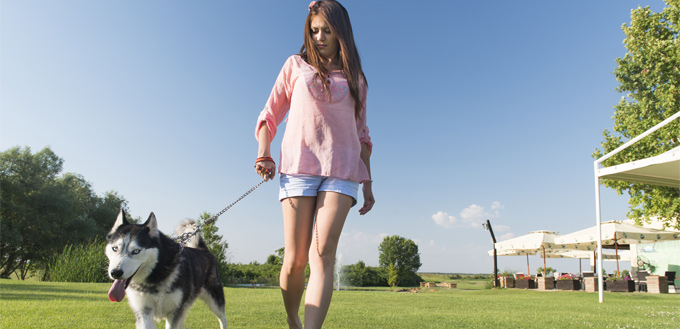 1. Know About their Professional Business Experience
Before you proceed on to decide that this is the right person to walk your dog, ask them to come over at your place. This gives you a chance to judge their punctuality. Inviting them to your house will also give you a lot of time to talk about their past experience. Ask them whether this is their full-time job or just a part-time thing they're doing for some extra cash. Although there is nothing wrong with either of them, but a professional dog walker, who walks dogs to earn their living will surely be able to handle any situation way better than those who are part-timers or just enthusiasts.
Next, enquire about their license and insurance and also whether they can provide you with a proof of coverage. This may sound a bit extreme, but it's for your pet's best interests. Bonding is what protects your dog against theft and insurance protects against accidents and any sort of negligence. Make sure that they show you a copy of their insurance card because anyone can come up and say that they are bonded and insured. Additionally, you should sign a contract stating the terms you have mutually agreed on of which you both can keep a copy of. The service agreement is nothing to be afraid of; think of it as a checklist. In case you're feeling particularly paranoid, feel free to ask them for at least two of their client's references.
Usually, a dog walker's agreement also includes their extreme weather policy. Despite the weather conditions, your dog will need to go out. Take note of their cancellation fees. It's really important for you to know the person's flexibility way ahead of time. Let us tell you that some dog walkers have a cancellation fee 24 hours before their scheduled visit. So, in order to avoid any misunderstandings, it's better to stay aware of all these little issues.
Finally, just in case you're feeling extra cautious, another useful piece of information that you should keep with you is whether or not the dog walker is a member of any of the professional pet sitter's association. That's because, in many parts of the world, it is a requirement for professionals as such to have a certificate or a permit from these associations, proving their proficiency. Some of these organizations are Pet Sitters International, Pet Sitters Associates, National Association of Professional Pet Sitters, LLC and Professional United Pet Sitters. Few other certifications involve Dogtec, NAPPS, and Pet Sitters International.
2. Have Information About their Health, Safety Measures and Daily Communication Methods
Don't be surprised if they are asking you about your vet's contact number or any other emergency contact. Your dog walker is a responsible professional, who must be ready in the face of an emergency. Even if they don't ask for it, make sure to give them this information.
Test their knowledge. Paint a hypothetical situation and observe how your dog walker counters situations of injuries to your pet. This is all to ensure that your furry friend is in good hands and that your dog walker is responsible enough to tackle any situations.
However, don't allow the dog walker to provide your dog with any CPR or Pet First Aids unless they are certified to provide them with such services. Although your dog walker might claim that they have done this previously and got over with it successfully; a gentle reminder to you, it's always better to be safe than sorry. In case of such emergencies, ask them to immediately escort your pet to the nearest vet ASAP.
Regular communication with the dog walker is crucial. This is to keep an account of how your dog fellow is doing and what type of activities they do on their walk together. Walking your dog is not just about going out, walking a block around, and coming back in. It's a form of therapy for their peace of mind. It's absolutely normal that you'd want to know what your dog does in your absence and therefore, a brief everyday post-walk note and their potty report is a common policy for most dog walkers.
This doesn't mean you should call them once every two minutes! In fact, there are dog walkers, who would make use of a software or a mobile app that enables them to send you a daily note, pictures/videos, and your dog's potty report when they complete their daily visit. This helps you to keep a track of any unusual behavior and gives you a sense of assurance that your pet dog is doing just fine.
You may also like our guide on the Best Indoor Dog Potty.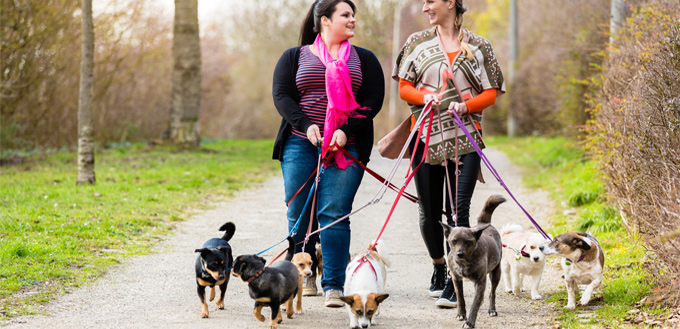 3. Inquire About their Walking Routine and Practices
Many dog walkers prefer to walk one dog at a time while others walk a large group of dogs together in an area. If you worry about your dog getting into trouble amidst a large group of other dogs, let your walker know about it, and discuss other possible arrangements. At the end of the day, it's all about your own personal preference because nobody knows your puppy better than you. It's good to trust your gut-feeling in such situations. Whichever stands your decision, make sure that they are informed about it.
Many dog walkers prefer to carry some supplies with them. Normally, these supplies include cleaning materials, dog poop bags, protection sprays, and different types of pet leashes, such as hands free dog leashes, retractable dog leashes, etc. Some professionals also choose to take water and food supplies with them too. It's better for you to know what exactly they are carrying with them in case your pupper is allergic to any particular ingredient.
The first visit is also your opportunity to ask them about what their visit consists of. Is it just a walk down the streets or park or will they make your dog exercise too? More importantly, will they reinforce any training commands to your pet dog? How much time are they going to allocate for your pet dog per visit?
4. Make Sure You Get what You will be Paying for
Hiring a dogwalker is not a major expense we know, but it's still your hard-earned money. There are also cases of sadism. Experts recommend keeping a lookout on your dogwalker every now and then. Almost every dogwalker is a kind and trustworthy person, unfortunately, some are not. Everyone puts up a good front during an interview so you'll need to look closely. Dealing with a dog requires a lot of patience, but some people may have extreme anger-management issues. There have been disastrous cases of dogs being kicked into an elevator and thrown to the ground.
Hence, make sure that your dog is in good hands and that you're definitely getting the service that you're paying for. Here are some precautions and checks:
Observe any physical changes or concerning behavior in your pet dog. If you notice even the slightest change in your pet's behavior, continue to observe their interactions closely.
You may also ask your neighbors to keep an eye on your dog walker and not to hesitate on updating you regarding anything suspicious.
Microchip your dog. It's one of the best ways to possess your ownership. You may even consider getting yourself pet activity monitors (for instance PetPace) or a GPS dog tracker (AKC or Whistle) on your dog. It's definitely a convenient way to ensure that your dog is being walked the necessary distance that you're paying for.
Set up CCTV cameras throughout your house and especially by your front door and connect it to the internet. This way, you can ensure that your dog walker is coming and getting them home on time.
You May Also Like: Dog Camera
5. Do They have any Backup Plans or Additional Walkers?
When we are talking about back up plans, what we mean is the dog walker's alternative plan if they cannot seem to make it to work? There's no guarantee that exceptions won't arise. The dog walker might fall ill or they might have some emergency. In that case, who is going to take your pet dog for a walk? Usually, it's another walker who would cover for their absence, but who exactly is that person and how much do you know about them? Don't go for an assumption. You need to make sure that the backup walker is also a professional and not just a friend of your appointed professional walker, who would just cover for them.
To be on the safer side, it's always best to go for a background check and know about the substitute walker's qualifications. Safety always comes first when it's about your furry friend because you're not just trusting them as a human being. You're trusting them with your pet and the access to your home as well. Therefore, we would recommend you to be extra cautious!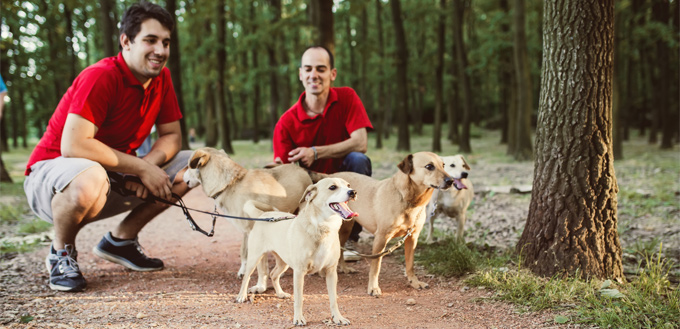 Other Logistical Questions to ask Your Dogwalker
Q:  How will they transport your dog to the park where they will be walking around?
A:  Some dog walkers prefer to walk from the house to the parks. Others might just transport them to the destination using a vehicle. You should definitely inquire about what type of vehicle they will be using for this transportation. Make a point to tell your dog walker to NOT leave the dog unattended in their vehicle under any circumstances.
Q:  How many dogs will they be walking together?
A:  Many dog walkers choose to walk in groups. Here's the issue- when dogs aren't friends with each other, they are likely to cause injuries to one another. That is when dogs are also likely to break off their leash and wander off. Your pet dog is also not going to get as much attention as they would in one-on-one visits. You might want to give these a thought before you make a decision.
Q:  What if something unusual occurs?
A:  During the meet and greet session, make it clear that you should be informed about any unusual occurring in between the walks. Perhaps, your dog might have had a fight with another pup or they had an injury while playing. These are really important for you to know and be alert of. Your dog walker is your pet dog's partner for which they should treat him/her accordingly. Also, do listen to what your dog walker has to say because apart from you, they are the ones your dog will have most contact with.
Q:  What they will be reporting back to you?
A:  Suppose the weather turned bad and they were still outside at the park or the streets. What steps did the dog walker take for your dog to not get drenched? Make sure that they provide you with a full report of their walk together. It's never good enough to just return and say "Oh! We had a really good time!" What you would need to know is how the dog walker handled any difficult situations.
Get to Know Your Dogwalker
We did cover all the important aspects of hiring a dog walker for your pet. Narrowing down to the most important thing is their personality. Some dog walkers take in too many tasks and might get a little frustrated at the end of their day. Although the person might love dogs in general, in the end, it always their job for them! Consider the fact that they are kind, gentle and generous in nature. Plus, also do take care that they are genuinely interested in undertaking the job.
Take Care Good Care of Your Dogwalker
When you've finally found the ideal dog walker for your pet, treat them like gold. It's not always about paying them for their service and time, it's actually way more than that. Here are some tips on how you can make your dog walker feel appreciated:
Show some respect for their schedule. Avoid any eleventh-hour cancellations and put your name down as far in advance as possible. These are just small efforts of showing them how enthusiastically you need them and how much you appreciate their service.
Well, this might sound a little unnecessary but know when's their birthday and gift them a present. In this manner, you're showing them an appreciation for the peace-of-mind that they bring into your life. Give them a "thank you" card on behalf of your furry friend. The look of delight on their face will be worth the effort.
Don't forget to grant them leave during the holiday Care to offer them a nice monetary tip too.
If your dog walker has their own promotional social media pages or website, consider giving them a great review. Just like you, when others would be seeking for a dog walker, it will help them too. Point out their uniqueness and/or what you like the most about the services that they provide.
And not to forget, a simple "thank you" always goes a long way!
Additional Tips:
Be honest about any medical conditions or behavioral issues that your dog might have. be sure whether they have the skills to deal with your pet dog. Responsibly, talk to them about the aggressiveness of your dog. Don't shy away or hide anything from your pet dog's walking partner.
Remember dogs are totally different creatures when their owners are not around. Friendly dogs might growl or bark at strangers while shy dogs might become encouraged to go on walks, now that their mom/dad isn't looking. So, if your dog walker finds faults, don't be shocked!
Fearful or anti-social dogs might be a little tough to handle. Check that your dog walker is not forcing on your dogs or insisting on them to interact.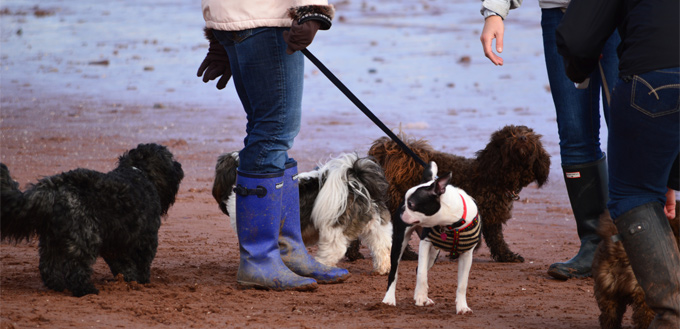 Bottom Line
There's no right or wrong when choosing to hire your dog walker. Just trust your instincts along with your research and you're good to go. Don't give up if your first dog walker couldn't fulfill your expectations. Keep looking for the perfect candidate until you find the one that works for you, your dog, and as well as the dog walker. Take all the time you need in the searching process because your dog deserves the best!
Did you hire a dogwalker before? Let us know about your experience in the comments section below!