Dog poop bags are indispensable part of managing the fecal wastes of our dogs whenever we take them out to relieve themselves in places other than our home. These are also signs that we are responsible members of our communities as we do not let our dogs contribute to land, air, and water pollution by simply dumping their wastes on open ground. It also helps minimize if not prevent the transmission of disease-carrying germs present in dog poop. But, like all things, dog poop bags are never created equal. That's why it's imperative that you know how to pick the best one for your canine friend. We're going to start off with a listing of what we consider to be the best dog poop bags in the market today.
The Best Dog Poop Bag
Best Dog Poop Bags: Buying Guide & FAQs
Dog poop bags are indispensable tools for managing our pets' wastes every time we lead them outdoors to defecate. While dog pooper scoopers allow us to pick up these canine waste materials without having to reach down for the poop, not all of us feel the need for such a contraption. Sometimes picking up dog poop with our hands is more efficient than using a poop scooper since we're able to achieve better control of our hand and finger movements. That said, it is imperative that we know how to choose the right dog poop bag. And this is what this buying guide and FAQ are for.
Why You Need Dog Poop Bags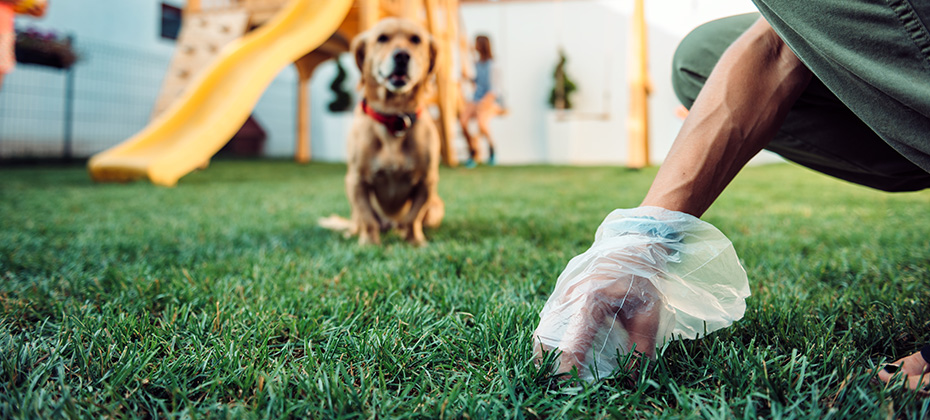 There are many reasons why you need dog poop bags. First of all, it is part of your responsibility as a pet parent to properly dispose of your dog's wastes. This is particularly applicable for those walks in public areas where your pet will be relieving itself. Even if your pet were to defecate in your backyard you will still need a poop bag to put the dog waste in. Just think of a pet poop bag as a nifty and hygienic way to handle your pet's wastes.
That being said, the second reason for using dog poop bags is to minimize contaminating the ground upon which these wastes are dropped on. While it is true that once your pet has pooped on the ground some of the bacteria and other germs that may be present in the feces could already be starting to leach onto the soil. Picking these up with a poop scooper should help reduce the risk of contamination, not to mention land pollution. But in case you don't have a poop scooper then you'd have to pick the waste up with your hands. Nobody wants to pick up dog poop with their bare hands. It is for this reason that you'd want to use dog poop bags.
Third, most local communities today come with ordinances related to the management of pet wastes. Using dog poop bags to dispose of your pet's waste is a sign of following the laws of your community. More importantly, however, is that you're actually showing respect for your neighbors as well as other individuals and families who may also be using the same public space upon which your pet has pooped on.
The Convenience of Dog Poop Bags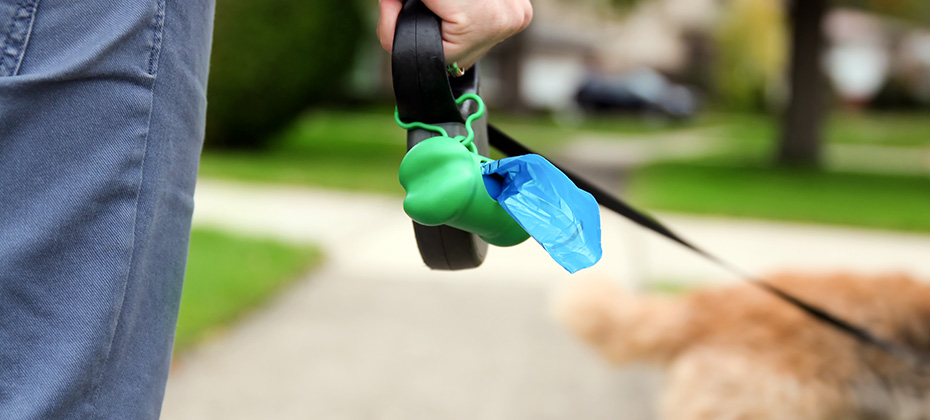 Dog poop bags are definitely more convenient to carry especially those that come with their very own dispensers. You can simply attach these to your dog's leash and you've got a waste management system that is ever-ready when your dog is simply raring to go. It's a lot better and more efficient than keeping several pieces of ordinary plastic bags in your back pocket.
Plus, you're contributing to the global effort for a cleaner and greener planet. As we will explain later on in this article, many of the pet poop bags today are made of oxo-biodegradable materials. These are different from simply degradable products. Biodegradable products are a lot friendlier to the environment.
Different Types of Dog Poop Bags
There are plenty of options in the world of pet waste management. To help you decide which one is the best for you, here are the different types of dog poop bags you may want to learn about.
Biodegradable Dog Waste Bags
These are made of biodegradable materials that are broken down into safe substances such as water and biomass, among other things. They don't leave any harmful chemicals that can leach into bodies of water or even contaminate the soil. These are one of the most sought-after poop bags around.
Flushable Pet Waste Bags
As the name suggests, these are pet waste management tools that can be easily flushed in your toilet. These can still be considered as eco-friendly bags as they don't get to pollute bodies of water. They also easily disintegrate, too so they won't clog up your toilet and your sewage system.
Compostable Dog Poop Bags
These are special types of eco-friendly dog poop bags that can be thrown in together with your other organic waste matter. These are specially designed for compost pits.
Paper Bags
Pet poop bags that are made of paper are a good choice for those who want something eco-friendly. The good news is that paper bags are very easy to source. Unfortunately, these will only work with firm, solid pet stools. If your pet is diarrheic you'll find picking the stool up can be quite messy as the liquid can easily soak up the paper bag.
Pooper Scooper Bags
If you have a pet poop scooper these are your best options. Technically, these pet waste bags can be biodegradable, compostable, or even flushable, depending on the brand that you're going to buy. Suffice it to say, it all depends on your dog pooper scooper whether it accepts such bags into its mechanism.
Standard Plastic Bags
For those who have plenty of standard plastic bags in their homes, these can be great alternatives to eco-friendly materials, too. Unfortunately, since these are not really biodegradable, you'll most likely be contributing to land pollution.
Things to Consider When Buying a Dog Poop Bag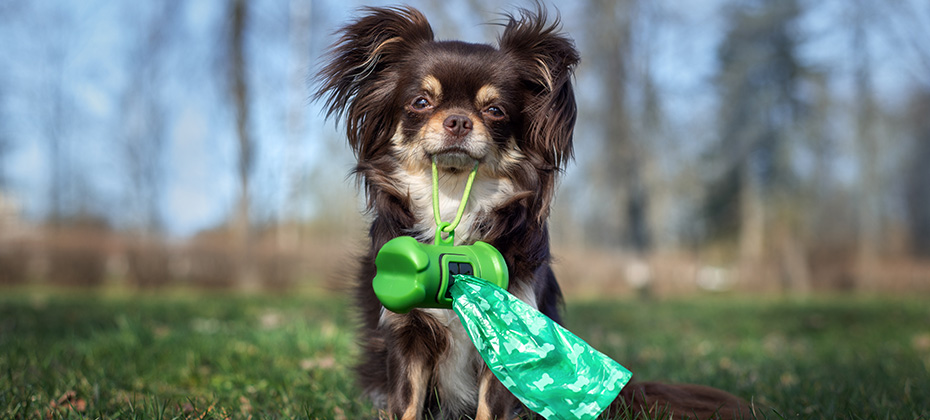 In choosing the right dog poop bag it is important to consider quite a few things. Here are some of them.
Eco-Friendliness
Topping the list of considerations is eco-friendliness. As much as possible the pet poop bag you're going to buy is made of eco-friendly materials. This helps minimize the impact of throwing our dog's waste in the environment. And while household wastes can be treated at waste management facilities, you can do your share by using only environmentally-friendly bags.
Capacity
Bags come in different sizes. The larger the breed, the larger is the turd. This also means you need a larger bag to put its waste in. Otherwise, it will be quite difficult to tie the open ends of the bag to seal it off.
Leak-Proofing
All pet poop bags should be leak-proof. This is to make sure that when you do dispose of your pet's poop liquids will not be leaking out from the bag. You may also want to have a bag that is waterproof to help prevent moisture and water from the environment getting inside the bag.
Durability
Plastics are more durable than paper bags especially if you're dealing with rather moist feces. Also, the weight of the turd can affect the overall integrity of the bag.
Ease of Use
Pet parents prefer dog poop bags that come in rolls as it is a lot easier to get one bag at a time. Make sure, though, that it comes with perforations so you can easily tear one from the rest.
Our Top Pick
After trying out dozens of different poop bags, we came to the conclusion that the Earth Rated Dog Poop Bags are one of the best for the price. Mind you, all products featured on our Top List are quality waste disposal bags, but these particular bags came out at the top because they're one of the strongest we've ever tried. They're also made of earth-friendly materials (the packaging and roll cores are recyclable), which is always a nice bonus. Another great thing about these bags is that they're lavender scented which makes the whole poop and odor business much easier to deal with. Of course, if you have a very sensitive nose, this may not actually be a plus, however, it's worth noting that these bags don't have an overwhelming scent – they're perfumed just enough to disguise the odor. Finally, the Earth Rated bags are very easy to open, which, coupled with the fact they're slightly longer than other brands, makes them super-easy to use. One of the best dog poop bags on the market, hands down!
Source: