Monitoring your dog's daily activity isn't an easy task and if you've been scouring the internet for ways to help, we have the perfect solution. A dog activity monitor can make the world of difference in improving your pup's health in more ways than one. Below is a list of the most popular and well-rated options for you to peruse that have multiple benefits.
Primarily, these will feature pet activity trackers that can monitor your dog's sleep, behavior, and even calories burned and will provide pet owners with a deeper insight into how they can help improve their dog's health in the future. Some, with the purchase of subscriptions, will offer immediate veterinary assistance where you can pass over your dog's activity data in exchange for advice. Others will also feature GPS trackers if your pup is particularly fond of adventuring off into the unknown.
With numerous options on the market, it can be difficult to narrow down the best dog fitness tracker for your fur friend so, to help, we've done the leg work for you and got 10 of the best dog activity monitors. Read on to learn more about the individual products and what they can offer you and your furry companion.
A Quick Overview of Our Favorites
| Editor's Pick | Product Name | Price | Rating |
| --- | --- | --- | --- |
| Best Overall | Whistle Go Explore Ultimate Dog GPS Tracker & Health And Fitness Monitor | Buy on Amazon | 4.0 |
| Runner Up | FitBark 2 Health Monitor | Buy on Amazon | 4.3 |
| With Findsters MAZE Technology | Findster Duo + GPS Pet Tracker | Buy on Chewy | 2.9 |
| Best Design | Link AKC Smart Collar With GPS Tracker And Activity Monitor | Buy on Amazon | 3.4 |
| Budget Pick | Tractive GPS Dog Tracker | Buy on Amazon | 4.0 |
| Most User-Friendly | PitPat Dog Activity And Fitness Monitor | Buy on Amazon | 4.1 |
| Best for Training | Garmin Delta Smart On-Collar Dog Training System | Buy on Amazon | 3.7 |
| Best Battery Life | PETBIZ Pet Tracker, Dog Locator, And Activity Monitor | Buy on Amazon | 3.5 |
| Best Protection Features | Pawfit 2 GPS Dog Tracker | Buy on Amazon | 3.6 |
| Premium Pick | PetFon Pet GPS Tracker | Buy on Amazon | 3.6 |
*Ratings are from Amazon and Chewy at the time of publication and can change
The 10 Top Rated Dog Activity Monitors
Dog Fitness & Activity Trackers: Buying Guide
So now we've broken down the most popular fitness and activity trackers for dogs, we've continued to answer some frequently asked questions in order to narrow down your search. In addition to this, we've also endeavored to provide some extra and important information to help you choose the best dog activity monitor for your companion.
What is a Pet Activity Monitor?
A pet activity monitor does exactly what it says on the tin and more depending on what brand you go for. Primarily, these gadgets will do similar things to that of a Fitbit or Apple Healthkit in which it carefully monitors the activity levels of your pet and can also calculate steps and calories burned throughout the day/week/month. These devices also act as a sort of "dog Strava" for those familiar with the running app.
Modern pet trackers connect to any smartphone where users can download a helpful app to monitor their pet's activity and progression. Pet owners can store their dog's (or cat's) details including breed, size, weight, and age, and be able to set targets for their companions to reach for them to become fitter and healthier. Some apps are also useful for owners to notice early signs of health issues as they can pick up on resting times, quality of sleep, and times when they are particularly anxious or stressed.
Some GPS devices or dog GPS collars will focus more on finding dogs that love to mosey away on their own but will still meet the basic requirements of a fitness tracker.
What are the Benefits of Using a Dog Activity Monitor?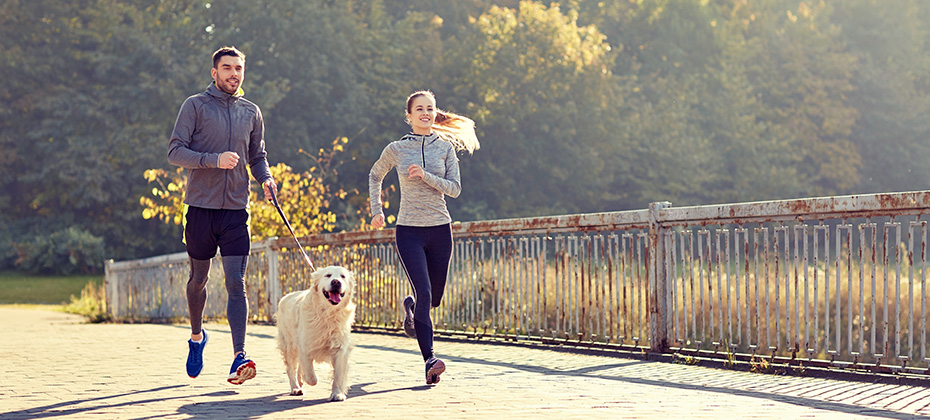 As mentioned previously, various models will offer differing key advantages although the best fitness tracker will prioritize activity levels and their intensity, offer to set goals, and even provide feeding recommendations. However, a fitness tracker for dogs is ideally used to improve health and quality of life.
Weight Management
If your pooch is prone to obesity and needs to shed a little extra weight, a dog activity tracker can help you keep track of their progression and will allow owners to set goals based on their current weight, etc. Some apps will also provide advice on feeding your pet to keep them in the best shape possible.
Improve Overall Dog Health
Some gadgets will monitor behaviors such as barking and sleeping to help owners identify patterns that could be concerning. With the aid of these fitness trackers, dog parents can spot early indications of health issues and prevent them from progressing further.
GPS Trackers
In addition to fitness monitoring, some models will include a GPS dog tracker for you to have constant eyes on your dog's location if they have a habit of escaping gardens or fleeting away on walks and runs.
Can you Use Fitbit on a Dog?
A Fitbit is specifically designed for humans and will not work when used on a dog which is exactly why these devices exist. Consider the items above a "dog Fitbit". They provide accurate information tailored to the dog's movements and build.
Features to Look for in a Dog Fitness Tracker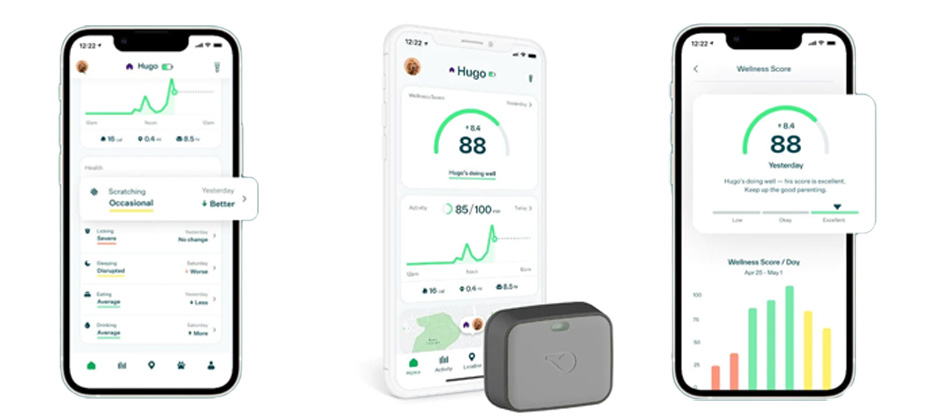 With so many products available with numerous features and benefits, it can be arduous to sift through them to narrow down the right one for you and your companion. Look at the list below to understand more about the most valuable benefits and features to find in a dog activity tracker.
Accuracy
This is, without a doubt, the key feature to look for in any device. The best fitness tracker will collect accurate data and recordings of your pup's activity levels, which will optimize how you set your goals and improve your dog's exercise regime.
Connection/Reliability
If you opt for a device that has GPS as well as standard activity monitoring, you will need to ensure that the product will have an adequate network connection at all times to be able to collect accurate information and effectively track dogs.
Durability
A dog activity tracker must be able to stand more than enough rough play. Dogs are not careful animals at times. Some love to go for a dip if a body of water presents itself, so an activity monitor must be sturdy and waterproof.
Suitability
Always makes sure that a dog fitness tracker is suitable for your breed. Some trackers may not be useable for dogs of a certain weight. They may seem to work however these may not provide accurate data and your progress could be compromised.
In addition to this, always check the measurements of the device to be sure it will attach to the dog collar you own. Some are flexible and will even fit harnesses although some only fit up to a certain width.
Fitness and Activity Monitoring
When looking for a fitness tracker for dogs, the more thorough the better. Being able to input your dog's breed, size, weight, and age will make sure that the recommendations and data you receive are more accurate. This will allow the device to give you a better idea of your dog's current health as well as a great starting point for making changes to improve their well-being.
Progress Tracker/Weekly or Monthly Reports
To add to the point made previously, by adding your dog's details you can see how far they've come over time as some dog fitness trackers will provide you with intermittent reports.
Dog Step Counter
An accurate fitness tracker for dogs will also provide a dog step tracker, or dog pedometer if you will. This will give you the distance traveled by your pooch and how long it took to progress through it.
Setting Targets
Setting fitness goals is a great motivator for pet parents to get their companions out to exercise. Hitting those goals can be invigorating too, so being able to update them regularly will be excellent encouragement.
Veterinarian Advice
Some similar fitness trackers will enable vets to access your pet's records to be able to make helpful recommendations as well as spot any abnormalities in behavior and activity.
GPS Dog Tracker
For most looking to improve their dog's fitness and overall health, a GPS is a desirable attribute but not compulsory and you can often save money by leaving out this feature. However, it can be an extremely useful gadget for those dog parents whose furry friends are likely to break away and go exploring by themselves.
Final Note
Take dog ownership and pet health to the next level with a Fitbit for dogs. It may seem like a lot of information to take in at once but with the help of an activity tracker, you will be able to improve your pup's overall health and quality of life. A healthy dog is a happy dog!