After a long wait, the most awaited spooky season is around the corner. Halloween.
We all love Halloween, which is a great time for our kids and pets. Come on, who doesn't melt at the sight of a dog dressed up as a Star Wars character or in a Pokémon dog costume? Although for those of you who have a fretful or nervous pet, you might not be as keen as others for Halloween as the constant ring of the doorbell or knocking on the door is enough to cause your dog to a panic attack.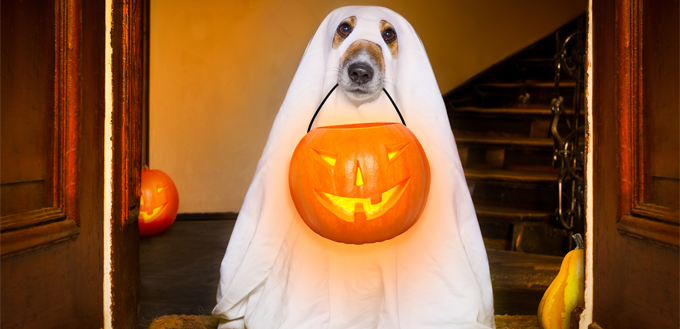 However, following a few useful safety tips while celebrating Halloween at your best can help keep your dog's health safe and sound. So, let's take a look at the 10 Halloween safety tips for your pets:
Treat Candies Are NOT for Dogs
Our most favorite milk chocolates – or even dark chocolates – the ones we get in loads, are often hazardous for our pet dogs. Therefore, when it comes to chocolates, it's a BIG no. If you suspect that your little pupper has swallowed some of the chocolates, look out for some specific symptoms. Signs of chocolate poisoning include vomiting, increased heartbeat, diarrhea, seizures, and heavy breathing.
The specialized chocolates that we buy for Halloween contain an artificial sweetener known as xylitol. This particular component is poisonous to dogs. Even a little amount of xylitol can result in a sudden fall in blood sugar and subsequent loss of consciousness and seizures. It has also been known that xylitol is responsible for causing liver failure in dogs, even though the symptoms mentioned previously are not related to low blood sugar. It's better to be safe than sorry. Therefore, it's best to keep these treats safely away from your dog's reach at all times.
Don't Leave Your Dog Alone in the Yard on Halloween
Halloween is the festival of pranksters. Pranksters will likely steal, injure, and tease pets during this season. Sad but true. Casualties related to pets are at a significant rise on Halloween. Horrifying as it sounds, it's preventable. Keep your pets indoors mostly during this eve. But if you're worried about your door sneaking out, it's best to keep your dog confined in a secured room till the trick or treating is over. This will reduce their stress levels and prevent them from running away outside.
Keep Those Glow Sticks Out of Your Dog's Reach
Although glow sticks are an ideal décor item for your Halloween party, do keep in mind to hide them away from your pet dog. It can add some uninvited drama to your holidays if your pet chews on an open one. Thanks to the non-toxic liquid inside glow sticks, hopefully, it shouldn't cause much damage to your pet, but it does taste awful, causing your dog to drool, vomit or become agitated all day. In case your dog gobbles down any of them, experts recommend that you offer a light meal or some fresh water to clear the fluid out of their mouth.
Pumpkins and Corns Should Be Kept Away
When we say "away", we don't mean to keep you away from the merriment. We mean to keep the pumpkins, corns, and any other Halloween plants out of your dog's reach. You could add a little amount of pumpkin and corn to your dog's diet now and then but know that it is completely unsafe for your little fur buddy to ingest uncooked or potentially stale pumpkin or corn – especially the ones that are particularly decorated for Halloween.
These Halloween specials can cause gastrointestinal upset followed by an intestinal blockage in your dogs if they have swallowed some of it in large amounts. Sometimes, stale plants produce mycotoxins which can make way for neurological problems too. Therefore, keeping raw pumpkins and corn away from your dog is always safe.
Think Twice Before Using Electrical and Battery Powered Decoration Lights
Now that there are alternatives to open candle decorations like electrical and battery-powered lights doesn't mean they are the end of all your problems. If your dog has a habit of chewing electrical cables, we might not even need to point out the life-threatening consequence that he/she might have to face. On the other hand, rechargeable batteries are also likely to cause chemical reactions or gastrointestinal blockage if they accidentally chew/swallow them. Dogs are curious little creatures, and these colorful funky lights are bound to attract their naughty attention. So if you do use these decorative lights, hang them high above your dog's reach and keep them monitored at all times.
Don't Force Your Dog to Put on Uncomfortable Clothes
If you're planning to force your dog to put on those Star Wars or Pokémon dog costumes, you may go ahead as long as you see they are not fretting. As a pet owner, you must ensure that your pet feels comfortable and relaxed. There's no point in praises from your neighbors for that cute little dog costume if your poor pet is suffering in it. Dog experts advised that dogs who wear costumes should be under strict supervision by an adult so that if anything doesn't seem right, it can be dealt with immediately. Your dog might act out or even go into a panic attack due to extreme anxiety.
Identification Cards, Please
If you're constantly worried that your pet dog might get lost or escape the party, what with the doors opening hundred times a minute, the best solution to this problem is to have a proper identification card. If your dog gets lost, it will help any kind soul return your beloved pet to you, safe and sound. Dog ID tags or dog collars are the keys to prevention. However, if possible, microchip your pet dog for permanent proof of identity, just in case the collar or dog tag falls off too. Also, make sure that the information in the microchip is updated from time to time.
P.S. Halloween could be your yearly reminder to cross-check your address and contact number on your pet's tag with the organization that supports their microchip.
Clean Those Candy Wrappers at Your Party Every Now and Then
Remember when we talked about xylitol? Not only do the candies contain them in large amounts, but the wrappers, too, are known to have a little amount of it. Xylitol is poisonous for your pet and may lead to serious consequences. Not just xylitol, candy wrappers, if swallowed, may also cause life-threatening bowel blockage. In that case, you'll need to be very cautious about such a situation arising in the first place.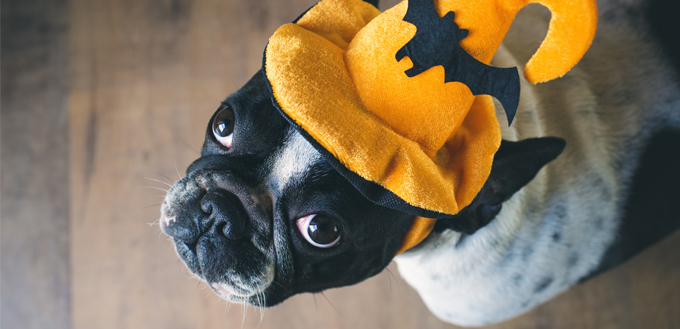 Decorate Your Party Responsibly
Halloween is all about those spider webs and other spooky decorations. On that note, don't forget that your dog loves to explore those new things, especially with their mouth, and we cannot stress this enough! While you're busy enjoying the party, your dog might have swallowed one of those Halloween items that can block their dog's intestines. This is a really expensive and painful surgery that your canine might need to undergo to remove the blockage. Eating something as fluffy as spider web might leave your dog feeling terrible and whiny, spoiling everyone else's occasion too. Avoid all these problems by decorating your party responsibly and sensibly. Put those décor items and lightings up and above where your dog cannot easily reach them.
Substitute Candles
We don't intend to break any of your conjuring rituals, but decorating your party with real candles will not call in any authentic spirits. Rather, it would only add to the heat and create chaos if the candle stand accidentally gets knocked over. There are so many substitutes for candles and flames for you to choose from. There's no need to risk decorating with a fire hazard. A hyperactive dog can effortlessly get in touch with the open flame of candles that may result in severe burns or even light your entire home on fire. To create and set a mood for Halloween séance, choose those LED flameless candle lights instead of the actual ones. We bet you won't regret it!
How to Celebrate Halloween with Your Pet
As pet owners, we always look for ways to include our pet dog in everything. Usually, pets are excluded from Halloween celebrations because it's more of a kid's holiday, and you're more likely to be busy with your children or younger siblings than anyone or anything else. How about letting your pet join in the fun with the kids, whether you decide to take them all out or stay at home to relish the festivities?
Here are some suggestions below on how you can add in your pet and double the fun of Halloween:
Let your dog be the door greeter: If you're planning on throwing the party at your place this year, how does the idea of your dog being the door greeter sound? That way, your pet would be the center of attention and easier for you to keep an eye on most of the time. Moreover, kids love seeing pets doing funny things. Make your pet hold the candy basket. It's a spectacular way of showing off a trick. Since it requires a lot of obedience, treat your puppy every hour to show some appreciation!
At the same time, if you're having a costume party, part of your party would be to dress up your pooch in funny costumes. However, if your pooch is not a fan of being dressed up, just make him/her stand on top of a pumpkin-shaped dais and greet whoever walks in. You could even make your pooch charm all throughout October to show everyone that they are in the Halloween spirit as much as others.
Host a pooch-friendly party: This is undoubtedly one of the best ways to celebrate Halloween. Since you're having your friends over, why don't you invite their furry friends along? By doing so, neither you nor your friends have to worry about what their poor pups have been doing home alone while they are enjoying themselves. This is what we'd call a win-win situation. The pups can play and accompany each other while the parents enjoy themselves, occasionally keeping an eye on their pooch.
Shape out a puppy pumpkin: Dog costumes are there, but have you ever thought of a puppy pumpkin? Turn spooky into cute; this could be your Halloween party's focus! There are so many dog pumpkin carving patterns that you'll find online. Or, if you want a freestyle shape, carve it based on an image of your pet.
Watch a horror movie with your pet: If you prefer staying indoors and snuggling up with your dear ones, what better way to spend the night than watching a scary movie with your pooch? Throughout the year, you and your dog might be watching movies, but this night demands a Halloween special. Pop those corns, snuggle with your pooch, and get into the Halloween vibe!
Go out of town: Gather your family and plan a bonfire. Your little pup and your family can camp the night out in the woods and tell each other scary stories along with barbeque and smores. Now, this is what we call a true Halloween celebration!
Dogs and Fireworks during Halloween
Fireworks are the new trend on Halloween eve. When the sky explodes with colors and glitters, we often forget about our pets at home. Know that they suffer from terrible anxiety over the loud noise and the sparkling lights. Some pets get so traumatized that they wouldn't want to move the next morning. During Halloween, your pet already goes through a lot of stress, and fireworks are not helping either. Here are some ways you can calm your dog during Halloween fireworks:
Let them get used to the noise: It's not just Halloween, but there are other occasions where fireworks are common. A day or two before Halloween eve, train your dog to get used to the sound of fireworks. Download a clip of fireworks going off, or just random loud banging noises and play it quietly at first and then keep increasing the volume bit by bit. By doing so, your pet will get used to the detonations and won't panic during the fireworks of the 31st.
Calm your pet: You can start this a few weeks before Halloween. Many pet owners start with a Bach flower treatment that gives out a substance called pheromones. These have an effect of easing their stress levels, so you could consider fitting one of those at least two weeks earlier before the fireworks evening rushes through. You can also consider serving certain food supplements to strengthen your pet's nerves and veins. If you're unsure about dealing with it on your own, get some expert advice regarding this from your regular vet. On the night of Halloween, keep your dog busy indoors with its favorite dog toys and treats.
Try to make things easier for your dog: If you're not having a party at your place, draw the curtains as soon as the evening draws. Many pets are scared of lightning and would rather feel safer in semi-darkness. You could put on some of their favorite music just so they cannot hear much of the noise outside. Comfort your trembling pet by talking to them soothingly and stroking their fur gently to battle the feeling of uneasiness. If nothing works, just keep them busy with food! Dogs are always looking for treats. Maybe stocking up on some of their favorite dog treats will help them eliminate all the chaos outside.
Bottom Line
Finally, October is here, and so are your preparations for Halloween. Carving the pumpkins, choosing the scariest costumes, and filling up your shelves with trick-or-treat candies make even the adults want to be children again! Halloween is an event enjoyed by everybody in the family – no exceptions. And who doesn't love to dress up as one of their favorite movie characters or a scary character? However, as a dog owner, you must keep your pet's well-being in mind. But it's hard to do because you can't just cut them out of celebrations! You've got to make things fun for them too!
Follow these tips and celebrate Halloween safe and sound to avoid any stress and nightmare on the coming eve. Are there any other Halloween safety tips that you think we've missed? Suggest us in the comments below!
Sources:
Halloween Safety Tips, ASPCA