I love cooking, but with my busy life and chaotic house, I never seem to have enough time! When I do have time, I try to push myself and learn new skills. As my dogs are an integral part of my family, I thought I should learn how to make something special for them. I also love cooking seasonally, so I thought I'd experiment with some pumpkin dog treats that I can make around thanksgiving. Through my experiments, I have found two methods of making treats that I would like to share with you. One requires an oven, for the bakers among us, and the other just requires a fridge.
Related Post: Dog Treat Pouches & Bags
Benefits of Pumpkin
We all know that pumpkin is really tasty, but the best dog treats are also healthy. Pumpkin has some great health benefits for your dog, so it a fantastic addition to a balanced diet. It may even help with some health conditions, but remember to always consult with a vet before trying any new treatments. Pumpkin can improve your dog's:
The oils present in pumpkin flesh is thought to help your dog's urinary tract. If your dog suffers from urinary incontinence, adding pumpkin to their diet could really help them.
The fiber in pumpkin also helps digestion. Fiber is very helpful for both constipation and diarrhea. Instead of making treats, you can also add a tablespoon of pumpkin puree to their food.
The low calories in pumpkin make it a good food for a dog that needs to lose weight. Try swapping some of their daily food with pumpkin as it will fill your dog's stomach with less of calories.
Related Post: Best Dog Food for Weight Loss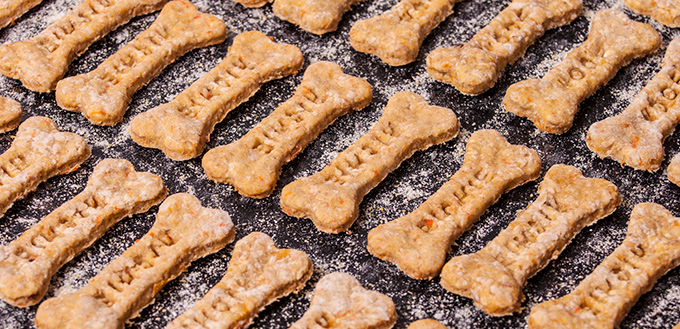 Benefits of Home-Made
The main benefit of making your dog's treats yourself is that you will know exactly what is in them. This is actually a two-fold benefit because you can pack them full of the specific ingredients and nutrients, like pumpkin, that your dog individually needs, and you can keep out any artificial additives or allergens that you don't want your dog to be exposed to.
There are a lot of circumstances in which it is advised that you take more control over the ingredients in your dog's food, such as:
Obesity
Allergies
Digestive issues
A second benefit is that it can help you to save money. Making your own big batches of treats can be much better value than buying branded treats. It might take some time to find the best combination of ingredients that save you money, but it will be worth it as you could potential save hundreds of dollars over your dog's lifetime. This is particularly true if, like us, your family has more than one dog. You can buy even more ingredients in bulk and make more savings.
Take a look at our guides on the Best Gourmet Dog Treats and Best Dog Jerky Treats.
Recipe One: Fridge Treats
This recipe is very easy so it great for those of us who don't have hours to dedicate to cooking every week. You don't even need to bake anything! Essentially, you just need to combine the ingredients in a bowl, shape them and pop them in the fridge. With some practice, it might only take 15 minutes of your time every week.
Ingredients:
1 cup of pumpkin puree
1/4 cup of peanut butter
2 1/2 cups of rolled oats
1/4 cup water
How to Make Pumpkin and Peanut Butter Balls
Combine the pumpkin, peanut butter, water, and most of the oats into a bowl. This should produce a solid, dough-like mixture.
Divide the mixture into balls that are approximately one inch in size. You may want to adjust the sizing to suit your dog's weight and the potential risk the treat may have as a choking hazard.
Roll through the remaining oats to create an outer coating.
Put the treats on a sheet pan and put in the fridge until firm. This should take an hour at minimum, but will depend on the temperature inside your individual fridge.
The calorie count per ball will depend on how many you make and the specific ingredients you use. You can calculate it by keeping an eye on how much of each ingredient you add to the mixture and dividing it by the number of treats you have made.
Recipe Two: Oven Treats
This recipe is also very easy, but requires baking and may be a little more time intensive. While you may have to be present to stop the biscuits from burning, with a little practice it should only take 45 minutes to an hour to make these treats, including the 30 minute baking time.
The benefits of this recipe includes the use of cinnamon and coconut oil. Like pumpkin, these two ingredients are known to have their own health benefits. Cinnamon is often credited with antiseptic, antioxidant, and anticancer properties, and can help a dog's heart and digestion. Coconut oil, on the other hand, can help their skin, immune system, digestion, metabolism and bones.
Ingredients:
1/2 cup of pureed pumpkin
2 cups of whole wheat flour
2 tablespoons of coconut oil
4 tablespoons of water
1 teaspoon of cinnamon
1/4 teaspoon baking soda
1/4 teaspoon of baking powder
1 egg
How to Make Pumpkin and Cinnamon Doggie Biscuits
Preheat your oven to 350 degrees.
Mix the pumpkin, coconut oil and water
Add the dry ingredients by mixing in the flour, cinnamon, baking soda and baking powder
Mix in the egg
Stir the mixture until the ingredients are evenly dispersed and becomes dough-like without any lumps. You may need to add a small amount of water.
Prepare your work surface with flour and roll out the dough. It should be approximately 1/4 inch thick.
Choose your cookie cutter and use it to cut out your dog's treats. When choosing the shape, you should consider the size of your dog. A chihuahua might not be able to handle the same size cookie as a Labrador.
Pop them into the oven on a baking sheet. The cookies are ready when they are hardened, which should take approximately half an hour.
Make sure the cookies have completely cooled down before serving them to your dogs. You don't want to burn their mouths!
Related Post: Dog Safe Peanut Butter Treats
Sources:
Krista Williams, BSc, DVM, Dog Treats, VCA Hospitals
Paw Print Pumpkin Biscuits, VetStreet