Christmas is known to be the happiest time of the year for people all around the world. It brings along a festive mood for everyone and the atmosphere is always filled with high-spirited people looking forward to a new beginning. One of the main elements which make Christmas special is the decorative Christmas trees. Families get together to decorate their trees with lots of sparkly lights, ornaments, glitters, and tinsels.
While all of this brings along a lot of excitement and merriment, it is important that you find some time to dog-proof your tree if you have a pet dog in the family. Dogs tend to be more excited during this time of the year due to all the dazzling lights and people in the house. They love the small treats hanging from the trees and are unable to get a hold of their curiosity and excitement. This often leads to chewing on the ornaments and bringing the whole tree down. Imagine the amount of effort, money, and time you would have to give to buy and decorate a new Christmas tree.
So, searching for a dog Christmas tree? Here are a few hacks that you can use to dog-proof your Christmas tree.
How To Dog Proof Christmas Tree
Putting up a Bare Tree
Start by putting up a bare tree at least 15-20 days before Christmas. This will enable your pup to get used to the presence of your Christmas tree. Once the curiosity and excitement is over, you can start decorating your tree with lights and ornaments before the merriments begin.
Waking up to Gifts
A lot of people often find themselves in a situation where the dog ends up chewing on the Christmas presents. You can't really blame them though. All those glittery ribbons and gifts wrapped up in colorful papers can catch anyone's attention. Hence to save your gifts from being chewed up, wait till Christmas morning. Wake up to new gifts and open them up right away!
You may also like some of the best dog Christmas gifts from our list, so be sure to check them out.
Toxic Plants
Decorative houseplants like mistletoe, holly poinsettias, lilies, daffodils, and Jerusalem cherry are toxic for your little pups. Some of them include:
Holly Berries and Ivy: Can be the cause of convulsions and diarrhea.
Jerusalem cherry: Can cause painful intestinal problems.
Mistletoe: Eating this plant can cause a sudden fall in blood pressure which might be lethal.
Poinsettia: Vomiting and bouts of nausea.
Lilies and daffodils: Can cause convulsions.
However, if you still want them, keep them in places that are out of their reach. You can also try using alternative options like artificial plants which are 100% pet-friendly.
Apart from toxic houseplants, pine needles can also be a dangerous threat to your dog. Even though pine needles aren't toxic, they are still sharp and small. Clean those up immediately when they fall off the tree as chewing it can injure their intestines and the mouth.
Read more about Plants That May Poison Your Dog.
Breakable Objects and Heirlooms
While decorating your tree with colorful and shiny decors, try putting the breakable objects and low dangling lights at the top. You can also use shatterproof ornaments instead. This way your pup won't end up hurting themselves due to a piece of broken glass. Protect your heirlooms by keeping them out of the reach of your pooch and children.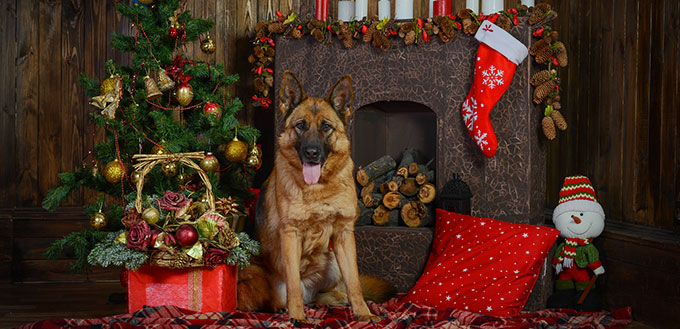 Artificial Trees
It is better if you buy an artificial Christmas tree instead of an original one. Original trees shed pine needles which might end up hurting your pooch. Artificial trees, on the other hand, are easier to handle due to their being lightweight and pose no threat to your pet.
However, while buying artificial trees, avoid the ones which are decorated with glittery ornaments and tinsels. This will only intensify their curiosity. So go for the greener ones with fewer sparkly jewels on them.
Shiny Lights
It is obvious that people love decorating their trees with bright and shiny lights. But have you ever wondered what would happen if your dog ever chewed on the wires? He/she would be in danger of being electrocuted. Hence do not put the decorative lights on the branches at the bottom.
Prevent them from getting tangled up in the wires by using short extension cords. Put a tape on the wires if possible so that the dog does not fall over and pull the whole tree down along with him. Hide the sockets by placing gifts in front of it.
Excluding Food Decors
Cancel out the food decors from your list to prevent your dog from sniffing onto the tree and making a mess. Restrict yourself from making ornaments made with cookies, candy canes, chocolates, and popcorn garlands to put on the tree. Keep those items on the table instead for everyone to eat and enjoy. Buy garlands made out of paper or pearls if you want to make your tree look more decorative.
Candle Lights
As much as we love putting candle lights at every corner of the house, we should also make sure to keep them at a safe distance away from the tree. Needless to say, your tree is going to be the center of attraction at all times and you will end up finding most of the children and pets around it.
Even though candle lights give off a very festive vibe due to their flickering yellow light, placing them near your Christmas tree can easily set your tree on fire. Place them on the top of your shelves and tables instead. As for the Christmas tree, use clip-on LED candles to illuminate the entire house.
 Securing the Tree
You can anchor the top of the tree with a hook on the ceiling to prevent your tree from falling on the ground. Putting a rope around the trunk and tying it with a hook behind the tree may also work. You can never be sure when your dog might end up pulling on the leaves and branches. Hence secure the tree as a safety precaution.
Medium Sized Tree
Buying a medium-sized tree rather than a giant one is a safe idea because there are fewer chances of it falling off and knocking someone out.
Finding the Right Place
Placing the tree in a perfect position will prevent your dogs from using other pieces of furniture to jump onto the tree and hurt themselves. Put the tree in a corner and keep a safe distance between the tree and any other furniture.  You can also place it near an electrical socket so that there is no problem lighting up the tree. It will also prevent your canine from poking into the holes in the socket.
Do not ever place your tree on top of a table. Children, as well as your pets, can pull the tablecloth down and break all the ornaments and lights.
Water Container
Never allow your pets to drink water from the tree's container. Drinking stagnant water can be fatal for your pup. Hide the container with the tree skirt or place decorations or presents to hide it. This way, the water container will be out of their sight. Also, keep their water bowls filled up at all times so that they do not end up drinking the tree water.
Checking the Lights
Make it a habit to check the lights on the tree every once in a while to make sure there are no loose ends or exposed wires. Any problem with the wiring can cause electrocution which will be deadly for both you and your pet. The tree might also catch fire in the process.
Automatic Shut-off Extension
If a wire is damaged or exposed, having an electrical cord with an automatic shutdown will avert the risks of electrocution.
Turning off the Power
Shut down the power switch while going outside or sleeping. It will prevent the burning up of wires and keep your decors safe.
Fencing
However, if the tricks listed above still don't work out for you, you can try fencing around the tree. In order to make the fencing look like an additional decoration, create artificial snow out of wool and a snowman to give it a different look. You can also create a gift fence that will give your tree a stylish look. Keep the gift boxes long enough to work as a barrier for the dogs. This would be the best option since your dog won't be able to go near the tree and make a mess around it.
Apart from all of these hacks, you can try keeping them busy while decorating or take them out for a long walk. A long walk or exercise will make them way too tired to go sniffing around the tree.

Keeping Your Pooch Away From the Ornaments:
Most Christmas trees are decorated with bright and shiny ornaments, glitters, tinsels, etc. But these colorful decors create an unwanted curiosity and excitement among pets. You are well aware of the fact that you can't really blame them because Christmas decors are always eye-catching. Hence here are a few ideas that might help you to prevent your dog from ruining the decors.
Water spray: Take a spray can and fill it up with clean water. Use this to spray a little bit of water on your pooch whenever it tries to chew or scratch on the ornaments. This will be an act of showing them that you do not approve of this kind of behavior and will effectively keep them away from the tree.
Bitter apple spray: Spraying this solution of bitter apple on the branches and the trunk will keep your pup away from the tree. The apple spray is harmless and does not contain any toxic chemicals. When sprayed, it gives off a scent that is odorless for humans. However, dogs are not a fan of that scent and hence it keeps them away from the tree.
Citrus Spray: This particular spray will give off a fresh and fruity citrus perfume when used. Dogs are not fond of citrus fruits. Hence the smell of it will keep them away and fill the room with a refreshing smell.
Holidays are all about spending time with your family, friends, and your little furry friend. Even if things don't go your way with the decors and food, don't end up losing your temper. You should know that accidents are inevitable during a holiday gathering and your furry friends may end up making a mess. But that won't take away the fun and happiness of Christmas.
Since dogs and Christmas trees call for trouble every Christmas, keep your furry friends happy, and do not forget to buy a chew toy, a brand new collar, a box of special treats to keep their attention diverted, and a furry sweater to keep them warm in the cold weather. These are some of the best Christmas presents for dogs that you can think of. After all, they deserve a fair share of that Christmas haul too!
Sources:
Hanie Elfenbein, DVM, Christmas Tree Safety Tips for Pet Parents, PetMD
Dr. Patty Khuly, VMD, 8 Holiday Pet-Proofing Tips, VetStreet