There's an ongoing debate about which is better: a collar or a dog harness. While the scientific community decides on which of these two canine accessories is a lot safer for our furry pals, we can take confidence in the fact that our lovable pooches do look more adorable with their collars around their necks. Some collars are great for training, too. And if you're like countless other dog owners who love turning their pets into fashion icons of the animal world, try our list of the 10 best dog collars in 2019.
The 10 Top-Rated Collars for Dogs
The Best Dog Collars: Buying Guide & FAQs
What to Look Out for When Buying a Dog Collar
Choosing a dog collar cannot solely depend on what color compliments your pet's fur shade. Unfortunately, the process of purchasing a collar is far more complicated. We've identified the fundamental categories that must be individually considered – the size, design, material, and type of collar – before choosing the right collar for your best friend.
*Side Note: We will not discuss the materials used to make prong or chain collars or list them as types of collars below. This decision was made because of the harmful mental and physical consequences these collars inflict. Above all, we believe dogs should be treated ethically, and wish to depict this principle in our content.
Size
It shouldn't be said, but the collar you picked out for your Great Dane won't fit your Chihuahua. How to measure the correct collar size for small and large dogs alike is explicitly detailed in our FAQ section below.
Design
There are so many collar aesthetics for dog owners to choose from, ranging from bold to dainty. Personalized dog collars, in particular, add charisma and individuality to an accessory that all dogs wear around their necks. On one end of the spectrum, owners cleverly imprint their phone number and their dog's name on their collars just in case their hanging tag falls off, whereas some owners arguably take it a little too far by customizing these collars with a photo of their dog.
You may also like Spiked Dog Collars.
Material
Neoprene: Also known as polychloroprene, neoprene collars are extremely lightweight and recommended for dogs with sensitive skin. To the advantage of both dogs and their owners, neoprene collars are fully waterproof – meaning that your dog jumping in the water for a splash won't damage their accessory.
Leather: Although leather collars usually come with a steep price tag, the comfort and class they exude make it all worth it. Due to their longevity and durability, your dog will be bouncing around for years with their favorite leather collar around their necks. Don't be duped by fake leather collars, such as bonded leather composed of both real and fake leather (leftover pieces of hide).
Nylon: Nylon collars are certainly fun; we'll give you that. For only a couple of bucks, you can walk into any pet store and choose between an immeasurable number of kooky collars boasting all sorts of patterns and colors. Yet their inexpensive nature often results in them breaking or looking ragged within a few months to a year.
Type
There are heaps of different types of dog collars on the market, yet only a minority are appropriate to place around our pet's delicate necks. Let's check out the leading varieties below.
Different Types of Dog Collars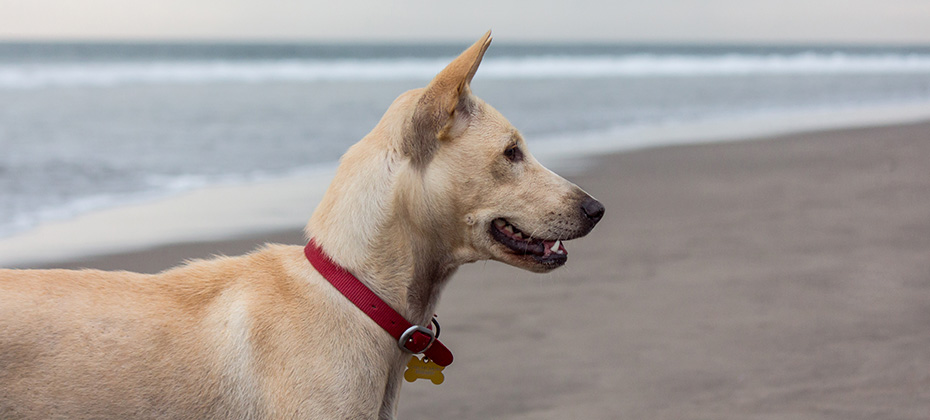 LED Collars: Up early for work in the morning or consistently arriving home late to find your pup pestering you for a walk? LED collars give you peace of mind when out on early morning or nighttime walks: your pup can now run off the lead as they please, thanks to a combination of flashing and solid LED lights and reflective material on their collar. If worse comes to worst and your dog runs off into the night, this type of collar alerts other pedestrians and road users to their presence.
Standard Collars: These collars are usually composed of a plastic or metal buckle. They're simple and perfect for dogs requiring minimal walking supervision.
Martingale Collars: Although we in no way condone the use of prong and choke collars, the martingale collar is a much less extreme alternative for training dogs. Initially designed for sighthounds by their necks being larger than their heads, resulting in buckle collars slipping cleanly off, a martingale collar ensures more control. Composed of two loops – one for adjusting the fit of the collar around your pup's neck, the other providing extra control when on the lead – the dual mechanism places tension around a dog's neck if they start to pull. The collar slackens as soon as your dog stops pulling on their lead. Although a dog should never be left unsupervised when wearing a martingale collar due to the potential that the metal elements may slip down and cause your pup to chew on them, consequently damaging their teeth, these collars pose no other safety risks.
Are Dog Collars Dangerous?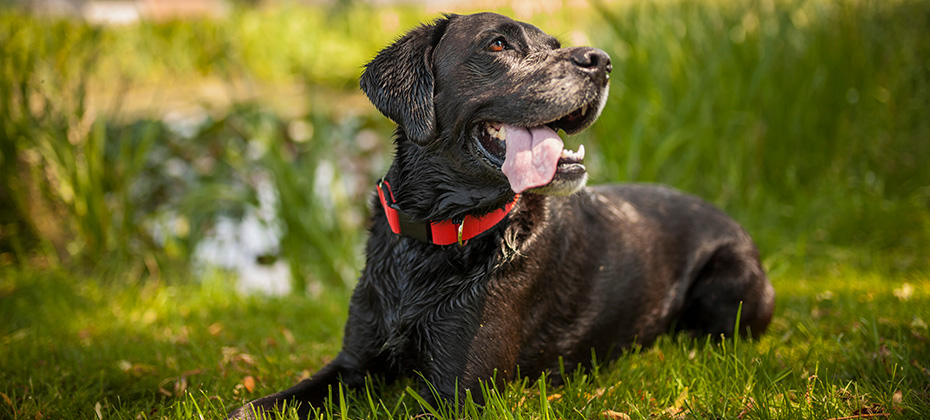 Humane dog collars like those outlined above are recommended for your furry friend, as they provide a place to keep a dog owner's contact details. This being said, some dog collars are dangerous and should be banned. Animal rights organization PETA actively campaign against prong and choke collars, deeming them to fly in the face of positive reinforcement tactics. The very design of these collars is to punish dogs by administering pain or discomfort.
One graphic fact indicating the type of abuse prong collars inflict on dogs is that dogs develop scar tissue around their necks due to the painful metal protrusions pinching the skin around them. As scar tissue has no feeling, dogs continue to pull, completely unaware that they're hurting themselves. Likewise, choke collars are physically and mentally dangerous. Regarding the former, their use has been affiliated with crushing tracheas, fracturing bones, and prolapsing eyeballs. Concerning the latter, simply imagine the incredible fear a dog must feel having a collar that chokes them around their neck, and you'll sympathize.
Accordingly, you must read the correct information on collars to ensure that you don't buy the wrong one and end up unintentionally harming your lovely dog. To safeguard your pup's health, the FAQ we've compiled below aims to point you in the right direction so you can be confident on your walks together.
You may also like our guide on the Best Anti Bark Collars. 
Sources:
Sherry Woodard, Dog Collar Sensitivity, Best Friends Animal Society
Jessica Hamilton, DVM, The Importance of E-Collars, The MSPCA–Angell
The Importance Of Pet Collars, Animal Humane Society
Frequently Asked Questions
Although it depends on the state laws, it is a legal requirement in several states for your pooch to be on a dog leash in public outdoor areas. Not only should a collar be worn for legal reasons, but if your dog wanders off anywhere, having your contact details around their neck will increase the chances that they'll arrive home safe and sound.
By following a few simple steps, your dog will be measured quickly and precisely for their new collar.
Find a reliable tool for measuring: Measuring around your dog's neck cannot be properly carried out if all you have lying around is a ruler. Before achieving this task, invest in a reliable measuring tape – preferably a cloth seamstress's tape measure. If you've lost all your collars and can't wait until you have time to purchase a measuring tape, using a piece of string to measure for a tight fit and then measuring this string with a ruler is your best chance of success.
Take your measurement: You should measure your dog for a collar several inches down from their head. Add two inches for medium to large dogs; for small dogs, add one inch.
Ensure you don't measure for the collar too tightly: Taking the perfect measurement relies on ensuring the measurement is 'snug', not tight, around your dog's neck. An effective benchmark is sliding two fingers under your dog's collar. Is the space between your pup's neck and the collar too small to carry out this request? Your dog requires a larger collar. Contrarily, too much space calls for a smaller size of the collar.
Training your dog to behave on the lead is often an arduous process, but it should commence once they reach ten weeks old. As your puppy won't have received the necessary jags at this point to go out on walks, you can practice walking with them on the lead in your garden or even inside your home. Before training your puppy on the lead begins, your pup should have spent a few days adapting to the feeling of a collar around its neck.
Puppies' necks are so petite and delicate that neoprene or nylon collars are recommended due to their lightweight construction. However, if you own a puppy from a breed with slimmer heads, such as Greyhounds, a martingale collar is the way to stop your puppy from slipping out of their collar.
The majority of dog collars aren't machine washable, leading to some owners disregarding this chore entirely. However, you'll regret this decision when your pet's collar starts to smell funky, rubbing off on your dog's skin, and then spreading to their beds, your couch – you name it!
To prevent this stench from spreading throughout your home, all you have to do is take the normal shampoo you use to wash your pet and add a small amount to a bowl of hot water. Next, place your dog's collar in the bowl – if it's really grimy, rub the dirt off while it's in the water. After letting the collar soak for twenty minutes, squeeze out any residual water and place it on the radiator or outside in the sun to allow it to dry off nicely.