Keeping your pooch looking their best is just as important as making sure we look amazing at all times. Not only will ensuring your dog is well-groomed give them a spring in their step, but it will also prevent fur from shedding, keep their coat glossy and healthy and have them smelling fresh for longer – a plus for everyone involved! However, finding the right groomer for your special four-legged friend is no easy feat – there are many different factors to consider.
There are several reasons you may need to search for a new groomer. Perhaps you have just moved cities and need to find a brand new groomer for your pet but have no idea where to start. Or maybe you have just adopted a precious little pup and need to ensure you have everything ready for their arrival, including a new vet, new pet store, and of course, a great new dog groomer. Or, the horror of horrors, you've fallen out with your dog's previous groomer as last they gave your dog a hideous haircut that broke the bond of trust forever. Whatever your reasons, you're on the hunt for a new doggy stylist, and you need one now. However, there's no need for panic, we've put together a list of five easy steps that you need to think about when picking the perfect groomer for your dog. Take a look through before you start shopping around and you'll be sure to select the ideal groomer for your darling dog.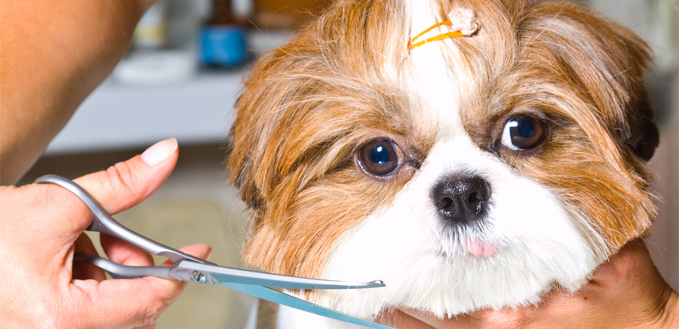 1. Get Recommendations
Chances are, you will most likely value the opinions of your friends and family's over anyone else's so, ask around! Speak to your pals who have furry family members of their own and find out which groomer they visit to get their pet's fur cut and washed. Whilst you are taking your dog out on a walk in the park if you see a pooch who is the same breed as your dog and is groomed beautifully, why not speak to their owner and ask them where they take them to get them styled? Not only will you get a great recommendation, but you could also potentially make a new doggy friend for your pup, and a human one for you too – bonus!
Another way of getting sincere testimonials from your peers is by using social media. In today's modern internet-based blogosphere, social media platforms such as Facebook have now made it possible for the user to post a status asking for their friend's to post recommendations and review places for them so that they can gather a kind of database of information on a certain type of product or place.
Of course, you'll want to get a hold of all the organic, authentic recommendations you can, but online reviews can also be relied upon for dependable opinions. Are their reviews mostly positive, or are they negative? Take a look at the negative reviews, are there any recurring points that keep being brought up? That should ring alarm bells for you. If the reviews are, for the most part, glowing and non-biased, you can be quite sure that it's a well-run establishment.
2. Do Your Research
It's important to make sure that you look into the groomer you plan to send your dog to. Consider a few of these burning questions when you do your research – what are the reviews like? How long have they been grooming? Do they have the official certificates necessary? You should also speak directly to the groomer, by either phoning them up or going straight into the parlor. It is also a good idea to take your dog to meet the groomer so that you can make sure your dog will get along with them and of course, to ensure that they can actually cut your dog's fur. Remember, just like with human hair, some hairdresser's may be able to cut black Afro Caribbean hair, but may be inexperienced with European hair. Similarly, a dog groomer may be fully prepared to cut a silky Afghan Hound's fur but have no idea how to deal with a Chihuahuas hair. Be sure that they know what they are doing when it comes to your dog's specific coat type.
You will be leaving your dog with this person for between one to two hours at a time, so you want to be sure they are in safe hands. Visit the salon before committing to booking an appointment – first impressions really count. How are the other dogs in the parlor reacting – do they seem happy, calm, and relaxed? Are the staff treating them well? Is the salon clean and composed or is it dirty and hectic? These are all warning signs you should be looking out for at your initial meeting.
As well as visiting the establishment yourself, you should take your pup to meet them and be sure that they are comfortable around the groomer, particularly if they are of a nervous disposition. In this situation, you might want to consider a mobile dog groomer. Don't worry – these innovative services won't make a mess of your living room – they have their own electronic van that simply can drive up to your house and will groom and wash your doggy right there and then. These are a great option for pooches who are anxious and do not like being away from their owners. They are also useful for pet parents who have busy schedules and cannot fit dropping off the dog off at the groomer's around it, or those who work from home.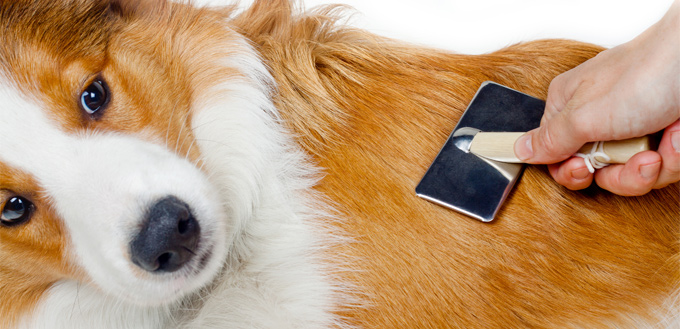 3. Proper Certification and Education
Would you get your hair styled and dyed by a hairdresser who wasn't properly trained for the role? No? So, why would you take your beloved family pet to a dog groomer who has not undergone the proper education in order to do their job? Not only will they come out with a haircut that looks absolutely terrible, but it could also be potentially dangerous for your pup. Certified groomers need to pass both a written and a practical exam, and so they should be able to show their certificates to you when requested. If they are not able to produce these when you ask, you can safely assume that they have not received the proper training to become a dog groomer.
If you allow someone who has not had any formal education to groom your pet, you are putting your dog in serious danger. Remember, groomers will be using sharp and hot instruments such as scissors, dog hair clippers, and dog hairdryers, and when these are handled improperly, there could be disastrous consequences. Sure, these establishments may be a lot cheaper than some of the properly certificated salons, but will it be worth it in the long run when your dog comes back with an awful haircut or worse, an injury?
Related Post: Dog Grooming Scissors
A good groomer should also have some sort of medical training. They will be aware of most skin conditions, health issues and should take an interest in your dog and their personal well being. They should spend some time with you, asking whether your dog has any specific skin problems or allergies to the ingredients used in the dog shampoos and cleansing products.
You May Also Like: Dog Conditioners
4. Services Offered
All groomers will offer the basic services of shampooing, haircutting, and nail clipping, but there may be some extras on the menu that you may not have even heard of before. Most dog groomers these days will also be able to provide your dog will a plethora of pampering services, such as dog teeth cleaning, paw pad cleansing and even anal gland expression. That may sound rather revolting to us, but it's actually quite important. Have you noticed your dog has been scooting around along the carpet on their bottom a lot recently? This probably means their anal glands are full of fluid and need to be emptied. That's where your dog groomer comes in – not quite as glamorous a job as you thought it was!
Some dog groomers will offer services specifically designed for certain types of dogs, such as de-shedding treatment for seriously hairy pooches whose fur drives their owners mad. If you want to treat your doggy to something special, most groomers will offer a range of luxurious, spa-like treatments. You can be sure they will be spoiled with many tasty treats too!
Another thing to take into consideration is if your dog has a skin or health condition. If this is the case, you will need to contact your potential groomer beforehand to check that they are equipped to handle your dog's condition. Ask them if the products that they use are suitable for your pet's issue, particularly if they have a skin complaint or if they have allergies to certain ingredients.
5. Pricing
We all want the best for our precious pets, but the best often comes with a hefty price tag. Go online and search for 'dog groomers near me' or 'local dog groomers' and you will be met with a list of dog groomers in your area, along with reviews from the internet. This is a great place to start when gathering initial dog groomers to check out, and most will have websites with their prices on display. Depending on where you live, dog grooming will be more or less expensive.  Take a look at a few on the list and compare prices to get an idea of how much your area tends to charge for a basic groom.
Know your budget and stick to it. Don't be tempted by a luxurious shampoo package that you know your dog doesn't really need, you'll just end up spending a fortune unnecessarily. However, you can shop smartly and up getting a great deal at the fancy pants parlors. Many pets superstores offer coupons for dog grooming salons when you purchase certain options, such as combs and brushes, so keep an eye out for things like this next time your browsing for chew toys and treats. Look out for coupons in magazines and newspapers too, there's always an opportunity to save money!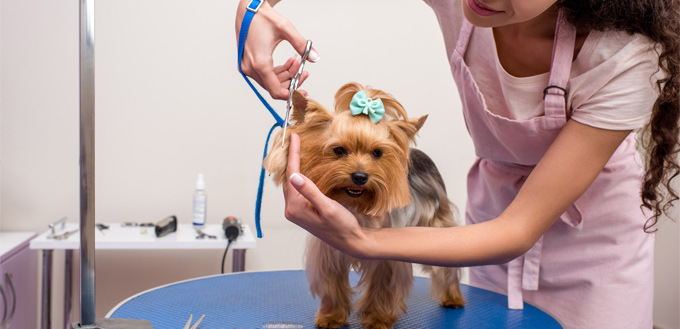 This is fine for a special treat every now and then, however, in the long term. you will need to find a regular groomer that fits your funds. One thing to consider is how often you will need to visit them. Some dog breeds will need to go more regularly than others, which means you will need to factor this into the monthly cost. Take a look at the groomer's pricing structure – they may charge for each service separately or they may be grouped into package deals. The latter structure can sometimes be better value for money, so get your calculator out to make sure!
To conclude, when picking out the right groomer for your doggy, you should be prepared to be patient. It might take some time to trawl through all the options of dog groomers in your local area to find the ideal establishment for your dear dog, but it is not something to be taken lightly. Our dogs develop an important relationship of companionship and trust with their groomer and it is crucial to select the correct person for the job. They will be spending a couple of hours will them maybe even once a month, so you want to be sure that the chemistry between them is there and that your pooch is happy and comfortable in the salon. It will take a while to find somewhere that suits your dog, is within your budget, meets all the service requirements your need and of course, has all the proper training and certification needed, but once you find the perfect dog parlor, you and your doggy will never stray again! You never know, when you find the ideal dog groomer, you may even be giving out recommendations to your friends and family. Good luck in finding the right dog groomer for your furry friend!
Sources:
Sharon Larson, Choosing the Right Dog Groomer in 5 Steps, PetMD
Lancy Woo, How to Find a Good Dog Groomer, WikiHow