If you observe your pooch to be shedding quite heavily, more than the usual, it usually raises a few concerns. While our veterinarians can help us manage excessive shedding in our dogs, we must still do everything we can to help them get rid of these excess hairs. That is why we need to use only the best dog shedding brush we could ever find. Not to worry though since we have taken it on ourselves to provide you with the current world's best. So sit down and allow us to break down our list of the best dog shedding brushes on the market today.
The 14 Top-Rated Dog-Shedding Brushes
The Best Dog Shedding Brush Buying Guide & FAQs
A good dog shedding brush is a must if you are to keep your dog's coat healthy and reduce the amount of loose hair around your home. Not only does this help your dog, but it also reduces the risk of allergens in the home and means less sweeping, vacuuming, and washing for you. Choosing the perfect brush is not always easy. To help, this section of the buying guide looks at shedding brushes in more detail. We consider what you should look for in a dog shedding brush, why you should use such a brush, and the differences between a dog hairbrush and a dog shedding brush. We also answer some of the most frequently asked questions about dog shedding brushes.
What to Consider When Buying a Dog Shedding Brush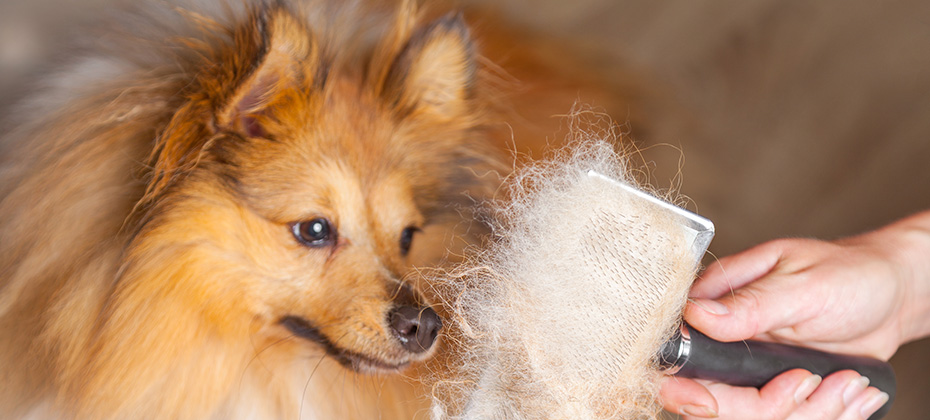 Purchasing the right shedding brush for your pet pooch is vital. It needs to meet the needs of their coat and be comfortable for you to use. If the brush you choose doesn't meet the needs of your dog's coat, then it could be simply ineffective, or it could pull, tug, and get caught as you use it. If it is uncomfortable for you to use, then the chances are you will not use it as often or for as long as needed to remove the loose hair, mats, and tangles in your dog's coat. Here are some other considerations to think about when buying a dog shedding brush for your pet pooch:
The material used to construct the handle and bristles of the brush is important. You want a shedding brush that is durable, long-lasting, and effective. You also want one that will not damage your dog's coat or their skin. Stainless steel bristles or teeth are a popular choice for just these reasons. The bristles are sturdy enough to manage most hair types and lengths and work through mats and tangles but have enough give in them so that they do not cause any damage. Stainless steel is also much less likely to cause an allergic reaction than some other materials and is easy to keep clean.
When it comes to the general construction of the brush and particularly the handle, look for a hardwearing and chew-proof material. While you want the brush to be sturdy, you also want it to be light. A heavy brush will put a lot of strain on your hand and wrist. Non-slip grips on the handle are also beneficial as they reduce slippage while you are grooming.
If you have a small dog, then choosing a brush with a large brush head is going to end in your groom session being ineffective and you not being able to get into those hard to reach places. Similarly, if you have a large breed and a small brush head, you are going to be there for a very long time and potentially put your dog off being groomed. The shape of the brush head is also a consideration, particularly if your dog has a particularly thick or curly coat. Always check the suitability of the brush for more specialized coats.
The primary purpose of a dog shedding brush is to remove loose hair, dust, dirt, and other particles from your dog's coat. The brush should collect these particles so that they can be easily disposed of, rather than flying around your home as soon as they leave your dog. Once trapped, the particles should be easy to remove. If this is not the case, then you could still end out with a home full of loose hair. Brushes with retractable prongs are useful as you simply retract the prongs and lift of the hair straight into the trash. For those with fixed teeth, you should be able to slide the hair off in one simple motion.
Grooming should be a relatively fun time for you and your dog. Started early enough, it acts as a bonding time between you and your pet pooch. However, if the dog shedding brush you choose makes these sessions difficult or painful for your dog, particularly around sensitive areas, then the sessions become stressful. This could result in your dog refusing to be groomed or destroying the hated brush.
While much of your focus when choosing a brush will be on your dog's needs, you must not forget your own. If the brush is uncomfortable or puts stress on your wrist and hand, you are less likely to want to groom your dog. Ergonomic handles reduce the strain of repetitive movements and make grooming less of a chore for you.
Why You Should Use a Dog Deshedder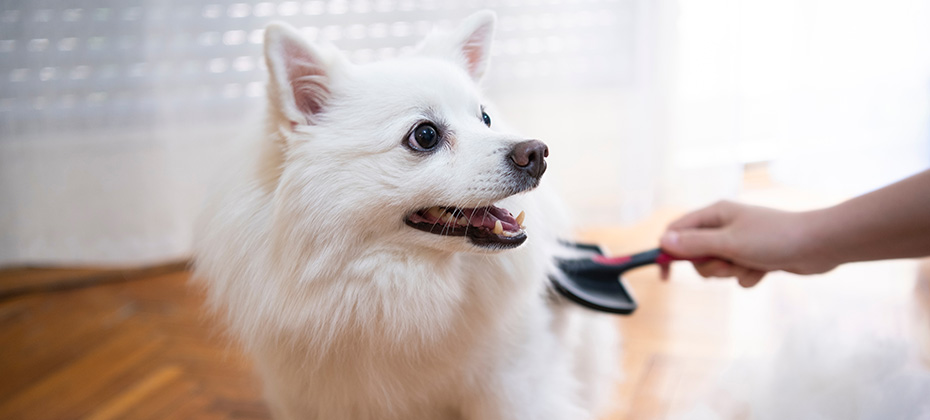 There are many reasons why your dog may start shedding loose hair all over the home. Changes in temperature or diet can cause this to happen. It can also be a sign that there is something wrong that needs the attention of your vet. A dog shedding brush allows you to inspect your dog's coat more thoroughly and identify potential issues while removing the loose hairs before they irritate your dog or spread around the house.
A shedding brush reaches through your dog's topcoat to their undercoat, capturing hairs effectively and reducing the scratching that can result from irritation. Good quality brushes also stimulate the flow of blood under the skin, which in turn improves the overall health of your dog's coat.
Shedding brushes also deal effectively with mats and tangles. Left unbrushed these can attract dirt, dust, and other debris, causing further irritation. As mats and tangles grow, they become harder to remove, so catching them early is essential. Regular grooming with a dog shedding brush can help stop them from forming in the first place.
Dog Hair Brush vs. Dog Shedding Brush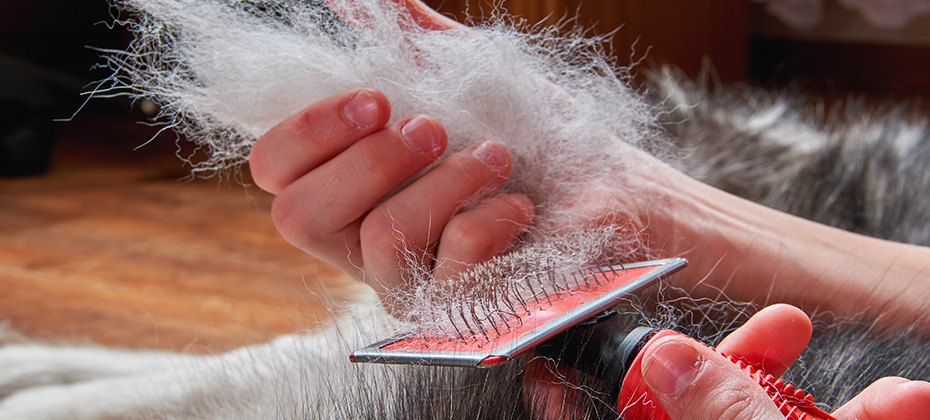 Grooming is an important part of caring for your dog. Regular brushing helps to keep their coat in good condition and acts as a bonding exercise between pet and owner. However, a basic dog hairbrush is only designed to deal with your dog's topcoat. This means there are several important grooming tasks that it is not capable of achieving. As a basic brush cannot reach your dog's undercoat, it cannot remove the loose hairs, dirt, and other particles that accumulate here. It is also not able to stimulate blood flow or massage the skin under the coat.
To achieve these aspects of grooming, you need a dog shedding brush. Such a brush can reach down to the skin and undercoat with ease. It can remove loose hairs before they fall off your dog or become tangled in their topcoat. It can also deal with dirt and dust that can irritate your dog and cause scratching that in turn can cause infections and other skin issues.
Check out some of our dog grooming guides, such as Brushes for Short Hair Dogs, Brushes For German Shepherds, and Dematting Tools.
Sources:
Jane Williams, Can You Over Brush Your Dog?, The Nest
Tammy Hunter, DVM, Grooming and Coat Care for Your Dog, VCA
Frequently Asked Questions
A dog hair remover is a specially designed brush that can reach down to your dog's undercoat and remove loose hairs and other particles that can irritate. A hair remover or deshedding brush usually has stainless steel teeth or bristles that remove loose hairs and trap them until the brush is cleaned. It can also help reduce tangles and mats; removing existing tangles without pulling your dog's coat and causing damage to the coat or skin.
he key to using a dog brush for shedding is to ensure that your dog is comfortable and that you use gentle, methodical strokes. However, for best results, there are a few other key points to remember.
Ensure your dog's coat is dry before you start. This is particularly important if they have been bathed recently.
Inspect your dog's coat and make a note of any sore areas that you should avoid. Also, take note of any mats of tangles that you will need to take extra care with while brushing.
Ensure both you and your dog are in a comfortable position.
Hold the brush so that the bristle, prongs, or teeth are directly above your dog's coat.
Always work in the direction of the hair growth and work from head to tail in gentle, smooth, methodical strokes.
Do not spend too much time in one area as this can cause irritation
Clean out the brush regularly for best results
Don't rush and remember to give lots of praise as you groom
Clean and store your brush carefully at the end of the session.
All dog's and their grooming needs are different. However, it is recommended that you use a dog shedding brush at least once a week. Each deshedding grooming session should last about 15 minutes. However, if your dog's coat is particularly thick or you have a large breed, then sessions may need to be longer.
You may find that longer or more frequent sessions are also needed during seasonal changes in the weather. However, if you notice that your dog is shedding more for no apparent reason, then a trip to your local veterinarian is a wise idea.
The key to taking care of your deshedding tool is to ensure that it is properly cleaned and stored at the end of every grooming session. Remove all hair from the brush as soon as you have finished with it and inspect it for damage. Check with the manufacturer's guidelines regarding washing the brush. If you do wash it, ensure it is completely dry before storing. Store your brush away from allergens and potential irritants. If it comes with a cover, ensure that you use it. Not only will this keep it clean and irritant free, but it will also protect it from doggy teeth should they decide to find and play with it.