Grooming is an essential part of daily life. You don't really want to face the world looking your worst. The same is true with our pet dogs. However, more than for aesthetic purposes, priming our pooches can bring a host of other benefits, too, including healthier skin and coat and the prevention of certain kinds of canine conditions such as infections, inflammation, and skin irritation. Therefore, it is very important to regularly groom your pooch. Selecting the best clippers may not be that difficult for some, but can be especially challenging for those who are new in the world of pet grooming. Not to worry, though, as we have dedicated our resources to come up with the 15 best dog grooming clippers on the market.
A Quick Overview of Our Favorites
| Editor's Picks | Product Name | Price | Rating |
| --- | --- | --- | --- |
| Best Overall | Oneisall Dog Shaver Clippers | Buy on Amazon | 4.5 |
| Runner Up | SMINIKER Professional Cordless Dog Clippers | Buy on Amazon | 4.5 |
| Premium Pick | Wahl Arco Cordless Pet Clipper Kit | Buy on Amazon | 4.4 |
| Ultra-Quiet Design | Andis 2 Speed Dog Clippers | Buy on Amazon | 4.6 |
| Most Powerful | Oster A5 Golden Pet Clipper | Buy on Amazon | 3.8 |
| Best Shatter-Proof | Andis AGC2 UltraEdge 2-Speed Detachable Blade | Buy on Amazon | 4.4 |
| Budget Pick | Ruri's Cordless Dog Clippers | Buy on Amazon | 3.9 |
*Ratings are from Amazon at the time of publication and can change
The 7 Top Rated Dog Grooming Clippers
Best Dog Grooming Clippers: Buying Guide
Things to Look for When Buying Dog Clippers
There are certain things you need to look out for when purchasing grooming clippers for the first time. The best dog grooming clippers will be durable, powerful, reliable, and for some people, cordless clippers are essential. But you also need to think about your own requirements and what you might need to get out of the clippers you select:
What Breed is Your Dog?
Some dog breeds have thin coats that require minimal grooming (maybe just a wash and brush), whereas others develop wintery, thick coats made to withstand harsh weather conditions, such as; Akitas, huskies, collies, chow chows, and many more. Not only that but there are certain breeds with dense curly coats such as the poodle, and others with long coats that will continuously grow unless the hair is kept on top of, such as; Afghan hounds, certain terriers, and English setters, among others.
Knowing your breed will help you to plan how regularly they will need grooming and what exactly that grooming will entail. Once you've familiarized yourself with the breed and their coat type, you can begin to figure out what you might need and how often to plan grooming sessions.
How Regularly Will you Be Using Them?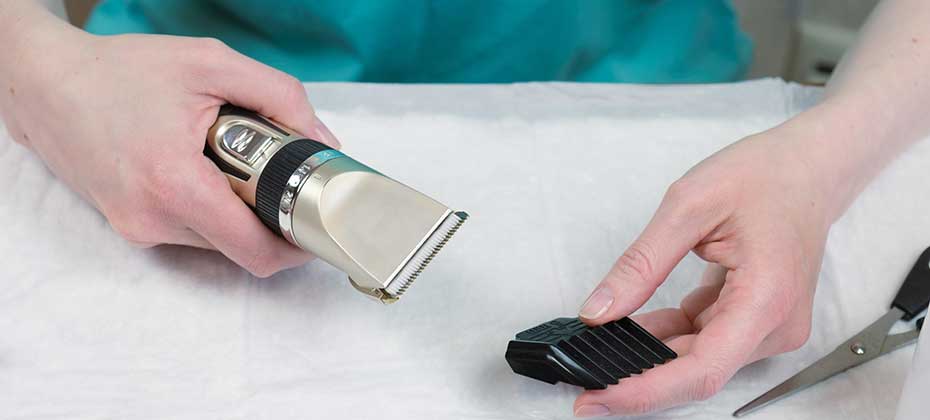 If you have a dog that is going to need frequent grooming and maintenance then you need to make sure the clippers you decide to go with are capable of keeping up with demand. This means picking heavy-duty dog clippers made using durable material. Lightweight clippers are generally better for the odd trim or more infrequent use with thinner coats.
If you're having to do frequent cuts, it may also be worth considering the clipper speed options. Single-speed clippers are great for thin coats and quick trims for short hair, but you might want to select multi-speed clippers if your dog's hair is particularly thick or high maintenance.
Corded Clippers or Cordless Clippers?
The major difference between corded and cordless clippers is the power level. The more powerful dog clippers tend to be corded to ensure a full and constant supply of ample power. This means the clippers won't falter during trimming – avoiding the possibility of your dog's coat getting caught in the blades and potentially causing them pain. This will only give them a negative association with the activity, resulting in them being anxious whenever it's grooming time.
Cordless clippers are great for a quick trim on the go and can be ideal for households where the power outlet is maybe in a position that is a bit too difficult to work from. Cordless dog clippers are also helpful for particularly skittish dogs that are constantly on the move, as they can avoid getting tangled up in the cord and potentially injured. Professional dog groomers have an area specifically designed to keep dogs still and calm during grooming sessions. However, home groomers don't typically have that luxury.
Which Blades Would you Prefer?
Most home grooming clippers come with detachable blades (some more easily detachable than others) to make caring for your clippers a safer affair. The two main materials used for clippers blades tend to be steel and ceramic.
Stainless Steel Blades
Stainless steel blades are generally preferred over standard steel as they have better resistance to rust. Stainless steel blades are also typically cheaper than ceramic, which makes them a more budget-friendly option. Not only that, but stainless steel blades are often available in more side ranges and can be more universal than ceramic.
Ceramic Blades
Ceramic blades can't rust and are corrosion-free. But the major point here, which as a home groomer you may find to be the icing on the cake – they stay up to 75% cooler than steel blades whilst being used. It's common knowledge that metal is a great conductor of heat, whereas ceramic blades are significantly less so. Making them the best dog hair clippers for someone new to the grooming game that may take longer to finish the cut than a professional.
Do you Require Low-Maintenance Grooming Clippers?
All dog clippers will inevitably require a certain degree of care in order to last you through thick and thin. But certain models are designed for fast and effective clipping without the worry of it needing to be dismantled after every use. Though each has its pros and cons. Clippers that require less maintenance generally perform to a lesser standard because you can't keep them in as good a condition as the more complex designs. The ones that require more maintenance usually do so because they need to perform at a high level, and in order to achieve that they need to be properly cleaned and cared for.
What Else Do you Need?
If you're planning to put together a dog grooming kit then there are few added extras you may want to consider. A complete grooming kit should cover a variety of grooming needs. It's best to include the following pieces if you can:
Spare Clipper Blades
Attachment Combs (for varying clipper lengths)
Scissors
Grooming Comb (for detail)
Blade Oil
Grooming Apron
Bristle Cleaning Brush (to clear hair from blades)
Dog Grooming Clippers Maintaining and Cleaning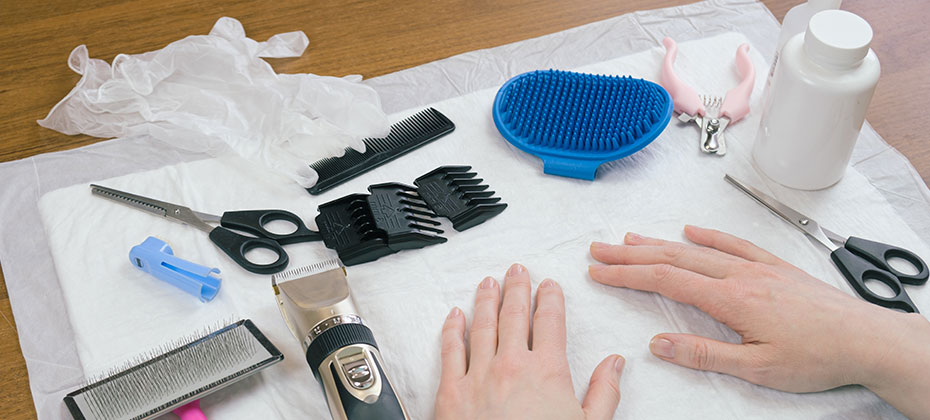 Each set of clippers will have a slightly different way of cleaning and maintaining them. They should come with instructions for general care included with your purchase. But if your don't come with instruction, here is as a general guide to the proper care of dog clippers:
Clean the Blades After Use
Ideally, you should be removing the blades from the clipper body after use so that you can fully remove any trapped care from between the blades using a bristle brush to get into the cracks. Once the hair is removed, submerge the blades in a cleaning solution specifically designed for clippers blades, allow them to soak, and then remove the blades, allowing them to air dry fully before reattaching them to the body.
Lubricate the Blades
The heat built up in clipper blades is caused by friction as the blades move past one another at high speed for an extended period of time. A good way to combat this heat build-up is to ensure that you properly lubricate the blades between uses and ideally use a spray lubricant every 10-15 minutes whilst the clippers are in use. (If you're using them for that long)
Avoid Prolonged Use
Excessive use of your clippers can cause them to blunt quickly, as well as risking injuring your dog with hot blades. If possible, try to swap out your blades whenever they seem to be getting too warm to give them a chance to cool down fully. This is especially important for large dog owners that have thicker coats to get through.
Properly Store Your Clippers Between Uses
Ensure that your clippers are kept in a dry area where humidity won't get to them and potentially cause rust or corrosion. You also want to avoid anywhere that dust could get onto the blades (which should ideally be kept in an oil-soaked cloth). A sealed container would be your best option here.
Keep the Blades Sharp
It is possible to sharpen clipper blades yourself, but be careful to research the proper technique if you are thinking of sharpening your blades at home. For anyone who may not be comfortable with doing it at home, there are also both stationary and traveling businesses that can do this for you.
How to Deal with an Anxious Dog When Using Dog Clippers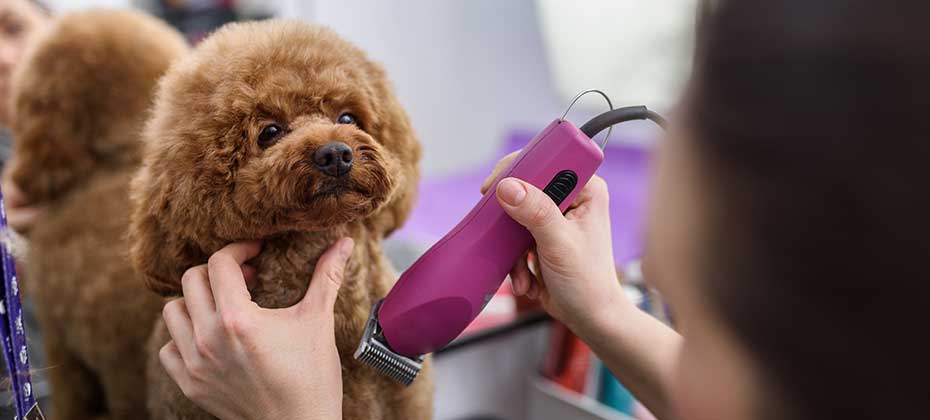 Anxiety in dogs whilst being groomed is a surprisingly common problem that professional groomers have to face on a regular basis. There are several pointers we can give to you that might help you to limit their stress levels. Fortunately, if you're grooming from home then you won't have to worry about traveling with your pup and you won't have to worry about their reaction to being handled by a stranger, which is a good start. But for everything else, here are a few ways to hopefully lessen the stress:
Get them Used to Being Handled
From the moment you bring your dog home, you should encourage them to be okay with being handled. This means positive reinforcement exercises and training sessions in which you gently pick up your dog's foot, place your hands around their belly, lift their tails, hold their head, and turn them around. These are all actions you may have to do whilst grooming them. And if they are taught that these physical interactions are a positive thing, this can help to alleviate some of that anxiety.
Keep the Grooming Area Constant
Wherever you intend to groom your pet, keep it constant. Once your pet knows that a certain setup in a certain space means grooming time, you can start to gently encourage them to make positive connections to the space. This, once again, falls back on positive reinforcement training. Have them enter the area and sit down, then reward them. The more relaxed they appear, the more they should be rewarded.
Start Easy
Don't delve straight into using clippers. If you have a breed that you know will need trimming, start grooming them before they get to that stage. Brushing is always a good place to start. Have them settle into the grooming area and brush them – rewarded calm behavior. Once they are used to being brushed you can move onto nail clipping, bath time, then small amounts of trimming with scissors. The grooming clippers will always be a big step, but making sure they are comfortable with all other areas of grooming makes the clipper stage much less complicated.
Consider Using a Muzzle
Sometimes a dog's anxiety can't be curbed, not with all the calming aromatherapy and soothing tone of voice in the world. In these cases it is unfortunate, but you may have to consider a dog muzzle if they can become aggressive in their panic. It may feel cruel to force a dog to undergo grooming when they are so clearly uncomfortable, but it is often for their own good – especially with breeds that grow long hair around their face and rump, as this hair can affect their sight and have a big impact on their hygiene.
It is better to ensure that everyone involved is safe. You may not want to put a muzzle on them, but a dog's bite can be extremely dangerous as they are a big source of dangerous bacteria that can cause infection. So it is better for both yourself and your dog to take this precautionary measure and aim to get the grooming session over and done with as quickly as possible. In some cases, this might mean doing the bare minimum for the sake of minimizing trauma.
For an easier clean up, check out our reviews of the Dyson Pet Vacuums and Vacuums for Pet Hair.
Our Top Pick
For the best dog clippers, it was important for us to identify the best from the two different categories of pet clippers: corded and cordless. While there are systems that offer both corded and cordless functionalities within a single device, we decided to pick the best from each one instead to give a head's up to those who prefer either a corded device or a cordless type.
For cordless dog grooming clippers, we were quite lost as to which among the different brands would take home the plum. Sminiker's Professional Rechargeable Cordless Grooming Dog Clippers look formidable with its extra-quiet and low-vibration motor. Wahl's Lithium Ion Pro Series was also great especially since it has a 2-hour runtime after only an hour of charging. However, it is Bonve Pet that won our nod. It has a really sleek and elegant profile that is exceptionally ergonomic. Its principal advantage is its low-vibration and low-noise motor at less than 50db. It has a combination of titanium and ceramic blades, too.
For corded clippers, Oster's A5 would have been formidable, but we find its 4000 SPM maximum to be insufficient. Wahl' Deluxe U-Clip Pet Clipper has an exceptional 7,200 max SPM, but it is only intended for light to medium coats. After carefully evaluating the pros and cons of each, we picked Andis ProClip because of its compatibility with other blade systems, especially with Oster blade systems. It may only have 4,400 max SPM but it is powerful enough to even cut through the densest coats. It is super-quiet, too.
And in case you're wondering for a combination of corded clippers and cordless design, Wahl's Home Pet Pro-Series is always a good bet. Its PowerDrive motor and self-sharpening blades plus a 45-minute charge time and runtime make it an ideal product to have. Best of all, its motor and blade systems are designed for heavy-duty use so you can cut and trim your pet regardless of its coat type.
Sources:
Carol McCarthy, DIY Tips for Grooming a Dog at Home, PetMD
Amber Kelsey, How Do I Choose Dog Clippers?, The Nest