Bathing your dog regularly is important for a whole host of reasons, especially with dry shampoo for dogs. It removes detritus which can build up and become uncomfortable in their coats, it helps protect them against fleas and other parasites, and, vitally, it stops muddy paw prints being tracked through your home.
However, getting and keeping your canine companion in the tub can be far from easy. Jokes about the gargantuan task of bathing a reluctant dog abound, and it can sometimes be a two or even three-person job! On top of this, some dogs are frightened of water and find bathtime extremely stressful. Luckily for those of us with pooches who are hydrophobic – or just plain naughty – pet grooming companies have come to the rescue by creating dry shampoos which can be used to clean the coats of our furry friends. These formulas are applied directly to your dog's coat and don't require any rinsing, making them a convenient but effective alternative to a traditional bath. These shampoos are also a great option to use between baths, reducing the number of baths your pet has to undergo and keeping their coat fresher for longer.
There are plenty of canine dry shampoos out there to choose from, so we've compiled a list of the ten products we think are the best. Hopefully our reviews will help you track down the perfect bathing alternative for your dog. We've also addressed some common questions about what your options are, how to use these shampoos, and how they work.
Our Top Picks for the Best Dry Shampoo for Dogs:
Best Dry Shampoo for Dogs Buying Guide & FAQ
And there you have it – the best dry shampoo for dogs on the market right now. We know that since the pet grooming market has really taken off in recent years, it can be difficult to know exactly which product is right for your pet. This is especially true when it comes to dry shampoo, since so many of them have quite similar features! That's why we've put together this handy guide, which we hope will answer some of your major questions about dry shampoos for dogs, and help you decide if this relatively new product is right for your pet.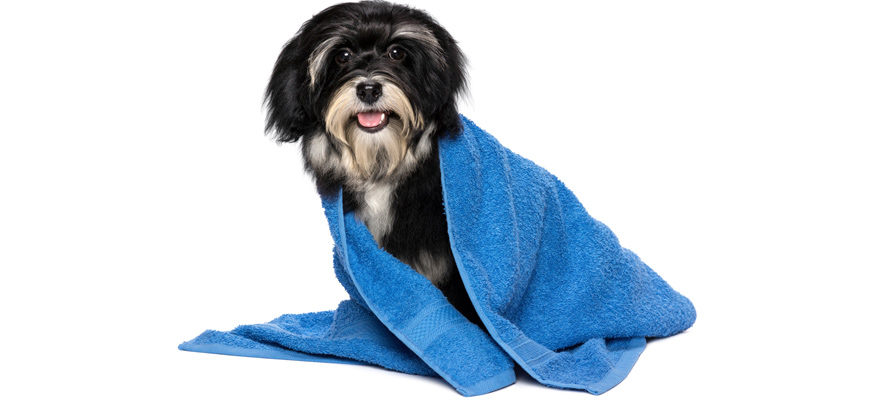 Things to Consider When Buying a Dry Shampoo for Dogs
To help you choose the right option for you, we've outlined a few key things you might want to bear in mind when choosing a dry shampoo for your canine companion.
Topical flea and Tick Medication
If you're currently using a topical flea and tick treatment – such as a spot on gel, collar, or shampoo – make sure you choose a formula which doesn't interfere with it. Most manufacturers will advertise this, including many on our list. Some shampoos also contain lavender extract, which is a natural flea and tick repellant.
All of the shampoos on our list use natural ingredients wherever possible, but not all brands do. If your dog has sensitive skin or is prone to itching and redness, choose a brand which suitable for their skin type. These often contain a soothing ingredient such as aloe to help keep skin calm.
The scent of the dry shampoo for dogs
Although it might seem superficial, it's important that you and your dog actually like the smell of a product you'll be regularly using. Since the products on this list use a diverse variety of scents, it should be easy to find one that you like.
Dogs Who May Benefit from Dry Shampoos
Dry shampoo can be a handy product to have around, but not all dogs will necessarily benefit from it. Below are some key examples of dogs who could really benefit from a dry shampoo, making it a sound investment.
Dogs who are afraid of or don't like Water
Ideally, dry shampoos should not replace regular baths altogether. However, they can still be a great option for water adverse dogs, since using a dry shampoo in between wet washes will reduce the frequency with which you need to bathe your dog. For dogs with sensitive skin, using a gentle formula which utilizes natural ingredients is the best idea. You might also consider combining this with the occasional use of oatmeal shampoo for dogs. Oatmeal calms the skin and helps prevent itching.
As much as we love them, no owner can deny that some dogs can quickly become rather pungent! A dry shampoo can naturally deodorize your dog in a fast and convenient way.
For older dogs, being hoisted into a bath can be a bit too much – especially if they're tired or have arthritis. Using a dry shampoo can cut back the number of times they need to be bathed, saving stress and energy.
Dry shampoos can be the perfect solution for when your dog gets muddy or rolls in something when they're off on a walk. Before you let them back into your house and car, you can quickly remove the detritus (and the smell) with a dry shampoo.
You May Also Like: Best Dog Nail Clippers
Powders, Sprays, Gels, and Foams
Whilst dry shampoos for humans tend to only be available in powdered form, our canine counterparts have four options to choose from! Whether you choose a powder, spray, foam, or gel, will be mostly down to personal preference. Spray shampoos are probably the easiest to distribute easily through your pet's coat, foam shampoos tend to achieve the best lather, and powder shampoos are versatile enough to be used on your pet's bedding and carpets too. Gels land somewhere between the foam and spray options, and are usually best for pets who are more comfortable being touched, since a lot of contact will be needed to distribute it over their body.
Related Post: Best Dog Shampoo
Dry Shampoo for Dogs FAQ
Q:  How do dry shampoos work?
A:  Most dry shampoos work by absorbing the excess oils and grease which accumulate on a dog's coat. Powder dry shampoos use starches or clay to soak up these chemicals. Foams, gels, and sprays, on the other hand make use of gentle surfactants – the same type of chemical used in face washes and other cleansers – to break down these oils so they can be rubbed or brushed away. The gels, foams, and sprays also, essentially, 'rinse' away detritus such as mud and leaves. Some dry shampoos also contain plant extracts which kill odor-causing bacteria, leaving your dog smelling fresh.
Q:  Are dry shampoos for dogs safe?
A:  As long as you follow the manufacturer's instructions, and don't use dry shampoos as a complete replacement for traditional baths, then yes; dry shampoos for dogs are safe. Always be sure to check the ingredients list for any components your dog is sensitive to, and do not over-use the product. Removing too much oil from your dog's coat can make them more susceptible to flaky skin, and even illness, since this naturally occurring oil is their first line of defense against pathogens.
Q:  How do I use dry shampoo for dogs?
A:  Always follow the manufacturer's instructions! Generally speaking, dry shampoos for dogs are used in the following way:
Dispense some of the product onto your dog's coat
Rub it in
Leave to work for a moment
Towel off your dog
Brush their coat, to remove any excess product
Related Post: Best Dog Drying Towel
Q:  How often should I use dry shampoo for dogs?
A:  How often you wash your dog, by any method, depends very much on their breed and lifestyle. Active outdoor dogs will need to be washed more than those who usually hang out at home, for instance. Dogs with normal skin should generally be bathed about once a month. Using a dry shampoo to supplement this routine, you might be able to bathe them every month and a half, and use the dry shampoo every week or so. Dogs with dry skin should be bathed less often – around every two or three months. If in doubt about your dog's bathing routine, speak to a veterinary professional.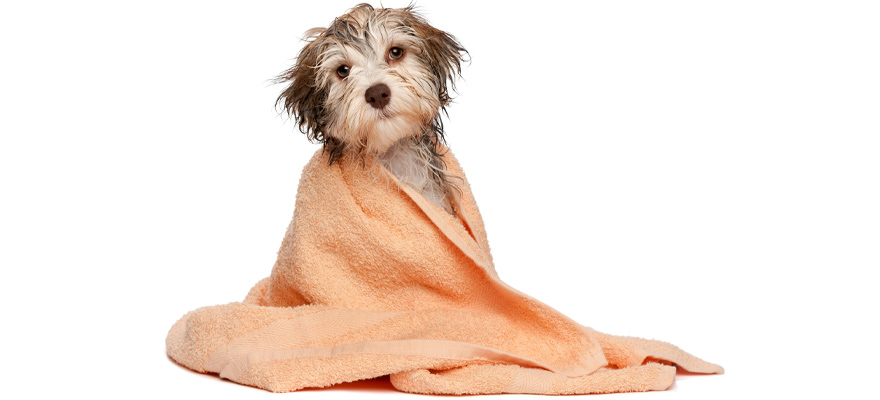 Our Top Pick of Dry Shampoo for Dogs
Our prize for the best dry shampoo for dogs has to go to Wahl! Their gentle, foaming formula is convenient to use and does everything you need it to at an affordable price point. Available in both lavender and lime verbena scents, their blend will leave your pet's coat soft and shiny no matter what your preferences. It's the perfect way to spruce up your dog's coat without resorting to harsh chemicals, and also has the bonus of leaving it in great condition thanks to its guar conditioner.
Overall, we think this handy product is the best waterless dog shampoo.
Sources