From the Poodle to the Portuguese Water Dog, there are countless dog breeds that have significant grooming requirements. Keeping your dog groomed is not only a benefit to keeping your home dog hair free, but also to the health and well-being of your beloved pet.
Whether you have a short-haired dog or a long-haired dog, grooming should be an important part of taking care of your four-legged friend. If you find yourself regularly having to bathe your dog, then it can be invaluable to have a high-performance and reliable dog dryer on hand.
Take a look at our top 8 picks for the best dog dryers on the market, and a closer look at their key features. Not sure whether a dog dryer will be a worthwhile addition to your grooming kit? Don't worry, we also have you covered with a handy buying guide, to provide some extra help with the purpose, use, and features to look out for!
The 10 Top-Rated Dog Dryers
Best Dog Dryer: Buying Guide & FAQs
Why Do I Need a Dog Dryer?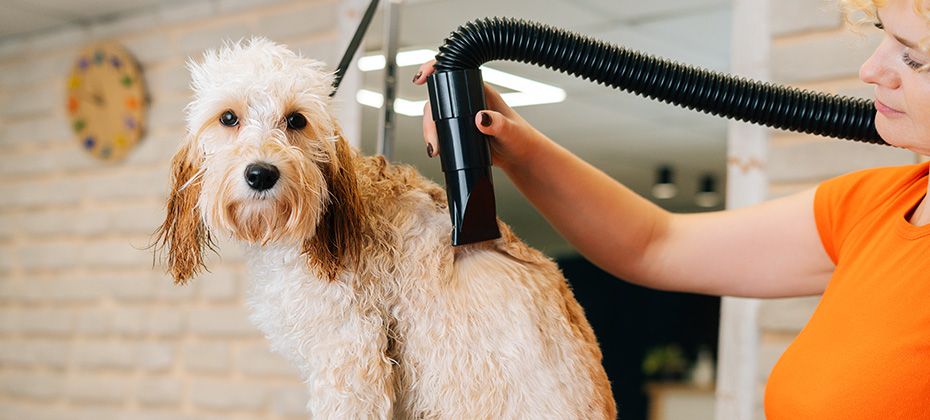 Dogs are not well-known for staying clean and tidy. Bathing your dog is a key part of the care required from any responsible dog owner to keep their coat's and skin healthy. Once you've bathed your dog, you need to make sure that they are dry. Why? To avoid the smell of wet dog and to make sure your dog's coat is looked after, not matted, and in good condition.
A dog dryer is a handy device to have around. It ensures that your dog's coat can be dried quickly, they aren't exposed to the cold for too long, and you can get the perfect finish after bathing. As full towel-drying isn't always practical, and normal hairdryers aren't well-suited to dog hair, a dog dryer provides an effective method of quick-drying, no matter what breed of dog you have.
Different Designs and Types of Dog Dryers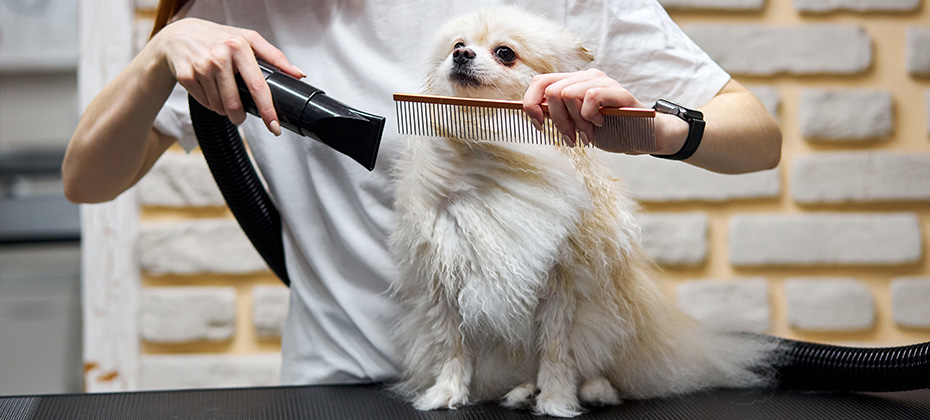 There are multiple types of dog dryers available to choose from, each with varying designs and benefits. Primarily, you'll find that most dog dryers take one of two forms: either a compacted version of the dryers you would find in a dog grooming center or a similar design to your hairdryer at home.
Stronger dryers are normally the compacted versions of professional dryers, offering the ease of lightweight and portability. These generally feature a drum, commonly made from steel, that encases the main motor. From the drum, a hose is attached, similar to many models of various vacuum cleaners. Multiple nozzles can be attached to the hose, depending on the kind of coat your dog has and the size of your dog.
Take a look at our guides on Vacuum for Pet Hair and Dyson Pet Vacuum.
How to Pick the Best Dog Dryer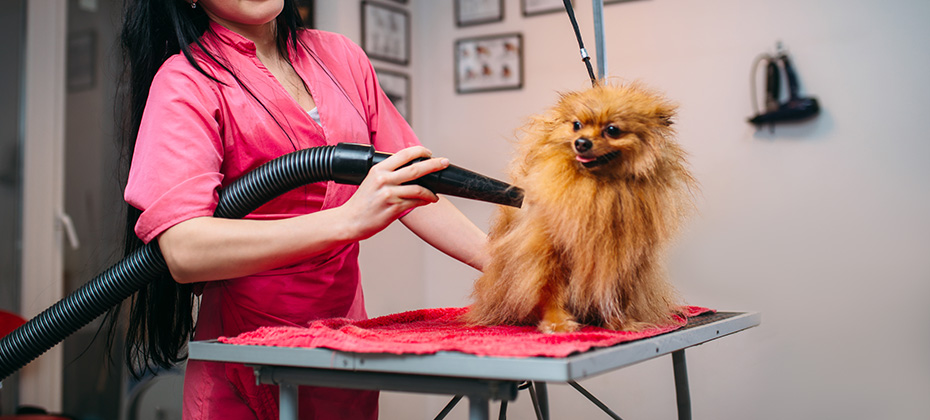 Selecting the best dog dryer for your dog starts with the size of your dog and its coat. Dogs with short coats need very different drying strengths and nozzle variations to dogs with longer, more difficult coats.
For small dogs, you need to make sure that the dog dryer has a lower airspeed setting, so you can dry the hair without blasting your dog with air that is far too intense. For larger dogs, and especially those with long hair, a stronger dryer is needed to reach all the hair. Larger dogs are able to handle higher strength dryers, as the extra force is needed for a quick dry. Plus, some dryers can switch from single to double motors, which is perfect if you have different sized dogs.
The included nozzles and adaptability of additional nozzles is also an important consideration. Not all nozzles are suited to every dog hair type or size of the dog. If the dog dryer only comes with smaller nozzles, then it is likely going to be unsuitable for bigger dogs.
A major consideration is also the length of the wire and hose that come with the dog dryer. For dogs that can't stay still or larger dogs, a long hose can be incredibly beneficial. This is especially helpful when combined with a longer wire for more controllable usage.
How to Use a Dog Dryer on Your Wet Pooch
With the variation in dog dryer designs, there will be a slight variation in the method used to get an optimum dry. However, many of the most popular dog dryers can be used in a similar way. If you're drying your dog with a dryer for the first time, or are searching for a better technique, try our three-step process for optimum drying:
The first step is to prepare your dog for drying. You should start by removing the excess water by rubbing your dog down with a towel – this will make the drying process much quicker. It's also advised to place a towel under your dog as well, to stop any water from making the surface slippery, or damaging the surface. Some dogs may benefit from being leashed, so you can focus on drying without the worry of them running off.
You may also like our guide on the Best Dog Drying Towel.
As you slowly introduce your dog to the dryer, it is best to start with the back legs and feet first. This will give your dog the time it needs to get used to the sound and sensation of the dryer. When you get to the body, you should be using slow and short motions with the dryer, keeping it close to the skin, before worrying about the outer hair.
Drying your dog's ears and head can be tricky, especially if your dog is new to the use of dryers. It's important to fold the dog's ears forward, so the air can't get in, and dry the back of the head carefully. This can be hard for you and your dog, and if your dog doesn't enjoy the sensation or struggles, then it is vital not to push it. You can either allow the head to dry naturally, reduce the settings on the dryer, or try to dry from more of a distance.
Our Top Pick
SHELANDY 3.2HP Stepless Adjustable Speed Pet Hair Force Dryer Dog Grooming Blower with Heater
Our number one choice is this 2400W adjustable dog hair dryer, which is suitable for a range of different pets from puppies to large breeds. The latest technology has been used to reduce noise, and there are a couple of different options to choose between for the temperature. Four different types of nozzle are available, so you can choose the one which is best suited to the grooming task in front of you. And within the first year, there is a warranty enabling you to claim a free replacement in case anything goes wrong.
For all these reasons and a few more, we have ranked the dog hair dryer at the top spot on our list.
Sources:
Carol McCarthy, Tips for Getting Your Dog Comfortable with a Dog Dryer, PetMD
Frequently Asked Questions
Many dogs are naturally afraid of loud noises, so using a pet hair dryer on them can present something of a challenge. Just the same as training your dog to do anything, a little by little approach is the best one to take. You need to get your furry friend used to both the sound and feel of air blowing on them. To start off with, you should show them the turned off dryer, offering plenty of praise and treats to make sure they instantly associate it with something positive. They will want to sniff it thoroughly, as this is how dogs do their exploration.
Next, you can try turning on the dryer. Your dog may run away at first, but don't force them back again. You may be able to lure them back with a treat once they have realized there is no threat. After this, you can try blowing their coat a little bit, ensuring that the heat setting is nice and low. Keep the dryer low as it can feel threatening if it is looming above them. Avoid making any sudden movements that could lead to your pup becoming startled. You may not be able to dry their entire coat straight away, but over time, they should become more and more used to it. Patience is the name of the game, and you are much better off taking a little by little approach. Don't force your dog when they are clearly feeling distressed. You never know how dogs are going to react to fear, and you are also likely to set the learning process back again.
If nothing seems to work, you may need to consult with a pet behaviorist specialist.
While our dogs are entirely domesticated, they still have their primal instincts which teach them to stay away from danger. Dogs are naturally afraid of the unknown, which is why you have to take the time to properly introduce the dryer to your four-legged friend. Over time and repeated exposure, they will start to realize that it is not a threat. You also have to remember that your dog has a very finely tuned sense of hearing, so what may appear to be a relatively quiet noise to us can be extremely loud to canines. Just like us, dogs have the basic need to feel safe – particularly in their own home. It is natural that stress and fear come from the unknown.
If you are bathing your dog on a regular basis, a professional quality pet dryer is the better option than your at-home one. Human hair dryers can be too hot for dogs, and you may end up inadvertently burning their skin if you are not careful. Rather than generating heat themselves, most dog dryers are designed to blast water away at a high speed. This will leave their coat a little damp, but they are able to dry this off by shaking themselves down. This air blasting approach also helps to remove loose hair, which helps to ensure that their undercoat doesn't become too matted, making the task of grooming them so much easier. The final point to consider is that professional groomers use special models for a reason, which is primarily that they do the job quickly and effectively, so you can be surer that you are getting a product that will dry your dog properly.