Pitbulls are much gentler than their unfair reputation and, if trained correctly, have a loyal and intelligent personality. Unfortunately, Pitbull terriers have been given bad press in the past, and this is because there have been too many irresponsible owners that have trained them to fight.
You can read more on Pitbull's reputation here.
These inherently gentle creatures make wonderful pets, but ignoring their natural strength would be foolish. With a super-strong body and iron-cast set of jaws, Pitbulls need robust dog toys that they can chew so they won't turn to your furniture for an afternoon snack!
The best toys for pit bulls are those that have been specially designed to withstand strong jaws. These types of toys also will last longer - Pitbulls are tenacious beasts and will chew and chew until they feel satisfied! For dog owners, it can be a challenge looking for the best dog chew toys for pit bulls as so many on the market made grandiose promises but failed to deliver. Lucky for you, we have researched to find the best toys on the market for pit bull terriers and aggressive chewers.
Key Takeaways:
1. Pitbulls have super strong jaws, so they need fun, durable toys
2. Fillable toys will keep your dog both physically and mentally stimulated
3. Always supervise play with chew toys/puzzle toys with small parts
4. Reward your dog for using their chew toy as opposed to chewing furniture
5. Interactive toys can enhance the dog/owner bond
The 10 Best Pit Bull Toys
How to Choose the Best Dog Toys for Pitbulls?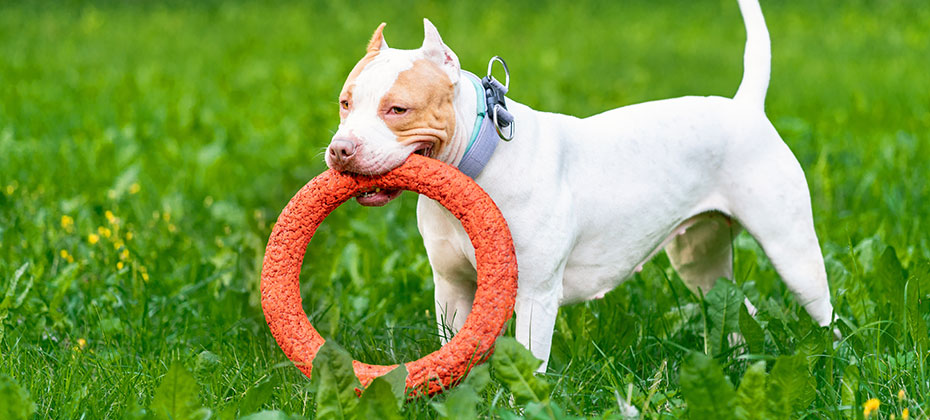 If you already own a pit bull terrier or are thinking of buying one, then you should know that these dogs are strong. They have tenacious personalities and wide-set jaws. Suffice it to say, this breed of dog likes to chew! An indestructible toy alone will not prevent your pup from chewing your furniture, but with adequate training and the right toys, it will certainly help!
You Want Toys to Last – Go for Toughness 
Strength and durability are the most important things to look out for when buying a toy for your pitbull. For example, when selecting chew toys, you will want to ensure that your dog will not chew the toy to pieces within a few days. So look out for pitbull toys that have been created using tough, durable food-grade rubber – something that can withstand pit bull chewing! Some of the products on the market even offer a lifetime money-back guarantee, and we have seen products used from the same rubber as used by aerospace engineers. 
Make Sure They're Fun!
Another factor to take into consideration is boredom. If your pitbull is left at home alone, it's a good idea to look for toys you can fill with snacks. Many dogs will find this both mentally and physically stimulating. There are lots of pitbull dog toys on the market that can be filled with snacks and used for games of fetch and tugging games – good toys like this will strengthen the owner/dog bond too.
Be Aware of Materials Used
Will your pitbull be playing on or near water? If this is the case, then perhaps opt for lighter rubber material that can float on water, giving them hours of splashy play. Of course, heavier, more robust rubber chew toys will sink in water, but you still can get lighter materials suitable for the aggressive chewer in the family!
You can read more about pitbull swimming here. Muddy swim? Then look at this article which features the best shampoos for Pitbulls.
Why Do You Need Indestructible Dog Toys For Pit Bulls?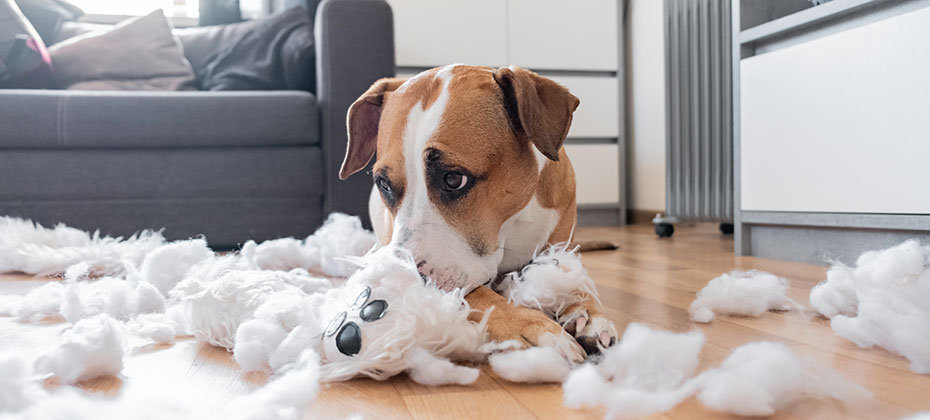 It's important to buy the right chew toy for your pitbull. This breed of dog has very strong teeth and wide-set jaws. Combine this with super stamina and strength, and you can see why it is important for them to have indestructible strong toys. Cheap flimsy toys will break quickly and potentially cause a choking hazard if small pieces are swallowed. This is why indestructible toys for pit bulls are essential buys.
Frequently Asked Questions
Pitbulls, like any other type of dog, need stimulation in the form of play. This breed, however, is renowned for their champion chewing so they like to play with toys that they can fetch and chew.
They love it! These dogs are well known for their strength and stamina so playing fetch with your pitbull is a perfect game for them to keep them actively stimulated. This will also keep them from being too clingy which is something you can read about here.
A pitbull doesn't see a toy as a toy – rather something to be destroyed! You could give them all the toys in the shop, but their natural instinct to want to pull their toys apart! Boredom can create a need to destroy things too, so you must ensure that your pit bull is physically and mentally stimulated. Playing fetch is a good way to keep your dog active and actually also keeps the dog's teeth clean! Another point to note is that pitbulls are natural chewers so they will naturally reach for something to bite and chew. The best chew toys for pitbulls should be strong enough for them to chew and last a decent amount of time.
Like any other dog breed, pitbulls have a natural urge to chew. This means that if you don't provide them with the toughest chew toys for pit bulls they are going to find the nearest tasty thing around the house to chew and destroy! It is worth noting, however, that the first phase of chewing occurs when the puppy is young and teething – this is completely natural. Around 5-6 months your pitbull will be chewing less as their adult teeth grow. The second phase of chewing occurs around 7-8 months and can last up to two years. This is when your pitbull is going through their developmental stage and is motivated through boredom and needing entertainment! Specific toys for pitbull puppies will help!
Be sure to feed them the correct food too.
You must always avoid cheap chew toys for pitbulls made from flimsy materials. Look for natural indestructible dog toys for pit bulls that are specially designed for large dogs and strong jaws.