Providing appropriate mental and cognitive stimulation for dogs while allowing them to have fun reminds us more of the aims of early childhood development. For this reason, interactive toys for dogs are highly recommended to help promote a more well-balanced temperament, making dogs a lot easier to train and helping minimize canine behavioral issues that stem out of boredom and frustration.
There are many interactive dog toys on the market. Each one has its unique advantages over the others. Understanding what these types of doggie toys are and what benefits your pooch can derive from these things can help you decide on the right interactive toy to purchase for your canine friend.
What are Interactive Dog Toys?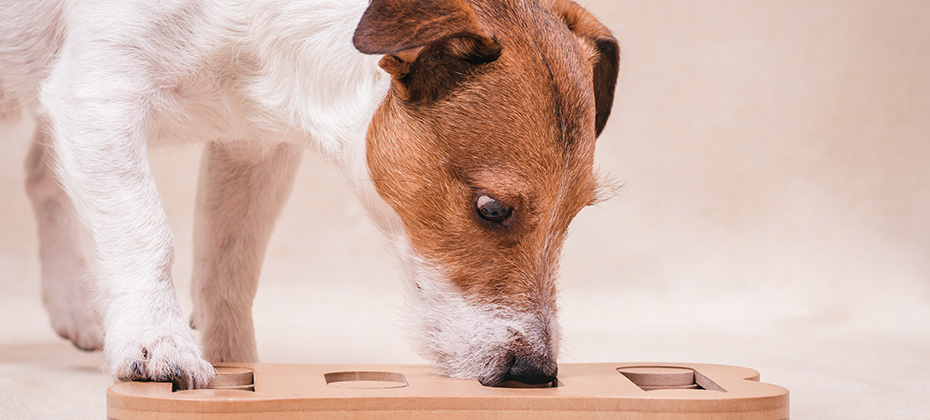 Interactive dog toys are playthings that keep canines fully stimulated in their simplest definition. Dogs are highly social animals. They thrive on interaction with members of the pack. Therefore, if you have several pets in the household, canine boredom is usually not an issue since they can at least play among themselves. Unfortunately, the same cannot be said for single dog households, especially if you are too busy with work or if no one is left in the house to keep your pup stimulated.
Interactive dog toys can come in many forms. First, there are puzzle toys that use treats as the primary motivation for puppies to try and solve the puzzle. For instance, you can hide the treat in a mechanism that hounds will have to 'solve' to access the treat.
Some toys squeak or make funny noises and move. These play to the dog's predatory instincts. We've written a detailed article on why dogs like squeaky toys. Check it out.
Some toys come in various textures, tastes, and even sounds. Like human development, these things stimulate the brain. But, as we all know, stimulating the brain means working it to become sharper and primed for optimum canine training.
Different Types of Interactive Dog Toys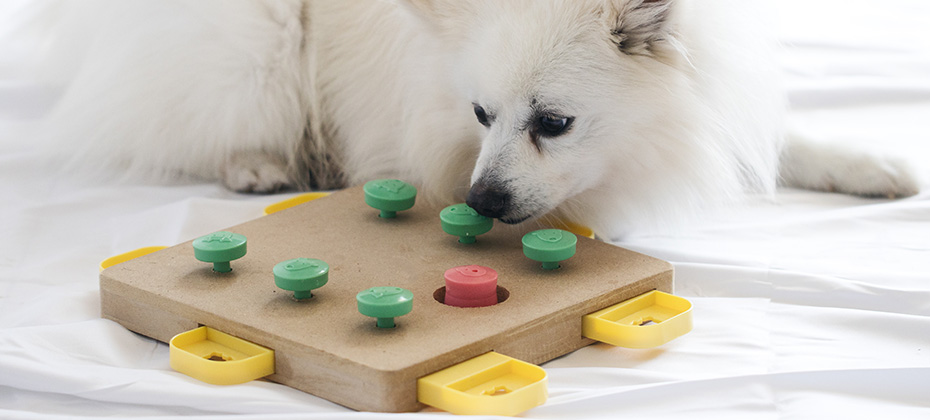 Before making any decisions, it helps to know the different types of interactive dog toys available to you and what they're each made for.
Food & treat-dispensing toys
Food and treat dispenser toys provide your dog with food-fueled fun. If treats drive your dog as reinforcement for behavior, a treat-dispensing toy can be the perfect way to encourage them to play independently. Doing this can help curb separation anxiety and train undesired behavior out of your puppy, such as barking.
Puzzle toys
Puzzle toys are ideal for intelligent dog breeds that demand a lot of mental stimulation. Puzzle dog toys can come in all shapes and sizes, and many of them are offered in a range of difficulties (some of which can even be difficult for a human to figure out). They're the perfect way to keep an active mind occupied.
Hide-and-seek toys
Hide and seek toys cater to a dog's instinct to forage and hunt for things. By hiding toys within toys, they will feel compelled to find the hidden toys to get to play with them. They also come with the additional benefit of providing a space for your dog to stick their nose when they're feeling particularly snuffly.
Responsive toys
Responsive toys are often good for highly active dogs (or all puppies). They will usually respond to sound or movement, triggering an exciting reaction that will catch your dog's attention. Responsive toys often move quickly and make plenty of light or sound to encourage your dog to play with them. This is great for keeping energetic dogs entertained.
High-tech toys
High-Tech toys can range from an automated ball launcher to an app-controlled Roomba-style engagement toy. Each has its perks depending on what it is you need. Though high-tech dog toys are usually quite expensive, do plenty of research and make sure it suits your needs before investing. Also, always check the warranty and return information before letting your dog get at it.
The 25 Top-Rated Interactive Dog Toys
Picking the right interactive plaything for your pup need not be difficult. You can start with our list of the twenty-five best interactive toys for dogs.
How to Choose the Right Interactive Dog Toy
Since the pet market is actually littered with lots of toys, picking the right one for your pooch can be quite challenging. You no longer have to fret about such things as we're here to help you choose the right toy for your dog. Here's how.
Understand Your Pooch's Jaw Characteristics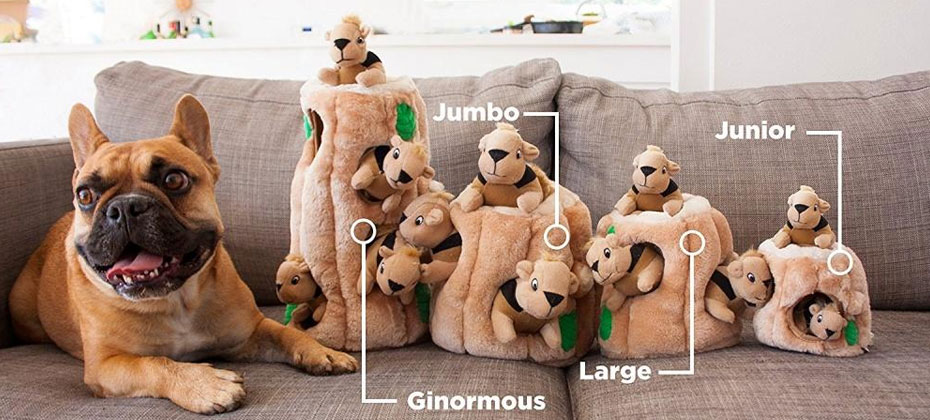 While dogs can actually play with their paws, the principal organ that is involved in playtime activities is still the mouth. As such, even before you start buying toys for your pet, it is imperative that you have a clear understanding of the characteristics of its jaws, especially its bite force.
Generally, puppies have a much softer bite than fully-grown adult dogs. Also, there are certain breeds that, even though they are already fully grown adults, still have a relatively soft bite.
For instance, the Labrador retriever is well regarded for its gentle bite, something that it needs to pick up felled prey without necessarily shredding the prey to bits. There are also breeds that, small as they are, will have the bite force of a croc, pun intended just to make a point.
For gentle chewers, a soft squishy, hollow ball is usually sufficient. For aggressive chewers, one that is perfectly round and comes in a single color is ideal, although you can always experiment with caution.
Choose Appropriately-Sized Interactive Dog Toys
It goes without saying that you need a toy that is appropriate to the size of your pooch's jaws. Too small and you risk choking your dog. Too big and your canine friend will lose interest in an instant.
Always Go for Interactive Dog Toys That Are Safe
Make sure the toy you choose is made from safe materials. It should also be sturdy enough that it will not be easily broken into bits and risk indigestion or even choking in your pooch.
Benefits of Interactive Dog Toys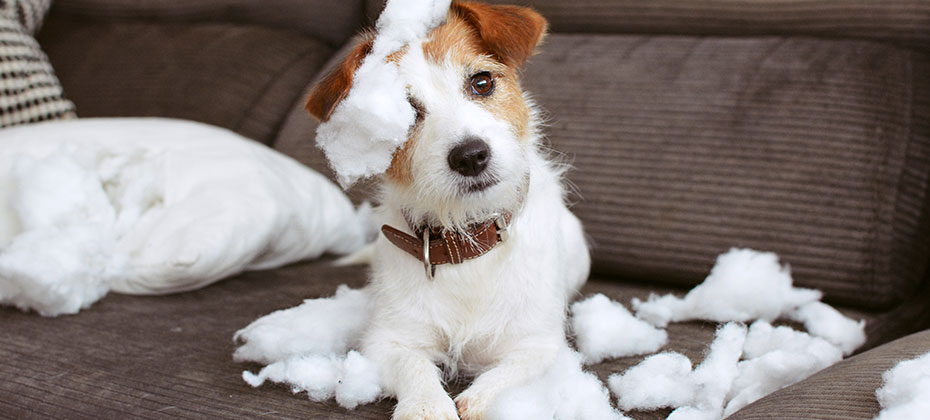 There are many reasons why a lot of animal experts recommend giving interactive toys to dogs. For the most part, the benefits our canine friends derive from these types of playthings are simply great. Here are some of them.
Helps Prevent Undesirable Behaviors
Interactive dog toys work to keep the dog's mind busy so that it will not be tempted to do things that are considered undesirable. For instance, instead of chewing on your furniture or barking incessantly when you're not around, it can focus all of its attention and energy on 'solving' puzzle toys or chewing on dental chews.
Alleviates Canine Anxiety or Grief
Canine anxiety, like that of humans, can be manifested in a lot of ways. There's barking, jumping, destructive chewing, and many more. When pooches are 'sad' because you're going to leave them alone for several hours, it can be particularly devastating for them. Giving them interactive toys can help them vent out their anxious energies into more constructive mechanisms.
Provides Mental and Physical Stimulation
Training your dog requires it to listen to and obey your commands. This can only happen if it can focus on the task at hand. Giving them interactive doggie toys help train their minds to focus on a particular activity at any given time. Puzzle toys also help sharpen their problem-solving skills which can come in handy in dog training.
Slows Down Fast Eaters
Treat dispensing toys that come in the form of puzzles can help slow down fast eaters. This is helpful if you have a pooch that is susceptible to bloating. It's also helpful for obese dogs that definitely need to lose weight.
Keeping our pooches mentally and physically stimulated can be made a lot easier with the use of the right interactive dog toys. It is, therefore paramount that we take ample time looking at the various products made available to us. By making sure that these products are of the correct size and correspond well to the unique characteristics of our dog, you, too, can easily pick out the right interactive toy for your hound.
Sources:
Mark Stickney, Tips for Buying Dog Toys, Texas A&M University