Pitbull terriers or simply Pitbulls are one of the most intriguing canine breeds. They are largely depicted as very vicious animals, very aggressive against other dogs as well as to other humans. Pit bulls are also depicted in the media as having locking jaws that add to their viciousness. Unfortunately, many of these characterizations are considered myths by animal experts and can be easily disproven by those who have worked closely with these breeds. If any, pit bulls are well-known for their determination. If trained properly and given the correct nutrition and guidance, these 'super vicious' dogs can actually be considered one of the most valuable breeds. Since optimum health starts with good nutrition, it is important to take a closer look at what constitutes the best and most appropriate diet for a Pit Bull terrier.
A Quick Overview of Our Favorites
| Editor's Pick | Product Name | Price | Rating |
| --- | --- | --- | --- |
| Best for Weight Gain | Taste of the Wild High Prairie Grain-Free Dry Dog Food | Buy on Amazon | 4.7 |
| Best for Healthy Skin | Blue Buffalo Wilderness Chicken Recipe Grain-Free | Buy on Amazon | 4.7 |
| Best for Pitties with Allergies | Natural Balance L.I.D. Grain-Free Salmon & Sweet Potato | Buy on Amazon | 4.7 |
| Best Grain-Free | Wellness CORE Ocean Whitefish, Herring & Salmon Recipe | Buy on Amazon | 4.7 |
| Best Value | Diamond Naturals Large Breed Adult Chicken & Rice | Buy on Amazon | 4.5 |
| Best to Build Muscle | Bully Max High Performance Super Premium Dog Food | Buy on Amazon | 4.6 |
| Best for Puppies | ORIJEN Puppy Biollogically Appropriate Dog Food | Buy on Amazon | 4.6 |
| Best Canned Dog Food | Farmina N&D Prime Chicken & Pomegranate Canned Dog Food | Buy on Chewy | 5.0 |
| Best for Senior Dogs | Annamaet Original Senior Dry Dog Food | Buy on Amazon | 4.3 |
| Best Fresh Food | The Farmer's Dog Fresh Dog FoodThe Farmer's Dog Fresh Dog Food | Check Latest Price | N/A |
*Ratings are from Amazon and Chewy at the time of publication and can change
The 10 Top Rated Dog Food for Pitbulls
Best Food for Pitbulls: Buying Guide & FAQs
Feeding a Pit Bull terrier pretty much follows the same guideline as in any other breed of dog. The amount of food you give it depends typically on its size, age, metabolism, activity level, and even build. That being said, you really cannot expect your pitbull to have exactly the same amount of food and frequency of feeding as the pitbull of your neighbor or your friend. They are like us, too. Each dog is inherently different from another pooch of the same breed and from other breeds.
The activity level of dogs is, without a doubt, a very important determinant in how much foodstuff you have to give it. Also important is the quality of the feed that you're providing it. You may be giving a lot of food every time but your pit bull simply isn't getting the right amounts of nutrients, leading to more frequent feedings or significantly greater amounts of foodstuff per feeding. There are a variety of factors that we simply have to consider in our approach to giving our pit bull terriers the best food for them.
As such, we have prepared this comprehensive pitbull dog food buying guide to help you decide for your mutt the kind of food it needs to receive including how much and how frequent the feeding should be. Hopefully, towards the end of this article, you would have gained enough knowledge to provide your beloved pit bull the kind of nutrition it truly deserves.
What Kind of Diet is Best for a Pitbull?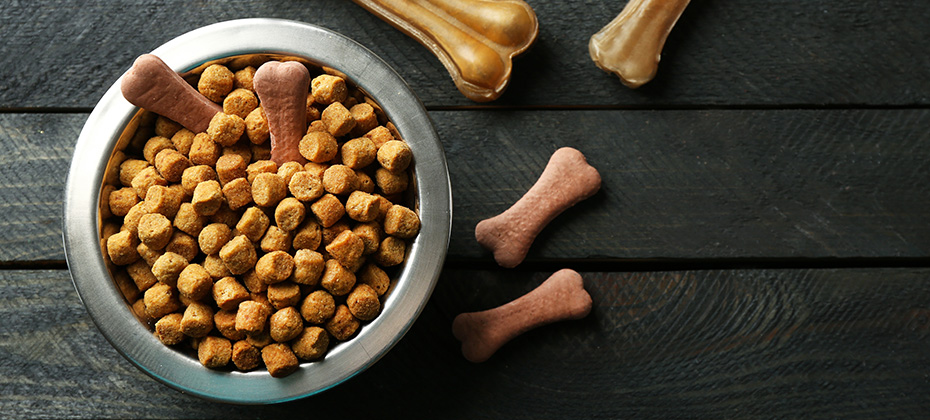 As we shall see later on, the best kind of diet for a pitbull or for any dog for that matter is one that has a good mix of proteins, fats, and carbohydrates. Proteins are especially important for pit bull terriers as these macronutrients are necessary for building and maintaining the integrity of their muscles as well as other organs. We all know that pit bulls are highly regarded for their muscular build. That is why a diet that is high in high-quality proteins is a must.
Not to be outdone is the fat content of their diet. Pit bulls can benefit from healthy fats as these are important constituents of the structures of the nervous system as well as the skin and hair. These are also essential in ensuring the more efficient absorption of certain vitamins that are largely dependent on the presence of fat molecules for transportation. Without fat, your pitbull will not be able to digest and absorb these vitamins and thus, will not be used by the body.
Carbohydrates are needed as the principal source of energy, although it is not uncommon for fat molecules to be used up as well. Since pit bull terriers lead a generally active lifestyle, they need the energy to sustain their physical activities. If they cannot get this from carbs and fats, then they will have to derive the energy from proteins. If this happens, they lose their muscles. Have you seen a skinny pit bull terrier? Does it look good? Here's a useful article on How to Make Your Pitbull Muscular.
Most experts recommend the following composition of nutrients for a pit bull terrier.
45% protein
25% fats
30% carbohydrates
Keep in mind that this nutritional composition is just the recommendation for a generally healthy adult pit bull terrier.
How Much Food Should I Feed My Pitbull?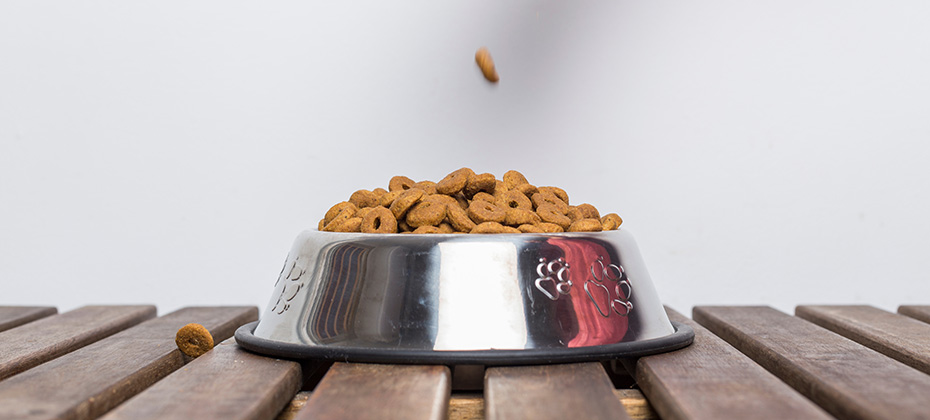 As we shall be presenting to you in the succeeding sections, the amount of food that you are going to feed your pitbull actually depends on a variety of factors. As much as we would like to be overly simplistic about it, there really is no dog food that is custom-made for a specific breed for the simple reason that members of the same breed can still have substantially different caloric and nutrient requirements.
For example, a pregnant bitch will typically require more nutrients than a healthy adult male pitbull owing to the fact that it has several puppies that are depending on the mom to provide them with the necessary nutrients for fetal development. The same is true with pit bull terrier puppies. Because they are growing at a very rapid pace, their nutrient requirements are substantially greater than those required by adults and senior dogs.
The point we would like to make is that we cannot really tell you a very definitive answer as to how much you should feed your pitbull. This is because, first, we don't know what kind of pit bull terrier you have. How old is it? Is it already neutered? Is it pregnant? Does it have metabolic problems like obesity and diabetes? Does it have other health problems that may require an adjustment in the amount of food that it needs? Also, where does your pooch live? Does it live in a relatively cold place like somewhere in Minnesota or a warm and humid place in Florida? How about its activity level? Does it go on exercise every day? If so, what are the activities that it usually engages in, and how long does it usually perform these?
As you can see, it is quite difficult to come up with a definitive figure. How much food do you need to feed your pitbull? It actually depends on a lot of things. Let us just put an average then which is usually around 1,100 kCal per day. Again, this is just the average. It doesn't mean that this is also what your pitbull should be getting.
Pitbulls and Food Allergies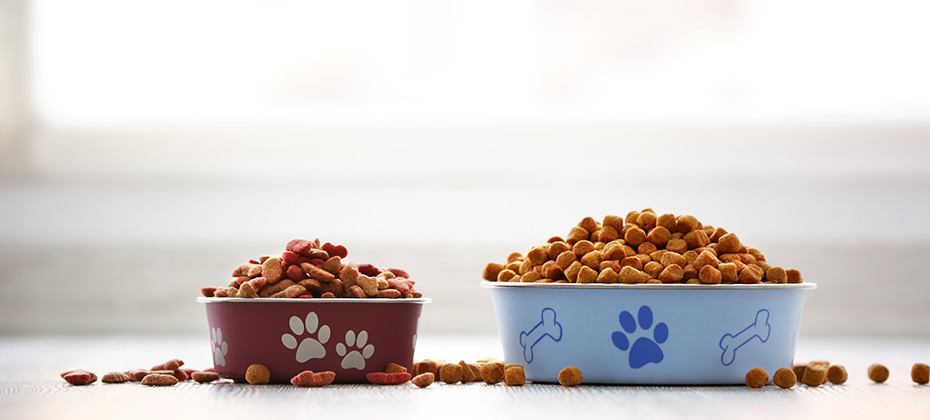 Regardless of how tough pit bull terriers are the risk of developing food allergies is ever-present. This is especially true for these breeds of dogs as they require high protein diets. Most allergens are proteins in nature. That is why it is often critical to identify the triggering allergen in their food. This is usually accomplished by introducing single-ingredient recipes into their diet over a course of several weeks to help determine if an allergic reaction takes place or not. If nothing happens, then the food item is considered safe. If there's an allergic reaction, then this food item can be ticked off in the list of safe pitbull dog food items to eat.
Many folks are worried about allergenic grains like wheat, soy, and corn. Yet they seem to forget that chicken and beef are equally allergenic. The reason is quite simple. Both types of food – grains and meats – are excellent sources of protein. We already know that protein-rich foods have almost the same allergenic potential. As a matter of fact, wheat is right in the top 5 food allergens alongside beef and chicken. That said, you may have a grain-free dog food but if it still contains chicken or any other allergenic food item, then the risk for developing allergies is still present.
Take a look at our guides on the Best Dog Food for Allergies and Legume Free Dog Food.
Is Wet or Dry Food Better for Pitbulls?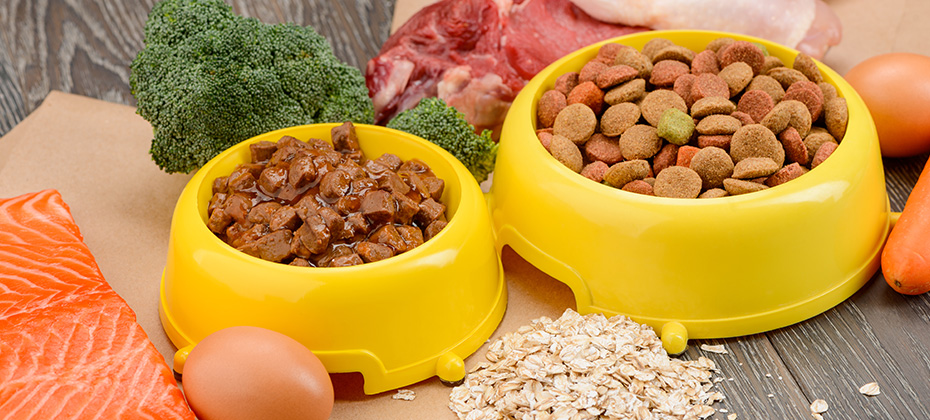 It's difficult to pinpoint which type of food is the best dog food for Pitbulls. As each has its own merits. Dry dog food can be easier to control when it comes to texture as you have the option to add toppers for a tasty treat. Additionally, dry dog food provides a coarse texture which can help to maintain your pup's dental health. And as many people would agree, dry dog food does tend to be the more affordable dog food. Though cheaper does not mean less, as many dry dog food often provides a denser source of protein owning to the use of added protein meal.
Wet dog food is certainly easier when it comes to fussy pups, as the texture is often preferred. Wet food is also a great way to introduce more moisture into your dog's diet, ensuring they stay hydrated and reducing the risk of itchy skin. Furthermore, wet dog food can be easily mixed into dry if you feel like adding a crunch texture. However, wet food is usually the more expensive option.
There is no right or wrong answer when it comes to selecting the best dog food for Pitbulls, it's simply a case of knowing the pup. Pitbull puppies may benefit from more the wet diet owing to their still-developing teeth. However, once they reach adulthood they will have developed preferences in taste and texture which you can choose to cater to however you see fit. Though it is worth noting that if you have a performance pitbull, dry dog food can be easier to monitor and measure.
Our Top Pick
In our review of the 5 best dog foods for pitbulls, three products really stood out: the TOTW, the Wellness CORE, and the BLUE Wilderness. Unfortunately, only the Taste of the Wild Canine Formula really won our hearts for its clear understanding of the real nutrient requirements of pit bull terriers. It has an excellent balance of proteins and fats that are considerably high for the very active lifestyle of pitbulls as well as their inherent need for stronger muscles and a well-developed nervous system.
But what really sold us in is their understanding of allergies in dogs. They managed to get rid of allergenic grains as well as well-known allergenic meats like chicken and beef. Unfortunately, the other two products, while they did label themselves as grain free dog food, somehow still managed to include an allergenic meat protein in their respective formulations. Natural Balance had the same idea in mind as TOTW. Unfortunately, it was limited in its options.
For that, we give the plum of the best dog food for pitbulls to the Taste of the Wild Canine Formula. Be sure to find out more by reading our dog food buying guides.
Frequently Asked Questions
Most dogs generally eat twice a day – once in the morning and once in the afternoon. This is usually in order to accommodate an owner being out of the house for work during the day. However, if possible it would be better to feed the less more frequently. Three times a day would be the ideal amount of times to feed a pit bull. Just be sure to check the portion recommendations for the food you choose.
Raw feeding is generally supported for all dog breeds, as it is the closest a dog will get to its natural diet. However, there are things to consider. A raw-feed diet is extremely high in animal protein, so dogs with kidney or liver problems should avoid raw food. Furthermore, raw feed diets can be slightly troublesome for dogs with a high prey drive, as they can tend towards becoming overly protective of their meals. If you're wanting to try raw feedings start small and watch how they respond to be sure it's the right decision. And if all else fails, seek advice from your vet.
There are a variety of foods a dog owner should look to avoid when raising their pup. There is nothing specific to pit bulls that should be avoided, but certain human foods and fruits and vegetables that could cause illness or even death in most dogs when consumed.
It is worth remembering here that older dogs have a slower metabolism – just like humans. And so senior pit bulls cannot eat as much food as they did when they were younger. Dog food for Pitbulls is often particularly high in protein, which can be ideal for an active lifestyle. But if your pittie is becoming less mobile, excessive protein can cause constipation. When feeding your older dog try to stick with smaller portion sizes with health smacks in between to supplement the change (such as carrots).
Blue Buffalo wet and dry dog food are perfectly good for Pitbulls. It is high in protein and fiber, meaning they will be properly fueled which still digesting their food easily. Furthermore, they offer a grain-free recipe that is ideal for dogs that may experience grain allergies. It is a well-established, much-loved brand with a loyal customer base. Which proves its validity as a great source for balanced nutrition and supported development.
Making your pitbull muscular is a fine balance between exercise and diet. The appropriate diet will not be too fatty and should contain a good amount of protein to aid in recovery. You will also want to feed them little and often between training sessions to avoid having your dog gorge itself, potentially running the risk of sickness. Furthermore, you will need to involve them in a rigorous exercise regime such as agility training in order to gain the full benefit of their exercise and achieve the muscular look you are looking for.
Absolutely! Chicken is a favored animal protein for most dogs. Chicken meal provides a dense supply of protein in dry food. And fresh chicken is often recommended to help soothe an upset stomach or fuel a high-performance dog between exercise cycles. You can even find dried chicken breast treats and dogs absolutely adore. So yes, chicken is fantastic for dogs.
There are a plethora of vegetables that are perfectly suitable for a pitbull to enjoy and benefit from at all life stages, such as; sweet potatoes, carrots, green beans, celery, cucumber, bell pepper, broccoli, peas, spinach, cauliflower, and corn. In fact, cooking up some of this veg and adding it into your dog's dinner can help to add a bit of extra texture and flavor that might entice them to eat with more excitement, as well as helping with digestion.