Well-defined muscle structure on a Pitbull not only displays the beauty and physical capabilities of the dog but also shows the level of responsibility of the owner and the effort they take to maintain their dog's overall health and wellbeing. Developing muscle in your Pitbull can be achieved in 3 very easy steps. But, before you begin there are a few things you need to consider.
Is My Pitbull Too Skinny?
Many people that are less experienced with pit bull breeds can find themselves worrying over whether or not they are the correct weight. Seeing as pit bulls naturally narrow after their rib case, it's easy to assume this means their stomach area is too small. However, pit bulls do have a natural "hourglass" figure, despite their muscle mass.
Should your pitbull gain too much weight they will start to round out in this area, which is not ideal. The best way to know if your pitbull is too skinny is to look at the dog as a whole. Their rib cage should not be showing, though you will be able to feel them owing to their low body fat index. Furthermore, the spine should not have any bumps. Pit bulls are lean but strong, their muscles should provide a healthy layer across the entire body.
What Causes Dogs To Be Underweight?
The most common cause of weight loss in dogs is malnutrition. If your pit bull is not getting the proper diet then your dog's muscles will be eaten away by the body as it attempts to gather energy from anywhere that it can. Most dog foods provide the right amount of vitamins and nutrients to keep a dog from becoming underweight.
However, it is vitally important that in order to maintain a healthy body weight, you read the recommended portion instructions that are provided by each dog food brand on the food bag. The right diet is one of the key factors to maintaining your dog's body weight, strengthening its immune system, and preparing your dog for an active lifestyle. Each dog breed has its own recommended requirements depending on its digestive capabilities and any genetic predispositions it may have. Be sure to research what is best for your pit bull.
Are you Strong Enough?
Developing good muscle tone in your Pitbull makes them stronger, and they are not exactly weak dogs, to begin with. Before you start building your dog's muscle consider whether you are strong enough to effectively control your dog? It is not just about your physical strength, but also your mental strength. Your dog needs to see you as a pack leader and to respect your commands. If you are unsure, find an obedience school with an instructor who has experience working with Pitbulls and their owners.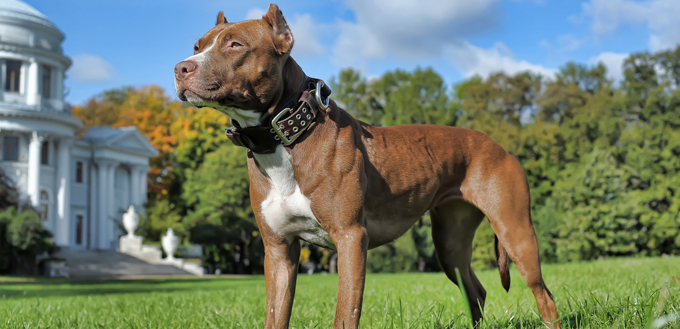 Is Your Dog Ready?
Overenthusiastic owners can cause as much damage to their dogs as lazy ones. Over-exercising young dogs can cause permanent damage to muscles and joints. Strenuous training of any type should wait until your dog is at least a year old, and even then, remember they still need plenty of time to play, rest, and be your family pet.
Females that have had litters should also be given time to recuperate and not begin muscle training until after they have finished feeding their puppies. Also, while it is possible to get beautifully defined muscle on a female Pitbull, they do not become quite as defined as males. Apply common sense to returning to training if your dog suffers an injury and discuss your plans with a veterinarian if you are unsure on any aspect of your dog's care.
Related Post: Pitbull Puppies for Sale
The Three Steps
If you and your dog are ready for them to start building muscle and really show off the best that this breed has to offer, then there are three simple steps to follow:
Proper Diet and Feeding Regime
It is important to get your dog's diet right before you start any form of physical conditioning training with them. To build muscle Pitbulls need a high protein diet consisting of 40% Protein, 40% Carbs, and 20% fat. You need to source quality dog food and supplement this with other protein sources such as chicken and fish. You can also add food supplements that are recommended for Pitbulls. Read our guide on the best dog food for Pitbulls to see the best brands.
Feed your dog 6 small meals a day to encourage an anabolic muscle-building state. Don't exceed the recommended daily amount of food listed on the feeding guidelines. Remember you want to build muscle not increase your calorie intake. For the best results follow a pattern similar to that laid out below.
Meal 1 – 9:00 am – 1/4th of the recommended daily food with food supplement if using.
Meal 2 – 12:00 pm – 1 piece of boiled chicken or fish, approximately 16 oz in weight.
Meal 3 – 2:00 pm – 1/4th of the recommended daily amount of food.
Meal 4 – 4:00 pm – 1/2 piece of boiled chicken or fish, approximately 10 oz. in weight.
Meal 5 – 6:00 pm – 1/4th of the recommended daily food with food supplement if using.
Meal 6 – 9:00 pm – 1/4th of the recommended amount of food for the day.
Exercise
Exercise is the second step in the muscle-building plan. Performing activities such as weight pulling, using spring poles, and running up hills encourages muscles to grow stronger. They are also activities that this, and other breeds, really enjoy, so they won't see it as work, just play. It is crucial that you have introduced the diet plan before training. If you don't you run the risk of damaging your dog's muscles. Other activities you can introduce include weight sleds and a weight vest.
Related Post: Best Dog Treadmill
Cardio
When building muscle, you want to focus on short bursts of high-intensity cardio, rather than long walks. Sprints, running up hills for short periods, or running up bleachers/steps are great activities. Cardio should be undertaken for 10-15 minutes a day. Over time you can increase the intensity of the workout with the addition of a weight vest.
Healthy, High-Protein Homemade Dog Food Recipes
While there are fresh food brands that are capable of creating fresh, handmade dog food to save you the trouble of having to do it yourself, putting together your dog's meal from scratch is the best way to ensure they are getting exactly what they need, with no unnecessary fillers. We've put together a couple of high-protein dog food recipes for you to make for your pit bull if you're looking to go that extra mile.
Beef and Veg Minimalist Approach
Ingredients:
1 pound of lean ground beef
1 large carrot
1 large sweet potato
½ tbsp coconut oil
Method:
Preheat an empty pot to medium-high heat and add the coconut oil
Peel the carrot and potato, then dice both into roughly 1″ pieces
Add the ground beef to the coconut oil, until there is no pink left
Add the carrot and sweet potato then pour boiling water into the pot until everything is just covered
Cool for 15-20 minutes over a medium-high heat
Check the vegetables have completely softened, then drain away any excess water
Let the food cool completely before serving it to your dog
High-Protein Beef Liver Crockpot Recipe
This could also be done with other proteins, as the extended cooking time will ensure thorough cooking of the meat.
Ingredients:
2lbs beef liver
1 cup of brown rice
2 cups of chopped carrots
2 cups of chopped broccoli
3 cups of water
4 tablespoons of coconut oil
4 eggs
1 cup of greek yogurt
Method:
Grease the stockpot using some coconut oil and preheat it to low
Wash and dice up all of the vegetables into roughly 1″ chunks
Wash the rice thoroughly
Dice up the beef liver (or which protein you have selected)
Put all meat, rice, and vegetables into the stockpot with the water, coconut oil, and egg
Cook for 8-10 hours on low
Stir in the greek yogurt once cooking is finished and the food has cooled – serve
5 Simple Pitbull Exercises to Build Muscle
It can be difficult to pinpoint how to make your pitbull muscular. There are so many factors that come into play that not all pit bulls can gain muscle in the same way, and some pit bull dog breeds are more receptive to muscle gaining exercises than others. However, there are some general cardio exercises and weight training exercises you can do to help develop those pitbull muscles and strengthen your pit bull's body as a whole alongside a muscle-building diet.
Cardio Exercises
Keeping your dog active is extremely important in order for them to keep building muscle. High-intensity cardio training can not only strengthen their core and leg muscles but can also help them to metabolize their recommended high-protein premium dog food as well as help your dog lose weight. There are a few different cardio activities you can try:
Swimming
Swimming is a full-body workout session for dogs, and when done as part of a regular exercise regime can help them to build more muscle around the shoulders, whilst also maintaining the strength in their legs and core. Swimming for 10 minutes equated to around an hour of walk time. The American Bully isn't a natural swimmer, so keep to shallow water until their confidence improves. With time and practice, all pit bulls can become strong swimmers.
Uphill and Stair Training
Stairs can help pit bulls with growing muscle around their rear legs in particular, as well as strengthen their core. Uphill and stair training is much more high intensity than a walk or run, and so you will be able to get much more effective results in a shorter amount of time. For a bit of extra challenge, you can use weight vests to up the difficulty if your put bill seems to be finding it too easy.
Add Extra Challenge To a Standard Walk
You could also add some difficulty to your typical walk route by training your dog to walk backward, in order to strengthen their hind legs. You can also try doggie squatting by having your pit bull stand and sit repeatedly. This will further strengthen their back legs. And for a bit more impact you could get your pit bull to jump onto and off a park bench. This will also help to strengthen their front legs as they will take the brunt of the landing force.
Just remember that diet plays a big part in proper muscle growth, so ensure your dog's diet consists of high-protein dog food with excellent nutritional value for them to get the most out of their meals.
Weight Exercises
Alongside cardio training, you can also do weight training with your dog. the likelihood is that your pit bull will prefer this type of training owing to the fact that it mostly feels like playing. Every dog has its own weight range that it can handle, so be mindful of this before you start and aim to keep the maximum weight below your dog's own body weight. At least to start with.
Tug of War of Spring Pole
Tug of war is a classic game that almost every dog owner had had to play at some point. However, with a pit bull with growing muscles, it can become more and more difficult to combat their growing strength. It is also a game that some feel can encourage dominant behavior, however, ensuring your dog releases the rope when commanded to can curb this. Alternatively, you can get a spring pole, which is effectively a powerful spring, attached to a rope, which can be connected to a tree. This allows your put bull to play tug of war with itself instead.
Weighted Fetch
This is an excellent way to strengthen your pit bull's neck and back. By playing fetch with a weighted item such as small tires (like that found on a wheelbarrow), a 1-liter bottle of water, or plastic dumbells, your dog will instinctually pick up the item to prevent it from dragging on the ground in order to bring it back to you. The ideal weight shouldn't be much more than a few kilograms, relative to your pit bull's own body weight.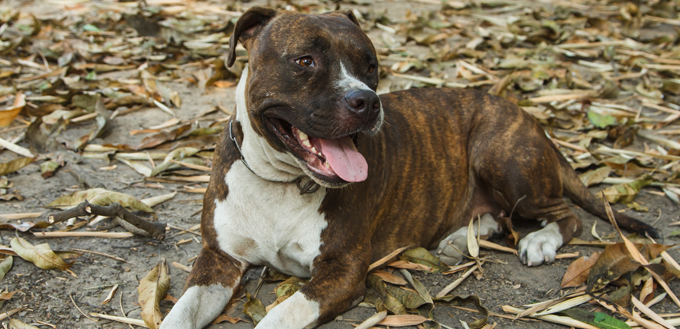 Final Thoughts
Following these three steps and the advice that preceded them will make your Pitbull muscular in no time at all and ensure that you both enjoy the process as well. Don't be tempted to skip any of the steps, or to start training by introducing the diet first. Doing so could be dangerous to the health and wellbeing of your dog.
Related Post: Best Dog Training Books
Sources:
Deborah E. Linder, DVM, MS, What's a Good Exercise Plan For My Pet?, Clinical Nutrition Service
Pitbulls: Everything You Need to Know, Best Friends Animal Society