Stuffed animals and plush toys aren't just for kids. Your dogs also get great joy and entertainment from them, whether they are puppies, adults, or seniors. After all, there's a reason why there are so many plush dog toys on the market.
Lasting entertainment is something we look for as dog owners. Unfortunately, many squeaky plush toys fall apart or break after only a few days, so it's important to find a dog toy that will stand the test of time and teeth. Below, we have researched and gathered a list of some of the best plush dog toys for you to take a look at.
Following our list, we also have some helpful information for you to consider when choosing the right dog toys for your canine companion.
A Glance at Our Favorites
Pros
Cons
Bottom Line
Rating
*Ratings are from Amazon at the time of publication and can change.
15 Best Indestructible Plush Toys for Dogs
How Do You Pick The Best Plush Dog Toys?
No matter what the age, size, or breed, every canine can benefit greatly from having plush toys. Before buying a toy, let's look at everything a pet owner should know, including why it is important to your dog.
What are Plush Toys?
Plush toys are essentially stuffed animals for dogs. These could be cuddly little critters or plushy interactive toys like the Hide-A-Squirrel featured first on our list.
Plush dog toys come in many different shapes and sizes. Often, they will take the shape of mundane items, foods, or other animals. Otherwise, they could be a thick, squishy shape for your dog to cuddle up or munch on.
These toys offer many different benefits to your dog. For example, they could be used as a source of comfort or even as a training tool.

Why Does Your Dog Need a (Tough) Plush Toy?
In essence, plush toys are vital for your dog's well-being. Different toys will have different purposes depending on your dog's needs. For example, interactive toys will be a great source of entertainment when you're not home, whereas a plush toy will serve as a cuddle buddy to help stave off anxiety.
Entertainment
Sadly, not everyone can be home with their best fur friend all day and must leave the house for hours at a time. Squeaky toys are a great choice for keeping dogs occupied while waiting for you to return.
Similarly, interactive toys are also the perfect pick. These toys are commonly made for solo play, meaning you can leave them to it as they are designed to maintain your dog's attention for a time.
Bonding
Not all plush dog toys are designed to keep your dog busy in another room as you go about your day. Most dog toys are great for collaborative games of fetch or tug of war with beloved pet parents. Actively playing with your dog using their toys is a great way for you and your canine friend to bond.
Mental Stimulation
Providing toys that will stimulate your dog mentally can have great benefits. Not only will toys keep them entertained, but they will also promote a balanced temperament. Interactive toys, in particular, can stimulate dogs mentally, reducing their chances of developing bad habits or destructive tendencies. As well as interactive toys, several options are specifically suited to help train your new dog.
Comfort
Many dogs love a simple plush toy to carry, show off, cuddle, or even bark at and shake around. Either way, they treasure their cuddly pal.
To Ease Dental Discomfort
As dogs age, their teeth and gums begin to weaken. Finding a plush toy for them to chew on can help relieve pain or discomfort.
Similarly, a new puppy will rely on a plush dog toy to help them through the teething process, as chewing will help to combat discomfort. On this subject, if you have gotten yourself a puppy, take a look at our guide for the best dog toys for teethings pups.
Maternal Instincts
Unspayed female dogs often project their maternal instincts onto their plush toys meaning they will often show an affectionate attachment to them. This may include carrying them to find a nesting spot or perhaps being slightly cautious with leaving her toys around people.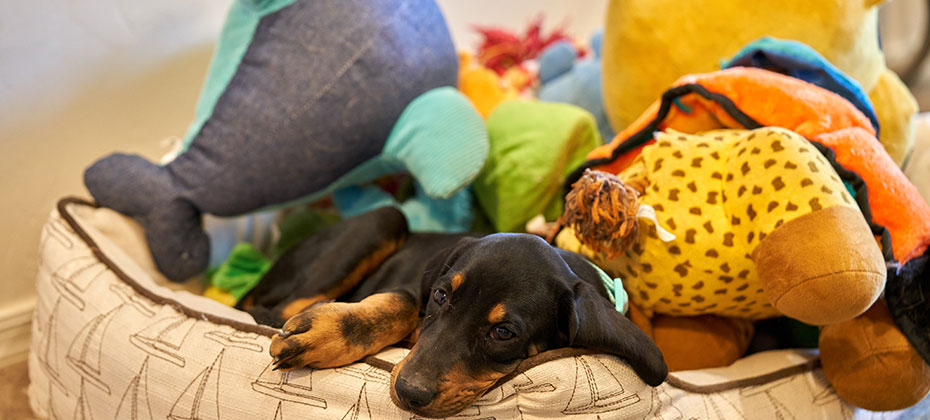 Features to Look for in Plush Toys for Dogs
There are several important things to consider before purchasing a plush dog toy. Before settling on one particular toy, make sure to take read the following information.
Durability
It's important to know that even the best plush dog toy is not indestructible. Because of the material used to make them, they can often be torn and ripped by aggressive chewers, so plush options may not be the best choice.
Also, many plush toys look like animals, so they often have limbs that can be torn off easily. This can be dangerous if your dog is an aggressive chewer, as the limbs can be a choking hazard.
However, if you're looking for a plushy dog toy that will simply last and withstand a mild and frequent chewer, it's worth checking the stitching and layers of fabric on the toy. Heavy duty or double-stitched seams will go a long way in preventing wear and tear. Multi-layered fabric will also mean that your dog will be less likely to cause holes to form.
Note: If you're looking for indestructible non-plush dog toys, take a look at our guide available here. These particular toys are designed for dogs, such as a german shepherd or pit bull, who are commonly prolific aggressive chewers.
Materials & Stuffing
Ensure that the toy you're looking at is made from non-toxic materials. It's also worth looking out for toys that have been child safety tested.
If your dog destroys and perhaps eats a lot of his toys, consider getting a toy that contains no or minimal stuffing. Although the stuffing used in dog toys is non-toxic, it can still cause intestinal blockages if ingested.
Toxins Found In Toys And Stuffing:
Polyvinyl Chloride
Cadmium
Bromine
Bisphenol A
Phthalates
Lead
Formaldehyde
Chromium
Suitability
Is It Suitable For Your Dog's Breed/Size/Age?
Take into account the size of the toy and whether it will be appropriate for your dog. For example, as adorable and hilarious as it is to see a puppy or small dog haul an oversized plush toy around, it may not be practical for them, and they might lose interest. Similarly, a toy that's too small will not be recommended for a large dog as it could be a choking hazard.
Also, is it suitable for the age of your dog? For example, a new puppy will have sharp teeth, so they may rip through plush toys easily, whereas a senior dog may love chewing something made with a soft fabric.
Affordable
Finding and purchasing the best plush dog toys for your fur friend can save you a lot of money. This may mean spending a lot of money, but you won't have to keep replacing old toys that your dog obliterates within a matter of minutes.
Fortunately, many of the options above are within a standard price range. In addition, Chewy and Amazon often offer their dog toys, so it's worth checking back occasionally if you're looking to save a few cents.
How Do You Introduce a Plush Toy to a Dog?
The best way to introduce a plush toy to your dog is to allow them to investigate it themselves. Place the toy on the ground within sight of your pup and allow them to get up close to sniff it.
You can encourage them to investigate further by placing some treats by the toy to positively reinforce its presence or trigger the squeaker and/or crinkle limbs if they have them.
FAQs:
Of course! Plush toys are essential for your dog's wellbeing and can even assist owners when training. It's also recommended that you have a toy assortment so that you can rotate toys for cleaning or training purposes.
Most plush dog toys will include instructions on how best to wash and keep them hygienic. In our guide above, we've made sure to state if a particular toy is suitable for machine washing.
This is often because of your dog's prey drive and their instinct to hunt and devour small, squeaking prey. It can also be because tearing plush toys apart is fun to them, especially if they have squeaky plush toys. This is especially possible if the toy has an ultrasonic squeaker that only dogs can hear.