When it comes to your Miniature Schnauzer, you want to give them the best chance at optimal health. Feeding your pups, a diet that is rich in minerals, nutrients, and essential vitamins, is the best way to guarantee ultimate wellbeing. A healthy, vet-approved diet will ensure that they are able to develop in the healthiest way possible and that all their vital organs and bodily functions are working effectively. They say that food can either be the greatest medicine (and thus promote bodily health and wellbeing), or the very thing that makes humans and animals sick. Feeding your pooches a high-quality diet that is rich in all good things will boost their immunity, enhance their health, and make them truly feel bright-eyed and bushy-tailed. So, let's have a look at our top 10 best foods for your precious Miniature Schnauzer. As always, our list comprises a range of products to suit all preferences and monetary needs.
At a Glance: The 10 Best Dog Food for Miniature Schnauzers
| Editor's Pick | Product Name | Price | Rating |
| --- | --- | --- | --- |
| Best Overall | Nature's Recipe Small Breed Chicken, Sweet Potato | Buy on Chewy | 4.7 |
| Runner-Up | Royal Canin Miniature Schnauzer Dog Food | Buy on Chewy | 4.8 |
| Best High-Protein Food | Rachael Ray Nutrish PEAK Northern Woodlands Recipe | Buy on Chewy | 4.7 |
| Best Food for Puppies | Merrick Lil' Plates Real Chicken & Sweet Potato Puppy Food | Buy on Chewy | 5 |
| Best Grain-Free Food | Wellness CORE Original Deboned Turkey & Chicken Meal | Buy on Chewy | 4.6 |
| Best Wet Food | Cesar Poultry Variety Pack | Buy on Chewy | 4.8 |
| Best With Probiotics | Purina Pro Plan Adult Small Breed | Buy on Chewy | 4.8 |
| Best Holistic Option | Holistic Select Adult & Puppy Health | Buy on Chewy | 4.6 |
| Best for Senior Dogs | Merrick Lil' Plates Chicken & Sweet Potato | Buy on Chewy | 4.7 |
| Also Consider | Iams Proactive Health Puppy Dry Dog Food | Buy on Chewy | 4.5 |
*Ratings are from Amazon, Chewy, and PetSmart at the time of publication and can change
Best Dog Food for Miniature Schnauzers Buying Guide
Ingredients to Look for in a Schnauzer Dog Food
When it comes to choosing dog food, you want to opt for high quality ingredients and a brand that has been approved by professionals. This will ensure that the food is not filled with harmful preservatives and colorants or by-products with little regulation. Key ingredients to look out for when finding the perfect food for your Miniature schnauzer include:
High quality protein to build muscle and ensure ultimate energy and wellbeing.
Antioxidants to promote cell health and boosted immunity
Omega 3 and 6 fatty acids for skin and coat health
Healthy carbohydrates like sweet potato, peas, pumpkin, or butternut
Essential A, B, C, and D vitamins
Miniature Schnauzer Diet and Nutrition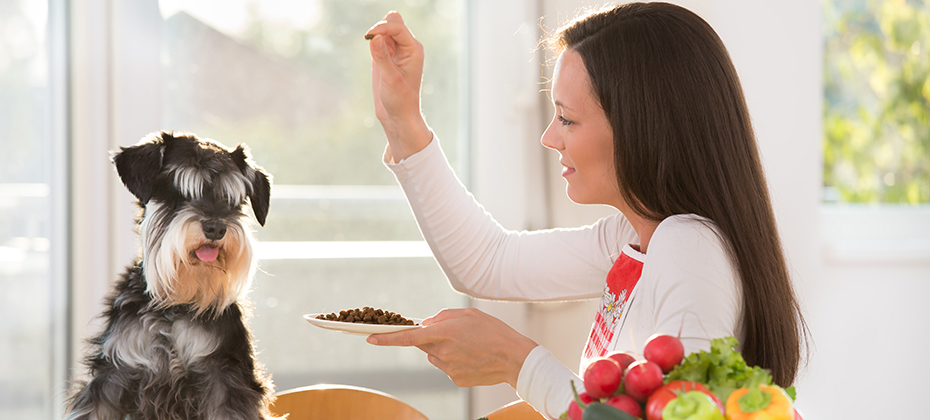 Food to Avoid Feeding Your Miniature Schnauzer
Avoid feeding your Miniature schnauzer processed foods that are not created for dogs. Processed food and junk food contain harmful additives and preservatives that could make your dog sick and lead to disease and obesity. Only feed them vet-formulated foods or home-cooked meals that are unprocessed (such as vegetables and lean meats). Do not feed them chocolate as this is highly poisonous and refrain from giving them ready-made meals. Opt for clean foods that are in their natural state and food that is specifically made for dogs. If in doubt, consult your vet for an expert opinion. Some vegetables like onions are also harmful to dogs, and thus you need to do your research before feeding them home-made food.
Common Health Problems With Mini Schnauzers – How Diet Can Help Them
Like all pure-bred pups, Miniature Schnauzer's can be susceptible to certain medical issues. However, having an awareness of what they are can help you to spot the signs and treat them quickly. Some common conditions can be supported by a better diet, these include.
Digestive Issues
Some Schnazuer's might develop digestive issues and these could cause nausea, tummy upset, or vomiting. Some pups might also develop a condition known as pancreatitis which is an inflammation of the pancreas. In such cases, they will need to be given a very simple and bland diet. Opt for a specialist diet and consult your vet about the best food to feed them. Diet is key to managing any digestive condition and can thus be their greatest support.
Obesity
Obesity is always a concern in smaller breeds and the chances of it increase as they get older. However, a well-balanced and nutritious diet that is coupled with plenty of exercise can keep obesity away. Ensure that you are following the correct feeding guidelines for your dog's food and unique food and ensure that they get daily exercise. Obesity can lead to joint and mobility issues and also put pressure on their vital organs. It is thus imperative to keep your pup at a healthy weight and to feed them only vet-approved foods or healthy home-cooked meals. Treats should be given in moderation.
Skin Allergies
Some Miniature Schnauzers are prone to skin allergies and diet can go a long way in alleviating their condition. Opt for hypoallergenic diets and consult your vet about possible treatment options.
Our Top Pick
While we love all our food picks for your Miniature Schnauzer, we have opted for this amazing product by Nature's Recipe as our top pick. This food combines wonderful quality, with awesome value, and is a delightful choice that is sure to make your pup's day. This chicken flavored dry food is tailored for smaller dogs and will aid in chewing and digestion. The grain-free recipe ensures that this food will support development. Healthy carbohydrates are offered to your pup in the form of sweet potato and pumpkin. This pick is free from preservatives and does not include wheat, corn, soy, poultry by-product, artificial flavorings or colors. Users have commended this food for being a total success with even the fussiest of pooches and some have even noted that it's cleared up skin allergies. As always, consult your vet if you want to heal certain ailments with diet and ensure that you're choosing a vet-approved food that is free from harmful preservatives and grains. Opt for wholesome foods that will support ultimate health and development.
Sources:
Tori Houle, The Miniature Schnauzer, Pet Health Network
Miniature Schnauzer, PetMD
Frequently Asked Questions
An adult Miniature Schnauzer of average size should usually be fed about half a cup of high-quality dry dog food twice a day. However, you should always follow the particular feeding instructions of your chosen brand and go on their stipulations and the weight of your dog. Puppies will often need more food as their bodies are growing rapidly. Always ensure that you opt for high quality ingredients and a brand that is vet approved. You can also supplement dry food with home-cooked lean meats and vegetables. Always chat to your vet to ensure that your pub is getting a balanced diet and that all their health and nutrition needs are being optimally met.
Adult dogs usually do well with being fed twice a day. You can feed your pup once in the morning and once in the evening. Follow the feeding guide on your specific brand of food and remember that puppies will often need to be fed 3 or 4 times a day as they are still growing and thus require more nutrients.
You can feed your Miniature Schnauzer an array of healthy and delicious vegetables to enhance their health and add variety into their diet. Some of the most nutritional and beneficial veggies include:
Leafy greens like spinach, kale, chard, or and bok choy as these contain a very high source of vitamin K, C, and A.
Celery – A great source of Vitamins A, C, and K and can even help with smelly breath! Now that's a bonus.
Carrots are great for skin health and eyesight. They have also been shown to strengthen the immune system.
A little slice of apple or watermelon can also be a healthy treat. Since they contain sugar they should be given in moderation, but they're a great source of water and beneficial vitamins. Use them in training and to reward great behavior.
Green beans or peas can help settle upset stomachs and are a great pick to mix with rice and a yummy protein. They are also rich in B vitamins, iron, and Omega 3.