The best dog food for your canine balances a taste and quality nutrition to support their health, well-being, and vitality. But as we all know, no two dogs are the same and so you also need to take your pet's specific needs into account. This can all make finding the best product for your dog's food bowl a bit of a challenge.
Royal Canin is a well-known pet food brand that offers a wide range of dry and wet food formulas to cater to all life stages as well as a range of dog breeds and health-related needs. So far, so good. However, despite the versatility of the Royal Canin range, not all its ingredients are of premium quality and most of their dry dog foods contain grains and gluten which can be an issue for many pets.
We lift the lid on Royal Canin and its dry dog food range to help you decide if this is the best brand for your precious pooch.
Key Takeaways:
In business for over 50 years, the Royal Canin dog food range comes in three formulas – size, breed, and veterinary diet
The breed range focuses on tailoring nutrition to the specific health and physical needs of different pure breeds
Many formulas in the Royal Canin Veterinary Diet range will require a vet prescription
Many of the Royal Canin recipes only use by-product meals and not whole meat
They also include corn in many formulas as well as wheat gluten
The company has had three product recalls in the US in recent years
A Quick Overview of the Royal Canin Dog Foods
Calories
Pros
Cons
Bottom line
Rating
*Ratings are from Amazon and Chewy at the time of publication and can change
10 Popular Royal Canin Dog Food Recipes
Is Royal Canin a Good Dog Food?
A familiar brand on the pet food scene for almost 50 years, Royal Canin offers plenty of choice to the dog owner, especially for specific breeds or health issues. However, some of the ingredients they use may not be suited to every pet. And when it comes to protein, they don't use whole meat but prefer to include by-product meal, which may not always be the best option for your pet. We dig a little deeper into the Royal Canin dog food brand and its approach to its ingredients so you can decide whether it is a good fit for your pet.
The Short History of Royal Canin Company
Royal Canin was founded by French veterinarian Jean Cathary back in 1968 who wanted to create pet food products grounded in nutritional science, leading to the company's first range of specialist formulations. These included tailored nutrition based on a dog's age, size, breed, and health.
Royal Canin Pet Foods gradually expanded around the globe and launched in the US in 1985. It was bought out by Mars Chocolat France in 2001, whose parent company Mars, Inc. now owns the brand. Today, Royal Canin Pet Foods retains its global headquarters in Southern France but has manufacturing facilities in the US.
Where is Royal Canin Dog Food Made?
For US distribution, Royal Canin has manufacturing plants in South Dakota and Missouri. They also have their US headquarters in St. Charles, Missouri. All Royal Canin dog food products are made in their own manufacturing plants.
Where Do Royal Canin Source Their Ingredients From?
While it is believed that most of their ingredients are sourced from farms local to their two US manufacturing plants, Royal Canin does not explicitly state where all their ingredients come from. And they are known to use international suppliers.
Product Lines – Differences and Which One You Should Choose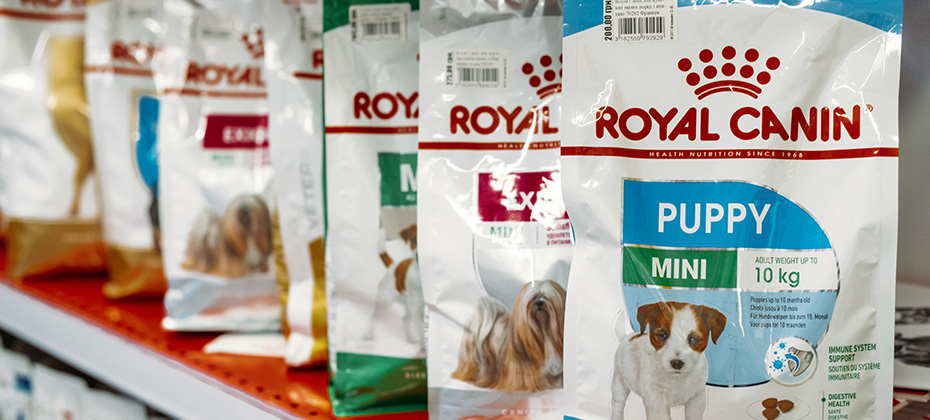 Royal Canin dog food has several product lines in both wet and dry formulas to cater for the various life stages as well as different breeds, sizes, and certain health conditions. The main Royal Canin dog food ranges to select from include:
Size Formulas
Royal Canin's size formulas are categorized by age, nutritional need, and pet size. For example, there are dog food products for newborns, puppies up to one year, adults aged one to seven, and over seven seniors. These ages are broken down by size, so you can get 'small dogs', 'small breed puppies', or 'large breed senior' formulas. You also get formulas for dogs with nutritional special needs, including pregnancy and growth.
Breed-Specific
Royal Canin dog food also offers recipes to support the specific nutritional needs of a given breed type. Within this range, you currently have 25 recipes for different purebreds, which include some of the most popular pure breed pets, including beagle, German shepherd, pug, and Labrador.
Veterinary Diet
As well the two main retail ranges, Royal Canin also has its own Veterinary Diet range, many of which will require a prescription due to active ingredients. This range has been formulated in conjunction with veterinary experts and includes both wet and dry formulas. Health conditions included in the Royal Canin Veterinary Diet prescription dog food range include kidney and urinary health, weight management, digestive problems, and an elimination diet.
Let's Take a Closer Look at the Ingredients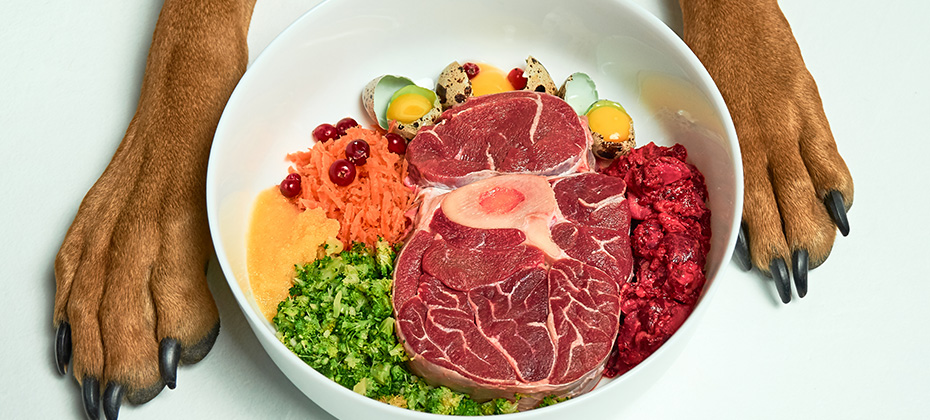 As we have already seen, Royal Canin tends to include gluten (mainly wheat and corn) in most of its dog foods, which can be an issue for some pet owners and their dogs. In many recipes, they also have a non-protein such as corn or brewers rice listed first in the main ingredients. And it is worth noting that the protein is not always of the quality you would expect for a dog food brand in this price range, with by-product meal rather than whole meat used.
To assess the overall quality of Royal Canin dog food ingredients used and the associated nutritional value, we take a closer look at one of their best-selling dry dog food products, its Medium Adult Dry Dog Food.
Protein
This dry dog food is aimed at healthy medium-sized adult dogs that require sufficient protein and the associated amino acids to support their day-to-day energy needs. And as such, it offers a minimum of 23% of crude protein, which is within the 20-30% recommended amount. However, the protein listed for this product is dehydrated chicken by-product meal and not whole chicken, so you don't know which parts of the chicken are actually used. And what is even more puzzling that the protein doesn't even make number one in the top five ingredients, coming second in this recipe to brewers rice.
Carbs
Certain fruit and vegetables are used as needed in all of Royal Canin's dog foods and, with the medium adult formula, they are limited. In fact, beet pulp is the most obvious one listed, which, while a good source of digestible fiber, can also be used as a filler. Other slow energy-releasing carbs listed include brewers rice, and oat groats which are more easily digested.
Grains
Grains feature significantly in most of Royal Canin's dog foods, and their medium adult dog recipe is no exception. And this can be a red flag for pet owners if their dog has food sensitivities or allergies. In this particular formula, both two of the key grains which can be problematic – wheat and corn gluten meal – are within the top five ingredients. While protein makes up 23% of the formula, it does seem to leave the bulk of the recipe to be taken by grains and carbs.
Good Fats
The right types of fat are essential for your dog's good health, and these include omega 3 and 6 fatty acids. This Royal Canin recipe has a minimum of 12% crude fat and features vegetable oil as well as fish oil, which is a good source of omegas to support your dog's eye, heart, and joint health as well as supporting their skin and coat. This percentage is OK for healthy dogs not needing weight management, although vegetable oil is a less expensive alternative to olive or sunflower oil.
Fiber
With a maximum of 3.2% of crude fiber, the medium adult dog formula is within the optimum range. It is also a good source of digestible fibers, which are good for your pet's healthy digestion and keeps it in good working order.
Vitamins and Minerals
Looking at the ingredient list for Royal Canin's medium adult dry dog food, there are the basic vitamins and minerals you would expect to see. This recipe also includes a blend of probiotics and antioxidants for immune and digestive system support. But as it is not a targeted formula, there are no added extras such as glucosamine and chondroitin which can help maintain joint health.
Ingredients to Be Aware of
Especially if your furry friend has food sensitivities, skin allergies, or digestive issues, then there are certainly some ingredients that feature heavily in this recipe – and many other Royal Canin dog food products – that you should be aware of. As well as the aforementioned wheat and corn, royal Canin medium adult dog food also includes dried beet pulp, which can be used as a filler. And whole meat is much more preferrable for your dog than by-product as you can be sure of what parts of the animal is being used.
Recall History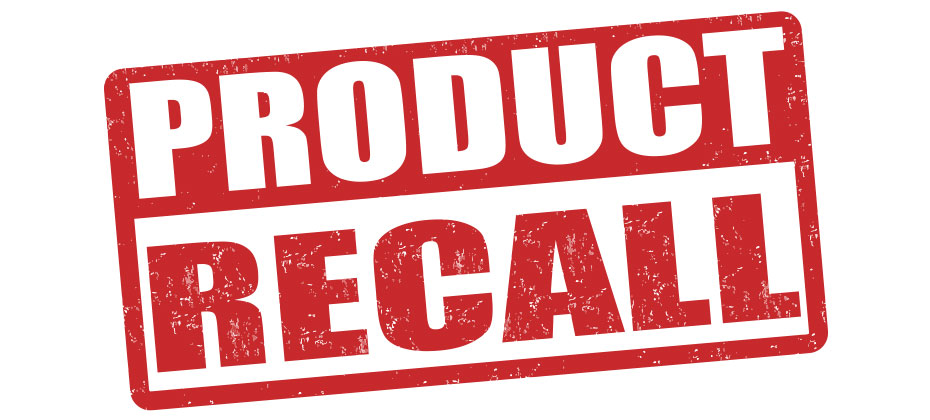 Royal Canin has experienced three US-based recalls in recent years. The most recent was in April and May 2007 when the company was asked to recall several dog food formulas due to possible contamination of melamine. Prior to that, in February 2006, the Food and Drug Administration Agency (FDA) recalled six products from the Royal Canin Veterinary Diet range due to suspected high levels of vitamin D3.
Price
Royal Canin is not the cheapest dog food on the market. And the prices do vary so you can expect to pay more of a premium for the specialist products included in the Royal Canin Veterinary Diet prescription dog foods range.
What is also notable when it comes to price is that it doesn't always reflect the quality of the ingredients. And when compared to similar dog food brands, it's premium price cannot necessarily be justified. Here's a product list so you can see what you could expect to pay:
Dry Dog Food Product Lines
| Product | Weight | Average Price |
| --- | --- | --- |
| Small/Petit Adult Formula | 14lbs  | $49.99 |
| Small Puppy Dry Dog Food | 17lbs | $61.99 |
| Medium Adult Dry Dog Food | 17lbs | $56.99 |
| Small Adult 8+ Dog Food | 13lbs | $48.99 |
| Bulldog Adult Formula Dry Dog Food | 17lbs | $69.99 |
| Small Weight Care  | 17lbs | $60.44 |
| Shih Tzu Adult Dry Dog Food  | 10lbs | $56.99 |
| Large Adult Dry Dog Food  | 17lbs | $56.99 |
| Labrador Retriever Adult Dog Food | 17lbs | $69.99 |
| HP Hypoallergenic Dog Food | 17.6lbs | $94.99 |
Canned Dog Food Product Lines
| Product  | Weight  | Average Price |
| --- | --- | --- |
| Adult Canned | 12 x 13.5oz  | $41.88 |
| Puppy Canned | 12 x 13.5oz | $41.88   |
| Mature Adult Canned | 12 x 13.5oz | $41.88 |
| Small Ageing 12+ | 12 x 3oz  | $28.68 |
| Poodle Loaf    | 12 x 3oz | $32.28 |
| Adult Weight Management   | 24 x 13.5oz | $105.26 |
| Shih Tzu Loaf    | 24 x 3oz | $54.49 |
| Hydrolyzed Protein Loaf | 24 x 13.7oz   | $136.56 |
| Labrador Retriever Chunks in Gravy | 12 x 13.5oz | $40.68 |
| Digestive Care Loaf     | 24 x 3oz can | $50.16 |
What We Like About Royal Canin
Having looked closely at Royal Canin and its dog foods, there are qualities about the brand and its ranges we like:
They offer a choice of dog food products that are tailored towards a range of specifics such as age, size, breed, activity, and health.
The recipes are not over-complicated
A highlight of the brand is the health-related wet and dry dog food products in their Veterinary Diet range.
They give thought to your dog's eating experience and tailor their kibble shape and size to the eating habits and mouth shape of specific ages and breeds.
What We Don't Like About Royal Canin
However, the Royal Canin brand is not the right fit for every pooch. Here are the main negative points to highlight:
The ingredients in Royal Canin dog foods are not necessarily highest quality. They use, for example, by-product meal instead of whole animal as their main protein source in many of their products.
Their recipes include wheat and corn gluten, which can not only be potential irritants in your dog's diet but can also be seen as natural fillers.
In some recipes, they tend to prioritize brewers rice and other carbs/fiber sources in the top five Royal Canin ingredients list.
Despite the lower quality of some of their ingredients, many of Royal Canin's products are on the expensive side, compared to other pet foods
Where Can I Buy Royal Canin Dog Food?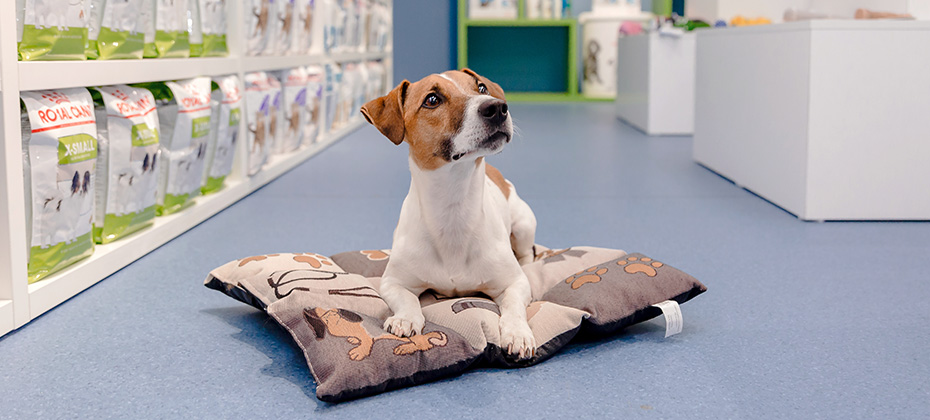 Royal Canin can be bought in a wide range of places, both online and in physical stores. Online you can easily purchase most or all of the Royal Canin pet foods range on both Amazon and Chewy. PetSmart and PetCo are also stockists. Physical stores and supermarket chains that also stock the Royal Canin food brand include Walmart as well as many independent pet store retailers. To find a stockist near you, check out Royal Canin's stockist finder.
In a Nutshell, Is Royal Canin a Good Choice?
Generally recommended by vets or breeders, Royal Canin is a highly marketable brand, underpinned by its 50-year history. However, the reality of the product doesn't always hit the mark for every pet owner. Yes, you get a diverse choice of dry dog food products that take into account age, health, size and even specific breed. But not all the recipes offer the highest level of nutrition. And there are other non-breed specific products on the market can still provide the necessary nutrients and supplements your pooch needs. The formulas are also grain and carb heavy and when it comes to the main source of animal protein, it's by-product meal rather than whole meat.
The health range comes out the best and can be beneficial for specific health conditions or for use for a period of time. And the Royal Canin prescription range is very varied and tailored so can offer the pet owner a wider choice than other brands. But when it comes down to it, Royal Canin overall sets its price within a more premium bracket, which the products and ingredients themselves may not always live up to.