Merrick Pet Care has been providing pet parents with amazing canine recipes since 1988. Featuring nothing but high-quality ingredients, Merrick guarantees that your canine companion will adore these fresh, delicious food options.
Merrick dog food utilizes the freshest produce and USDA-inspected meats to handcraft wholesome pet foods straight from their kitchen in Hereford, Texas. In keeping with the company's tradition for high-quality canine food, we've put together the brand's 11 best-selling dog foods for you to check out.
Key Takeaways
Produces high-quality dog food with real ingredients
Merrick uses real meat as its primary ingredient in each choice
A huge range is available for dog owners, catering to different dog's needs
All dog food is made in the USA with locally sourced ingredients
The quality of each product means that food options might be more expensive than other dog food brands
Most options come with a 100% happiness guarantee (Marked on the packaging)
Quick Overview of 10 Merrick Dog Food Recipes
Calories
First 5 Ingredients
Dry Matter Basis
Pros
Cons
Bottom Line
Rating
*Ratings are from Amazon at the time of publication.
10 Popular Merrick Dog Food Formulas
Is Merrick Dog Food Good?
After reading about some of the options available for your pooch it's understandable to want to know more about the company that makes the food and whether or not they're reliable and trustworthy. Read on the find out more about the dog food brand including company history, recall history, and more.
The Short History of Merrick Company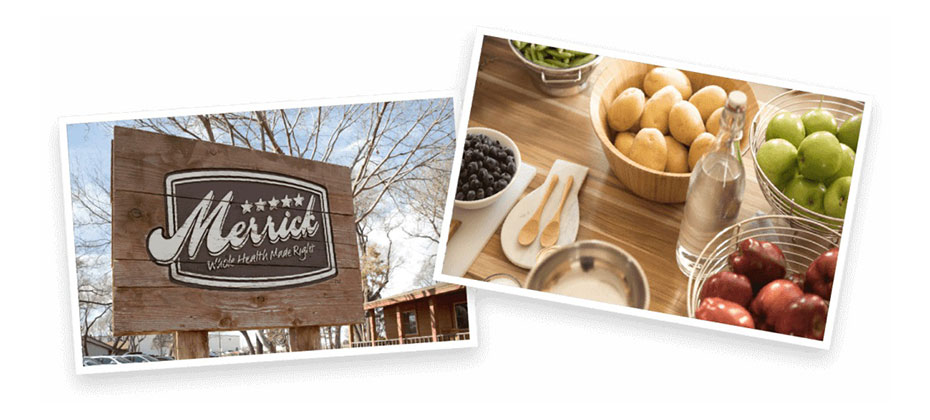 Image credit: Merrick Pet Care
Merrick, named after Garth Merrick, was developed over 30 years ago in 1988. Garth began cooking homemade recipes for his own pooch from his own kitchen residing in Hereford, Texas. Committed to ensuring that his own dog Gracie ate the best quality food, Merrick wanted to share his creation with other dog lovers so took to developing more recipes and sharing his pet food.
Since the initial products were well-received Merrick continued to expand its range and even began producing a line of cat foods. It is said that the pet food brand is one of the leading companies to develop natural and organic pet foods. According to Dog Food Advisor, Merrick was purchased by Nestle Purina in 2015.
Where is Merrick Dog Food Made?
You'll be pleased to know that the packaging doesn't lie and that all Merrick foods are made in the US. Specifically, each recipe is crafted in Merrick's Hereford kitchen, and the products are developed in one of the three company-owned facilities.
Where Do They Source Their Ingredients From?
Merrick doesn't source a single ingredient from China but gets everything they need from reputable and reliable farmers and other sources. Since the company prides itself on using real animal protein and fresh veggies they only source ingredients from local suppliers to ensure their recipes are fresh and healthy.
Product Lines – Differences and Which One You Should Choose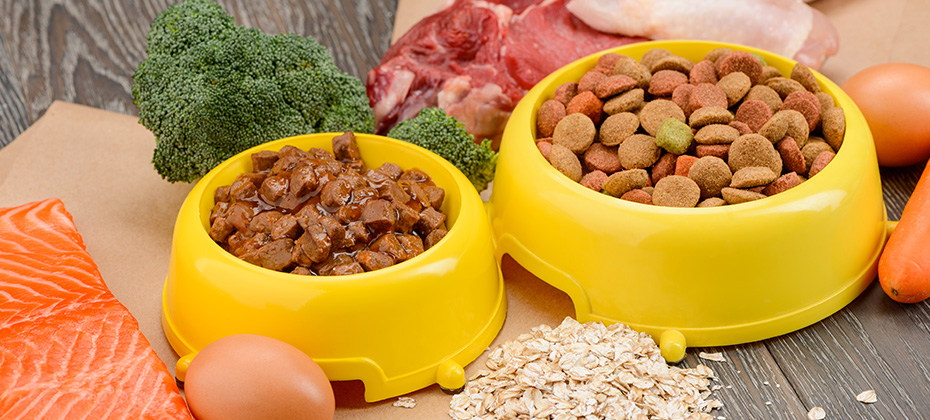 A Merrick dog food review wouldn't be complete without a list of products available to their customers. Below is each category of Merrick dog food followed by more valuable information about what the company has to offer.
Types Of Dog Food Available:
Wet food
Dry food
Toppers
Treats
Ranges Available:
Merrick Classic Dog Food -Healthy Grains
Merrick Backcountry Raw Infused
Merrick Grain-Free Dog Food
Merrick Limited Ingredient Diet Formulas
Merrick Lil' Plates
It's worth noting that these ranges include products that cater to specific requirements. As you may have gathered from the list above, Merrick formulates and manufacturers foods for breed types and ages. In addition, limited ingredient options are available for pet owners looking to narrow down potential food allergies.
Let's Take a Closer Look at the Ingredients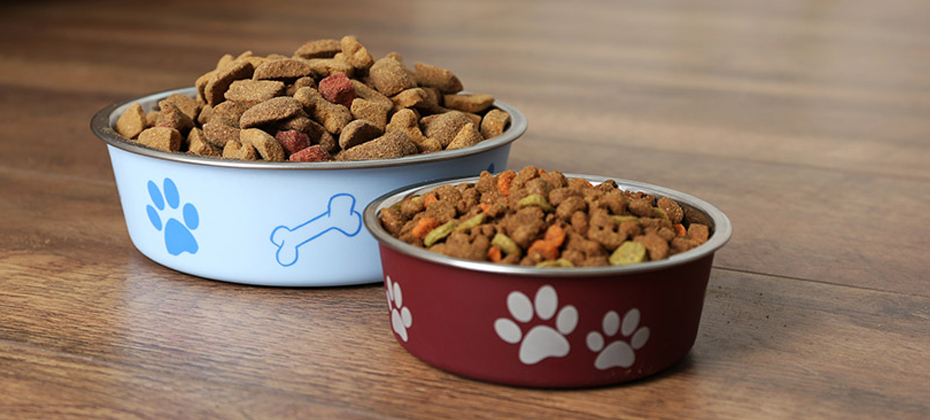 It's crucial to examine the ingredients that are included in the products you buy. By doing so you can be sure that the food you are buying is only going to benefit your pooch. Below is a list of ingredients to look out for and why they will support your dog inside and out:
Minerals & Vitamins
Some of these include iron amino acid complex, zinc amino acid complex, copper amino acid complex, and manganese amino acid complex. Vitamin e supplement, B12, A, and D3 are also commonly seen among the ingredients within Merrick dog food.
All of the above, as well as the additional ingredients, ensure that every part of your dog is taken care of. Specifically, the inclusion of these components takes care of growth, brain development, organ health, skin, coat, and more. They also fend off deficiencies that would otherwise lead to severe health problems.
High-Protein Content
Merrick dog food tends to use its primary ingredient as the main source of protein (e.g. chicken, beef, turkey, etc.). However, some formulas are known to include meals as an additional source as well as plant proteins such as pea or potato protein.
Note About Meat Meals:
It's generally unwise to trust brands that don't specify what kind of meal it uses in the recipe. If a list states 'meat meals' you can't be certain of what type of meat it is and risk giving your pet an unkown food source. This can also provoke a reaction if your pet has allergies towards specific meats.
Carbohydrates
Carbs are essential for your dog's energy levels and Merrick ensures that each recipe has enough to keep your dog active no matter what age or breed. Moreover, for those pooches who can't stomach typical carbs such as potatoes, Merrick has made sure to substitute with an adequate alternative which is typically sweet potato.
Merrick Dog Food Recall History
May 2018 – Pet treats were voluntarily recalled due to elevated levels of naturally-occurring beef thyroid hormone.
August 2011 – Dog treats recalled due to potential salmonella poisoning.
January 2011 – Pet treats recalled due to potential salmonella contamination.
August 2010 (x2) – Voluntary recall due to potential salmonella bacteria present. The recall was expanded a short time later.
July 2010 – Voluntary recall due to potential salmonella contamination
January 2010 – Potential salmonella poisoning
The first few recalls dated around 2010-2011 revolved around Merrick's beef filet squares and potential salmonella poisoning. As disappointing as it can feel to learn about a brand's recall history, take note of the dates above. The last recall was dated in 2018 with the time before that being in 2011. To most, this is the sign of an improving company and one that strives to ensure that its products are safe. Also, since 2011 no recalls revolving around salmonella have been declared.
Price
For some, one of the only drawbacks to Merrick dog food is the price but most comment that it's worth it for great quality pet food. You may also find that the prices of each product differ from seller to seller. Here is a general guideline of prices for the products listed above:
Merrick Real Texas Beef & Sweet Potato Recipe (22 lbs) – $73.98
Merrick Grain-Free Grammy's Pot Pie (12.7 oz can – Case of 12) – $42.96
Merrick Grain-Free Healthy Weight Recipe (22 lbs) – $69.98
Merrick Backcountry Raw Infused (20 lbs) – $81.98
Merrick Grain-Free Wet Dog Food Real Chicken (12.7 oz can – Case of 12) – $42.96
Merrick Grain-Free Puppy Chicken & Sweet Potato Recipe (22 lbs) – $69.98
Merrick Lil Plates Small Breed Dry Dog Food (12 lbs) – $47.98
Merrick Limited Ingredient Diet Wet Dog Food (12.7 oz can – Case of 12) – $44.16
Merrick Lil Plates Grain-Free Freeze-Dried Raw Bites (10 lbs) – $47.98
Merrick Grain-Free Senior Chicken & Sweet Potato Recipe (22 lbs) – $69.98
Merrick Limited Ingredient Diet With Healthy Grains (22 lbs) – $72.98
*Prices are taken from Chewy at the time of publication
It's worth mentioning that retailers, including those online, will offer multibuy deals as well as price reductions for those who subscribe to products. You can also buy these products in different sizes which will, of course, be a lower or higher price. So be sure to keep an eye out!
Where Can I Buy Merrick Dog Food?
Getting hold of Merrick's high-quality dog foods is simple. They are available on sites such as Chewy, Amazon, and even PetSmart. If any of the products above have caught your attention, we have included quick links for easy purchasing. You can also find this brand nationwide in independent pet stores.
In a Nutshell, is Merrick a Good Choice?
If you've spent hours reeling through Merrick dog food reviews after dog food reviews, you may be left feeling a little overwhelmed with the information presented. So – The bottom line is that Merrick is perhaps one of the leading dog food brands available.
The price may be high compared to other pet food brands but you can be certain that the ingredients are real, fresh, and beneficial for your fur friend.