Goldendoodles are renowned for their loveable personalities, intelligence, heart-melting faces, and loyalty to their owners. Not only that, but Goldendoodles also have a wonderful coat that is a combination of the silky, flowing fur of the Golden Retriever and the curly boisterous coat of the Poodle, creating a playful, bouncy, soft, wavy coat that perfectly reflects the personality of the pup itself.
Caring for their coat is essential for anyone thinking of getting themselves a Goldendoodle, as it can quickly become dulled and matted without the right treatment. That's where a good diet comes into play. Goldendoodles grow exceptionally quickly and rely heavily on being fed the right balance of nutrients, vitamins, protein, and fiber to support that growth and allow them to develop to their full potential.
That's where we come in! We have listed some of the best dog foods on the market to suit the dietary requirements of Goldendoodles, along with putting together a quick guide to help you figure out what you need to be looking for.
Key Takeaways:
Goldendoodles can have quite a few food allergies.
The amount of food your Goldendoodle should be fed depends on size and weight.
The food should be high in protein to encourage proper muscle development and recovery.
Fiber is essential for easy digestion and better nutrient absorption.
There are no foods specifically catering to Goldendoodles, but Golden Retriever or Poodle-specific foods often meet the needs of a Goldendoodle.
Goldendoodles require omega fatty acids to care for their skin, coat, and joints.
10 Best Goldendoodle Foods
Best Dog Food for Goldendoodles: Buying Guide & FAQs
So for someone new to the Goldendoodle game, who is worried about ensuring they are fed properly, it helps to know some general information about the breed's dietary requirements. So here is a nifty guide that outlines the essential information to help you pick the right Goldendoodle adult and puppy food.
What's in a Goldendoodle's Ideal Diet?
When determining the 'ideal' diet for your Goldendoodle, it is important to take note of its weight, age, activity level, and life stage. By comparing their measurements with the food ratio table provided by the food manufacturer, you can calculate the ideal portion size and the number of calories they should be consuming per day. This will ensure that they develop well and maintain a healthy weight.
If the food doesn't have a feeding table on the packaging, you can usually find one on the brand's website.
In addition to the right amount of calories that is commensurate to your Goldendoodle's weight, age, and activity level, you need to look out for the following features:
High-Protein Dog Foods – Especially from animal sources. Animal-based proteins have complete essential amino acids, while plant-based ingredients have some missing AAs. The digestive system of dogs is also more in-tune with digesting animal ingredients.
Dog Foods Containing Healthy Fats – Animal proteins such as herring, mackerel, and salmon provide a rich source of omega fatty acids, which can help to condition your Goldendoodle's coat and skin. However, a word of caution would be that you focus more on omega-6 than omega-3, as too much omega-3 can cause inflammatory responses.
Dog Foods Containing Fruits and Veg – Fruits and vegetables make nutrient-rich dog food. Whether it's dry kibble or wet dog food, it should contain some fruits and vegetables as they provide antioxidants, amino acids, folic acid, magnesium, zinc, calcium, carbohydrates, and a wide variety of vitamins.
Food With Few Allergens – We will discuss this in further detail below, but certain allergens can be problematic for Goldendoodles, such as soy, corn, and wheat. It is also possible for Goldendoodles to develop protein allergies, which can be a little bit harder and more expensive to work around depending on the allergy.
Focus on Certain Minerals – Glucosamine and chondroitin, as well as the correct ratio of calcium and phosphorus, are also needed by a Goldendoodle, especially those that weigh above 50 pounds. Their body weight can put a substantial strain on their joints, so it would be wise to give them the structural elements needed for healthier and stronger joints.
Ingredients to Avoid Feeding Your Goldendoodle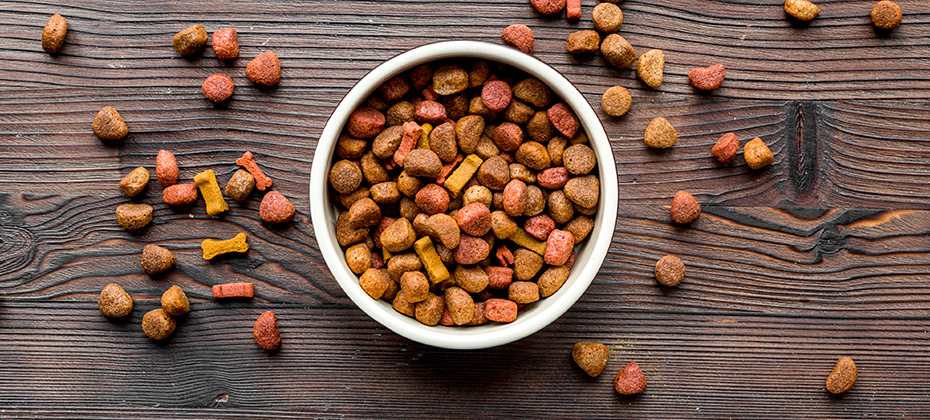 The fact that the Goldendoodle is a hybrid breed can impact the type of ingredients they can ingest. Golden Retrievers are fortunate dogs in that they don't require an overly specialist diet so long as the selected food is designed with larger dogs in mind. Golden Retrievers have pretty strong stomachs and don't generally have many food allergies meaning they can eat whichever food you swing their way.
On the flip side, poodles are known to have pretty delicate digestive systems, meaning they don't only require a healthy diet that can support good development, but they often require grain-free food or foods that avoid specific ingredients such as allergen proteins.
If your Goldendoodle takes after its poodle parent, you will quickly discover that your new dog's diet needs to be more specialized. If this is the case for your Goldendoodle, here's a quick list of the main ingredients to avoid:
Typical Grain-Inclusive Allergies
Standard dog food is often grain-inclusive (unless it states grain-free in the packaging). These grain-inclusive foods contain some of the typical allergens that affect delicate dogs, including:
Wheat
Soy
Corn
Rye
Barley
Peas
Oats
Amaranth
Buckwheat
Millet
Sorghum
Quinoa
Typical Protein Allergens
It is possible for dogs to develop protein allergies over time as a result of constant exposure, especially if you've fed them food that uses just one animal protein for the majority of their life. The most common protein allergens (which are also usually the most common or cheapest proteins) include:
Chicken
Turkey
Beef
Pork
Egg
Fish (specifically "Fish" not named fish such as salmon or haddock)
Common Irritant Ingredients
So in some cases, it's not so much an allergy as it is something that is causing irritation in the stomach. Where an allergy will trigger reactions such as itching, hives, vomiting, seizures, or worse, an irritant just causes digestive distress.
The danger of irritants is that if they are strong enough and your dog's stomach doesn't agree with them, it can lead to bloat. Bloat, if left untreated, can lead to a twisted stomach, quickly becoming fatal.
Here are some of the common irritants you can find in dog food- keeping in mind that in low quantities, these ingredients may not be a problem, but if your dog becomes gassy or uncomfortable after eating, then these ingredients could be the culprit:
Salt
Yeast (brewers and standard)
Brewers Rice
High Rice Levels
Onion powder
Garlic powder
Human Foods Your Goldendoodle Can & Can't Eat
Dogs have natural intolerance for a lot of human foods owing to their processed nature of it. Additionally, certain completely natural foods humans can consume could have potentially fatal consequences for a Goldendoodle. Some good examples of the types of food you shouldn't feel to your Goldendoodle include:
Grapes/Raisins – extremely toxic and potentially lethal
Onions/Garlic – can cause bloat
Macadamia Nuts – extremely toxic and potentially lethal
Nutmeg – toxic
High-Salt Foods – elevated salt levels can become dangerous
High-Fat Foods – weight gain and digestive distress
Dairy – can cause digestive distress
Processed Sugar / High-Sugar Foods – can cause weight gain and dental problems
Bread / Wheat / Gluten – can cause digestive distress
Alcohol / Caffeine
Chewing Gum – choking hazard
How Much and How Often Should a Goldendoodle Eat?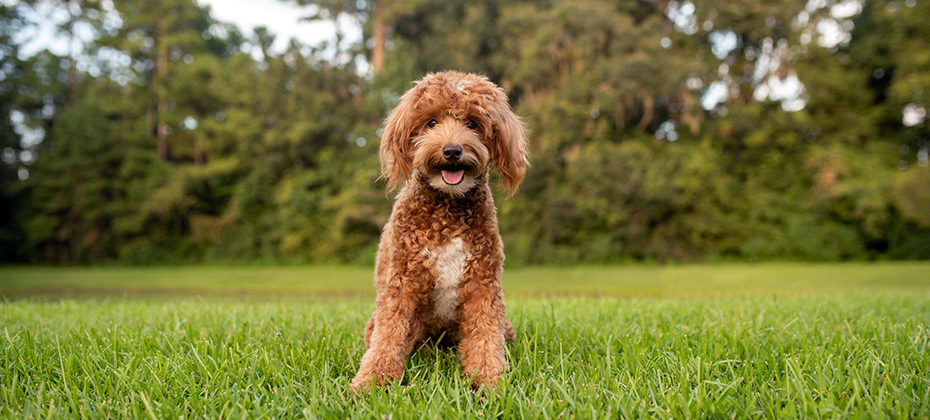 Goldendoodle puppies do need to be fed more frequently than adult Goldendoodles. This is because they burn a lot more energy as they grow and develop and need to top up the tank more often.
A Goldendoodle puppy should be fed around three times a day – once in the morning, once in the afternoon, and once in the evening. Evenly spaced meals are the way to go so they don't become irritable waiting for their next bit of food.
Once they have reached around 6-8 months of age, you can transition them to twice-daily feeds – once in the morning and once in the early evening. When they have reached their full size, minimal development is left to do besides maturity and digestive adjustments; therefore, their energy levels don't deplete nearly as quickly.
In terms of how much you should be feeding them, it entirely depends on their size, age, and weight. All dog food manufacturers should provide a portion guide to help you plan your dog's diet. If you can't find a table on the packaging to guide you, you can usually find something similar on the brand's website.
When to switch from puppy to adult food?
Like switching to twice-daily feeding, your Goldendoodle should change to adult food once they've reached their adult size. They may not have fully bulked out yet, but once they have stopped growing upwards, they can be changed to adult dog food. Generally speaking, this is around 8-12 months of age.
It depends on which of the parents your Goldendoodle takes after and when they will stop growing completely. Therefore, we can't give an accurate age for when the changeover should take place, it is a matter of you monitoring their development and using your judgment. You can contact your vet for some professional advice if you are still uncertain.
Should You Go Dry, Wet, Raw, or Homemade?
This entirely depends on your dog's personal preference, budget, and dietary requirements. A big part of the decision-making process typically pivots on budgeting as each type of food and brand can vary dramatically in price. Therefore we recommend deciding on a budget based on your dog's known caloric and dietary requirements before looking at food options.
There are pros and cons to each type of food, which we have listed below for you:
Dry Dog Food
Dry food is often rich in nutritional benefits, protein, fiber, and vitamins. However, it can be easy to fall into the pitfall of finding foods with filler ingredients that don't offer much nutritional value. So long as you find good-quality dry food, this is generally the most affordable and manageable option.
Dogs can be fussy with dry food, so you might have to top their meals with a bit of brother of meat to entice them to eat properly if they're particularly picky. You also need to ensure that your Goldendoodle has plenty to drink with a dry food diet as it often triggers a thirst at mealtimes.
Wet Dog Food
Wet dog food is delicious, nutritious, and hydrating. It's no secret that dogs love a wet food diet. However, it is an expensive option. Especially seeing as wet dog food is often not as nutritionally dense as dry kibble, meaning more is needed per meal to match the nutrient intake of dry food. Of course, your dog will love it! But your bank account might not.
Raw Dog Food
The raw feed diet is the closest your dog can get to eating a completely natural meal, meaning closely resembling the type of food they would eat in the wild. However, you may need to supplement the meat with some vegetables to boost their vitamin intake.
The major downside of feeding your dog a raw diet is that it is easily one of the most expensive options, especially since Goldendoodles are quite large dogs and require a good amount of feeding daily.
Homemade Dog Food
This can be the best of both worlds as you can give your dog a fresh, wet meal while sticking to a limited budget as you're purchasing all the ingredients yourself. However, it is time-consuming, so you need to consider the preparation time for each meal. A good way to combat this would be to make the food in bulk and freeze what doesn't get used immediately.
Homemade food is a great way to monitor exactly what your dog is eating, as there would be nothing but personally selected ingredients. Just be sure to give them everything they need in terms of nutrition.
Simple DIY Homemade Dog Food Recipe for Your Goldendoodle
If you're thinking of trying out a simple, easy recipe at home for your pooch, here's an extremely simple, cost-effective recipe that we think would be ideal for a first try.
You want to ensure your Goldendoodle gets protein, fiber, nutrients, and vitamins. This means you need to include a range of natural ingredients with an emphasis on plenty of vegetables to round out the nutritional value of the food you're making.
Ingredients:
This recipe can be adjusted depending on the size of the dog in question.
1lb ground protein (turkey, pork, beef, bison, venison, chicken, etc)
6 cups of water
2 cups of brown rice
16-ounces pre-packaged frozen veg – cauliflower, carrots, broccoli, peas
1/2tps turmeric
1tsp dried rosemary
Method:
Place the ground protein with the rice, rosemary, and turmeric in a large saucepan or dutch oven combined with the 6 cups of water.
Bring everything to a boil and thoroughly stir the mixture until the protein has broken up and everything is evenly distributed.
Once everything is stirred together, bring the temperature down to a simmer and allow to cook for 20 minutes.
Add the frozen vegetables, thoroughly incorporate the veg into the mixture, and cook the combined mixture for 5 minutes.
Remove the cooked food from the heat, allow it to cool, drain any excess liquid, and store in an airtight container.
Keep the food refrigerated – it can be kept for up to 5 days.
Common Goldendoodle Health Problems
There are a few hereditary conditions that Goldendoodle can be predisposed to developing from their parent breeds, some of which can be more severe than others if left untreated:
Hip Dysplasia – Goldendoodles are prone to developing hip dysplasia, which can be made worse by their weight, increasing the pressure in the already-damaged hip joints.
Allergy-Triggered Skin Diseases – They are also susceptible to an allergic skin disease which can be brought about by various causes and will often require a thorough workup.
Patella Luxation – Some Goldendoodles are also known for developing patellar luxation in which the kneecap slips out of its normal anatomical position.
Epilepsy – Epilepsy varies in severity, but it can be treated with medication in most cases.
Von Willebrand's Disease – This is an inherited bleeding disorder that results from low levels of specific clotting protein in the blood. It can result in abnormal bleeding during heat or after surgeries or injuries.
Retinal Atrophy – An incurable condition that causes significant sight loss and blindness. Corneal Dystrophy also has these same symptoms.
Bloat – A dangerous condition that, if left untreated, can become fatal.
It is always wise to ask the Goldendoodle breeder for information regarding the dog's parentage and whether its parents have had any of these diseases in their lifetime. Otherwise, you can always seek comprehensive DNA testing to identify genetic markers for canine diseases.
Frequently Asked Questions:
Not always, but sometimes. Like all dogs, some Goldendoodles can have a tendency to be fussy with their food. However, this is usually due to their personality as opposed to their overall breed. Though there is a chance they're fussy because there's something in the food that gives them an upset stomach, so watch for signs of digestive upset after each meal before deciding they're just being picky.
Yes, for the most part. Poodles are a delicate breed that is commonly known for having frequent digestive problems and delicate digestive systems. As a result, the Goldendoodle can inherit this digestive sensitivity and may require a grain-free or limited ingredient diet to compensate.
Goldendoodles can grow old up to 15 years, but only if they are able to maintain their excellent level of health. Lack of exercise and a poor diet can significantly reduce their lifespan by making them more prone to the development or occurrence of health problems.