Cat carriers are indispensable feline pet accessories. For many, these are essential gadgets for safely and effortlessly moving felines from one location to another and may also serve as a temporary shelter for our furry friends. Because these contraptions are designed specifically to ease the stress that's often associated with travel, it is important to look for certain features that will help you achieve this purpose. Choosing from a multitude of options can be dizzying. True to our goal of helping pet owners, we've come up with a comprehensive guide on how you can buy the best possible transporter or kennel for your furry pal. We'll start by sharing with you the 10 best cat carriers in the market before we move on with a comprehensive buyer's guide.
At a Glance: 10 Best Cat Carriers
| Editor's Picks | Product Name | Price | Rating |
| --- | --- | --- | --- |
| Best Overall | Necoichi Ultra Light Collapsible Cat Carrier Bag | Buy on Amazon | 4.6 |
| Runner Up | AmazonBasics Soft-Sided Cat Carrier | Buy on Amazon | 4.4 |
| Best Premium | PetLuv Happy Cat Soft-Sided Cat Carrier | Buy on Amazon | 4.7 |
| Best Airline Approved | Paws & Pals Dog & Cat Carrier Bag | Buy on Amazon | 4.4 |
| Best for Small Dogs | Pet Magasin Soft-Sided Airline-Approved Cat Carrier | Buy on Amazon | 4.6 |
| Premium Pick | Sherpa Original Deluxe Airline-Approved Cat Carrier | Buy on Amazon | 4.7 |
| Best Foldable | SportPet Designs Foldable Carrier For Cats | Buy on Amazon | 4.7 |
| Best Waterproof | Mr. Peanut's Gold Series Airline-Approved Cat Carrier | Buy on Amazon | 4.7 |
| Double Expandable Dual Entry | Pet Peppy Premium Expandable Cat Carriers | Buy on Amazon | 4.5 |
| Budget Pick | TIYOLAT Pet Carrier Bag | Buy on Amazon | 4.5 |
*Ratings are from Amazon, Chewy, and PetSmart at the time of publication and can change
Key features:
Foldable mesh pet carrier design
Maximum weight capacity: 18 pounds
Easily folds flat for storage
Durable and very easy to clean
With plush bed
Designed like a miniature tent that can be hung like a hammock because of its mesh front panel and mesh windows, the Necoichi is a cheap cat carrier that's great for budget-conscious feline owners. While it is the most inexpensive in this list, one should never think that it is of mediocre quality.
Its construction is ensured to be highly durable, fully capable of holding tabbies and kitties that weigh no more than 18 pounds. This is welcome news for those who may have a Garfield in their households.
The materials used in its fabric are sturdy enough to withstand repeated washings, although cleaning it is rather easy, thanks to its choice of material. The mesh panels allow for optimum ventilation so your tabby will feel as comfy as possible. This cat travel carrier is perfect for on-the-go adventures.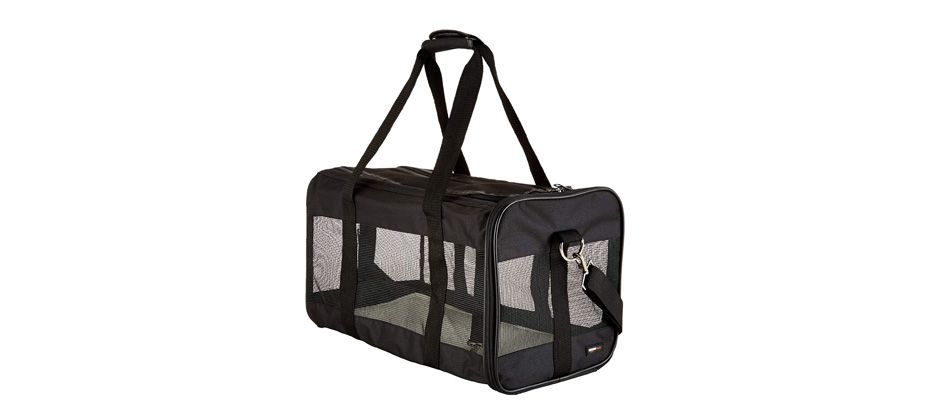 Key features:
Designed to conform to airline under-seat requirements
Adjustable shoulder straps and carrying handles
Dual luggage and seatbelt strap
Machine washable and dryable fleece cat bed
Maximum weight capacity: 16 lbs
Breathable mesh panels on all sides
This AmazonBasics creation has a rather very simple design. However, it is perhaps this design philosophy, plus a very budget-friendly price tag, that makes it very appealing to certain folks.
Resembling a gym bag with mesh panels on all 4 sides, the AmazonBasics Soft-Sided Pet Carrier is not just good for tabbies. This cheap cat carrier, although not as inexpensive as the Necoichi, is durable and sturdy enough to accommodate even small dogs, although its maximum load capacity is only 22 pounds for its large size and 8 pounds for its extra-small variant.
The AmazonBasics cat crate comes with a fleece pet bed to keep your kitty comfy even during long travels. It has carrying handles and fully adjustable straps, too. And with a friendly price it's no wonder it fares well in customer reviews.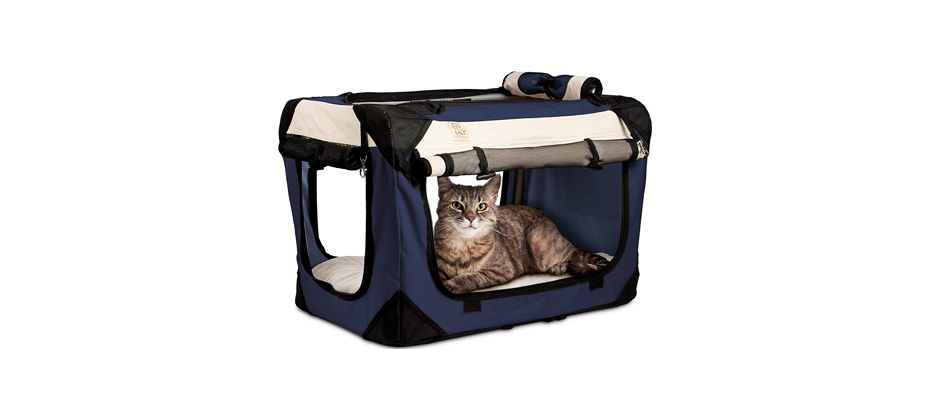 Key features:
Rip-proof heavy-duty yet breathable rubber mesh panels
Secure locking zippers, extra-large storage pockets, and safety seatbelt loops
Fully padded carrying handles and adjustable shoulder straps
3-stage privacy settings via 4 easy-access panels
Fully-reinforced seams
Comes with plush pillow made of washable polyester
Easy to carry and folds flat for easier storage
Maximum weight capacity: 45 lbs
The "Happy Cat" deserves its name because of its exceptional comfortable, well-ventilated, and luxurious design. Sure, it looks like an ordinary gym bag that has mesh window panels on three sides and a top loading, full zippered closure for ease of access to your traveling kitty, but the Happy Cat comes with exceptionally well-built materials to give your tabby a kind of comfort that will leave it purring in delight. This cat travel bag comes with an ultra-soft, plush, and super comfy rest pillow that's been double padded for optimum comfort. The pillow itself is made of 100% cotton affording maximum feline comfort.
One can also provide 3 levels of privacy for kitties. Opening all 4 access mesh panels give you superb visibility of your tabby even from afar. Need complete privacy? Then you can simply draw down the panels to close the windows so your kitty can have its privacy and make it a lot easier for it to sleep.
The Happy Cat also comes with stake down rods to help secure it in place, locking zippers to help ensure your tabby stays inside, super-strong rubber mesh to guard against ripping, and large side pocket for extra storage of your feline needs. It can hold two tabbies at the same time as long as their combined weight doesn't exceed 45 pounds.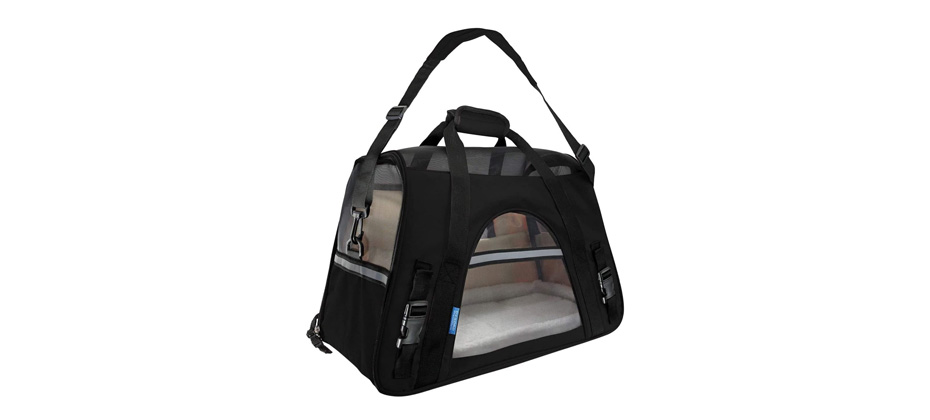 Key features:
For both cats and dogs
Accommodates up to 15 pounds
Medicine storage compartments
Comfortable and durable
Made from breathable material
Portable unit
The Paws & Pals Pet carrier is an airline approved unit that is making waves on the market today. We are particularly excited about its external design, which is simple and yet classy enough to blend into every scenario. It features a fluffy bed manufactured from warm fleece that is awesome to lie in and offers durable buckle straps made by professionals to ensure your pet is secure and safe during your plane ride or brisk walk. This pet carrier also comes with a lost and found name tag which can be attached to the unit if misplaced. Other unique features include a padded shoulder strap for comfort and toys your pet will love to play with. All in all, this is a great pet carrier that keeps you relaxed at all times knowing that your pet is resting comfortably.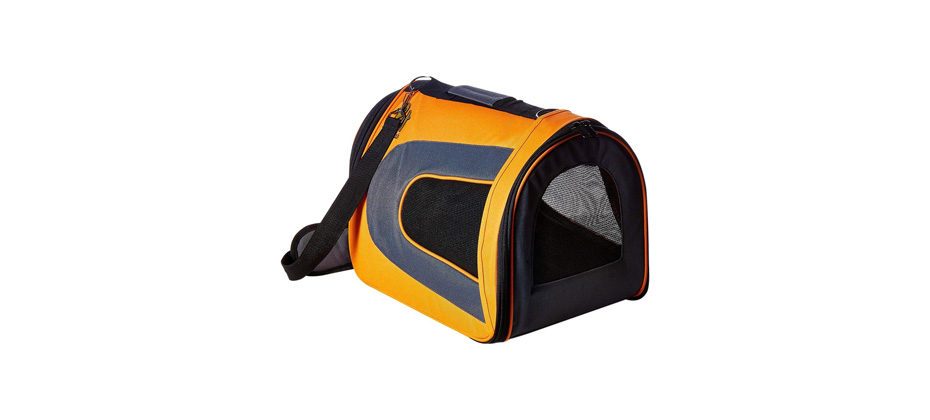 Key features:
Airline-approved soft-sided, padded-floor pet carrier
Constructed of luxurious and durable materials
Easily folds flat for storage
Waterproof and easy to clean
Fully padded adjustable shoulder straps with hand carry handle
Breathable mesh panels
24-month warranty
100% money-back guarantee
The Luxury Soft-Sided Cat Carrier designed and crafted by Pet Magasin is remarkably unique because of its hip and sporty design. It definitely appeals more to the younger generation as well as oldies who have a soft spot for anything groovy.
The Pet Magasin entry into this list is an airline approved cat carrier that comes with a comfortable padding so there really is no need to purchase separate bedding for your pet. Of course, it is always possible to add your own choice since its cavern is spacious enough to accommodate smaller items to help fight feline boredom while en route to your destination.
The Pet Magasin also comes with mesh windows for ample ventilation, although it would have been better if the window itself was a little bit larger. Regardless, this should provide privacy for your kitty to do its thing. The carrier is also constructed of highly durable materials and finished with adequate waterproofing so cleaning won't be a chore. It's reasonably priced, too.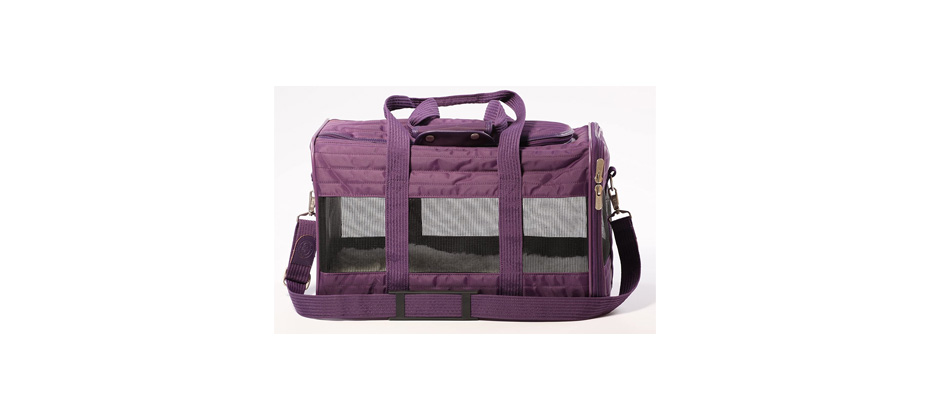 Key features:
Soft frame with fiberglass support rods
Airline-approved pet carrier with Guaranteed on Board program
Wooden stability board covered in waterproof liner
Breathable mesh panels on all sides
Top- and side- loading access
Heavy-duty locking zippers
Non-slip, fully adjustable shoulder straps
Machine washable bed liner made of faux lambskin
Maximum weight capacity: 8, 16, and 22 lbs
Another airline approved cat carrier that also provides exceptional comfort for kitties on the go is the Sherpa Deluxe Pet Carrier. It closely resembles the product from AmazonBasics although the Sherpa comes in more eye-friendly colors like plum and brown, among others.
Also, unlike AmazonBasics, one side of the Sherpa is covered while the other 3 sides come with end to end mesh panels. However, the top and bottom side walls are wider in the Sherpa to give it better structural rigidity. This doesn't adversely affect the Sherpa's portability, however, as it can still be easily folded for instant storage when not needed. It also comes with a unique spring wire frame design to help you squeeze it under the rather cramped space of your airplane seat. Your pet can be accessed from the top or through a side opening, although the top entrance will be perfect for instant access.
The Sherpa boasts of an interior liner that is made of machine-washable faux lambskin. It doesn't have accompanying pet bedding, though. Also included in your purchase is a padded carrying strap for comfort carry.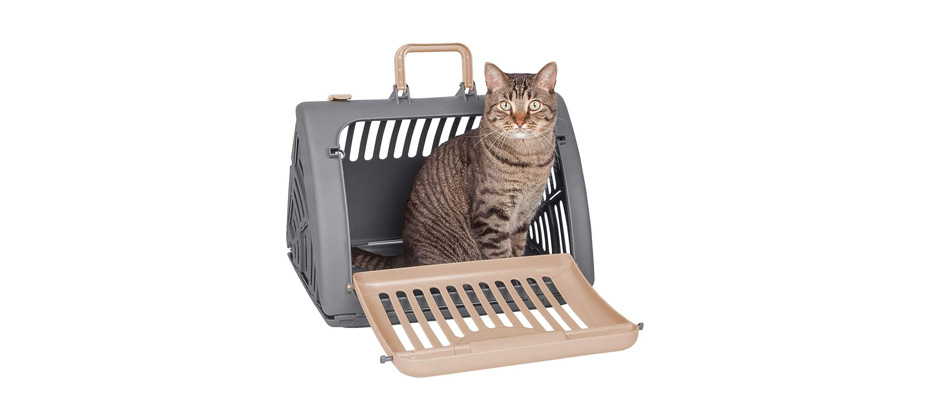 Key features:
Made of sturdy, durable, and impact-resistant ABS and polypropylene
Extra-secure latches and side panels with single-motion door lock mechanism
Easy to clean and maintain
Compact and lightweight design; easily folds for storage
Extra-large opening for easier access
Maximum weight capacity: 25 lbs
Comes with machine washable and dryable cat bed
If sturdiness and durability is what you're after, SportPet Designs' cat carry case is an exceptional piece. This fully collapsible feline carrier is constructed of superbly durable polypropylene plastic which also gives it its easy-to-clean feature. The collapsible, impact-resistant design is quite rare in plastic products as this can adversely affect the overall structural integrity of the mobile cage.
Thankfully SportPet Designs engineered its Travel Cat Carrier to retain its structural strength even when fully folded. Unfortunately, we find the interior space to be somewhat cramped, making it unsuitable for long drives as your feline pet simply won't have plenty of room to move about. For shorter travels, though, the SportPet can come in as highly recommended. You also have the option to get a SportBed that comes complete with a pet bed.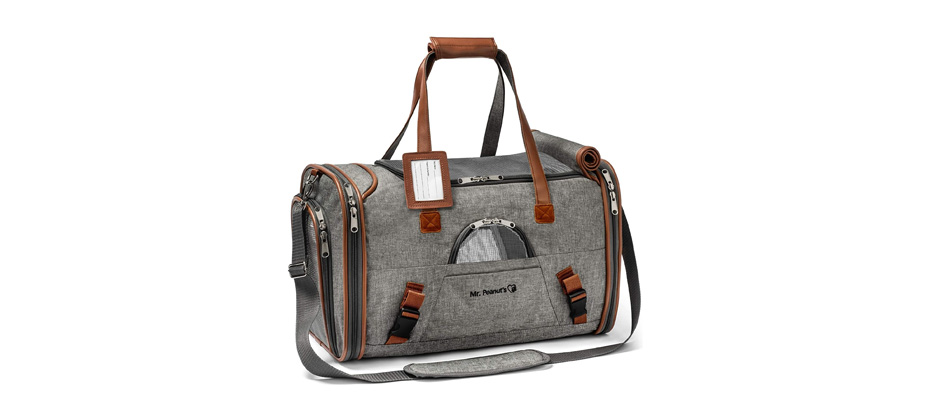 Key features:
Pet-friendly, airline-approved tote bag design
Premium-quality zipper and locking metal clasps
Maximum weight capacity: 15 lbs
Built-in leash ring attachment in the interior
Comes with hand-washable comfy fleece pad
Fully padded shoulder strap and hand carry handle
Easy-fold, durable, and waterproof design
Breathable mesh panels on all sides
Comes with storage compartment
Mr. Peanut's is an airline approved cat carrier that can easily pass as a highly luxurious traveling bag. The design of Mr. Peanut's is ingenious that you'd think it's not a kitten carrier at all. It looks a lot like a high end everyday bag.
Mr. Peanut's is a travel tote that already includes a super-soft fleece bedding to keep your feline pal relaxed and calm while on the road or in the air. It has metal safety clasps for added security. It is only available in one size so it would be best to take the accurate measurements of your feline to make sure it fits right into the Mr. Peanut's 18 by 11 by 10.5-inch dimensions. It has a durable construction, although its 14-pound weight limit could be improved. Perhaps the company is just playing it safe.
Regardless, Mr. Peanut's comes with ventilated sides and top which provides for easier accessibility to your furry friend. There is also a side storage pocket as well as an ID tag to help in the proper identification of Mr. Peanut's and its invaluable cargo. With 5 colors to choose from this is one feline carrier you'd never get tired of carrying.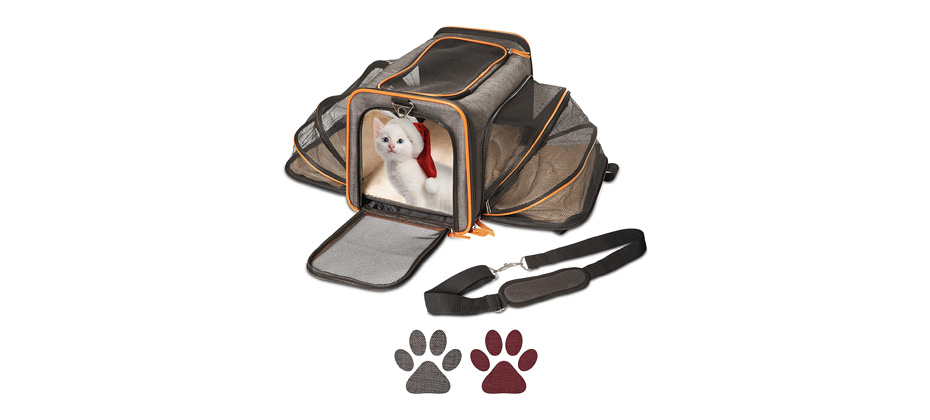 Key features:
Versatile usage (for dogs and cats)
Spacious carrier
Airline approved
Expandable unit design
Expert ventilation design
Compact design for easy storage
Another pet carrier we have fallen in love with is the Pet Puppy carrier a product designed for dogs and cats. This is a model manufactured for the security and safety of your pet no matter where you go. It offers puppies and kittens with vast space to move around during long trips and comes with a two-sided expansion to accommodate more pets. At Pet Puppy, we believe that every animal deserves to feel loved and cared for, and a unique resting place such as this can be used daily without hassle. The unit is light in weight, increasing its portability during your trips. It also features quality zippers, and a uniquely designed pet bowl included to help your pet feel like royalty.
10

TIYOLAT Pet Carrier Bag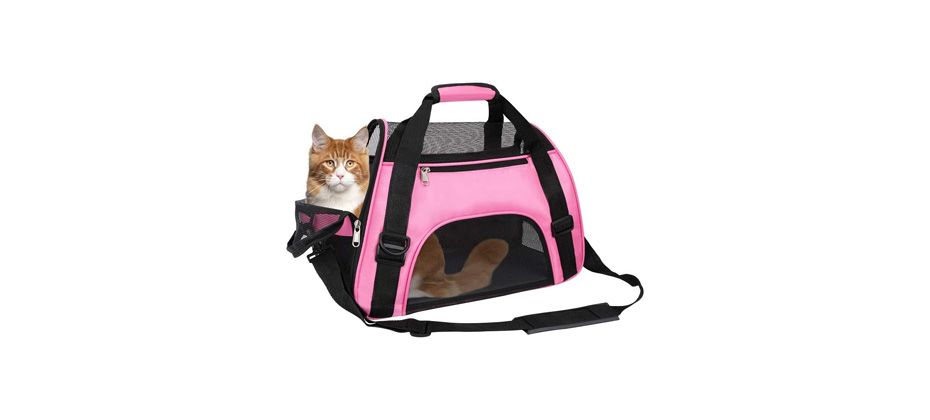 Key features:
Detachable shoulder strap
Dual long-handle grips for easier carrying
Mesh panel fabric
Waterproof cloth material
Half opening and full opening zipper
A great choice for the frequent traveller and those who only need a carrier to the vets and back, this option is convenient and easy to use. Small enough to fit under most airline seats, even cats who come on adventures farther afield will appreciate this pet carrier bag. Do be aware, however, that it is not ideal for larger cats, as they may find the fit a little snug!
All four sides have a mesh panelling system and there are multiple opening options, to make entry and exit all the easier for you and your cat. Meanwhile, the long-handle grips are perfect for comfortably and easily carrying your cat with you. Added to this is the detachable shoulder strap, to help keep your hands free.
Best Cat Carrier Buying Guide & FAQs
From what we have shared above, you can easily see why these are currently the world's 10 best cat carriers. There are those that look for affordability while others would go for the form and style. You can always consider these 10 products or you can perform your very own search as there are literally hundreds of feline carrier systems in the market. As promised, we're here to share with you a comprehensive buyer's guide in choosing the right cat carrier in the event that you would want to explore the market on your own.
What Should I Look for in the Best Cat Carrier?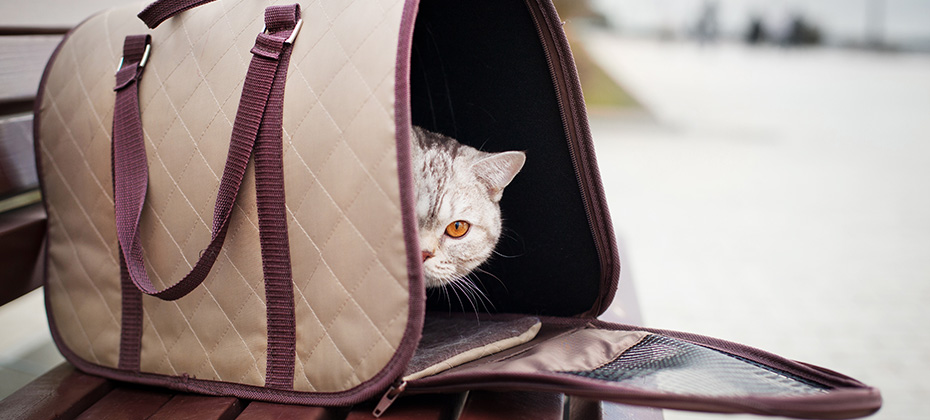 One of the very first things that buyers would want to know are the things that they need to look for whenever they have to buy something. These are intrinsic qualities of products that buyers find to be particularly suited to their needs. The following are some of the things to look for when buying cat carriers.
Size
Like any other pet transporter, the size of the product matters a lot. You do not want it to be very large and bulky especially if you intend to travel on a plane. There are certain size restrictions when it comes to airplane travel. Also, a substantially larger crate will make it awfully awkward to carry with your 15-pound tabby sloshing around, making it difficult to balance. Additionally, you also don't want it to be too small as it will be too uncomfortable for your pet, making it anxious and stressed out. Figuring the right size of feline transporter is thus, necessary.
To do this, you need to make accurate measurements of your furry friend's actual size. First, you need to measure its length which is accomplished by measuring your cat from the outermost edge of its chest right down to the outer edge of its rear. Next, you need to measure its height by placing one end of your measuring tape on the floor and stretching it upwards to the level of the topmost edge of your kitty's back. Once you've taken the measurements you can then add some 2 to 4 inches as allowance. This should be the minimum dimension for your crate.
Just a tip: your pet's kennel should be about 1.5 times the size of your kitty. This should give it ample room to move about without affecting the balance and ease of carriage of the kennel.
Load Capacity
The maximum weight capacity of the product is a very important consideration. You may have the correct size, but if its construction is poorly made, then you run the risk of damaging the bag and, more importantly, hurting your tabby. For example, if you have a tabby that weighs 15 pounds, then make sure that the product you are going to get has a load capacity of at least 16 pounds. We do not recommend getting a bag that is equal in weight capacity to your feline's weight. Remember, you will also be placing accessories and other pet care items in the bag so these should also be factored.
Take a look at some cat accessories, such as cat harnesses, cat muzzles, cat GPS trackers and toys for cats.
Level of Comfort
You can choose carriers that have accompanying plush bedding so your tabby will feel more comfortable and more relaxed throughout the ride. If you don't like accompanying bedding, you can still get a kennel and purchase separate bedding. However, you need to make sure that you have taken into consideration its effects on the height of your pet crate. For more options, check out our detailed review of the best cat beds.
Moreover, you might want to look for a cat crate that has mesh panels to allow for optimum ventilation. You don't want your kitty suffocating inside. At any rate, you're helping it feel more relaxed and calmer.
Durability and strength of materials
Kitty carriers come in various types based on the principal material used in its construction. Majority of the products in the market are made of fabric materials including polyester, canvas, cotton, and microfiber and specialty synthetic fabrics. The important thing to look for is the stitching of these fabrics as they can get easily damaged at the seams. If you can get double-stitching then that would be a better option. You might also want to brush up on your knowledge of the durability and strength of various fabric materials.
There are cat lovers who prefer polypropylene or some other form of durable plastic material. These provide better protection, strength, and durability than fabric materials. These are also easier to clean. However, the downside is that these products don't have the ease of storage that fabric products have.
As much as possible, avoid getting products that are made of metal as these will simply negate the purpose of traveling with your kitty. While they are very strong and durable, most metal cages are heavy that it will be cumbersome to carry.
Travel-friendliness and portability
Your choice of cat carriers should also reflect your need to travel. That's why it's crucial to learn how to choose an airline approved pet carrier. Fabric carriers can be easily folded, requiring very little space to store. Fortunately, they are a lot easier to carry on board airplanes too, and it doesn't matter if they're large. You can always squeeze in some sections to fit inside the space under your airplane seat. These are lightweight, too, ensuring ease of carriage.
Plastic crates, on the other hand, will still require considerably larger storage space in the event that they can be folded. This is where its size can play a major factor. It should fit right under airplane seats as their size cannot be easily adjusted to be squeezed into the tight space. These are lightweight, but not as much as fabric products.
We already mentioned never to get metal crates as these are way too heavy compared to plastics and fabrics.
You may also like our guides on Cat Strollers and Cat Backpacks.
Ease of maintenance
An equally important consideration when choosing the right cat carrier is the ease of maintaining the product, especially cleaning and storage. We already mentioned that when it comes to cleaning, plastic products are tops. You only need to wipe them with a moist cloth, dry them completely, and you're done. Fabrics are easy to clean but not as hassle-free as plastics unless you have a washing machine and the product is perfectly machine washable. Just throw it in your washing machine. But, if it happens that the product needs to be hand-washed, then it can be tedious.
Security
You also need to consider the safety and security of your kitty inside the crate. As such, it is important to look for locking mechanisms that will guarantee your pet stays inside. It would really be an awful experience if you're walking in the mall then your kitty got out from its carrier simply because it was able to work its way through the zipper. Having a double zipper mechanism usually helps.
Check out our guides on Cat Calming Products, Cat Calming Spray and Cat Calming Collars.
How to Safely Travel with Your Cat Carrier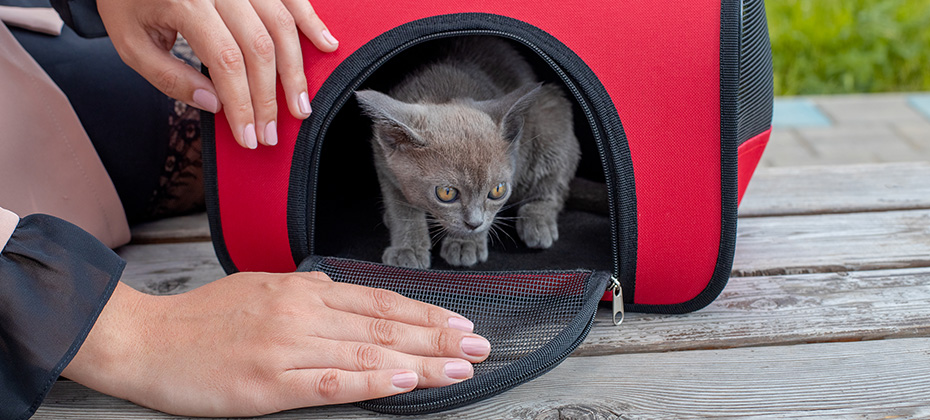 Traveling with your kitty can be a very enjoyable experience. It strengthens your relationship with your pet cat. While traveling can be fun, you should also do everything you can to make it as comfortable, stress-free, and as safe as possible for your kitty. Here are some tips on how to safely travel with your cat.
Always secure its crate with a seatbelt. There are pet carriers that have attachments for connecting to car seatbelts. So you really need to think about this.
Should you go on a long trip, plan where you will be making stopovers so you can let your cat out of its crate. This way, it can stretch and do its business without getting stressed. You might also want to bring its litterbox.
Consider getting a leash so that, if you do let it out during stopovers, you will have better control of your pet's activities. It also helps prevent wandering.
Attach appropriate identification bands or ID tags on both the kitty carrier and your cat. This should help individuals know where to return your cat in the event that it gets lost.
Bring plenty of water as kitties don't have the thirst drive that will make them drink.
If you're traveling on a hot day, bring ice packs or even frozen bottles of water.
If traveling in winter, extra blankets will help keep your kitty warm.
If you're staying in a hotel, make sure to inspect the surroundings and every nook and cranny of your hotel room for any potential hazard. You want the room to be safe for your kitty.
Always bring important documents about your pet such as vaccination records and the like. You'll never know what might transpire on the road.
If traveling on an airplane, you might want to go to the airport earlier to make sure they will allow your kitty in.
You may also like our reviews of the Best Cat Collars and Best Self Cleaning Litter Boxes.
Traveling with your cat can be a very fulfilling experience. Therefore, it is important that you know how to choose the best cat carrier. You need to look at the size, the weight capacity, the comfort it brings, its strength and durability, travel-friendliness, and security. It is also important to know how to make your cat's travel a lot safer and more comfortable for it. Finally, it is with great confidence that the 10 best cat carriers we've shared with you will help you enjoy traveling with your cat.
Sources:
1.Stephanie Watson, 10 Essential Cat Travel Accessories, HowStuffWorks
2.Traveling With Your Cat? We've Got Some Tips!, Animal Humane Society
Frequently Asked Questions
Some folks don't necessarily think that a kitty carrier is important. However, like all pets that we take with us when we travel, kitties need a device that will help them feel more comfortable and more relaxed throughout the duration of the trip. It may only be a short one heading to the vet clinic, but the ride alone can already be very stressful for your tabby. To help minimize the stress that your pet cat might experience, it is important to place it inside its temporary shelter where it can feel more secure.
Just look at it this way. The crate or kennel is your kitty's safest means of getting from your home to your destination. It shields your tabby from potential threats while keeping it comfortable and secure.
We already shared with you that the size of the cat carrier should reflect the size of your kitty. It is important that it should be able to move around the crate but not to the point that it can be rocked back and forth when you walk. The idea is to get a cat travel bag that is about 1.5 times the size of your kitty.
It is also important to factor in the standard adult size of your kitty. This is especially true if you're getting something for your kitten. You would naturally want to choose something that your kitty can use as it grows old.
Cats can be difficult pets to get into carriers. The easiest cat carrier to get a cat into is one that has an opening at the top, because this enables you to pick up your cat, put them in the carrier, and close the carrier's lid. If you have a carrier with a door at the front, guide your cat in headfirst, but do not force them into the carrier. Try leaving treats in the carrier to entice them into getting in by themselves.
Cats often prefer hard carriers because soft carriers move. A soft carrier will shape itself around your cat's mass, which will reduce the amount of space your cat has to move around in. For better comfort during a journey, a hard carrier is ideal. Your cat will have a good amount of space, and you can pad out the carrier with their favorite blanket.
Depending on the size of the carrier, it is possible to put two cats inside of one, but we would only recommend doing this while your pets are still young kittens or if you have an especially large carrier. A standard size cat carrier is not suitable for two adult cats who are fully grown. They won't have any space to move around, and the journey will become uncomfortable. You also wouldn't want two cats who often fight each other to be in such close quarters for any period of time.
Putting any old blanket in your cat carrier won't offer a huge source of comfort to your cat, but they certainly make the journey in the carrier softer and less frightening. If you want to offer your cat the ultimate emotional security, though, you should put a blanket that they use and recognize into the carrier. Cats leave their scent and fur over their possessions, so your fluffy friend will have a more pleasant journey with their own blanket.
Cats often get scared or feel anxious when traveling by car. When you put a cover – like a blanket or sheet – over the carrier, you can help your cat hide themselves and self-soothe. Cats who can hide away feel safer, and they're less likely to spend the entire journey yowling because they don't understand what's going on. Think of a covered cat carrier like the underside of your bed or the hideaway hole of your cat tree; both are places cats enjoy hiding because they can squirrel themselves away.