There's nothing like having a soft, cuddly, purring feline companion (or a few!) in one's life. But cleaning their litter box day after day? Not fun, to say the least. Thankfully, over the past few years, there have been advancements in self-cleaning cat litter boxes that help take some of the messy work out of caring for your cat.
An efficient automatic litter box can significantly simplify the management of your kitty's bathroom habits, saving you time and effort from daily scooping. Equally important, this unit can considerably minimize the foul odors emanating from an indoor potty.
Finally, an automatic litter box is good for your and your cat's health. By scooping after your pet only occasionally, you'll avoid overexposure to ammonia, bacterial infections, and parasites, and yet, your kitty will still have a clean and tidy bathroom.
To help you find the right litter box, we at MyPetNeedsThat have reviewed dozens of different products, narrowing our search down to only the nine best self-cleaning litter boxes. Our detailed buying guide is here as well, to help you make better-informed purchasing decisions.
At a Glance: The 9 Top-Rated Automatic Litter Boxes
| Editor's Picks | Product Name | Price | Rating |
| --- | --- | --- | --- |
| Best Overall | Whisker Litter-Robot | Buy on Amazon | 4.3 |
| Best Odor Control | PETKIT Pura X | Buy on Amazon | 4.2 |
| Best Self-Washing | CatGenie A.I. Self-Washing Cat Box | Buy on Amazon | 4.1 |
| Most Efficient | ScoopFree Original Self-Cleaning Litter Box | Buy on Amazon | 4.3 |
| Best Low Maintenance Box | LitterMaid Single Cat Self-Cleaning Litter Box | Buy on Amazon | 3.8 |
| Budget-Friendly Option | Omega Paw Roll'N Clean | Buy on Amazon | 3.5 |
| Best Hooded | ScoopFree Covered Automatic Cat Litter Box | Buy on Amazon | 3.8 |
| Best for Multiple Cats | Nature's Miracle Multi-Cat Self-Cleaning Litter Box | Buy on Amazon | 3.7 |
| Also Consider | PetSafe Simply Clean | Buy on Amazon | 2.5 |
*Ratings are from Amazon, Chewy, and PetSmart at the time of publication and can change
Self-Cleaning Litter Boxes: Buyer's Guide & FAQs
A self-cleaning litter box is a wonderful gadget to have if you own an indoor cat or if you live in a multi-cat household. These units scoop and clean on their own, with minimal effort on your part. This greatly simplifies the management of your kitty's waste and is a perfect choice for super-busy pet parents and those with poor joint mobility.
But with so many different self-cleaning litter boxes on the market – fully automatic, semi-automatic, self-flushing, non-flushing, etc. how does one even begin the selection process?
If the sheer number of electric litter box models online has left you confused and overwhelmed, don't worry. This buying guide can help make shopping easier by focusing only on things that truly matter. Read on for better-informed purchasing decisions.
Things to Consider When Buying a Self-Cleaning Litter Box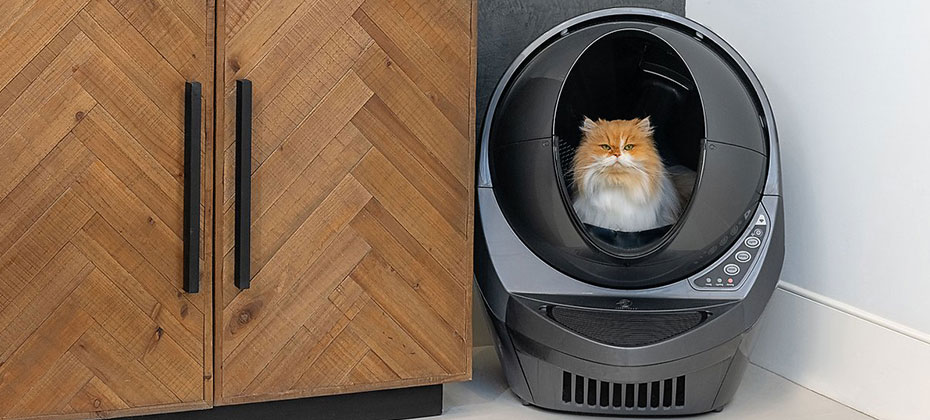 To purchase the right automatic litter box for your budget and your kitty's needs, consider the following things when evaluating the options.
Scooping time
Most automatic litter boxes are equipped with a "scooping" sensor that is activated several minutes after the cat has left the box. If you're fine with a simple mechanism that does this on its own terms, there's no need for paying extra – pre-programmed units are simple but do the job well. If you want your unit to be able to almost immediately scoop after your kitty has finished their business, you'll need a box with an adjustable timer.
Waste bin
Some models flush the waste on their own, others dispose of it in a waste unit that you have to empty later. There's no better or worse here, only what works better for you specifically. If you want a non-flushable model, pick a unit with a large waste bin so you don't have to empty it every day.
Ease of cleaning
Even self-cleaning litter boxes need to be cleaned from time to time. Look for models that are easy to assemble and disassemble as they're easier to clean. It's good to know that the simpler models are typically easier to clean than the more advanced ones.
Litter type
Some boxes require special cat litter in order to work. It's important to check if the box you plan to buy uses the litter your cat likes, because if it doesn't, your kitty may not want to use it. However, this is not always the case – more often than not, all it takes for a cat to adjust to the new litter is time.
You may also like our article on the Best Litter for Kittens.
Price
Automatic litter boxes, whether fully automatic or semi-automatic, greatly vary in price. Fully automatic ones, with fancy sensors and features, cost up to $500, while the simpler models can be found for about $40. If all you need is a simple self-scooping litter box, there's no need to pay a lot of money.
Benefits of an Automatic Kitty Litter Box
One of the best things about an automatic litter box is that it's one less thing to worry about. Whether you are super-busy with work/school, away from home often, or just hate daily scooping, a self-cleaning litter box can make your and your cat's life tidier and nicer without extra effort.
No more daily scooping
Let's face it, no matter how much we love our cats, we will never love scooping their clumped-up urine and feces. An automatic litter box scoops every time your cat leaves the box, minimizing waste management for you.
Less contact with cat waste
Besides being nasty to deal with, cat waste can also be dangerous. As cat waste accumulates in the litter box, ammonia fumes are produced, which are toxic and can cause respiratory problems. Some bacterial and parasite infections/transfers are also very much possible, so the less direct contact with cat waste you have, the better.
Reduced odor in the house
By regularly scooping on its own, a self-cleaning litter box also reduces the odor emanating from cat waste. This is great news for the room in which the litter box is placed, your cat, yourself, and even your guests.
A clean litter box for your cat all the time
With just a tiny bit of effort on your part (occasionally cleaning the unit), your kitty will have a clean and tidy litter box every time they need it. When their box isn't clean, cats try to hold it in, which can lead to various diseases of the urinary tract. A clean litter box equals a healthy cat and a happy owner.
How Does Automatic Litter Box Work
Automatic litter boxes rely on a power source to rake through your cat's waste and dispose of it into a waste bin based on a set time program. You can set the timer to scoop between 5-20 minutes after your cat has left the box (depending on the model), which is quite convenient. Semi-automatic boxes scoop on their own terms, meaning setting the timer is not possible. As for non-automatic or manual self-cleaning litter boxes, although they scoop on their own, you do need to roll or sift them in order to remove the waste from the bin.
Where in the House Should I Place the Litter Box?
Knowing where to place your litter box is as important as selecting the right one for your furry little pal. As much as possible, you may want to set it in an area that's free of obstacles or even clutter. There should also be no distractions such as loud noises or other forms of nuisances. Just like you, if your kitty wants to perform its business, it wants to do it quietly and privately.
It is also important to place it as far away as possible from your feline's bowl of food and source of drinking water. Cats are fastidious creatures and they like their things to be clean and tidy. If it's a place where they eat or drink, they don't want to defecate or urinate anywhere near it.
How Do I Train My Cat to Use Its Litter Box?
What's the use of an automatic cat litter box if you are not going to train your kitty how to use it? You may have the most advanced, most state-of-the-art, most sophisticated, most luxurious, and most expensive gadget in the world, but if your kitty simply doesn't know or even want to use it, you're simply wasting money. You also need to put extra effort into training your cat to use their litter box. Here are some tips.
Understand your feline friend's unique routine.
Most kittens actually learn where to defecate and urinate from their moms as well as littermates. However, if you happen to have a tabby that has not learned the behavior, you will have to do your part in teaching it how to.
The very first thing you need to establish is the elimination routine of your tabby. Most felines like to defecate right after a meal while some would be just after having a nap. Still, there are felines that relieve themselves after playing or after some physical activity. The point is you have to know when your feline is most likely going to relieve itself. This way you can easily redirect it towards the litter box.
In the first few days of feline potty training, you may want to keep a record of the circumstances or 'cues' that your pet displays just before it is going to eliminate. You may also want to record the times these occurred so you'll have an idea of when you need to place your kitty near its crate. Try to establish a pattern so you can be more proactive in potty training your kitty.
Be there when it's 'time'.
Once you've established a routine or a pattern for feline elimination, you can easily make yourself available to supervise your kitty. You don't actually have to scoop your cat straight to the litter box. You can start by introducing the device to your feline friend until it gets accustomed to its presence.
During those times that you expect your cat to relieve itself, you will have to redirect it towards the litter box. Play with it for a while. Bring in some of its favorite toys. Sooner or later, the increased physical activity will stimulate it to defecate. Once the urge is there, you can direct your kitty into the litter box or gently scoop it up if it hasn't learned how to get into the crate yet.
Teach your tabby what it needs to do.
There are three important things you need to teach your tabby related to the use of its potty. First, it needs to learn how to get inside on its own if it feels like it's ready to go. Second, your tabby needs to learn to dig in its litter. Third, it needs to understand that it also needs to bury its excreta. This is more complicated than it seems, however.
The important thing to remember is to supervise your cat whenever it is in the litter box. You will have to show how to dig and how to bury the excreta. You will also need to be patient as your tabby may not understand what you are trying to teach it the first or second time. In most cases, a lot of pet owners give up too easily. Hopefully, you'll find the perseverance to push through with the watch-and-learn methodology.
An important tip: if you're going to show your kitty how to dig, make sure you're not going to use its paws. This has the tendency to scare it off and make it quite anxious. Use your fingers instead.
Again, the trick is patience.
Never yell.
Whatever you do, don't yell or become overly frustrated at your cat for not being able to perform what you want it to do the first few times. Can you remember the first time you rode a bike? Were you able to ride it really well the first time? How would you have felt if your dad were to yell at you for not being able to ride the bike the first few tries?
That's exactly what your feline friend will feel. It may not be able to show it but it will surely be puzzled as to why you are yelling. Again, be very patient. It takes time before your cat will get it – the thing you want it to learn.
Addressing the elimination needs of your kitty requires an understanding of their unique behavior related to excretion. Equally important is an understanding of how an automatic cat litter box works and how to choose the one that works best with your pet. It is also important to learn where to place these ingenious gadgets as well as how to train your kitty to use them. Hopefully, this article will help you feel more confident about managing the elimination needs of your pet.
Sources:
Dr. Justine A. Lee, DVM, Kitty Litter: Does It Really Matter What Type I Buy?, Pet Health Network
Laurie L. Dove, 5 Causes of Litter Box Problems in Cats, How Stuff Works
Best Self-Cleaning Litter Box FAQs:
If you follow the manufacturer's instructions and get the best model for your home set up, then a self-cleaning cat litter box is up to the job. However, you need to factor in several factors, not least the right side of the pan for your cat or cats and the most appropriate type of cat litter. Good maintenance and regular cleaning will support the device's performance and prolong its life. And the final factor is the temperament of your kit, as some cats don't like using automated devices and prefer their own space for their toilet breaks.
While there is not a self-cleaning tray-specific litter product, overall clumping cat litter is the recommended product to use with an auto litter device. And this is because the clumps this type of cat litter creates when soiled make it easier for the auto litter tray's mechanism to detect and then pick up your kit's toilet waste. Non-clumping litter can also create a wet residue that's left behind which can clog up the self-cleaning litter tray's internal workings.
Due to their diminutive size and playful, curious nature, self-cleaning litter boxes are not recommended for very young kittens. Most manufacturers will set a minimum age of cat that should use their self-cleaning litter tray and that is usually around six months old. Any younger and the kitten may not be heavy enough to trigger the device's sensor and their waste is smaller and so may not be picked up by the litter tray's scooping mechanism. You are better off spending your time training your young kit to be able to happily use a manual litter tray first so that when they are old enough, they can successfully make the transition to a more adult, auto tray.
Yes, you can but always check the capacity and maximum weight of the self-cleaning litter box you are choosing. You need to ensure the box section of the litter tray is large enough to accommodate several cats as it needs to be able to offer a cat enough clean space for them to be happy to do their business.
Many self-cleaning litter trays will work with pine pellets as they clump in such a way that the tray's mechanism can easily filter and sift them out. If you are in any doubt as to the types of cat litter your auto litter box can work with, always consult the instructions or contact the manufacturer for confirmation.
Experts recommend emptying any litter tray – self-cleaning or not – at least once a day as kits are fussy creatures who like their toilet space clean. If your self-cleaning device has adequate odor control and a soiled litter drawer that is well sealed, then you could go a little longer, but the ideal is no more than two-three days.