Whether your feline is an outdoor cat or a laid-back indoor kitty, there's a way you and your pet can spend quality time together. While a cat leash is one way to share a walk with your kit, it's not for every cat, so for safety and enjoyment, a specially designed pet stroller for cats is the way to go. But how do you choose from the best cat strollers and what features should you look out for?
A pet stroller is similar in design to a small child's pushchair but built for your cat's size as well as comfort and security. You simply pop your cat inside the stroller, secure them via a leash, harness, or zip cover, and you are both ready for a walk in the fresh air. Cat strollers are also a good way of getting your cat to those important vet appointments, especially if you don't have a car to get you from A to B. So, with pet safety and comfort in mind, and having spent hours researching the best products, we walk you through our pick of the best kitty strollers on the market.
A Quick Overview of 10 Best Cat Strollers
| Editor's Picks | Product Name | Price | Rating |
| --- | --- | --- | --- |
| Best Overall | Pet Gear NO-Zip Happy Trails Lite Pet Stroller | Buy on Amazon | 4.6 |
| Best all Terrain | Petique All Terrain Jogger-Blazin' Berry Pet Stroller | Buy on Amazon | 4.7 |
| Best for Senior Cats | Paws & Pals Cat Stroller | Buy on Amazon | 4.5 |
| Best Lightweight | Pet Gear Ultra Lite Travel Stroller for Cats | Buy on Amazon | 4.5 |
| Best Double Cat Stroller | Paws & Pals Double Dog Stroller | Buy on Amazon | 4.2 |
| Best for Traveling | PetLuv Happy Cat Premium Cat Carrier | Buy on Amazon | 4.8 |
| Best Design | BestPet Cat Stroller | Buy on Amazon | 4.5 |
| Best Foldable | WONDERFOLD P1 Folding Pet Stroller | Buy on Amazon | 4.6 |
| Most Versatile | Pet Gear 3-in-1 Travel Stroller | Buy on Amazon | 4.6 |
| Best Heavy Duty | HPZ Pet Rover Premium Heavy Duty Dog Stroller | Buy on Amazon | 4.7 |
*Ratings are from Amazon, Chewy, and PetSmart at the time of publication and can change
Best Cat Stroller Buying Guide & FAQs
Why You Should Buy a Cat Stroller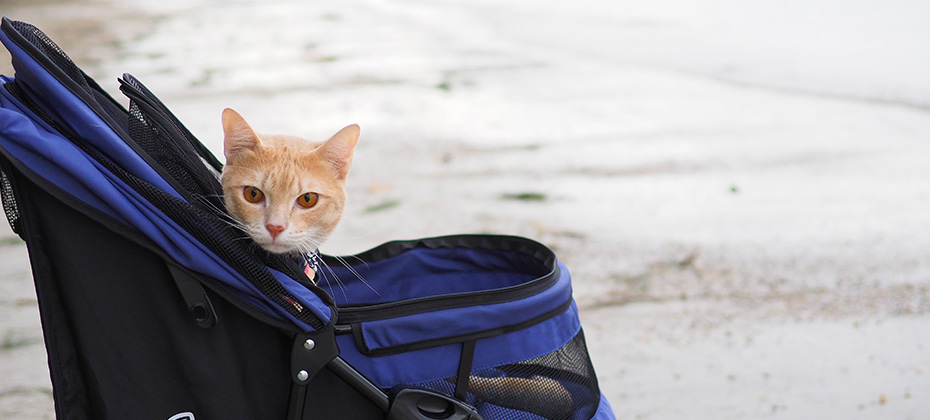 With their free-spirit nature, not all cats work well with a leash. And, if your kitty is a die-hard indoor cat, going outside can be a stressful experience. But there are times when you may want to – or even have to – take your cat out and a stroller specifically designed for pets is a good way to do it. Here are the top reasons why you may need a pet stroller:
You want to take your cat on a walk: Getting outside will do you the world of good, and with a cat stroller, you can experience it with your pet. The stroller creates a safe space for your kit to relax, while the harness or covers will prevent them from trying to escape.
Essential transportation: If you don't have a car or find cat box carriers too cumbersome, then a pet stroller is the way if you need to get your kit from A to B. A cat stroller can be a stress-free way to get your feline to the vet or to other essential appointments or visits.
A safe carrier for an older cat: There's a time in your cat's life when they can't get out and about as independently as they used to, or their health means they can't move too far. Or you may have a sick or disabled younger cat that needs help with their mobility. A pet stroller is the perfect solution as you can meet their needs for comfort and security while giving them the chance to get about and enjoy some fresh air.
Things to Consider When Buying a Stroller for Your Cat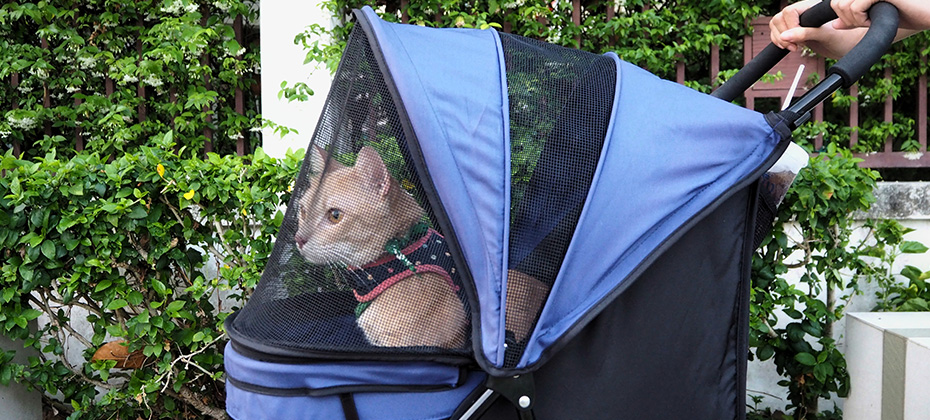 You want your new cat stroller to be one of your kitty's favorite places, so check out the following before you buy:
Ease of use: Your new cat stroller should be easy to push and maneuver across a range of different terrains, from flat pavements to rougher ground, and should also be easy to turn around. Four-wheel strollers are great for every day around town use, while three-wheelers are faster and can do tighter turns. For rougher terrains, larger wheels with shock absorbers are recommended.
Comfort: Essential in any pet stroller, not only for your cat but also for you as you push. Make sure your cat has plenty of room inside so they can sit, stand, lie down and stretch comfortably; cushioning and padding is ideal. And make sure the cat carry compartment has plenty of ventilation to keep them cool. The whole stroller should also be comfortable to push, so check the handle is adjustable and is the right height for you.
Safety: With your cat on the move, their safety is paramount when it comes to choosing a stroller. The frame must be solid and stable, and the carrier have enough padding to protect them from knocks and spills. Your cat will also need to be secured inside the stroller to prevent an escape, so look for harnesses, safety attachments or zipped covers to keep them safely in place. Ideally, they should be built to baby stroller standards.
Durability: Designed to carry a cat safely, your stroller should be durable and built to last. A metal frame is best, and ideally solid tires rather than air-filled. The material of the carrier should be also tough and waterproof, so opt for technical fabrics, mesh or oxford cloth.
Portability: While you want your new cat stroller to be sturdy, you don't want it to weigh you down, so a lightweight build is the better option. You also need to consider how you plan to transport and store your new cat buggy so it needs to be foldable so you can place it into the trunk of your car or store it at home.
Easy to clean: Check that all the inner components such as cushions or pads can be easily removed and washed and that the outer fabric of the stroller can be wiped clean.
Extra features: A few essentials are worth looking out for. These include a removable carrier or a stroller that can be converted into a car seat or backpack. Add in accessories such as cup holders, a storage tray, rain covers or removable mesh window and you have everything you need to keep you and your cat happy and ready for a fun ride. If the fabric is not waterproof, you will need to purchase an extra waterproof rain hood.
Different Types of Cat Strollers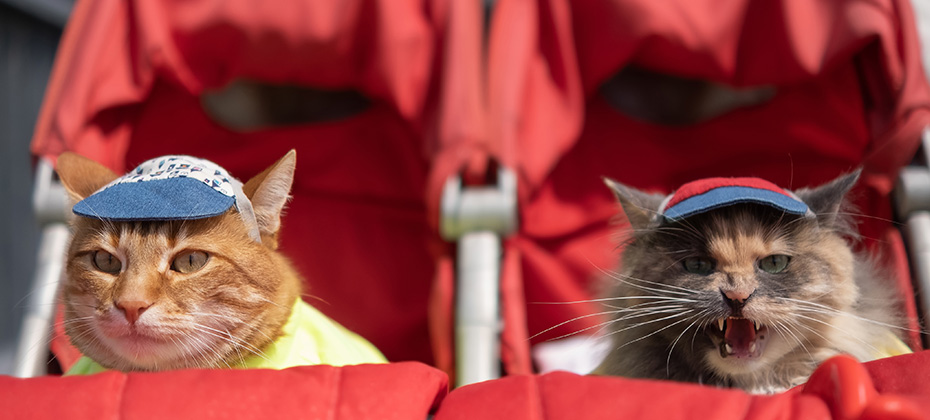 Cat strollers come in many different shapes and sizes. Here are the main types for you to look out for.
Basic Pet Strollers
The basic cat stroller is essentially a cat basket that sits on a frame. They usually have four wheels and are used for pushing a cat around a neighborhood or to the vet. They may have a range of additional features depending on the price such as cup holders, a hooded peak top window, tethers and brakes. The wheels are usually made of strong plastic and a weight limit will be given for the stroller.
Off-road Cat Strollers
Often these will be a three wheel pet stroller and are designed for rougher terrain. They are perfect if you want to go hiking with your cat or even a small dog. The wheels are usually air-filled or gel-filled and there may be a shock-absorbing system to make the ride smoother. Again, you may find additional features such as cup holders and cushions inside for maximum comfort.
Double Cat Strollers
Why should owners of two cats miss out on all the fun when they can use a double cat stroller? These are larger and usually have two compartments or a single compartment may be divided into two. Because they are larger and heavier, they need some features to make them easier to move around. The wheels will swivel around 360 degrees and the handle will probably have an ergonomic design.
Travel systems
These are the most sophisticated strollers and are also the most expensive. However, you do get a lot for your money. Some have three elements and others have five. They allow you to move your cat with ease from a stroller to a car or even into a back pack. They give superb versatility but are only worth the money if you are actually going to use all of the elements.
Take a look at our reviews of Cat Backpacks and Cat Carriers.
How to Introduce Your Kitty to a Cat Stroller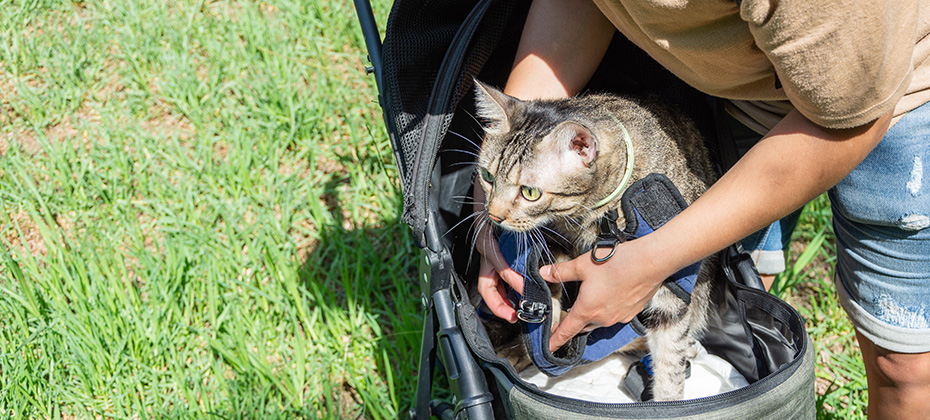 Cats are naturally wary of new objects and that includes new cat strollers. If you don't bother preparing your cat and simply push them into pet strollers before dashing out to the vet, you are going to cause a lot of distress to your cat and make life difficult for yourself. Take time to build up positive associations with the cat strollers – preferably ones that have nothing to do with the vet! Here are some top tips on how to introduce cats to cat strollers.
Leave the carrier open in your house for a few days and let your cat explore it in their own time.
Make the carrier a cat-friendly zone. Place some of their favorite cat treats in it. Put an item of clothing that smells of you inside it.
Once your cat is happily going in and out of the stroller, try feeding them in there.
Now try securing your cat inside for a short period of time with some treats. Start with just five minutes and then lengthen the time they stay inside.
Don't try moving the stroller too quickly. Keep it stationary and close to you.
Gradually start pushing the stroller around your house and then build up the length of the journey gradually.
Keep doing this from time to time so that your cat stays familiar with the experience and comes to see cat strollers as fun places to be!


Source:

1.Lynn Buzhardt, DVM, Preparing Your Cat for a Trip to the Veterinarian, VCA Hospitals
Frequently Asked Questions
With the right introduction, most cats will learn to feel safe and comfortable in a stroller, and many will actually enjoy the ride. And the raised height of the stroller is a much more secure place for them to be, which all adds to their feelings of safety. However, never force a cat to sit in or go for a ride in a stroller as this will only heighten any feelings of fear and they will learn to associate the stroller with these unpleasant feelings. If, after spending time introducing your cat to their new stroller they are still vocally or physically resistant to getting inside, you may need to accept that this is not your cat's thing.
Your cat stroller should come with security, such as a zipper, harness or other fasteners, to keep your cat safe inside their stroller and prevent them from escaping. However, to get your cat comfortable enough to want to be put inside the stroller, you also need to give them the time to get used to their new feline chariot. This means building up the time they spend inside the stroller to investigate before you venture out on your first stroll outside. This way your cat can get used to the smaller space and associate it with feeling safe and not fearful.
As long as there's sufficient room inside a stroller, there's no reason why it shouldn't carry two cats, as long as they can comfortably sit, stand and lie down next to each other. However, some strollers for cats are only designed for one cat so their size as well as design means it's unsafe to carry any more.