Dogs love fresh air, and there's absolutely no reason you can't take your dog boating with you on a hot, summer's day. Trips to the beach can be the perfect vacation for your curious pup, allowing them to learn a few things about the world while they enjoy the sunshine. It helps that most families also enjoy driving down to the coast when the weather warms up!
Boating or sailing with dogs is time spent well. Try out some of our tips for taking your dog on a boat with you and your family. We've done the research so that you can help keep them safe and know what to do with your dog immediately following an incident in the water.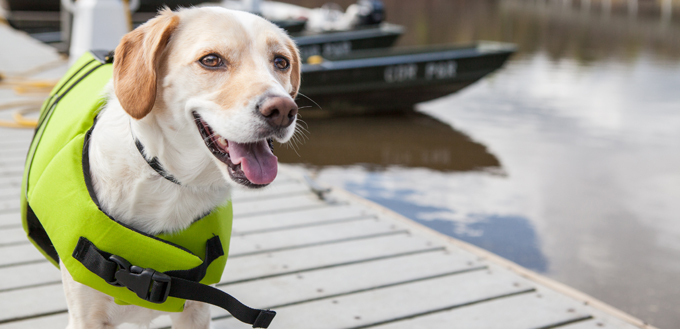 Best Places to Go Boating
Sail carefree with your dog and enjoy boating on the waves! There are plenty of places in the U.S. that would make great boating destinations for you and your pup. Freshwater lakes and any pet-friendly beach that has boat rental establishments are sure to have one or two owners who are happy for you to have a dog on board. We always recommend calling ahead if you're unsure. Alternatively, why not try a boat tour company?
Pet-friendly Boat Tours and Companies USA:
Monterey Bay Sailing, California
Bareboat rentals, sailing lessons, cruises, dogs allowed on private charters.
Tidewater Tours, Floria
Polite dogs are allowed on the tour boat.
Mercury Skyline Cruiseline, Illinois
Has a special canine cruise just for dogs, which features lots of dog-friendly amenities.
Acadian Boat Tours, Maine
Pet-friendly nature cruise.
Dog Gone Sailing Charters, Massachusetts
Dog-friendly full and half-day sailing charters.
Dreamcatcher Sailing, Wisconsin
Dogs welcome to ride alongside their family.
What You Need On Your Boating Trip
Dog life jackets are certainly an important piece of equipment for dog owners to take with them on boating trips, but each of the other items listed here is just as vital. If you're planning on making a day of your trip, having waste bags and pads are both a must, otherwise, where is your dog going to do their business?
You may also want to invest in a dog boat ramp if you have your own boat and plan on using it often. Small dogs are fine to carry, but larger breeds can be incredibly heavy and you may struggle to get them on a boat without a ramp to hand.
Finding the Best Canine Life Jacket
To find doggie life jackets that are the best for your pup, look at the features and the reviews of the item. Measure your dog according to any guidelines that the retailer asks for in their size chart and choose the size that uses all of your dog's measurements.
Features you may want to look for include waterproof material, a handle on the back, a harness or leash attachment, and bright colors.
Make sure the life jacket fits securely to keep your pet safer. Older dogs and puppies may benefit from a canine life jacket that has carrying handles on the back of the design. These allow you to quickly pick up your dog if something happens or there's an emergency. They're perfect for weak swimmers and nervous dogs, too.
Standard pet shops may not carry most life jackets. You can pick up a few simple things from pet shops that are great for a warm summer day on the sea, but a pet life jacket is easier to find on Amazon or similar marketplaces.
Like pet stores, most boating stores don't cater to keeping your dog safe. You may, however, be able to find ample drinking water at a boating store or nearby. You'll want to take your own light SPF sunscreen with you for your dog because their skin is very different from a human's.
You may also like our guide on the Best Dog Sunglasses.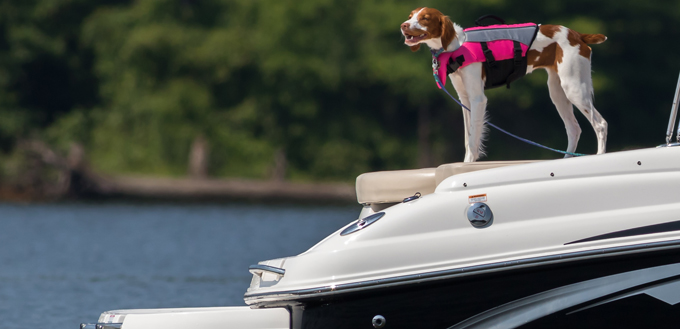 Health and Safety On Boating Trips
Most dogs are instinctive swimmers and have the common sense to start paddling when they hit the water. But some breeds may find swimming difficult, so you need to be prepared when boating with dogs. Exercising basic safety precautions will prevent any life-threatening issues from occurring while you and your best friend enjoy yourselves.
Dogs with health issues should always be kept close to you and watched at all times. All dogs, especially those with low body fat, should be allowed to drink water throughout the day. This is vital if your dog has been in the ocean and may have swallowed seawater because salt will quickly dehydrate them. Get them to drink water whenever they have a break or start to pant too harshly.
Read here our article on the Best Dog Water Bottle.
What To Do Should Your Pet Fall Overboard
In the event your pet enjoys boating a little too much, they may get themselves into a distressing situation. To keep your pet safe on a boat, you also need to know what to do in case they fall into the water.
The moment you realize that your dog has gone overboard during your dog boating trip, quickly take action. Your dog should always have a life jacket on when out on the water. Life jackets help keep your animal afloat so that they don't overexert themselves. Unsure dogs may panic, which causes them to suffer from excessive fatigue.
Using the handles on the dog life jacket your best friend is wearing, lift them back into the boat. If the dog life jacket does not have any handles, reach around your dog's middle, get a good hold of them, and lift them that way. A second person in the water can be helpful here.
Once your dog is back in the boat, head back to shore as soon as possible so that they can calm down and feel safe again.
How to Prepare for Having Your Dog on a Boat
To have a safe and pleasant day, there are several basic safety precautions to take when you're taking your canine companion on a boat. Having a puppy or an unprepared furry friend on board with you can cause numerous problems if you're unprepared.
Practice swimming with your pup. Try a new swimming position with them to get them used to the various ways they can move through the water. You should also have your dog get used to any new pet life jackets that you've purchased. If you suddenly put dog life jackets on a dog without warning, they tend to get a little anxious. Most dogs that are used to wearing winter coats and raincoats and the like should tolerate them better.
Your dog's paws won't tolerate hot sand or pavement. The warm sun may be lovely, but dog paws are more sensitive than our skin is and it will quickly burn. Buy shoes, adhesives, or paw wax to prevent this.
As well as boating, your dog may appreciate sailing or kayaking. There are a number of kayak brands out there that design kayaks with space to carry a dog on the back or in the center of the boat. Going kayaking with your dog couldn't be easier!
Check out our guide on the Best Kayaks for Dogs.
Quick Safety Tips
Provide lots of fresh water for your dog.
Pack the day before.
Keep a spare life jacket in your car.
Buy dog equipment that is in a bright color.
Apply sunscreen to your dog to protect them from harmful rays.
Set up an area with plenty of shade, especially when it's unusually hot.
Be sure to wash your dog off to rid your dog's coat of excess salt and harmful organisms.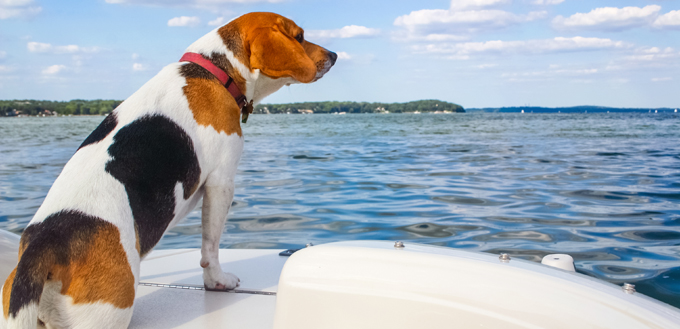 FAQs:
Q: Should my dog go boating if they find swimming difficult?
A: The only thing we'll say here is that your dog should always be equipped with a life jacket if they are near a body of water. You can certainly take them boating, even if they aren't good swimmers, just be prepared to pull them out of the water quickly.
Q: Does it matter if my dog is long-haired?
A: Short-haired breeds certainly have less fur to weigh them down if they get wet, but a long-haired dog isn't at much of a disadvantage. As long as your dog can swim or has a life jacket and other safety measures in place, you can take them with you on a boating trip.
Q: Why does my dog need access to fresh drinking water?
A: Dogs need access to fresh, clean water because salt can dehydrate them and cause medical issues. Excessive salt is so dangerous for dogs that it can be fatal. If you believe your pup has swallowed seawater, you should take them back to shore and offer them fresh water to drink. Keep an eye out for signs of dehydration, as well.