Although much tougher and thicker than our feet, dog paws are not indestructible. Like us, our canine companions require foot care and protection when walking over cold, icy, or hot pavement, rough and sharp terrain, as well as slick and slippery surfaces. This is where dog boots come in – comfy but protective, canine footwear shields your pet's feet from uncomfortable and dangerous surfaces such as ice, hot asphalt, broken glass, and muddy roads. Aside from offering much-needed protection when hiking and enjoying other outdoor adventures, dog booties also help prevent sliding on slippery tile floors – crucial for older pups and dogs with arthritis. To help you find the right fit and model of shoes for your pooch, we reviewed dozens of different canine footwear products, including the breathable summer models and durable winter boots, highlighting the best ones below. We've also put together a detailed buying guide, so read on!
The 13 Top-Rated Dog Boots
The Best Dog Shoe: Buying Guide
Dog paws are much more delicate than many pet parents realize. Sure, they're tougher than our feet, but they still need protection against the elements and uncomfortable surfaces such as ice and salt, gravel, broken glass, and scorching hot asphalt. This is why dog booties are a must-have accessory for all dog owners. By providing a protective layer between your pet's paw pads and the road, dog shoes not only protect your pup's feet from sharp and irritating objects but also make them feel more comfortable in extreme weather conditions. But finding the right doggie boots is no easy task; with so many different models on the market, choosing the best one for your pet may be challenging. To help you in your selection process, we've created this comprehensive buyer's guide in which we cover everything you need to know about canine footwear, including how to select the right model for your pup.
Uses and Benefits of Dog Boots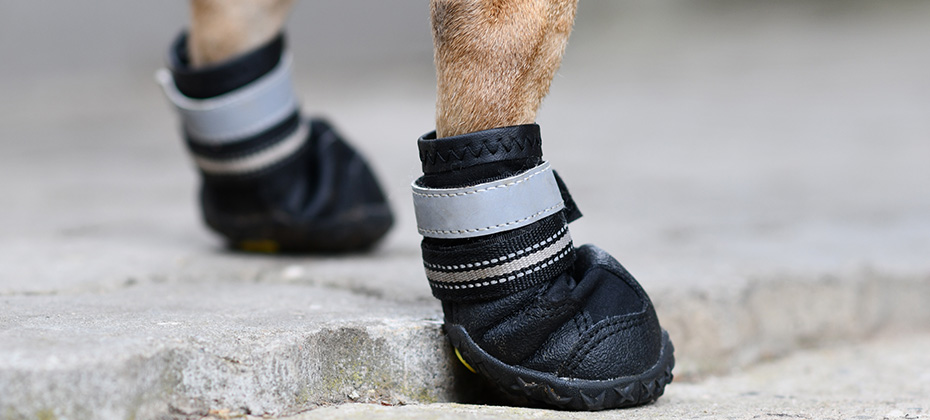 Although our four-legged companions have thick and capable feet, there are situations where they may need protection from the elements and dangerous terrains. For instance, cold snow and ice, super-hot asphalt, and sharp rocks can be too much for the paw pads of some dogs. Sometimes, even indoor pups may require booties: those with injured feet who need help keeping the bandaging in place, as well as older dogs with mobility issues and arthritis who can otherwise slip and slide on tile floors; all of them can really benefit from wearing shoes. And then there are vanity reasons – nothing wrong with wanting your pooch to look stylish and cool!
Protection against extreme temperatures
Temperature extremes can be a real concern for dogs. An unusually hot summer day will often lead to scorching hot pavement, which can be too much for your pup's paw pads, especially if they're an indoor pet. Dog boots protect paws by providing a layer between the uncomfortable hot or cold pavement and your pet's pads, thereby shielding them from extreme temperatures.
Check out Paw Protection Waxes For Dogs.
Protection for injured feet
If your canine friend happens to injure their foot or feet, you will need to do your best to protect the affected leg(s) from further injury. More often than not, there will be a bandage wrapped around the wound, so you'll have to protect it from getting loose because of your pet's scratching or chewing. This is critical as the bandage and the medication underneath it can help speed up the healing process. In some cases, the dog boots can come with extra padding to further provide ample shock-absorption. This helps limit the worsening of the existing injury.
You may also like our guide on Liquid Bandage for Dogs.
Protection against harsh and rough terrain
Booties can help protect your pet's feet against rough or sharp objects on certain terrains such as rocks, gravel, glass shards, and the like. Walking on the beach can be particularly concerning due to broken seashells or extremely hot sand. Likewise, hiking in the woods can be risky due to ragged rocks, sharp twigs, and other rough bits of debris. By putting a nice pair of doggie shoes on your pup's paws, you'll protect them from any and all uncomfortable and rough terrains.
Protection against slippery floors + protection for the floors
Hardwood floors and ceramic tiles can look absolutely fantastic in your home, however, they can also be a nightmare for your pup. This goes double for dogs with mobility issues, joint pain, and arthritis who cannot afford to injure their feet further by slipping and sliding over slick floors. By putting shoes on their slippery feet, you can prevent further injuries, plus protect your floors from scratches. Having booties on your pet's feet can also help you feel more at ease about the integrity and safety of your couches, sofas, and beddings, as they can protect them against scratches.
Less cleaning of your pet's paws
If you and your furry friend are fans of walking in the rain, you already know the mess that dirty puddles of water in the street can cause: mud and dirt all over your pup's feet, and as a result, your clean floors and furniture. Dog boots protect paws and help keep them cleaner and neater, which is great news for both you and your apartment. By putting a pair of protective doggie shoes on your pup's feet, you'll spend less time cleaning their paws, as well as your home; it's a win-win!
Take a look at our article on the Best Dog Paw Washer.
Enhanced appearance and style
Canines that wear boots look adorable, especially if their footwear is customized to match their overall getup. Pet shoes are a fantastic way to elevate your pooch's appearance, and let's face it, a great way to boost your own style as well!
How to Measure and Pick the Right Pet Boots
One of the most important things you need to do before you purchase a pair of canine boots is to make sure you get the right size. Here are five easy-to-follow steps that will ensure you get the proper size for your pooch's feet.
Get a blank sheet of paper and have your pooch place their paw on it.
Try to lift the opposite paw so that your dog's weight will shift towards the foot that is on the paper. This is to make sure that the paw is firmly planted on the paper.
Get a pencil and draw an outline of your pooch's paw, making sure you accurately draw the figure. Alternatively, you can draw a line that marks the leftmost edge of the paw and another line on the rightmost edge. This constitutes the width of the paw. For the length of the paw, you will need to draw a line just at the level of the tip of the paw's longest nail and another one at the back of the paw.
Get the measurements of both the width and the length of the paw using a ruler. You can measure it in inches or even in centimeters.
Once you have taken the measurements, you will need to compare your pet's foot measurements to the sizing chart of the doggie shoes you are planning to purchase. Make sure not to generalize the measurements as different brands will often come with their own sizing charts. That means a small size on one brand may be considered as medium size by another brand, and vice versa.
Additionally, it is perfectly okay to allow for an additional quarter inch from your measurements as you wouldn't want a really tight fit for your pooch's feet.
How to Put On Dog Shoes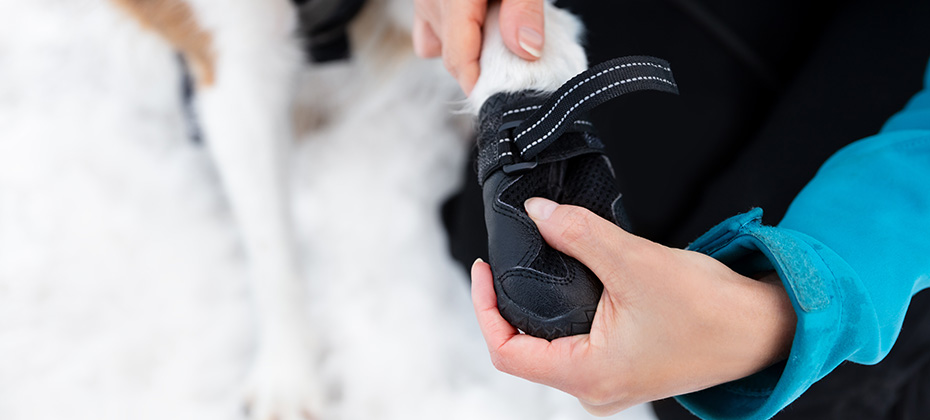 Using pet booties on your pup for the first time is likely to be complicated, however, if you take your time and encourage your dog to wear them with treats and positive reinforcement, they will be wearing shoes in no time. Here are simple to apply steps that can make the whole process a little easier for both you and your four-legged companion.
Before you start, make sure your pooch is standing. This will allow you to place their paw into the bootie and lay it flat on the floor so you can see if the shoe really properly fits their paw.
Open the top of the bootie to its fullest extent. If there are straps, make sure that these have been either removed or unfastened.
Carefully insert the paw of your pet through the opening. Use your finger to assist in sliding the foot through.
Raise the opposite leg so that your mutt's weight will shift to the leg where you put the bootie on. This will also aid in the proper placement of their feet.
Try running your finger through the bootie to ascertain the proper placement of the foot especially at the front portion of the boot.
Let your canine friend stand and try to assess the placement of their foot inside the bootie. You can lightly squeeze the toe portion of the bootie.
Once you're certain that the foot is in its correct position, you can lower the opposite leg and secure the opening with its strap.
Tuck in any excess fur that may be protruding outside the bootie. This gives it a neater appearance while also minimizing dirt and debris from clinging onto the excess hair.
Close the bootie and proceed on putting on the remaining three shoes the same way.
Tips to Get Your Dog Used to Wearing Dog Boots
It is one thing to put dog boots on your canine friend. It's a different matter having it get used to wearing their shoes. Here are some tips to help you make your dog get used to wearing their new footwear.
Like all things new, it is imperative to break in the process of wearing the booties on your pooch. You simply cannot expect them to start enjoying the walk wearing their new shoes the very first time you put them on. Patience is a virtue that all responsible dog owners need to practice, so be ready to train your pet slowly, one step at a time.
Start with flexible, thinner boots
Instead of going for the thickest, most durable boots out there, start with thinner and more flexible doggie shoes. Sure, these may not provide maximum protection, but they're a good start to get your pet really acquainted with the bootie as they're more comfortable than their thicker counterparts. Later on, when your pup is already used to wearing their footwear, you can switch to thicker and more rugged booties if you wish to.
Start with the two front paws
One of the helpful tips that we've found is to put on the footwear on the front paws only, leaving the rear fully bare. This is to slowly acclimatize pooches to the sensation of not having their feet in direct contact with the ground surface.
Don't forget positive reinforcement
Praising and giving treats to your dog can go a long way towards making it comfy in their shoes. The thing is, most dogs love pleasing their human parents. And if they can associate your praises or your treats with wearing the shoes, then they'll be more than happy to oblige you.
Engage in your pet's favorite activity
This is similar to using positive reinforcement. Incorporating activities that your pooch loves the most while wearing their booties can help reinforce the notion that footwear IS equivalent to fun and fulfilling activities.
Many dogs are not fans of wearing canine shoes, at least in the beginning. To help your pet get used to their new footwear, it's important to practice patience and persistence: don't give up if your pup protests the first few times! Instead, be persistent and put on their new shoes every time you go out for a walk. In time, they will get used to their footwear and may even start looking forward to wearing them as they will associate them with exploring the world.
Although our four-legged friends have tough feet, there are times when they can use extra protection against extreme temperatures and rough terrains. This is where canine shoes can help – they protect your pup's paws, as well as your floors and furniture, making them must-have accessories for all pet parents.
Check out our ultimate guide on the Best Socks for Dogs.
Sources:
Pet Tip: Cold Weather Safety, The MSPCA–Angell
Cold Weather Safety Tips, ASPCA