A pack of Newfoundland dogs is helping emergency workers deal with trauma thanks to an award-winning 'swim with canines' emotional therapy project.
The swim therapy sessions are the brainchild of UK-based Pete Lewin, who has worked as a paramedic for over 26 years. Lewin travels the UK with his three Newfoundland dogs – Storm, Sonar, and Walker – offering a unique form of trauma therapy to paramedics and other members of the emergency services.
Sessions involve participants swimming out into a lake before one of Lewin's Newfoundland dogs swim out to bring them back to shore. The group is also taken through different rescue techniques, working together to support each other in the water while the dogs do the 'leg work'.
Earlier this year, Lewin won the Kennel Club hero dog award at Crufts for his project, thought to be the only therapy of its type.
Lewin has been running the swim sessions for seven years and says the results speak for themselves. "There are people who have told me that, if it wasn't for the dogs, they probably wouldn't be here now," Lewin told The Guardian newspaper.
Newfoundlands were originally bred as working dogs for fishers in Newfoundland, Canada, helping to bring the nets back to shore. The breed is renowned for its powerful swimming ability – which has been likened to a polar bear – thanks to its large lung capacity, webbed feet, and dense waterproof coat.
Lewin initially trained his three Newfoundland dogs to do real-life water rescues, traveling around the UK to demonstrate their skills to fire and rescue teams. But with little demand for their services, he started to explore other ways his canines could make a difference.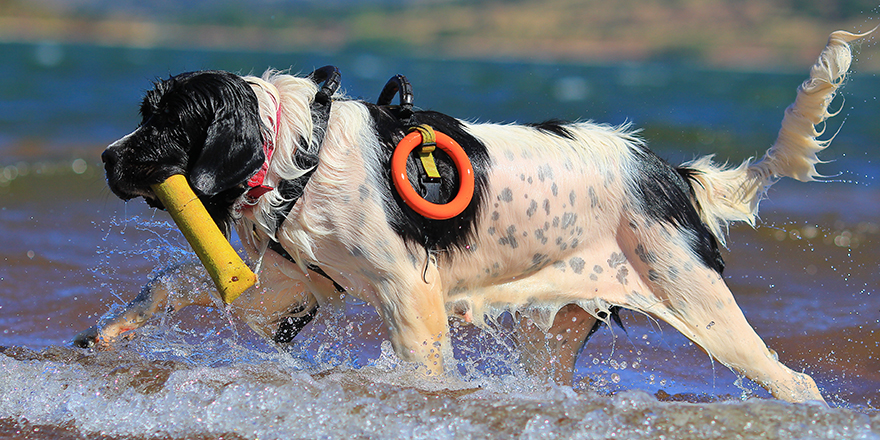 Image credit: Shutterstock
It was one of his volunteers who helped him to realize his pets' potential. A former ambulance worker who helped Lewin at events, she had contemplated taking an overdose.
"But she came to the event instead and said swimming with the dogs was like a weight off her shoulders," Lewin explained. "The dogs swim out to you, and they look at you with those eyes as if they're trying to heal you. They swim out to you, and they don't condemn, they don't criticize, all they want to do is take you back to shore."
Inspired, Lewin started using his three pets as therapy dogs in his swimming sessions, and demand for the project quickly grew. He also offers emotional therapy swimming sessions to military veterans, young people with disabilities, and people with mental health problems.
One recent participant is student paramedic Abigail Walker. "All you can hear is the water and the dogs paddling. That's it, there's nothing else. Until you've done it, I don't think you realize how calming it is."
Student ambulance technician Zoe Spilsbury said the experience had helped her cope with the job demands. "The average paramedic goes through lots of trauma. I think it's like 400 to 600 events of trauma in their career when the average person probably has three or four," she said. "So, it's a massive deal to look after each other and our mental health."
Lewin now has sessions planned throughout the summer. "It's just amazing to see people taking so much joy from it," he said. "Everyone who comes, wherever we are, they leave with a smile."
For free, confidential advice on suicide prevention and support, contact the National Suicide Prevention Lifeline – 1-800-273-8255