In mid-May, Boulder saw the opening of a new cat cafe aptly named Purrfect Pause.
Cat lovers can now visit the beautiful cafe to relax, enjoy great coffee, and spend time with its residents; adorable kittens in need of a new home.
Visitors can also enjoy fun activities with the cats including cat yoga, movie nights, paint nights, games sessions, and more for an affordable price.
Purrfect Pause was inspired by many similar cat cafes existing within Denver as well as in many other areas across the US. The purpose of the cafe is to help felines find a forever home and, so far, they have been triumphant.
Since its opening, the cafe has already been responsible for two successful adoptions which is an incredible start. Skully, adopted on May 21st, and Serena, adopted on May 20th, have finally found their forever homes and the cafe now looks forward to more successful adoptions.
Front Range Freedom Rescue is the nonprofit organization responsible for the cats you can find at Purrfect Pause cafe as they are dedicated to the adoption and fostering of cats in need. The organization tirelessly helps abandoned and stray cats across states such as New Mexico, Texas, and Arizona and was thrilled when the cafe requested that they partner.
In addition, the cafe has also partnered with Rock Creek Veterinary Hospital to be able to provide care and attention to cats before they are adopted.
These partnerings can only mean great things for the cats in care at Purrfect Paws as they are well supported and are even fostered to ensure they are socialized well for a future home.
All About Purrfect Pause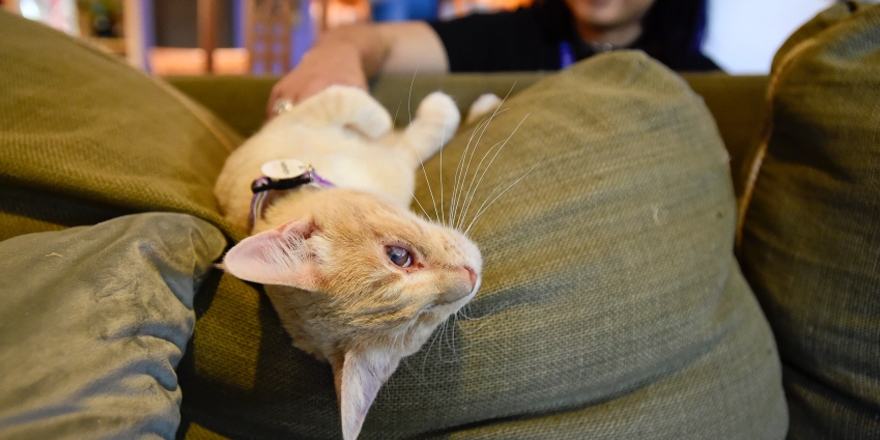 Photo Credit: Matthew Jonas/Staff Photographer
Visiting the cafe means that they can also foster more cats in the future and offer discounts to nonprofit groups. Walk-ins are welcome but you can always make a reservation to guarantee your spot.
Visiting Purrfect Pause
Visit the Cafe here:
5290 Arapahoe Ave, Ste E, Boulder CO 80303
Or visit the website:
https://www.purrfectpause.com/
Supporting Purrfect Pause
If you want to support Purrfect Pause, take a look at their website detailed above. Here you can donate using the handy QR code or you can even send items currently on their Amazon wishlist.
The cafe webpage also has a shop where you can find products with their adorable logo including hoodies, mugs, phone cases, tote bags, and more.