This week is Mental Health Awareness Week, which runs from May 9th to May 15th. The theme this year is a focus on loneliness and its affects on people, with an aim to helping provide the public with ways to reduce loneliness in themselves and others. The theme was chosen by the Mental Health Foundation.
To coincide with this Awareness week, More Than Insurance and UK Charity Dogs for Good commissioned a study that focused on the companionship between dogs and their owners; particularly how having a canine companion can reduce the feeling of loneliness in adult owners.
About Loneliness
Loneliness is a key driving force behind mental health issues. It's not the only reason that those with mental health conditions suffer, but it is one key in a door with multiple locks. Because of the lengthy pandemic that we've all experienced over the past couple of years (which is still affecting many people today), loneliness is extremely prevalent.
The sense of isolation through the pandemic has had devasting affects on the mental health of the public. Many feel that their ability to connect with others has been reduced, and further polling found that people wanted loneliness to be addressed.
The study
The study involved exactly 2,004 adult participants and was completed through OnePoll. These participants included dog owners and adults who did not own dogs, as this would allow researchers to see the differences made by owning a dog verses not owning one.
For example, 50% of study participants without dogs said that they rarely interact with new people, while dog owners with disabilities have stated that they have almost four times as many meaningful conversations each month than disabled individuals without dogs have revealed.
It's obvious, even from these few statistics, that having a dog is extremely beneficial for people who want to interact with others more. It's not too farfetched to say that dog owners have better mental health than non-dog owners.
What is a Meaningful Interaction?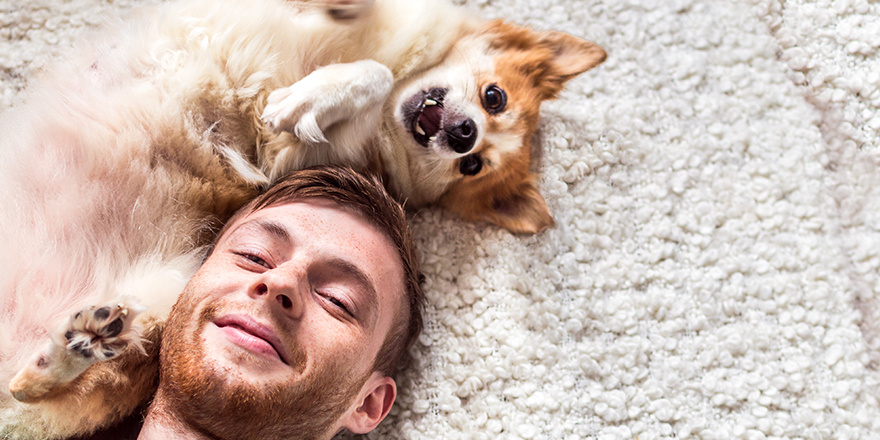 Image credit: Shutterstock
The term "meaningful interaction" is used to describe any interaction that a study participant had where their mood was boosted overall. Dog owners said that they had these meaningful interactions often, and the numbers showed that those with a dog have 69% more meaningful interactions than participants who do not have a pet dog.
To add to this, 31% of dog owners said that they feel less lonely when they're out for a walk with their dog, in comparison to not having their dog with them.
More Than Insurance and UK Charity Dogs for Good joined up with TV Presenter Lorraine Kelly to highlight the positive impact that having a canine pal can have on the feelings of loneliness that one experiences.
Dog Walk with Lorraine Kelly
Kelly has a Border Terrier breed who she named Angus. In a video, she takes viewers along with her and Angus on their favorite dog walking route.
A quote from Kelly states that Angus has been instrumental in improving her mental health. "…Just taking Angus out for a walk is great exercise, it helps me mentally and it means I meet lots of people on our walks."
When Kelly first moved to Scotland, she didn't know many people, but the video she filmed shows plenty of people stopping to chat with her or even just smiling at her and Angus as they pass. It's an extremely positive video that shows just how easy it is to strike up a conversation with another passer-by when you have a furry friend at your side.
"Dogs truly are such a valuable part of so many of our lives, and the work of Dogs for Good clearly makes a huge difference to many people with disabilities," Kelly announces.
CEO of Dogs for Good empathizes with people who find it difficult to experience regular social interactions. He outlines that the work of the charity is "focussed on assisting disabled people to live more independently at home, enabling them to play an active role in their wider community if they wish."
It's important to understand that creating opportunities for more social interactions is an important part of helping disabled individuals live independently. Without social interaction, loneliness can quickly set in, but having a four-legged companion can help with those feelings.