A husky called Balto has helped PetSmart Charities reach a remarkable milestone by becoming their ten-millionth pet adoption.
Balto has found his forever home with the De La Rosa family after an almost chance encounter at an adoption event outside a PetSmart store in Texas.
A not-for-profit organization, PetSmart financially supports animal shelters and community partners around the US in their work to rehome rescue and neglected pets. Their work also includes adoption centers in more than 1,600 PetSmart stores.
The De La Rosa family had been visiting their local PetSmart store to buy supplies for their aquarium and were not looking to adopt a new pet. But when they met the rescue Siberian husky, it was a match made in heaven.
Before his rescue, Balto had been living chained up outside in all weather and had had minimal human interaction. Speaking to People magazine, mum Vanessa said they had no idea they would meet Balto – or welcome him into their home.
"We saw that PetSmart Charities was having their pet adoption event that weekend, and they had the tent outside," Vanessa explained. So, before going into the store, the family decided to have a browse.
Once inside the tent, mum-of-three Vanessa, with her husband Ezri and their son, caught sight of one dog – a husky with bright blue eyes – and were struck by his calm yet playful personality.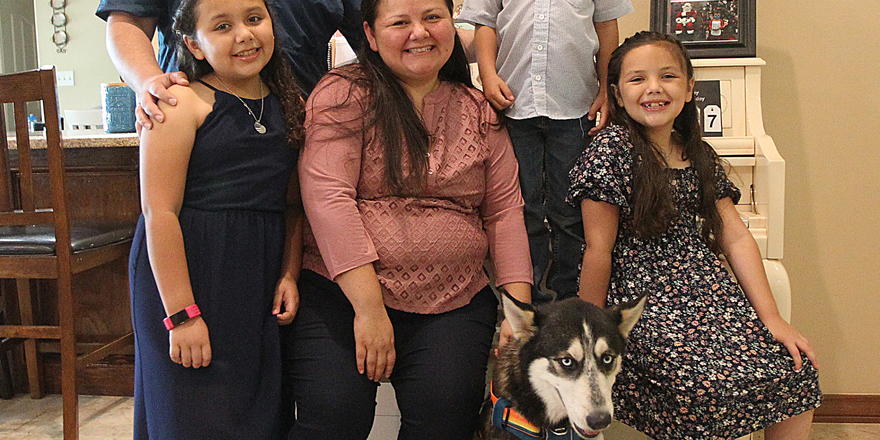 Image credit: AP content services/Delcia Lopez
As they interacted with the husky, Vanessa said she could see a connection between the dog and her son.
"Once he [Balto] was on the leash, somebody gave my son a dog toy, and he was playing with Balto, and Balto never once made us nervous around him," Vanessa says of the first encounter with their soon-to-be pet dog. "He was very calm and never barked."
Within 20 minutes of their first encounter, the De La Rosa family – who already have two canines – had settled on the name Balto and realized they were about to add another dog to their home.
Learning about Balto's backstory of neglect sealed the deal.
"We had to take him," Ezri explained. The family knew that Balto "needed to be somewhere where he didn't have to be chained up, where he had space to run around and interact with his environment." At that moment, the De La Rosas decided to give Balto the life he deserved.
"I signed the paperwork, and we completely forgot about the algae eater," Vanessa added.
Since moving in with his new family, Balto has come on leaps and bounds from a shy and fearful shelter dog and continues to open up. After gradually being introduced, Balto is now also best buddies with the De La Rosa's other dogs.
"It definitely took some time to get him to interact and be comfortable in the new setting," said Vanessa. "But they now play together. They dig holes together. They tear up toys together. All our pups are almost like brothers because they've really bonded.
"And in our kids' eyes, Balto does no wrong. They're always spoiling him with belly rubs, and they enjoy taking him on walks."
For more information on PetSmart Charities and how it works to help find forever homes for hundreds of thousands of rescue pets every year, go to www.petsmartcharities.org