Animal shelters in the Houston area have witnessed a substantial decrease in fostering and adoptions. The lack of interest in the animals housed at these shelters has meant that they are now being pushed to their very limits, resulting in them currently operating beyond maximum capacity levels.
As predicted, following the recent pandemic, many people are finding that they are struggling to care for the animals they adopted during the lockdown. As a result, thousands of people are finding that on returning to work they are no longer able to care for their animals properly, meaning masses of unwanted dogs and cats are now being given to local shelters for rehoming.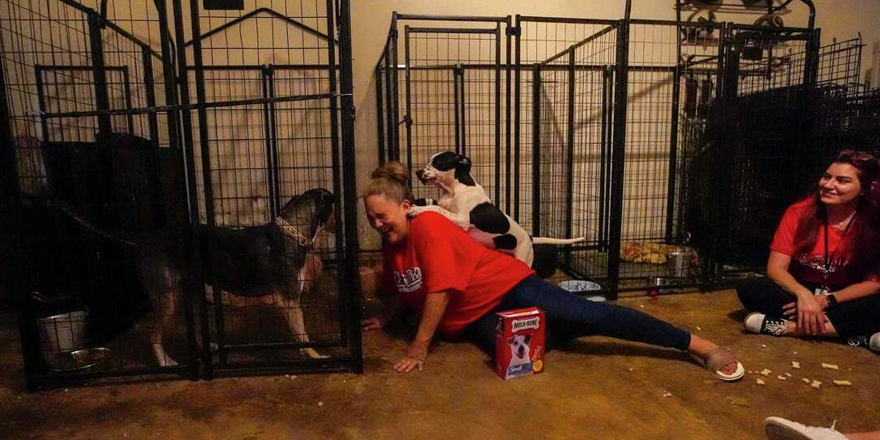 Image credit: Karen Warren, Houston Chronicle / Staff photographer
In particular, there has been a recognizable spike in abandonment following the end of the Covid relief program, which provided much-needed financial aid to those impacted by the virus.
Anna Barbosa and Jade Wesson work with the K-911 animal rescue group. One of many to be affected by the rapid change in circumstances. Recently on a particularly hot Sunday Barbosa and Wesson had gone out to a small neighborhood where they had heard reports of a couple of stray dogs hidden in a storm culvert. They called out to the two dogs upon finding them but quickly discovered that one of them was heavily pregnant with a litter of puppies.
At the corner of Peach Street in Hayward, the culvert that had been hiding the two dogs on site was filthy and unhygienic. Clearly severely malnourished, starving, and itching relentlessly, the dogs had approached Barbosa and Wesson with caution in response to their calls. The brown-colored stray had shown more trust in the two rescuers and approached Wesson's SUV with relative ease, however, the other had decided to keep her distance.
Wesson was quick to point out the heavily pregnant pup and head immediately laid out in an aluminum tray containing plenty of kibble and wet food for the two dogs to enjoy. K-911 has earned a strong reputation in Houston over the past decade as being a rescue group that focuses heavily on dogs that are in immediate need of medical care.
Sadly, the two dogs in dire need of some help couldn't be brought in for full medical care owing to the fact that K-911's resources are all but spent. As a result, both dogs are having to remain on the streets with Barbosa and Wesson providing food and treating them as best they can, maintaining as close a watch as they can on them until the pups can be brought into the program.
Even following flea medication, both dogs are still showing signs of severe itching. However, all that can be done for the time being is on-the-street assessments and regular feeding until space and funds become available. Following their regular meal dogs return to the culvert to gain some respite from the sun.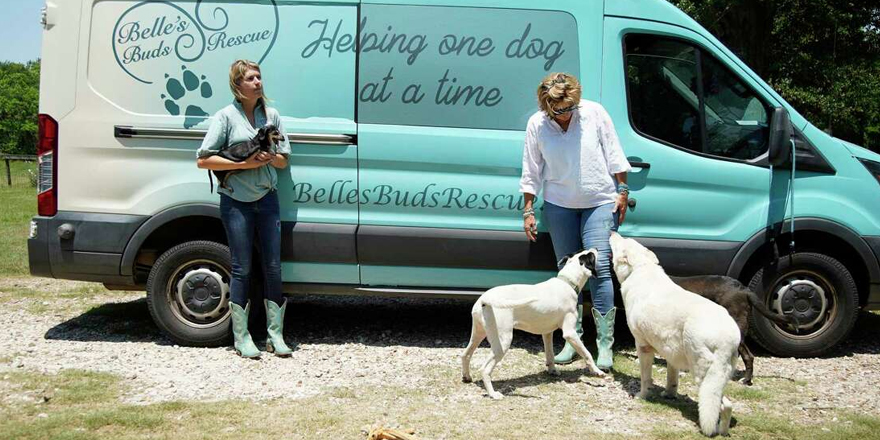 Image credit: Karen Warren, Houston Chronicle / Staff photographer
"When you're out in the field and you have to leave an injured dog out on the street because you literally have no place for it to go, that weighs on you," said Tena Lundquist Faust, the co-resident of Houston PetSet, another nonprofit animal welfare organization. "You take that with you. You go to bed with that, you wake up with that, you don't forget those faces."
There is currently a stray animal crisis throughout Houston, which coincides with a nationwide spike in the surrendering of lockdown pets and abandonment, as well as a significant drop in adoption nationwide. The volunteer staff across rescue shelters, rescue organizations, and the animal foster care system are quickly becoming burned out by the devastating amount of pets finding themselves without a home.
"It's just non-stop, there is no break," Barbosa explained.
Shelters in the Houston area are now being pushed beyond their maximum capacity as everything appears to have slowed down except for the number of animals finding themselves in need of care, according to Rene Vasquez, the director of Fort Bend County Animal Services. Staff at the Fort Bend shelter have found themselves having to house dogs in the hallways due to overcrowding.
Vasquez has told news outlets that the staff of the shelters are having to take home puppies and kittens litters over the weekend to ensure that they are being properly fed and receiving the appropriate care that would ordinarily be provided by foster carers. The Fort Bend shelter's standard capacity is around 170 animals comfortably, however, as of May 20th, they are sheltering 200.
"It just seems like everyone is failing," Vasquez observed.
Due to the lack of adoptions, the amount of time animals are spending in care has also significantly increased. In 2019 a dog would stay for around 15 days in the Fort Bend shelter before being adopted. However, in 2020 the average length for the amount of time spent in care has increased to an average of 24 days. In some instances, there are dogs that are having to spend up to a year in care before being adopted.
Comparatively, the Montgomery County shelter is also operating well over its maximum capacity of 180 animals with the shelter's current animal count sitting at around 275 as of May 2022. Aaron Johnson, the director of the Montgomery shelter has also noted a significant drop in the number of transfers into the care of rescues. Between January and May 2019, the shelter transferred just over 1000 animals into rescues. However, in that same time period during 2022, the number has halved to barely over 500.
Sadly part of the reason for this overcrowding is due to the financial told that the pandemic is taking on various small businesses. Many foster carers were having to abandon their time with the rescues that they work alongside and find standard jobs in order to cover their bills. Additionally, shelter staff were having to leave for better-paying work.
The majority of shelters in the Houston region are currently struggling with a staff shortage and are unable to recruit or even retain the employees that they have owing to a lack of funding. Some shelters are even having to hire outside contractors to assist them with the daily cleaning duties.
According to officer Cory Stottlemyer of the city of Houston Public information office, BARC has witnessed a nearly 40% decrease in the number of animals being transferred to rescues. As it stands the BARC shelter is currently running with a 21% deficit in its staff numbers.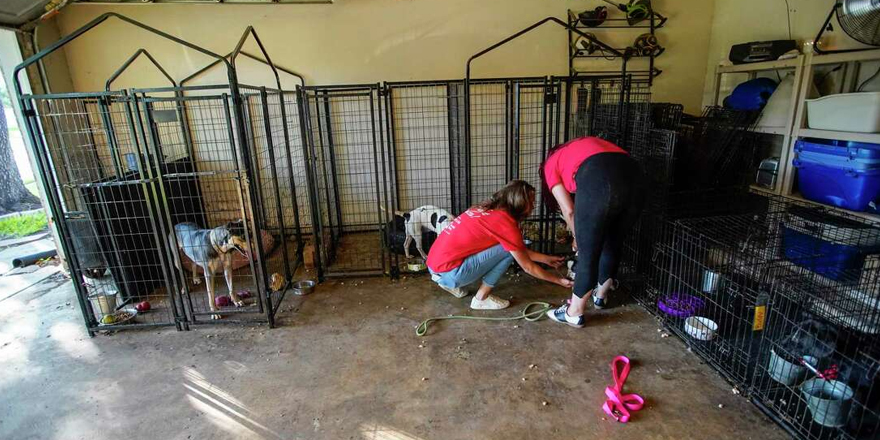 Image credit: Karen Warren, Houston Chronicle / Staff photographer
BARC has taken multiple measures recently in an attempt to address the ever-increasing abandonment of new pets. This includes offering spay and neuter services to the local community, another that was further strengthened by the awarding of $500,000 to the shelter by the Houston City Council in order for them to be able to offer their neuter and spay services free of charge. These services will be provided via a partnership between BARC and the Houston PetSet.
Harris county pets and outlying county shelter is also struggling with the drop in adoption rates. A representative of the shelter spoke with the Houston Chronicles, providing a statement in which they describe the adoption rates throughout the pandemic as providing the shelters with a "false sense of reality." During the pandemic a record number of adoptions took place throughout the country, leading shelters to believe that the adoption crisis was subsiding.
Sadly, shelters have entered a new level of crisis in which they are no longer fit to manage the number of dogs being surrendered by unprepared owners, owing to the lack of staff, lack of funding, lack of foster carers, and lack of interest in adopting.
During the pandemic, a large number of shelters changed the way in which they accepted animals into their care. This meant that they had put a limit on the number of animals they would see, and stressed the importance of appointments prior to accepting an animal into their care, as opposed to accepting every animal brought to them.
The lower the number of staff within the shelter the lower the number of animals they are able to care for, resulting in even more animals finding themselves on the streets of Houston. As a result rescues such as the Houston Humane Society, Montgomery and Harris County, and BARC are left grappling with the consequences of these changes.
"This is also caused a huge influx of animals to be left on the streets and has created a burden for rescue groups," said The co-president of Houston PetSet, Lundquist Faust.
The ever-growing number of homeless animals is only made worse by The puppy and kitten season which is currently booming due to a lack of neutered and spayed animals. Shelter managers and owners such as Johnson and Vazquez are left feeling dejected and as though they are completely backtracking on the progress made over recent years.
"We all feel kind of discouraged, we have all worked very hard in this industry to elevate things and this is a big hit on the animal welfare community overall," Johnson said.
The problem with shelters working over their maximum capacity is that the remaining animals are being left to rescue. With rescues having no shelters to place the animals in once they have been retrieved, and an ever-dwindling number of foster carers available to care for the animals until they can be adopted, they are fast running out of options.
"Foster carers used to be enthusiastic about taking on a new pet, but they have been burned out," Said the founder of Spring Branch Animal Rescue, Kali Cabrera.
Rescuers such as CabreraHave resorted to turning their homes into makeshift shelter spaces in order to be able to take on some of the overflows. She has outfitted her Richmond garage with several portable Heating and A/C units along with secure kennels. As it stands she currently has seven dogs in her care, but at times has found herself with double that number.
"It feels like we are sinking, and we are trying our best to stay afloat," Cabrera explained. According to Cabrera, even foster carers have been put off by the number of times dogs are having to remain in their care before they're adopted.
Some forces have apparently been left with pets for over six months at a time, Which goes against the standard protocol of a maximum four-month stay. Cabrera explained that the dogs that were successfully adopted out within the four-month timeframe still required a lot of networking to find a forever home.
The co-founder of Bell's Buds Rescue (BBR), Tammy Livingston, It's also having to care for an overflow of 16 dogs at her home, whilst Julia Stanzer-Czaplewski, The co-founder of BBR, is also caring for 19 dogs.
Livingston told news outlets that as co-leaders of the rescue it falls upon them to handle any overflow, despite constantly telling themselves that they're not able to help every dog. "So then we end up bringing a dog home to us, and now we are overflowing like the shelters and other rescues."
Stanzer-Czaplewski And Livingston live next door to one another and are currently constructing a separate building This sits on their shared property that can be used to house the additional dogs being brought in by the rescue. The intention is for the building to have healthful heating and air conditioning as well as outdoor and indoor kennels. It will also contain an area for washing and cleaning puppies according to Livingston.
Career explained that the shelter workers taking on the overflow of animals are often having to pay for them out of their own pocket. As a result, some bills can go unpaid if the animals require additional care or medical attention.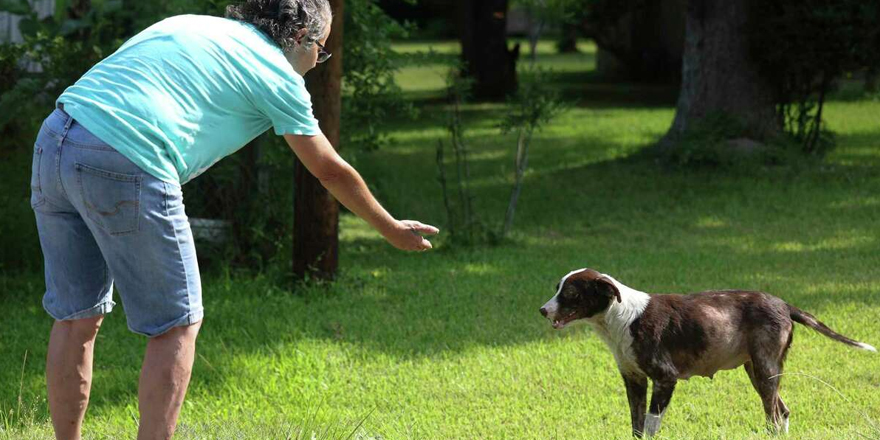 Image credit: Thomas B. Shea, Contract Photographer / For the Chronicle
The stress is becoming such that smaller rescue organizations and independent shelters are being forced to close down as they are unable to withstand the stress and pressure. Other shelters and rescues have taken to closing down their social media accounts and maintaining the numbers that they have in constant limbo until outside help is received.
Livingston is among the rescues having to take this approach, which includes closing down the animal intake, and creating an auto-response on their social media channels to notify people That the shelter is too busy to receive any more animals.
Advocates of animal welfare argue that stricter neutering and spaying laws need to be introduced in order to prevent the animal crisis from getting any worse. Sadly, this is unlikely to happen in the near future, or even at all. Such a law could create a turning point however without it there is no immediate solution to the problem of Houston's stray animal crisis.
"We need to change the way our city thinks about animals," Lundquist Faust explained. They then go on to stress that the population needs to be made aware that the severity of the issue. Furthermore, additional funding is required via corporations and private donors, as well as improvements at municipal shelters to get them to meet the national standard, and more city and council resources are all required for Houston to stand a chance of alleviating the problem.
"This is one of Houston's solvable problems," explained Lundquist Faust. "The only thing missing is the resources… Although there is compassion fatigue, there is a tiny sense of hope, too."
Featured image credit: Thomas B. Shea, Contract Photographer / For the Chronicle