Pet beds provide our dogs with the same kind of comfort and support that we obtain from our respective beds. However, sometimes an ordinary dog bed is simply not enough. Older dogs, those who suffer from arthritis and joint pains, as well as pooches who are currently injured, may need extra comfort and support to remain well or to recover. This is where orthopedic dog beds come in – specially designed to properly support your pet's bones, joints and muscles, and provide superior comfort, these beds are ideal for aging and sick canines, but can also be used as a form of prevention of musculoskeletal problems. To help you find the right orthopedic pet bed for your dog, we reviewed dozens of different models, detailing some of the best ones down below. We also created a comprehensive buying guide in which we cover everything you need to know about these therapeutic pet beds, so read on!
The 10 Top Rated Orthopedic Dog Beds
| Editor's Pick | Product Name | Price | Rating |
| --- | --- | --- | --- |
| Best Overall | PetFusion Ultimate Lounge Memory Foam Bolster Bed | Buy on Amazon | 4.8 |
| Best for Large Dogs | FurHaven Plush & Suede Memory Top Bolster Dog Bed | Buy on Amazon | 4.1 |
| Best Bolster | BarksBar Snuggly Sleeper Orthopedic Bolster Bed | Buy on Amazon | 4.5 |
| Best Budget | JOYELF Orthopedic Dog Bed | Buy on Amazon | 4.6 |
| Best Cooling | FurHaven Comfy Couch Cooling Gel Bed | Buy on Amazon | 4.2 |
| Best for Crates | Brindle Waterproof Orthopedic Pillow Dog Bed | Buy on Amazon | 4.6 |
| Premium Pick | Big Barker Jr. Headrest Edition Orthopedic Bed | Buy on Amazon | 4.8 |
| Best For Senior Dogs | The Dog's Balls Orthopedic Dog Bed | Buy on Amazon | 4.4 |
| Best Waterproof | Dogbed4less Orthopedic Memory Foam Dog Bed | Buy on Amazon | 4.7 |
| Best Cradle | FurHaven Ultra Plush Luxe Lounger Orthopedic Bed | Buy on Amazon | 4.4 |
*Ratings are from Amazon and Chewy at the time of publication and can change
Orthopedic Dog Beds: Buying Guide & FAQs
Picking an orthopedic, therapeutic bed for your dog can be challenging since they actually look like any other type of pet bed. To help you choose the right one for your precious pooch, we've prepared this buying guide, where we cover everything you need to know about these pet beds, including their benefits, the right time to switch from standard to therapeutic dog bed and so much more.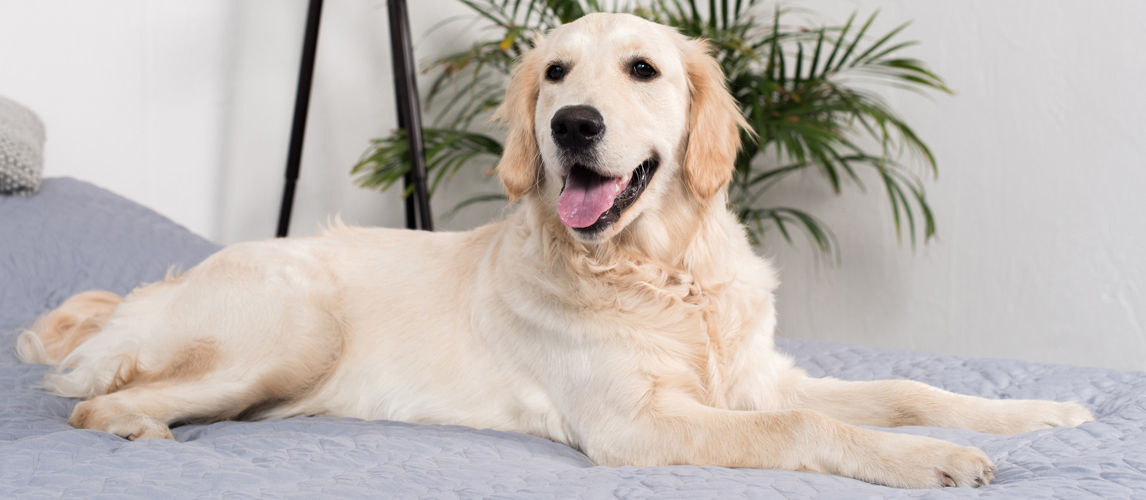 What is an Orthopedic Dog Bed?
It is a specialty mattress that is designed specifically to help dogs with musculoskeletal problems sleep better. Unfortunately, the market is littered with dog beds that come with low-quality foams or simply thicker bases, whereas a true orthopedic pet bed needs to be made from memory foam, also known as viscoelastic foam.
Why is this important? Memory foam is constructed of viscoelastic materials that have been developed by NASA in the 70s. The material was adopted by the mattress industry in the 90s because of its body-conforming properties. It is this exact ability to conform to different curves and points of the body that makes this material ideal for those with weight issues, joint pains and so on.
The problem is, orthopedic beds don't come with certified standards in the type of materials used. As such, dog bed manufacturers have to rely on their understanding of the fundamental principle of orthopedic dog beds – the support of joints, bones, and the rest of the body to improve overall posture and alleviate pain. In essence, a true orthopedic pet bed should keep the dog's spine in perfect alignment and relieve pressure from any bony protrusions. These are the fundamental principles of a true orthopedic dog bed. So how do you choose high-quality memory foam-filled pet bed? First, take a look at our Top List as we've picked only the real, therapeutic dog beds; secondly, take some time to read consumer reviews about the model you're interested in buying.
Is it Time for an Orthopedic Pet Bed?
There can be many reasons why a pet parent may want to switch their dog from an ordinary canine bed to one that is fully orthopedic. Here are some of the instances when it's recommendable to completely switch to orthopedic models.
Your dog has arthritis or other problems with its joints
Fido is diagnosed with hip dysplasia
Your pet is showing generalized loss of muscle tone and mass because of advancing age
If your dog has bone injuries such as luxating patella or fractures
Your canine friend has injuries to soft tissues like ligaments and tendons
If your pup is recovering from neuromuscular or orthopedic surgery or disease
Looking at these examples, pain is a common theme. As such, whenever your dog is in distress or pain, it's a good idea to switch to orthopedic or therapeutic beds.
Benefits of an Orthopedic Bed for Dogs
Based on what we have discussed so far we can readily identify a number of benefits of using an orthopedic pet bed. Here are some of them.
Helps to Keep the Spine in Near-Perfect Alignment
A good orthopedic canine bed should help keep and maintain the spine of your dog in near-perfect alignment. Bolsters and pillows can help elevate your dog's head, which is crucial if they suffer from neck pain. This can also produce better neurologic functioning.
Reduces Pain and Inflammation
Orthopedic beds reduce, if not completely eliminate, the effects of pressure on body parts where the bones and joints are much closer to the body surface. This helps reduce the intensity of pain while also facilitating the reduction of inflammation and its painful symptoms.
Promotes Healing
The combination of a well-aligned spine and reduced pressure off bony prominences can lead to better cellular and tissue repair, healing, and regeneration. Since there are no additional stresses being exerted on the body, your dog's immune system, as well as other organs involved in tissue repair, can get to work in repairing and healing injured body parts.
Improves Blood Circulation
There is one often-overlooked aspect of pressures exerted on bony prominences: reduced blood flow. The application of pressure on a body part tends to pinch, sometimes even completely cut off the blood supply in certain body parts. This, as you can imagine, is anything but healthy for your pet's body, but especially for their injured or painful body parts such as joints, leg muscles and so on. By reducing pressure points, you'll improve the overall circulation of blood in your pet.
Prevents Formation of Bed Sores
A classic sign of chronic excessive pressures on bony prominences is bed sores, which first appear as reddish discoloration on the skin. More importantly, however, is the fact that these areas signify inflammatory changes that are slowly degrading the integrity of the skin. A proper orthopedic pet bed reduces the pressure leading to a reduction in the incidence of bed sores.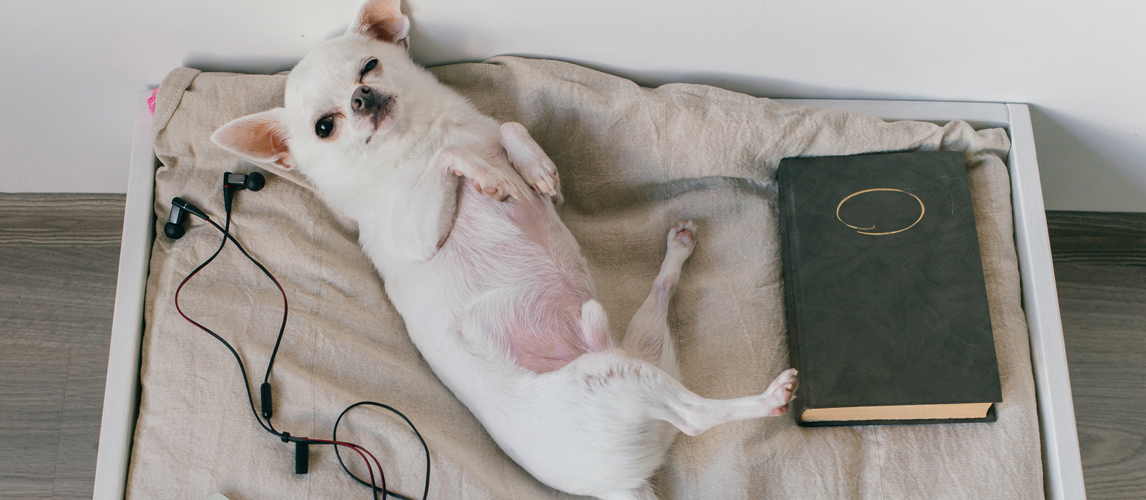 Features to Look for in an Orthopedic Dog Bed
There are certain features that can help you distinguish a good quality orthopedic canine bed from one that is simply stuffed with inefficient fill that does nothing to keep your dog's vertebrae in proper alignment or help relieve pressure off of your their joints, muscles, and bones. Here are some of the features you should look for.
Orthopedic Foam
First things first, look for beds that contain memory foam as their main stuffing. This is crucial because memory foam or viscoelastic foam is what makes the bed contours to your pet's unique shape and size. It is also what provides optimal support for achy joints and muscles and bony protrusions. If your four-legged companion is very old or suffers from arthritis, we recommend looking for really thick memory foam-filled beds as they tend to provide maximum support and comfort.
Check out our article on Dog Beds for Small Dogs.
Waterproof Liner
Whether or not your pet has been trained not to pee on their bed, there will always be instances when accidents happen. This is why you need a dog bed that has an inner waterproof liner that will help protect the orthopedic foam from accidents and other spills and messes. If the bedcover has waterproofing properties, then it should also be a great choice.
Find out more about Waterproof Dog Beds.
Removable and Washable Bedcover
The bedcover should be removable and washable. That being said, its closure mechanism should be sturdy and provide a water-tight seal on the opposing flaps. Most dog bed manufacturers have specific instructions on how their covers should be cleaned or washed. What's important is to choose one that can be easily cleaned, preferably machine washed. Of course, getting a bedcover that matches well with your home décor is also important. You may also like our article on Washable Dog Beds.
Non-Skid Bottom
If you have a very 'active' sleeper you don't want it to move the bed every time they stir. As such, it's a good idea to choose an orthopedic canine bed that has a non-skid rubber bottom. That being said, if you intend to use the dog bed on a rather rough surface and your pup is a calm sleeper, you may not need a model with the non-skid bottom at all.
Choosing the right orthopedic canine bed can be tricky. Perhaps this is made even more confusing by the fact that the majority of beds today are made of useless filling that hardly qualifies as a true orthopedic canine bed. Nevertheless, there are plenty of high-quality memory foam-filled therapeutic pet beds available on the market, including the 15 models we reviewed above, so don't be discouraged from looking for the best one out there.
Sources:
Your Guide to Dog Beds, WebMD
Victoria Schade, CPDT-KA, How to Find the Right Dog Bed for Your Pup's Needs, PetMD
FAQs:
Because the inside of an orthopedic dog bed is often simple foam, washing the outside cover is easy. Remove the outside cover from the foam bed by locating the zipper or other closure first. Once removed, you can put the cover in your washing machine by itself. You should wash the cover on a cold setting, using a gentle wash cycle. To wash the main foam part of the bed, you'll need to use your bathtub or a large plastic tub if you only have a shower in your home. Fill the bathtub halfway with warm water and submerge the foam piece. Use gentle pet-safe cleaning products to scrub out any stains, squeeze out any excess water from the foam, and leave it to dry.
Most orthopedic dog beds are made using memory foam, which is more commonly used for human mattresses and pillows, as well as many other items. Memory foam shapes itself to the weight that rests on it, which allows the foam to fully support your dog from all angles. Memory foam dog beds are made using thick pieces of durable foam, in comparison to regular dog beds that use cotton stuffing or polyester filling – neither of which are particularly supportive or useful for dogs that have joint issues and need the extra comfort to rest.