Everyone will agree that dogs, just like humans, need a comfortable place to sleep in or just to rest its tired body on rather than lie on the cold pavement. While almost any other commercially available doggie bed will do, if you've got a destructive chewer in your hands, it will simply tear the bed apart. What you need is an indestructible dog bed. These doggie beds will be very difficult to destroy, even by the toughest and meanest chewers in the canine kingdom. Let us take a look at your options for the best indestructible dog bed.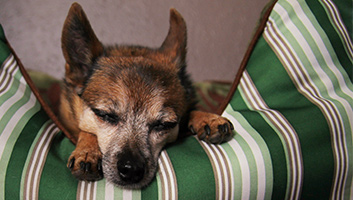 Our Picks for the Best Indestructible Dog Bed
Indestructible Dog Bed Buying Guide
Choosing a really durable bed means having the right assessment skills to determine an indestructible bed from one that is merely implying that it is durable. While it is definitely a lot easier said than done, there are some things you can do to arrive at the best indestructible doggie bed. You can start with this buying guide we prepared just for you.

Related Posts: Best Dog Beds and Dog Teepee Bed
What is an Indestructible Dog Bed?
Doggie beds are designed, for the most part, for optimum comfort. That is why you would want a material that is soft and smooth and can provide ample support for the various bony prominences in your pooch's body. Unfortunately, we also know that conventionally soft doggie beds are not really that resistant to the bite force of tenacious chewers. As such, they get easily torn, gaping holes cut through them, and, in time, will be shredded to pieces.
Any dog bed that can withstand the chewing habits of your dog a lot better than conventional doggie beds can be classified, albeit rather loosely, as indestructible. We said 'loosely' because the definition of 'indestructible' can be as varied as the opinions of countless dog owners. For some, as long as the contraption is more durable – retains its shape a lot longer than traditional beds – then it is already an indestructible dog bed for them. Others will look for materials that are very difficult to chew on such as metal elements. True, metal can still have scratch marks on its surface but the relative hardness of the material makes it tougher than the teeth of any pooch. So, your idea of an indestructible dog bed may be different from the one in the mind of a friend or even a neighbor.
But, generally, here's the thing. If a doggie mattress or cot possesses certain characteristics that allow it to stand the test of time and your dog's chewing behavior, then it can be rightfully classified as an indestructible dog bed.
Related Post: Best Chew Toys for Puppies
Which Dogs Need an Indestructible Dog Bed?
As you may have already guessed, if you have a pooch that is a mighty chewer or even an overweight canine, you might want to get a more durable bed for them.  Puppies are tenacious when it comes to chewing so it is often a good idea to get a mattress that is sufficiently tougher than most. If you were able to train your puppies to tame their chewing tendencies, you can go back to a standard doggie mattress once they grow up. However, if their chewing tendencies happen to turn destructive, then you should consider getting a really tough and durable bed. The same is true for pooches that are overweight. Body weight can easily compress the fill in these mattresses. As such, if you don't get something more durable, you're essentially looking at buying several mattresses over a period of a couple of years.
Things to Consider Before Buying an Indestructible Dog Bed
Picking the right bed for your dog is easy. However, to determine if you really need an indestructible dog bed or not you may want to consider the following.
Chewing behavior of your pet 
As we have already said, the chewing behavior of your pooch has to be one of the most significant factors for consideration. If you have a really aggressive chewer at home, then it is a must that you get only the toughest and the most durable types of doggie beds. Your best option will be to get elevated or raised dog beds as these typically come with metal frames, although it is not uncommon to see others using other materials such as PVC.
Since the sleeping platform only includes a panel of fabric, then there really isn't much to chew on, except perhaps the legs and frame of the doggie bed. Owing to the nature of the materials of the frame, it will be almost next to impossible to completely destroy it; unless, of course, you have a frame that is made up of cardboard, which we have yet to see.
If you have a moderate chewer, then doggie beds that are made of certain durable materials like ballistic nylon and canvas should be your choice. These materials can provide you with the peace of mind that your doggie bed will not be shredded to smithereens anytime soon.
If your pooch is a passive chewer, then rejoice as there really isn't any ordinary doggie bed that will not be suitable for your dog.
The trainability of your dog
We had to include this as a major consideration since we're essentially talking about your dog's chewing behavior. If it is trainable, then we strongly recommend addressing its chewing behavior with sensible training first. Then you can start thinking about getting an ordinary doggie mattress. However, if your pet is simply not the breed that listens to you or is very stubborn, then an indestructible doggie bed is needed.
If you're getting a doggie mattress, nothing beats double stitching of the seams. This gives you improved durability than single stitched products. Also, you might need to consider the thickness and the type of foam filling as there are those made of flimsy material. Your best bet will be those that are certified to be highly durable. If you're getting a cot, you might need to consider the joints. Additionally, if the frame is to be assembled, then the integrity of the structure should be maintained by a mechanism. If not, you're looking at potentially injuring your pet should the frame give in to your dog's weight.
Cost of the indestructible dog bed
In our list, we have shared doggie beds that are as inexpensive as a couple of tens of dollars to a few hundred dollars. Your choice actually depends on how much you're willing to spend on a doggie bed.
Best Materials to Look for in an Indestructible Dog Bed
We've been talking about indestructible dog beds. We know what you have in mind – the materials that will best fit this description. As such, we're providing you with 3 of the most common materials used in either sleeping panels in elevated doggie cots or outer covering of conventional doggie mattresses.
Ballistic nylon – This provides the best material when it comes to chew-proofing your mattress. Dogs are not really fond of chewing on nylon perhaps because of its 'slippery' nature. And even if you do have a dog that will chew on nylon, the fabric will be so tough that your pooch will take several years of chewing before it will make a dent on the fabric.
Canvas – Most dogs are also averse to chewing on canvas. We're not exactly sure why but all of our dogs simply don't like chewing on these types of materials. While it is not as tough as ballistic nylon, just the mere fact that your dog will avoid chewing on canvas is enough to get it as a durable dog mattress.
Denim – Unless you gave your pooch a denim toy when it was still a puppy, there is a big chance that a dog bed made of denim will survive many years since your pooch will not be gnawing on this material. It is structurally weaker than ballistic nylon and canvas, however. Nevertheless, since most dogs are not really fond of chewing on denim materials, this should help extend the lifespan of your denim-covered doggie bed.
If you have a pooch that doesn't really chew on things then you only need to give your pooch an ordinary canine mattress. However, if you've got a mighty chewer in the household, these indestructible dog beds we featured here should help you choose the best one.