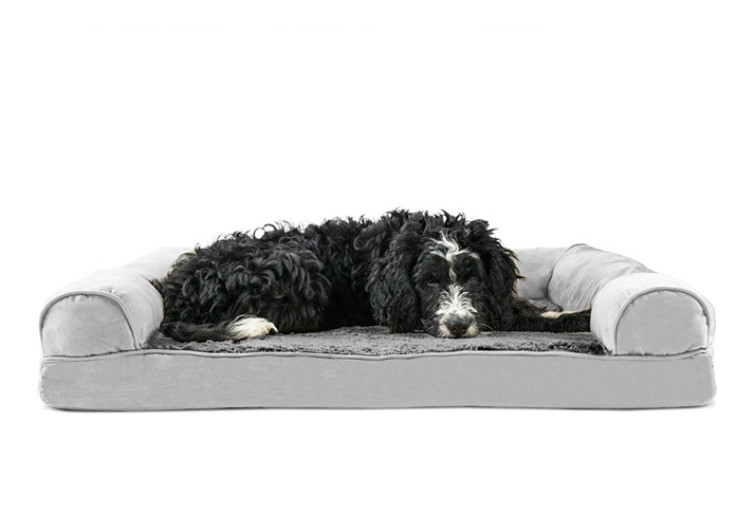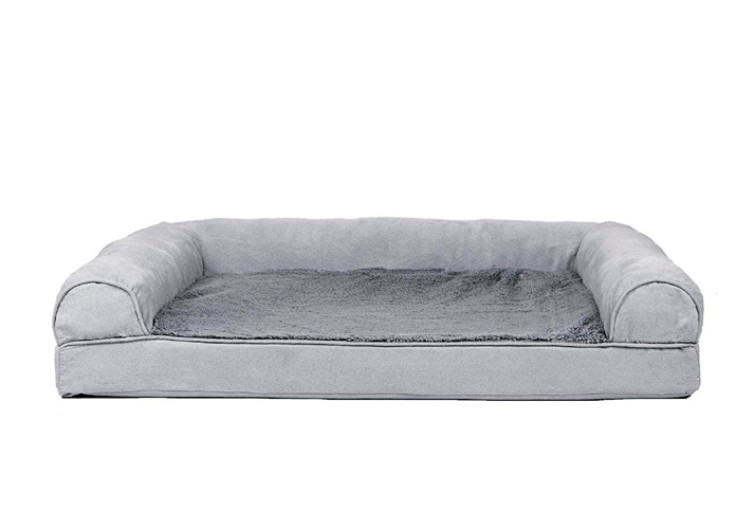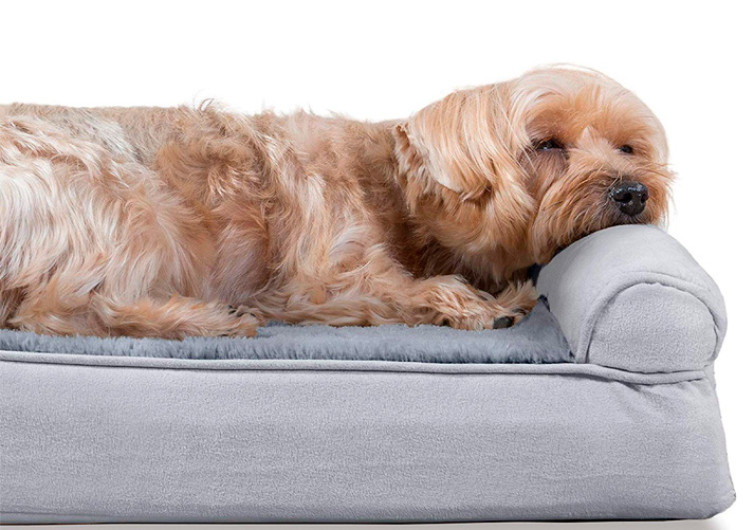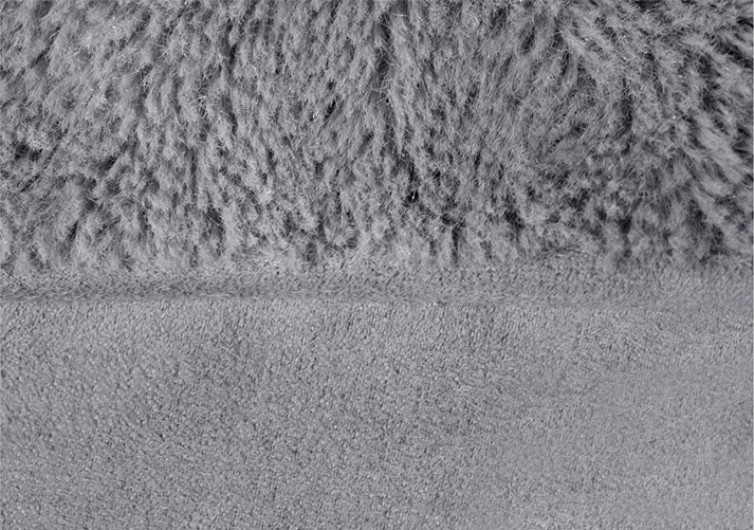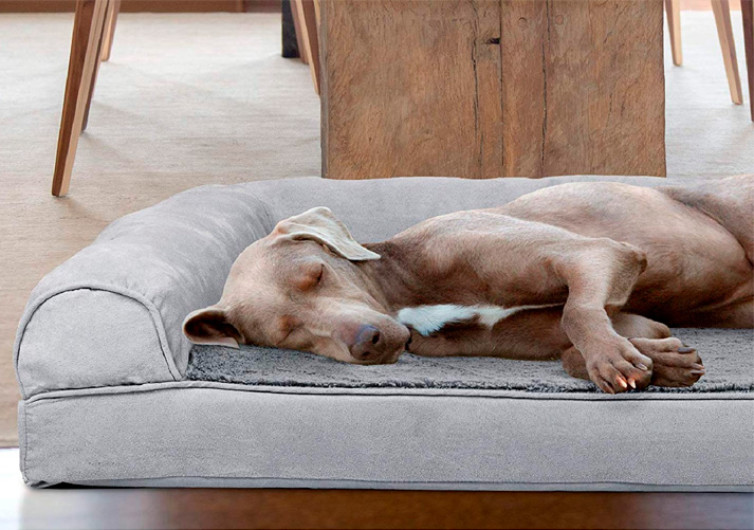 Furhaven Orthopedic Dog Bed
The bestselling Furhaven Pet Plush Orthopedic Sofa is a lux dog bed that offers that little bit of extra cushioning and support for your pooch when they are dog-tired. Ideal for older or arthritic dogs, thanks to the medical-grade orthopedic foam base, the Furhaven can also be used by any dog looking for a super-comfortable night's sleep.
We look under Furhaven's cover to see if it ticks all the boxes to be one of the best pet orthopedic beds you can buy.
Build Quality and Durability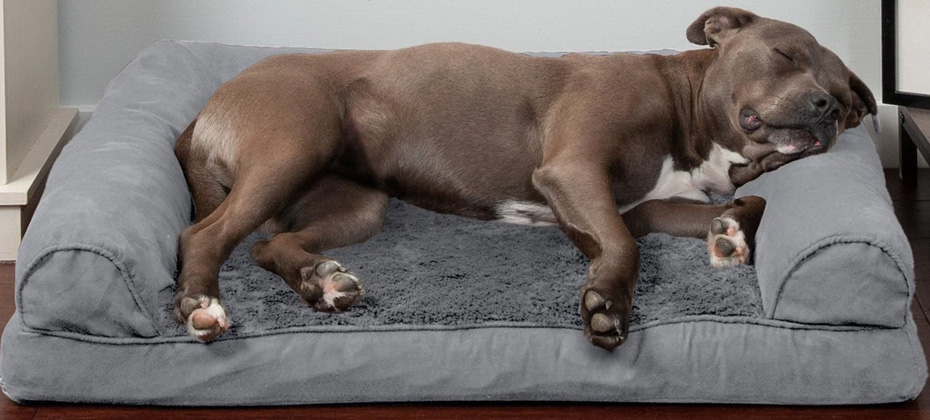 The mission of Pet Bed gurus, Furhaven is to 'bring snuggly-soft comfort to pets of all shapes and sizes at an affordable price. And with its Orthopedic Dog Bed, there is a lot to like. Designed with a conventional sofa in mind, three sides are cushioned with bolsters, leaving the front open for easier access. In many ways, it resembles a canine chaise longue! The design intends to create a cozy space that supports your dog as they sleep.
The three bolsters are sturdy enough to give your pup adequate neck support, ensuring the correct spine alignment as they snooze. And the orthopedic foam base, with its internal egg crate design, cradles your dog without being too soft and helps to alleviate any pressure. However, the inner foam does tend to let the design down a little, as the egg crate shaping could be a bit more supportive and durable, but the airflow is good.
Overall, this well-built, quality dog bed would work well for older or calmer dogs. But due to the plush faux fur fabric and super-soft design, it is not tough enough to cope with more claw or teeth-happy dogs that like to chew and play with their bed. And it could do with a more robust nonslip bottom to keep it more secure on the floor.
Comfort (Support & Feel)
There's no denying the comfort and quality of the fabrics and materials used in the Furhaven Orthopedic Dog Bed, and, for your pooch, at least, this will be a big draw. The surface cover is made from a suede fabric that is cool to the touch, soft on the skin, and contains 100% recycled filling, so the ideal place to rest a weary head. Meanwhile, the sleep surface of this dog bed is a snuggling faux fur, which is also good at hiding dirt and loose hair. Furhaven also assures no materials or harmful chemicals in the design that can irritate your dog. The whole bed has been designed to be gentle and supportive for delicate, pressure-sensitive skin.
The orthopedic sleep mat has a foam core base designed with the peaks of an egg crate, which is very good at allowing a natural flow of air, so your pet stays comfortable for a night of restorative sleep. You can also buy versions of this dog bed that incorporates cooling gel and memory foam into the design. Some reviewers have aired concerns about the quality of the egg crate foam structure, but overall, it is stable and supports your dog's spine and joints. It is also firm and sturdy enough to support the body weight of a large dog. And we like how the orthopedic foam adapts to the contours of your dog for a cradling effect. The final plus for the Furhaven is the open front, which makes it easier for more mobile-restricted doggies to get into their bed.
Fit and Sizing
You get a good choice of sizings for the Furhaven, so you can be sure there is an orthopedic bed to fit even larger breeds. To give you an idea of which size you need for your pooch, you can choose from:
Small – 20" x 15" x 5.5" (suitable for a Chihuahua)
Medium – 30" x 20" x 6.25"
Large – 36" x 27" x 6.5"
Jumbo – 44" x 35" x 8"
Jumbo Plus – 53" x 42" x 9.5" (that's enough room for a Great Dane)
Furhaven recommend that if you are unsure which size to go for, opt for the bigger size to ensure your pet has plenty of wriggle room.
You can also choose from multiple colors for the Furhaven Dog Bed to match your pooch's new sleeping space in your home, including a calm marine blue and a rich dark sage.
Maintenance (Cleaning & Washing)
We all know dogs can be mucky pups, and their sleep space will inevitably get grubby. Which is where the Furhaven dog bed scores top marks. The cover, including the faux fur sleep surface, is easily removable and machine washable for fast and effective cleaning.
A top tip is to turn the removable cover inside out and zip it fully closed to help keep its shape. Then wash the removable cover separately on a cool setting, shake it out, and either line dry or machine dry on a low setting.
The inner foam padding can be sponge cleaned in the case of unfortunate accidents.
Other Considerations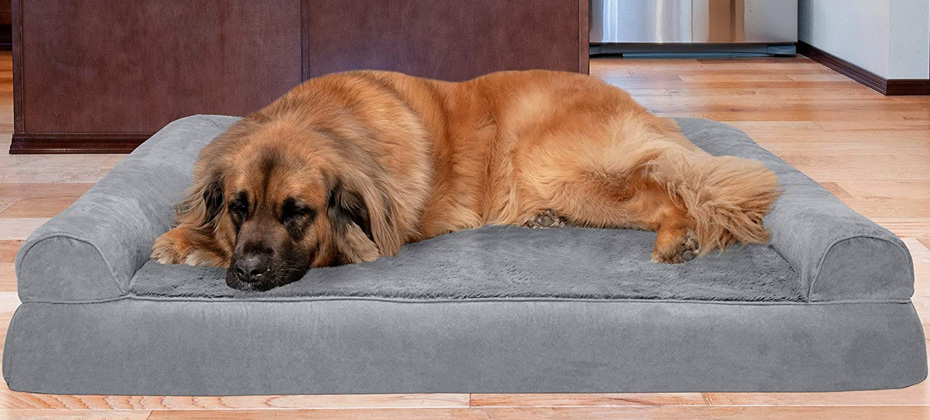 If you are still unsure whether the Furhaven Orthopedic Bed is right for your dog, then it is worth taking a few other considerations into account:
It's Good for Sensitive Pups
As there are no chemical nasties in the foam this dog bed uses, and the fabric materials have been chosen with pure comfort, the Furhaven has a gentle touch when caring for your pet. And if joint pain is an issue, the faux fur, supportive design, and cool comfort airflow can help to bring your pooch some relief as he sleeps.
You Do Need Space
Due to its dog sofa shape, this is a sizeable bed, so especially if you have larger breeds, you will need a decent amount of floor space in your house or apartment to accommodate the Furhaven.
It's Good for Older Dogs
While the Furhaven may not be durable enough for boisterous dogs that like to chew, this bed has a lot to offer the calmer or older pooch who simply wants to snooze in supported comfort. And the low and open front means they get fuss-free access to their new bed and favorite sleeping spot.
Comparison Table
Brand
Price
(Large)
Dimensions
(Large)
Removable
Cover
Machine
Washable
Filter
Material
Cover
Material
Furhaven Orthopedic Dog Bad
$53.99
36" x 27"
Yes
Yes
Certy-PUR-US
Orthopedic Foam
Plush Suede, Faux Fur
Pet Fusion Ultimate Dog Bad
$119.95
36" x 28"
Yes
Yes
Certy-PUR-US
Memory Foam
Polyester, Twill
Friends Forever Orthopedic Dog Bad
$71.39
36" x 28"
Yes
Yes
Human Grade Memory Foam
Anty-tear Material
BarksBar Orthopedic Dog Bad
$71.99
40" x 30"
Yes
Yes
Orthopedic Foam
Polyester
Brindle Waterproof Memory Foam Pet Bad
$48.31
34" x 22"
Yes
Yes
Memory Foam; High Density Foam
Velour
The Dog's Bed Orthopedic Dog Bad
$117.99
40" x 25"
Yes
Yes
Premium Memory Foam
Plush Waterproof Fabric
The Competition
So, how does Furhaven compare to other brands?  Compared to similar products, the Furhaven is well-priced and has many features of some of the more expensive orthopedic dog beds, such as the PetFusion Ultimate Dog Bed. However, the main differences are that the Furhaven doesn't use memory foam and is not waterproof.
The Furhaven Orthopedic Dog Bed also rates highly for accessibility, especially for older or arthritic dogs, again giving the premium price-tagged PetFusion a good run for its money. The Friends Forever Orthopedic Dog Bed and the BarksBar Orthopedic Dog Bed come close to the Furhaven in terms of a supportive mattress and bolster cushion design. Still, you can expect to pay around $20 more.
From a therapeutic perspective, The Dog's Bed Orthopedic Dog Bed offers more than the Furhaven in terms of physical support. Still, this premium-priced bed has been specifically designed for dogs recuperating after surgery and advanced arthritis and mobility issues. But for general support and comfort for joints, especially for older dogs, we think the Furhaven holds its own.
And finally, if the budget is your dealbreaker, Brindle's Memory Foam Pet Bed could just pip Furhaven to the post. However, with Furhaven's orthopedic dog bed, you get three bolster cushions, offering that extra layer of comfort and support.
How Much Does Furhaven Orthopedic Dog Bed Cost?
While Furhaven is not the cheapest dog bed around, it is reasonably priced, with a choice of sizes and colorways, so you can get the right bed for you and your dog. We've listed the average price for each size based on Amazon and Chewy to give you an idea of what you should expect to pay.
| Size | Pice |
| --- | --- |
| Small | $19.99 |
| Midium | $35.99 |
| Large | $44.99 |
| Jumbo | $46.38 |
| Jumbo Plus | $78.35 |
Key Features
To summarize the Furhaven orthopedic dog bed so that you can assess its suitability at a glance:
Supportive dog bed, with plus faux fur sleeping pad and orthopedic memory foam style base
Three bolster cushions for support and an open front for easy access
Egg crate foam for improved airflow and joint/back support
Removable and machine-washable cover for easy cleaning
Ideal for older dogs or pets with arthritis or for dogs who love their bedtime comforts
Choice of five sizes and six colors
Pros
With multiple sizes on offer in the range, you get an excellent range of dog beds to suit most sized pets, from toy to large breeds

The design ensures plenty of air flow and ventilation for a comfortable night's sleep for your pooch

The foam pad is CertiPUR-US program approved so safe for pets and the cushion filling is made from 100% recycled materials

The bolster cushions are on three sides to prevent your pup from falling out, leaving the front open for easy access – which makes it a best bed for older dogs or pets who may struggle a little with their mobility

This orthopedic support dog bed is easy to clean and maintain, and the cover is both removable and machine washable for quick spruce ups to keep everything neat and fresh
Cons
The side bolster cushions are a little on the squishy side so can lose some shape when your dog rests on them and there isn't a non slip base

The orthopedic foam structure could be a little more durable, although the air flow through the design is good

The faux fur sleep pad is not quite self-heating so you may need to add a blanket during the cooler months

Although it is machine washable, the Furhaven is not waterproof

You do get a good choice of colors and sizes and these support beds do look smart, but they could be on the pricey side if you are on a budget
Frequently Asked Questions
Furhaven is a family-run business set up in 2004 and based in Bellingham, Washington State. All Furhaven pet products are produced, designed, manufactured, and shipped in the US. The foam used in their pet products is also independently tested through the CertiPUR-US program to ensure their content, emissions, and durability standards.
Both mattress bases are good for your dog, and in fact, many orthopedic foam products have memory foam characteristics in that they adapt to support the specific shape of your dog's body and their pressure points as they sleep. Meanwhile, a pure memory foam dog mattress is made from polyurethane and can mold to a body shape and return to its original form when not used. Both orthopedic and memory foam is also very popular in human mattresses, so what's good enough for us should be good enough for our pets!
Your pooch can spend up to 20 hours a day snoozing, so whichever type of bed you choose for your canine companion, ensure it gives your pet the correct level of support for their spine, joints, and neck as well as their pressure points, especially if they are older, suffer from arthritis or have mobility issues. And, as a great orthopedic support pet bed that can help to relieve pressure from joints and aid restful, supportive sleep, the Furhaven range is a good, all-around choice to consider.
The Furhaven dog bed zippered cover is fully removable and safe to put through the washing machine. We think a removable, washable cover should be a dealbreaker when choosing a new pet bed, putting the Furhaven ahead in the ideal dog bed stakes!
While this dog bed is durable, the cover is machine washable, and you can spot-clean the foam mattress. Unfortunately, the Furhaven dog sofa bed is not waterproof. However, it is possible to buy a separate waterproof bed liner which can give you extra peace of mind, especially if you have a young pup or an older dog that can be prone to little accidents.
Unfortunately, no. But Furhaven do state on their website that their orthopedic dog's bed is not suitable for persistent and heavy chewers or more destructive dogs.