While some shedding is perfectly natural and expected, many pet parents would prefer if their pooch shed just a little less. But, of course, some dogs shed extremely, and although certain breeds are more prone to this (hello Golden Retrievers!), often this can be a sign of a nutritional deficiency or skin and coat irritation. Whatever the reason for your dog's excessive shedding, you'll be pleased to know it's possible to minimize it. Of course, grooming is essential here, but we'll suppose you're already brushing and grooming your canine companion often and regularly. Another thing that can greatly affect your dog's health and, by extension, their shedding habits is their diet. Foods specifically formulated to reduce dog shedding provide all the necessary nutrients a canine needs, especially those required for a shiny, healthy coat.
To help you find the best dog food for shedding, we've done the research and created this top 10 list of canine foods that tick all the right boxes. So read on to find the right formula for your dog today.
Key Takeaways:
To avoid matting, a dog that sheds a lot needs high omega fatty acids.
Food allergies can cause an unhealthy coat and hair loss.
Natural dog food recipes are highly nutritious and support healthier skin and coats.
If a dog's food has a high moisture content, it can help nourish your dog's skin.
Your dog's diet is only part of the battle; regular grooming is essential.
Some dog breeds shed much more than others and require additional grooming.
Overview of 10 Top Rated Dog Foods for Shedding
Calories
First 5 Ingredients
Dry Matter Basis
Pros
Cons
Bottom Line
Rating
Best Dog Food for Shedding: Buyer's Guide & FAQs
So there you have it – some of the best dog foods that help with shedding in one place. All that's left now is to pick the formula you think is best suited for your dog. Of course, we understand if you're having a hard time picking the right kibble – after all, all products promise the best quality ingredients and perfectly balanced nutrition, so it can be a bit difficult to find the right food. We hope the following chapters will help you determine exactly what it is your furry friend needs in order to stop excessive shedding, and therefore which kibble is the right kibble for him.
What is Dog Food for Shedding?
When it comes to picking the best dog food for a heavily-shedding pup, you need to consider the reasons behind the purchase. Dog owners around the world are constantly searching for ways to manage their dog's fur, particularly during shedding seasons. But many don't realize that the correct diet is half the battle. If your dog is eating a complete and balanced diet, then its skin and fur will benefit in the long run.
However, simply picking a top-quality dog food is not necessarily the be-all and end-all. If your dog experiences food allergies, sensitivities, or digestive health problems, they may begin to experience coat problems as a result, such as rashes that can lead to hot spots, hair loss, and matting.
The first type of diet you should try with your dog is something that is high in omega fatty acids, particularly for dogs with long coats or breeds that shed excessively. Omega fatty acids are naturally nourishing and help your dog to produce the natural oils that condition their coat and protect their skin. Without them, their coat is likely to become dry and brittle, which can lead to additional shedding and matting.
If your dog's coat becomes lifeless and dull on the food you have chosen, then there's a high chance one or more of the ingredients isn't agreeing with them. This is when it is worth trying grain-free food, high-protein food, or even a limited ingredient diet.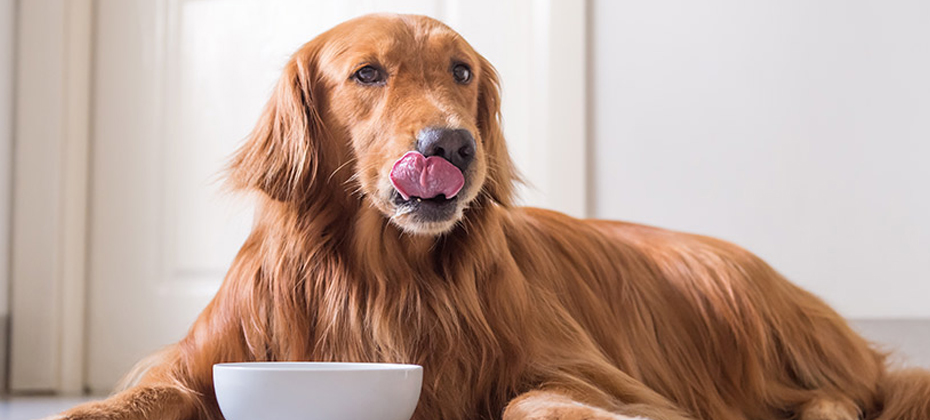 4 Dog Shedding Home Remedies That Work
Of course, we're here to discuss dietary remedies for shedding and how providing your dog with the nutritious dog food as well as introducing certain supplements to your dog's diet can help them to shake loose their excess fur more easily. However, helping your dog to shed is not just a simple matter of making sure they eat well. Think of humans – if someone had a perfect diet, they're not suddenly exempt from needing a hairbrush or developing mats. So what other dog shedding solutions should you be keeping in mind to prevent excessive shedding?
1. De-Shedding Tools
Every dog owner caring for a fluffy dog breed should be in possession of a trustworthy shedding tool. Often they come in the form of combs that arse specially designed to penetrate the outer layers of fur and remove the loose undercoat to prevent it from getting trapped and matting. Deshedding tools also help to remove dirt and debris as they often have multiple comb layers that are finely spaced to enable proper de-shedding in good time.
You can also get de-shedding tools in the shape of vacuums designed to gently and efficiently remove the excess fur from your dog's coat. However, a vacuum can be quite unnerving for anxious pups and may not necessarily be the best option for dogs that experience anxiety when being groomed.
2. Food Topper
Sometimes your dog needs a little extra help with their diet to ensure they're getting the most out of every meal. The more nutrients your dog is able to absorb whilst digesting, the better their skin and coat will be. Olive oil is highly recommended as an excellent source of polyunsaturated fats such as omega fatty acids. These fats will encourage better natural oil production in the skin.
This oil coats the fur (much like with human hair) and enables the loose hairs to fall away more easily – this reduces the risk of matting significantly. Better conditioned fur also helps to repel water which is just an added bonus in wet weather conditions. So long as your dog is receiving the right nutrients, they shouldn't need bathing very often unless they have stepped or rolled in something that needs to be washed out.
3. Regular Bathing
If your dog really struggles with maintaining its coat quality, there is a high chance there's an underlying cause that requires some form of treatment (perhaps they need supplements, or have a skin condition or skin allergies that need medication). In this case, bathing may be a necessary part of their grooming routine in order to try and maintain some semblance of regularity.
Using de-shedding shampoos and dog conditioners can help reduce excessive shedding and help your pup to regulate their hair growth more easily. You may even find that your pup requires medicated shampoo as well to help get the underlying condition under control. These special shampoos can help your dog develop healthy skin and reduce the appearance of dry skin, which will result in better fur and less frequent shedding.
4. Air Purifier
Sometimes a little investment can be totally worth it. Purchasing an air purifier to improve the quality of the air in your home can actually reduce irritation for both you and your dog by removing dust, dander, and debris from the environment. Some dog breeds will shed excessively regardless of your efforts to quell it – especially arctic breeds such as huskies, malamutes, and chow chows (to name a few), with adult dogs shedding more as they get older.
You'll probably also find that the purifier picks up a lot of excess dog hair. This is perfectly normal, though it does mean the filter will need changing relatively frequently, depending on the breed.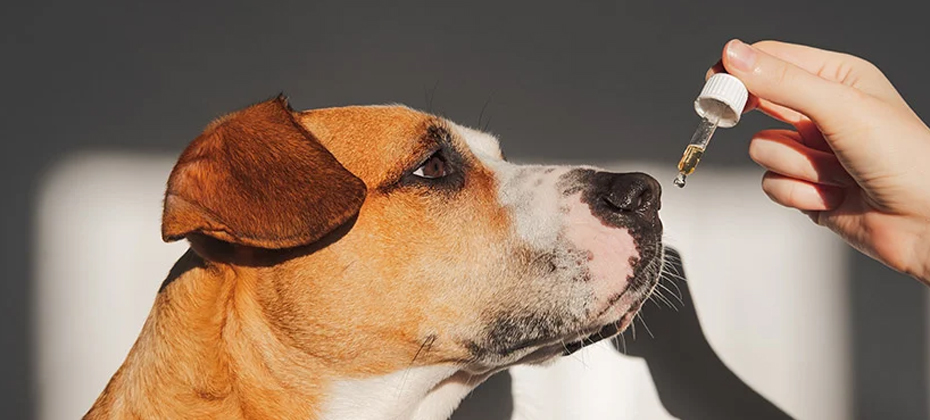 You Should Consider Adding Supplements
Some dog foods, no matter how nutritious, sometimes can't quite hit the mark when it comes to helping a dog control excessive shedding. Even the best dog food for shedding may not have exactly what your dog needs, especially if your dog experienced multiple food allergies or sensitivities, which can narrow your choices significantly.
In the case of severe food allergies, it's recommended that you consider adding supplements to the food to provide the vitamins, minerals, and nutrients that your chosen dog food is lacking. Many owners with dogs that have to eat limited dog food will opt for prebiotic, omega 3, omega 6, fiber, and vitamin B supplements to encourage easy digestion and healthy fur.
Do Some Breeds Shed Less Than Others?
Absolutely. There are hypoallergenic dogs that barely shed at all, such as poodles and Yorkshire terriers. These breeds also produce less dander which is often the cause of dog allergies as opposed to the fur itself. Most typical domestic dog breeds have an average rate of shedding with especially short-haired dogs appearing to shed less as the fur is less noticeable and less likely to mat.
However, arctic dog breeds are not well adapted to living in warmer climates, and so they have a tendency to shed excessively year-round with multiple periods in which they will "blow their coats" – meaning you will be breathing, wearing, and eating fur for several weeks unless you're able to keep it under control with constant grooming.
Important Considerations When Buying Dog Food for Shedding
Before you purchase a dog food marketed to reduce shedding or help with skin irritations, make sure the formula actually contains proper nutrients that support canine overall health and wellbeing, including skin and coat health.
Protein
Canines thrive on a good-protein diet, especially if they're very active. Proteins are the building blocks of the animal's entire body and they are absolutely necessary for daily function. If your dog has not been getting enough protein, he can start developing all kinds of health issues, including dry and irritated skin and excessive shedding.
So make sure the formula you're feeding your pooch contains enough protein, however, not too much of it – after all, dogs are omnivores and do best on a balanced diet (carbs, fat, and protein), so it's important to have all the macronutrients in place.
Essential Fatty Acids
Dogs are unable to produce omega 3 and omega 6 fatty acids, but since they're essential, it's crucial they have them in their diet. Dog foods that contain little to no omega 3 and omega 6 fatty acids can lead to a host of health problems, including excessive shedding, so make sure the formula you're feeding your dog contains plenty of them.
Vitamins and Minerals
If your pooch has a bland diet for health or other reasons, it's crucial the kibble you either supplement with or intend to use as the main food in the future contains many naturally occurring vitamins, minerals, and antioxidants, as well as added ones. Some of the micronutrients you want in dog food are B vitamins, A, D, E, and K vitamins, as well as zinc, calcium, iron, copper, magnesium, manganese, potassium, choline, iodine, and others.
Benefits of Using Dog Food for Shedding
If you're feeding your pup with dog food for shedding, it's highly likely you're killing two birds with one stone as the formulas marketed for minimizing excess shedding are highly nutritious and full of good-quality ingredients.
For a formula to be able to reduce dog shedding, it needs to contain enough protein, healthy fats and complex carbohydrates – in other words, it needs to provide a balanced ratio of fats, proteins, and carbs, as well as omega 3 and omega 6 fatty acids. It also needs to contain a wide array of vitamins and minerals as they're necessary for healthy skin and a shiny coat.
So, if your canine friend is eating such formula, not only will her skin and coat be better and she'll shed less, but her overall health will be in top shape.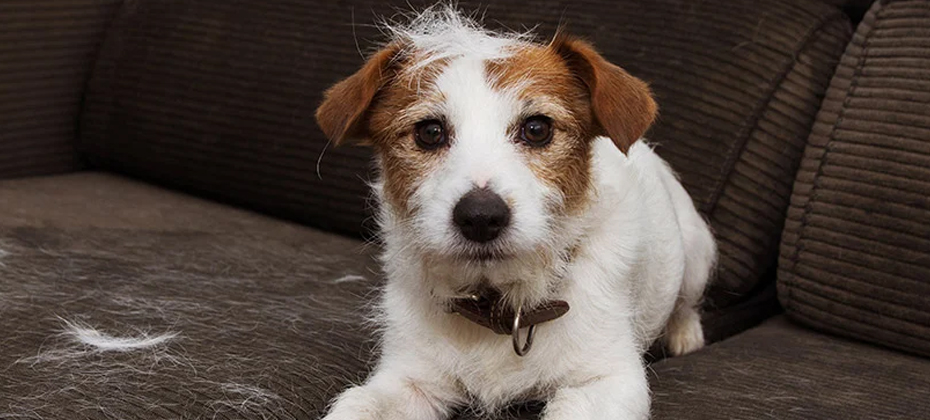 Causes of Excessive Shedding
As most dog owners know, some shedding is absolutely normal and even necessary, and some breeds are simply prone to more shedding than others. However, if your furry companion starts shedding more than she usually does, or she starts developing bald patches or tender skin on areas where she sheds the most, it's time to take her to the vet. It's also a good idea to change her diet and switch to dog foods formulated to control shedding, and to up her grooming routine. A good dog shedding brush can help a lot with this, as can regular and gentle bathing.
But if we're talking about the root cause of excessive shedding, it's good to know that there can be many potential factors at play, but it usually comes down to:
Poor Diet
Just because you're buying expensive dog food doesn't mean your pooch is getting all the nutrients he needs. Look for formulas that contain a good ratio of protein/fat/carbohydrates and essential fatty acids. It's also a good idea to use only fortified foods and avoid those with many fillers and artificial colors, flavors, and preservatives.
Allergies
Like humans, dogs can develop allergies, but in their case, it's food allergies we're talking about the most (although certain air pollutants can also play a role). Although your dog may love chicken and has been eating it for years, he can suddenly develop an allergy to chicken. The same thing with pork, beef, fish dairy, eggs, soy, and grains – of course, your dog cannot have allergies to all of these ingredients, but it's entirely possible to develop one or two, seemingly out of nowhere.
Take a look at our review of Dog Food for Allergies.
Stress
Do you know how your hair starts shedding more than usual after a stressful event, or a series of stressful events? It's the same with dogs – if there's stress at home, such as tension with other animals or frequent yelling, your pooch can start feeling stressed out, and as result develop digestion issues, skin irritations, and finally problems with excessive shedding.
Our Top Pick – Purina Pro Plan Adult Sensitive Skin & Stomach
Although all dog foods for shedding that ended up on our Top Pick list are excellent, the Purina Pro Plan Focus Adult Sensitive Skin and Stomach takes the first place. This kibble is specially formulated to help with digestion and irritated skin, and as a result, can greatly help all dogs shed less (if they're shedding excessively, of course). It has a great protein to fat to carbohydrates ratio, as well as omega 3 to omega 6 fatty acids. It's also fortified with all important vitamins and minerals and contains naturally occurring prebiotic fiber. Equally important, it doesn't contain any unnecessary fillers, including wheat, corn, and soy, and there are no artificial colors or flavors. Furthermore, you'll find no meat by-product here, which is a major bonus for canines with super-sensitive immune systems.
Best of all? It's highly palatable and most dogs go crazy for it, so it's easy to feed them a healthy, well-balanced diet with this formula. Also, it's affordable, so it's a win-win product all around.
Sources:
Mitch Morgan, Dog Food to Prevent Shedding, Animals Mom Me
Katie Grzyb DVM, Why Do Dogs Shed?, PetMD
Best Dog Food for Shedding FAQs:
All dogs (except for the American Hairless Terriers) shed at least a little, so it's not possible to completely stop dog shedding no matter how much you try. But how much shedding is normal? When should you let your dog be and when should you worry?
Year-round shedding: if your dog is generally healthy and just sheds a lot, there's no reason to worry. Normal shedding happens all the time and is visible on your furniture and clothes but should not be visible on your dog's body.
Seasonal shedding: some breeds shed seasonally, usually in the spring and fall. This type of shedding should occur evenly across your pet's entire body and happen every year on a cycle.
However, if your dog develops bald patches or you notice his fur is missing, it's time to go to the vet.
If you're already feeding your pooch healthily and maybe even supplement with fish/salmon oil and other food toppers, dog food for shedding can help a little, if at all. But if your dog is not getting enough nutrients or is nursing/under a lot of stress, good dog foods designed for minimizing shedding may be able to help a lot.
All puppy coats are eventually replaced by adult fur. No matter how soft and fuzzy, that puppy coat is temporary and must turn into adult fur as the puppy grows. The timing of this varies, but it usually happens between 3 and 6 months of age. This depends on the breed, puppy's health, and climate. Whenever it happens, the process looks similar: puppy's coat becomes shaggy and may fall out before adult fur manages to replace it. This is completely normal and should not be taken as a sign of a health problem.