Whether you're taking your dog on a long car journey or visiting your local dog park at night, a quality dog harness is an important piece of equipment for you to have. Dog harnesses can offer extra security that a standard collar leash just can't hold up to. They offer more control over your dog during walks, and some of them are made to make your dog's day out safer.
A Quick Overview of Our Favorites
| Editor's Pick | Product Name | Price | Rating |
| --- | --- | --- | --- |
| Best For Car | Kurgo Tru-Fit Enhanced Strength Dog Harness | Buy on Amazon | 4.4 |
| Most Comfortable | Ruffwear Front Range Harness | Buy on Amazon | 4.7 |
| Best Tactical | OneTigris Tactical Dog Vest | Buy on Amazon | 4.6 |
| Best For Large Dogs | Expawlorer Dog Harness | Buy on Amazon | 4.5 |
| Best No-Pull | Rabbitgoo Dog Harness | Buy on Amazon | 4.5 |
| Best Step-In Harness | Best Pet Supplies Voyager Step-In Air Dog Harness | Buy on Amazon | 4.2 |
| Best LED | Noxgear LightHound Dog Harness | Buy on Amazon | 4.6 |
| Best For Puppies | PetSafe Easy Walk Dog Harness | Buy on Amazon | 3.9 |
| Best For Active Dogs | ThinkPet No Pull Harness | Buy on Amazon | 4.4 |
| Most Stylish | PUPTECK Soft Mesh Dog Harness | Buy on Amazon | 4.3 |
*Ratings are from Amazon at the time of publication and can change
The Top 15 Dog Harnesses
The Best Dog Harnesses: Buying Guide & FAQs
Things to Consider When Buying a Dog Harness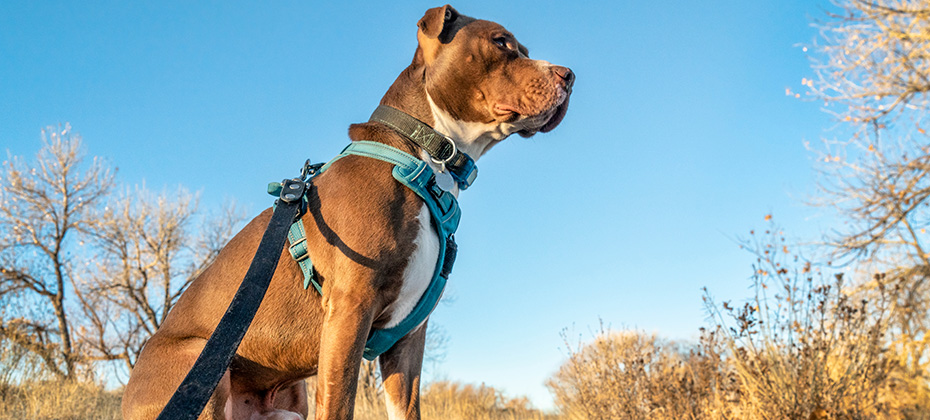 When you're considering a new dog harness for your pup, the main things you need to focus on are the features that each harness offers your and your furry friend. If you need a harness for low-light conditions, you'll want one that has reflective strips or LEDs, rather than a plain, black harness that offers no extra visibility for your dog at night.
Think about the various situations where you've taken your dog out on walks, and what might have been handy for you to have. Larger dogs need sturdier harnesses because they can pull and break parts of them if they aren't made of durable materials.
You should consider the material, the size, the customization of the harness, and the features it offers. A harness with a handle on the back is perfect for taking your dog swimming, but it might be too bulky for their daily walk.
Benefits of Dog Harnesses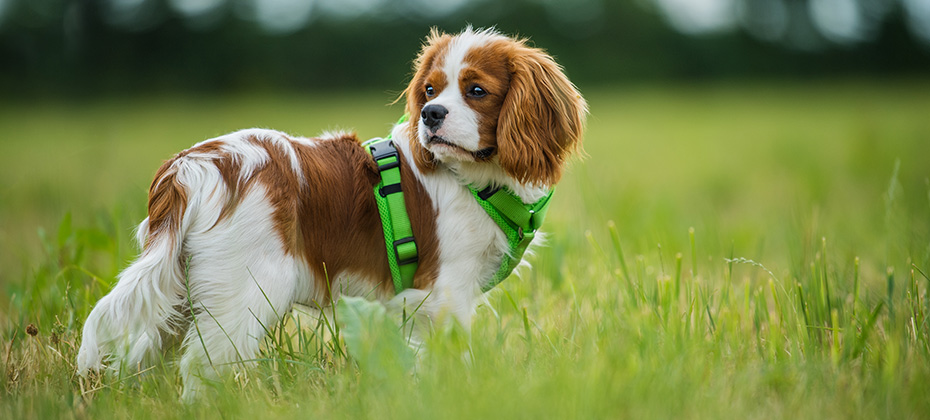 There are a huge number of benefits that come with every dog harness out there, it all depends on what harness you're considering.
Breathable mesh fabric is perfect for an active dog harness, while a front clip on a harness is better to prevent pulling while you're leash training your dog. Some harnesses have soft padding built into them, which are great for making your pup more comfortable and can even help during car rides.
Overall, a harness is typically better for a dog than a collar leash. This is because a chest harness spreads the pull of a leash over a larger area of the dog's body, thus making it extremely difficult to accidentally hurt them if the leash gets caught, they try to pull away, or you pull too hard trying to correct their path. With a collar leash, any force on the leash immediately goes to your dog's neck.
Different Types of Dog Harnesses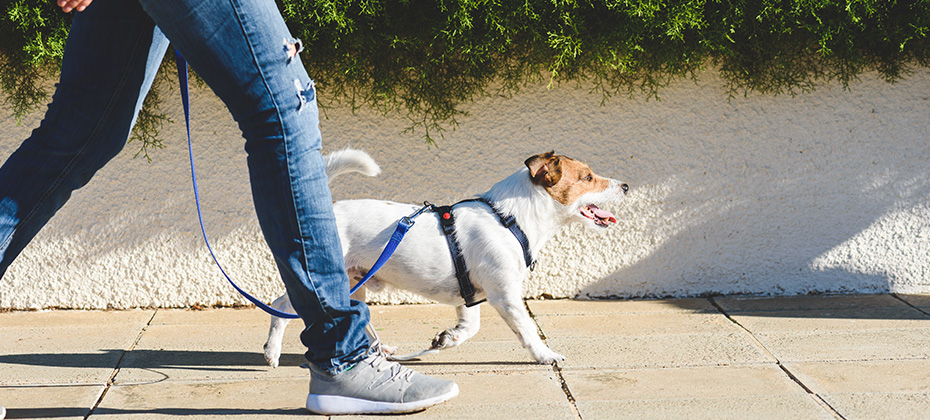 There are plenty of different types of dog harnesses available in the pet industry – from tactical harnesses used in military settings to cute LED harnesses. Here are a few that might interest you:
Front-clip harness with a front attachment point for a lead
Back-clip harness with an attachment point where the center of your dog's upper back would be
Dual-clip harness, which is a harness with dual attachment points for two leash attachment points
Heavy-duty harness, a harness that is made for larger and heavier dogs or working dogs
No-pull dog harness for dogs who tend to pull when being walked
Tactical or military harnesses, which are suitable for working dogs and are usually heavy-duty harnesses worn around a dog's chest (some have extra clips, pockets, or pouches for storage)
LED harnesses, which are flashy, colorful harnesses suitable for walking your dog at night or even taking them to a party
Dog Harness Vs. Collar: Which One is Better?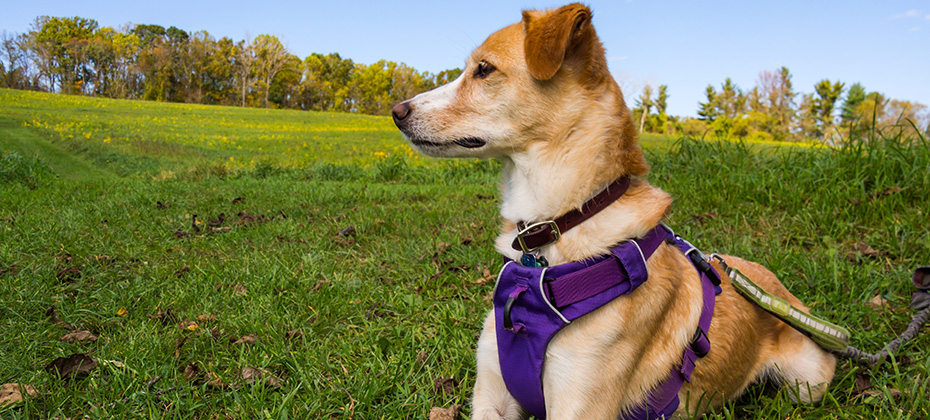 If the topic in question here is walking your dog, then a dog harness is always the better choice. They won't hurt your dog's neck, there are plenty of different harnesses to choose from, and many of them offer various leash attachment options and adjustable chest and belly straps. By using a harness, you have better control over your dog's movement, and you can make sure they feel comfortable while being walked.
A dog collar does not give you any of these options. In fact, it's rare to find anything other than a collar with the clip on the back of the neck – which can actually be harmful to your dog and even result in strangulation. If you must walk your dog on a collar, choose one that has a front clip. But really, there's definitely an affordable harness out there that would work for your dog, so there shouldn't be any reason to use a collar and leash set up.
How to Put On a Dog Harness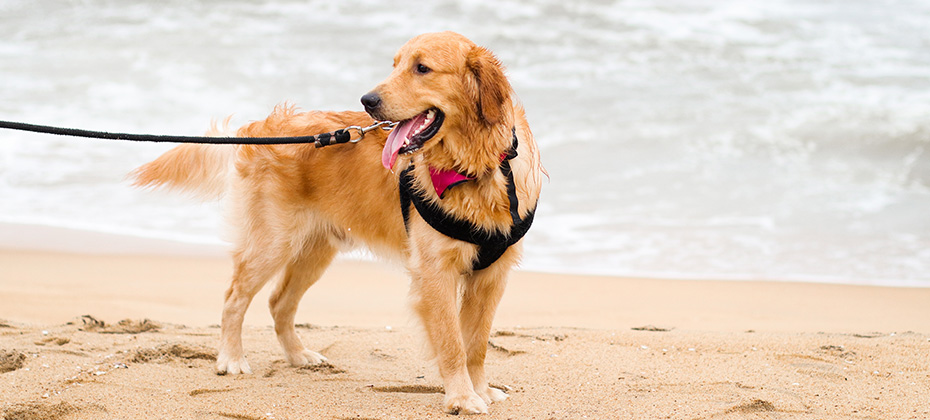 Most harnesses will either go over your dog's head or they'll have a clip that you can use to buckle the straps over your dog. Harnesses aren't particularly complex devices, they usually have just one big clip, maybe two, and then a chest strap that goes over your dog's shoulders.
You'll want your dog to feel comfortable wearing their harness, which means it's a good idea to let them wear it around the house before you take them out for a walk wearing it.
Undo the clips that are fixing the harness together.
Get your dog to step into the "armholes". If they're struggling because they're anxious, you can hold your dog and have another person pull the harness onto them.
Once the harness is flush with their chest, clip the fastenings back together.
Start adjusting the straps. You don't want the harness to be too tight – it shouldn't dig into your dog's body – but it shouldn't be slipping down, either.
Attach a lead, and you're ready to go!
Frequently Asked Questions
The chest strap should be snug against your dog, but you should be able to easily fit two fingers between the harness straps and your pup's skin. If it's too tight, you could cause the straps to chafe against your pup.
A dog can wear a collar and a harness at the same time, provided that the harness isn't a high-collared harness. When using both items at the same time, be sure to only attach your leash to the attachment points on the harness, never the collar.
It's not recommended because it could become uncomfortable for your dog, but you can leave a harness on your dog all day as long as it's properly fitted. If you're planning on doing this often, we would recommend investing in a more comfortable and lightweight harness that has foam padding.
In some places, it's a legal requirement for dogs to have identification tags on either their collar or their harness. There's nowhere that wouldn't allow you to put your dog's tags on their harness because it's a way of someone contacting you if your dog gets lost. We would recommend making sure your dog has a tag or at least something that states they're microchipped.
Most dog harnesses are machine washable, which is great news for dog owners with pups that enjoy getting as messy as possible. On average, you should try to wash your dog's harness once a month or so. This will keep the fabric nice and clean, which will make your dog comfortable. You can wash a harness more often if needed.
No-pull harnesses rely on having an attachment point in the front, close to the dog's neck, and there's sometimes extra fabric from wide chest straps because of this placement. This means that your pup can't move their shoulders as well as they should be able to, and they could accidentally choke themselves if they got wrapped up in their lead.