If you're a dog-lover, chances are you're already aware of the problems that can arise from a traditional dog collar and dog leash set-up. It makes energetic dogs hard to handle, risks chafing and choking, and leaves you nowhere to display important information or store useful items. That's where tactical dog vests come in: these handy devices make handling your dog far easier, let you display patches, and often act as a sort of canine backpack so your dog can carry their own things.
Whether you're looking for a service dog vest or a military dog harness, we're confident there's something on our list to meet every need. We've also taken the time to answer some common questions about tactical dog vests, so you can rest assured your canine companion is safe and happy during use.
The Best Tactical Dog Vest
Tactical Dog Vest Buying Guide & FAQs
And there you have it – the best tactical dog vests on the market right now. To help you decide which one might be right for you and your canine, and to help you get the most out of your purchase, we've answered some common questions about these handy devices below.
Things to Consider When Buying a Tactical Dog Vest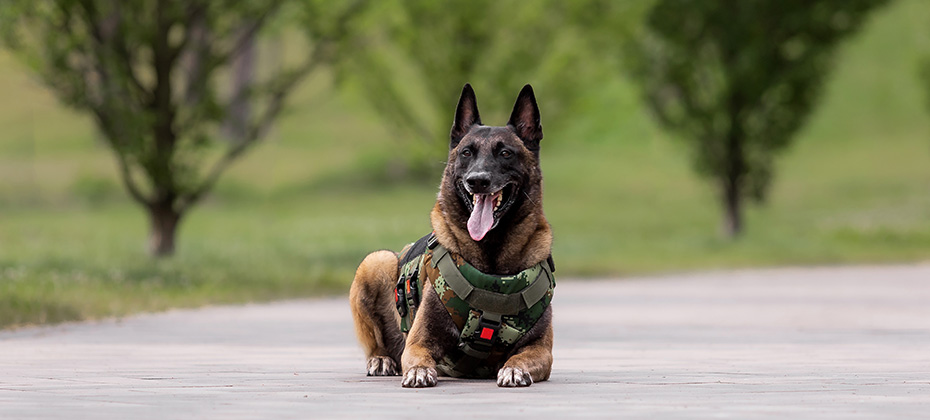 Choosing a tactical dog vest is a surprisingly personal decision; which features you require will depend a lot on what you and your dog need it for – below are some key factors to bear in mind:
Fit
The first thing to consider when buying a tactical vest for your dog boils down to a simple question: will it fit? Most vests and harnesses are adjustable, allowing them to fit dogs of all shapes and sizes, but it's a good idea to measure your pooch and check the manufacturer's size guide carefully before making a final purchase.
Carrying Capability
If you need your dog to carry supplies, this should be another key concern. Look out for MOLLE compatible vests for the most versatile storage options, but bear in mind that you'll need to buy the pouches separately. For built-in storage, consider option 10 on our list – the saddlebag style harness.
Space for Patches
For working dogs, letting the general public know you're on the job and shouldn't be distracted is vital. If you need to display patches, look out for harnesses that allow this – they'll usually have velcro surfaces on their top or side, depending on the shape.
Handling
Finally, handling is an important consideration when choosing a tactical vest. Most good quality vests feature a sturdy handle or two, and space to attach a leash, giving you great control without hurting the dog. If you suspect you'll need to lift a larger dog at any point, consider opting for a two handle design for better weight distribution.
Read here our guides on Dog Leashes, Dog Lift Harnesses, and LED Dog Harness.
What Makes it "Tactical"?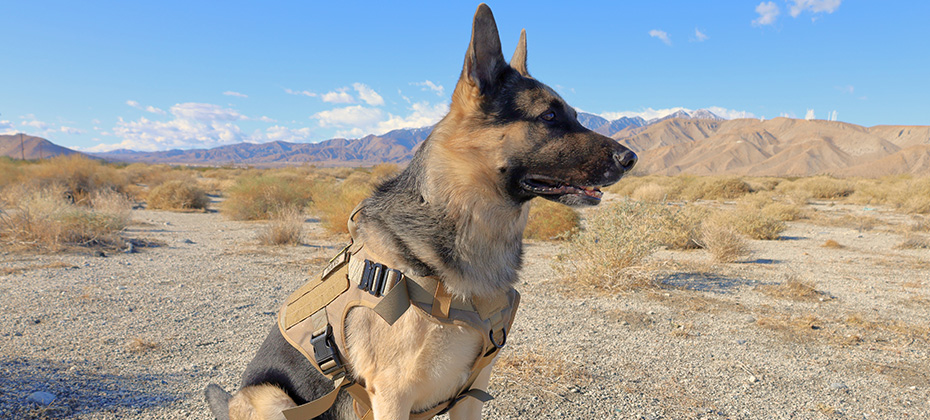 The name 'tactical' stems from this type of vest's military origins, and refers mainly to MOLLE compatible versions. MOLLE vests, whether they're designed to fit humans or dogs, have the advantage of a modular design, meaning various pouches and other means of storing equipment can be switched out to best fit the circumstances at hand. This versatility means they can be used tactically, unlike other storage solutions.
Why You Should Use Tactical Dog Harness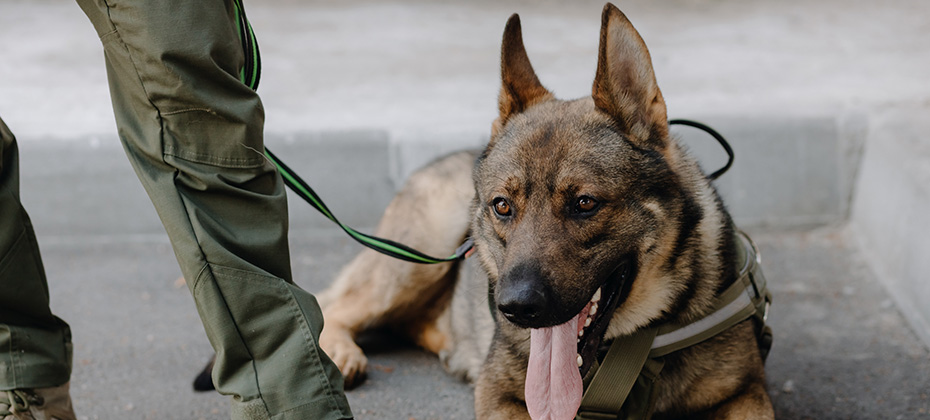 Tactical dog harnesses come with a whole host of benefits; below we outline some key advantages of using them:
Tactical dog vests make handling more comfortable for dogs than a leash and collar
These vests are comfortable for dogs to wear, thanks to breathable, lightweight fabric and strategically placed padding
Wearing a vest offers dogs an extra layer of protection against cuts and scrapes
Tactical vests allow patches to be displayed – ideal for making the public aware that working dogs are on the job
Many tactical vests offer storage space, freeing up room for more useful items
A lot of tactical vests are MOLLE compatible, so you can switch out pouches depending upon your needs that day
You may also like our articles on Dog Hunting Vests, Dog Anxiety Vests, and Dog Cooling Vests.
Difference Between MOLLE and PALS Webbing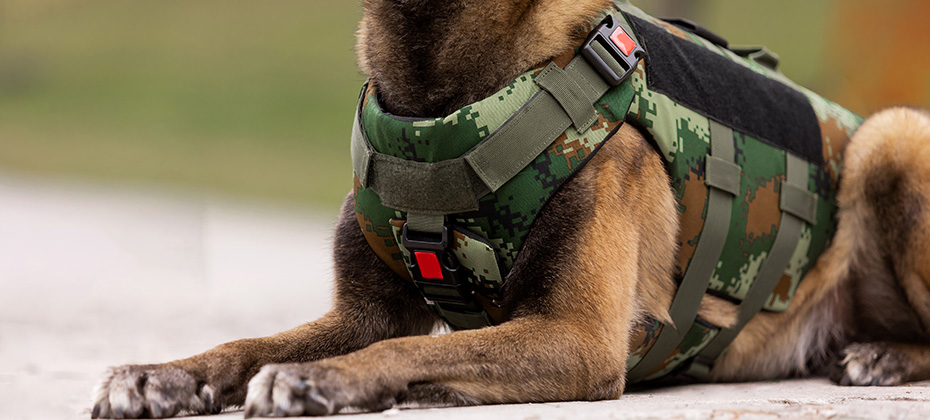 There's often some confusion in survival and military circles about the difference between MOLLE and PALS, and they're sometimes used interchangeably – they are certainly connected, but they're not one and the same.
MOLLE – Pronounced like the name 'Molly', this acronym stands for Modular Lightweight Load-carrying Equipment. It's a category of gear – mainly consisting of backpacks, pouches, vests, and belts – developed by Natick Labs, and used by NATO forces including the US Military. MOLLE equipment can be combined in various ways. If something is said to be MOLLE compatible, this means that other MOLLE items can be connected to it. The system allows for a lot of versatility, as pouches can be rearranged easily.
PALS – On the other hand, PALS stands for Pouch Attachment Ladder System. It refers to the webbing system consisting of regularly spaced fabric loops found on MOLLE gear, which allows the modular components to be attached.
In other words, MOLLE equipment is attached via PALS webbing.
Our Top Pick
When it comes to tactical dog vests, we give pride of place to OneTigris, for their padded training harness. Its MOLLE compatible design makes carrying exactly what you need a breeze, allowing it to act as a tactical dog backpack. The two strong handles and leash attachment points make the vest a great way to safely and effectively handle dogs, while a velcro surface on its top is perfect for displaying patches.
As well as being useful for the owner, the vest is comfortable for the dog. It comes in three different sizes, each of which features a breathable design, strategic padding, and adjustable straps for a truly comfortable fit even during long periods of wear. Made from nylon that's built to last, the durable but comfortable vest will serve you and your pooch well for many years to come.
Source:
1.Carol McCarthy, Surprising Dog Harness Dangers to Avoid, PetMD
Frequently Asked Questions
Choosing the right size can be a tricky affair, but luckily most manufacturers want to help you out. You'll likely need to measure your dog's chest and bust, before checking these sizes against the size ranges offered by the vest maker. Makers usually offer instructions on how to do this.
Assuming it's the correct size and the straps are properly adjusted; no. If your dog is trying to escape the harness, though, you should consider introducing them to it more gradually, and double checking that the fit is good.
Regularly checking for this proper fit is vital for keeping your dog safe, as well as preventing them from sneaking off. Dr. Susan Nelson, a veterinary professor at Kansas State University, advises that when dogs pull on the leash wearing a poorly fitting harness, there's a potential for chest injury.
You should also remember that harnesses can be too tight as well as too loose. You can tell a vest is too tight if it chafes, causes rolls of skin to gather about the dog's neck, or leaves indentations when it's removed.
Because most vests are made from durable nylon, they're very easy to clean; simply wipe down, or pop them in the washing machine.
It's important to make sure the vest is fully dry before putting it onto your dog again. This is because wearing a wet harness for long periods of time can cause chafing, or in severe cases, a skin infection. To prevent this, consider removing your dog's harness if it has been wet for more than a couple of hours, and check hidden areas, such as your dog's armpits and chest once a twice a week to make sure the vest hasn't started to rub.