Socializing your puppy as soon as possible after their inoculations is vital if they learn to behave around other animals and people outside their immediate family. However, to do this, you need to be able to control their movements and restrain them when necessary. This is essential to keeping your puppy safe around other animals and potential hazards — and a puppy harness can help.
A puppy harness is often considered the best means to achieve this, but numerous brands and types are on the market. Our panel of pet lovers and dog experts has created this list of the best puppy harnesses to help you make the right choice for you and your puppy.
Our Selection of the Best Harnesses for Puppies
How to Choose the Best Puppy Harness
In this section of the buying guide, we will examine in more detail why you should choose a harness over a more traditional dog collar and leash. We also explore questions about when you should start leash training your puppy, what makes a good harness, and, just as importantly, how you should put on a harness so that it fits correctly.
Collar vs. Harness: Which is Best for Your Puppy?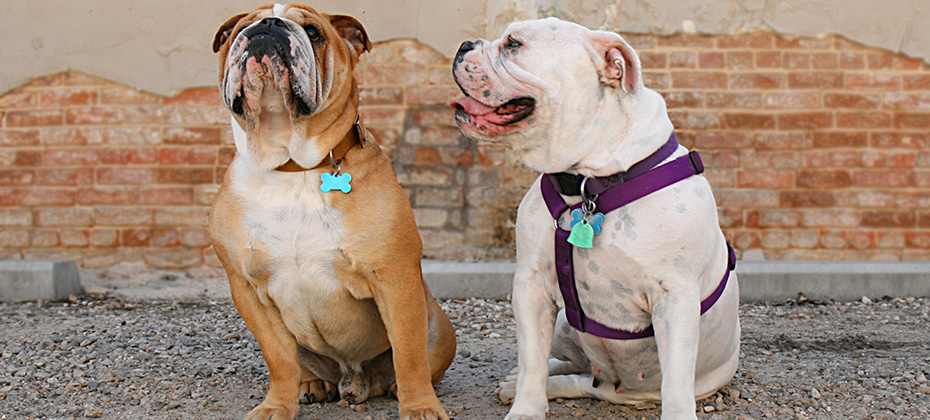 Before considering the pros and cons of collars and harnesses, you should discuss any specific health or behavioral issues with your veterinarian before making your final decision. If your dog has neck or back issues, is a particular flight risk, or is a nervous dog, their recommendations supersede our advice.
Where this is not the case, your choice of collar or harness depends firstly on your puppy's individual needs and preferences. However, it can help to understand a little more about the pros and cons of harnesses and collars.
Pros of Using a Puppy Harness
A puppy harness is an effective training tool for puppies.
Puppy Harnesses are ideal for specific breeds such as pugs. These and some other breeds risk their eyes protruding from the sockets if they experience too much pressure around the neck.
Puppy harnesses discourage jumping and pulling, providing better control over your puppy.
Additionally, puppy harnesses help to focus on distracted puppies.
Similarly, puppy harnesses are beneficial for short nose dogs who can experience a high risk of respiratory problems.
A puppy harness reduces windpipe stress and reduces the risk of severe coughing episodes.
A puppy harness can provide comfort for a nervous dog.
Cons of Using a Puppy Harness
Not all dogs like the feel of a harness – although if you start early with a harness designed for puppies, such as the PUPTECK Soft Mesh Dog Harness, this should not be an issue. A dog might not like the feeling of a harness.
Some experts consider the back-clip harness to not be 100% effective. However, several on the market have more than one leash attachment point, giving you the freedom to choose the point that is best for your puppy. Such harnesses include the Ruffwear Web Master Secure and the RABBITGOO Dog Harness.
Pros of Using a Collar
Collars are an alternative for puppies that dislike the feeling of a harness.
Collars are functional and can hold your dog's information, such as license tags, rabies details, and identification. However, this information can also be added to your puppy's harness.
Cons of Using a Collar
A collar is not ideal for training and can easily become uncomfortable.
Any slight pulling on the collar while walking or training can increase the risk of a neck injury.
Collars can create eye pressure, which in turn can worsen issues such as glaucoma.
Collars can cause or worsen many other issues, such as ear and eye problems through pressure on the neck, thyroid issues if the collar damages the gland, and behavioral problems associated with injury and pain.
It is much easier for your puppy to slip out of their collar than out of a properly fitted harness.
What Age Should I Start Walking My Puppy on a Leash?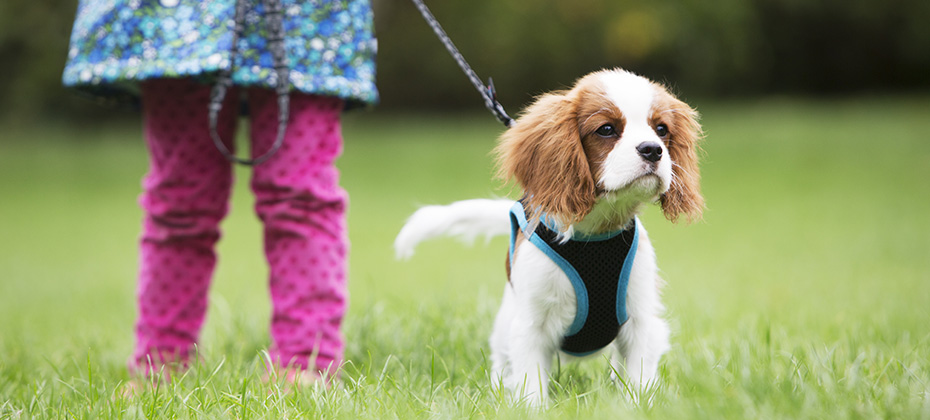 While puppies should not be on the ground outside the home until they have had their core puppy vaccinations, training with a leash can begin much earlier. You can put a lightweight harness on your puppy as early as a few weeks old. Wearing the harness around the home helps them get used to its feel as they move. Treating your pup and offering plenty of praise when putting the harness on fosters positive associations for when they are ready to go out into the world.
Once they are used to the harness, attach their leash and begin to guide them around your indoor space with the harness and leash. Again, make this a positive experience with lots of praise. Put the harness and leash on your puppy when you take them to the garden for toilet training. This helps you designate a toilet training spot and help your young dog get used to walking on a leash. Taking these steps means that by 16 weeks, they have had all their jabs walking on a leash, and wearing their harness is second nature.
What Makes a Good Puppy Harness?
Every puppy is different, and the final decision on your harness will come down to their personal needs. However, some elements go into making a great puppy harness that is universal. Among these are:
Easy to put on: You don't want a complex harness to get your dog over-excited or worked up about going out. The Voyager All Weather Step-in Mesh Harness by Best Pet Supplies Inc is the perfect example of an easy-to-fit harness.
Adjustable: It is important that the harness fits correctly. It should adjust at least across the chest or around the body. Others adjust around the neck, such as the Ruffwear Web Master Secure.
Secure: It is essential that your puppy's harness is secure so that it cannot slip out of it. Quick-release clip locks, in addition to Velcro straps, are the perfect answer. The leash attachment should also be reinforced and sturdy. Metal D-ring attachment points are popular, but heavy-duty plastic attachment points such as those on the RABBITGOO harness work just as well.
Comfortable: Your puppy isn't going to enjoy walks if they are uncomfortable, so it is crucial that you choose a harness that fits well and is made from quality material that is durable, breathable, and ideally padded across the chest or anywhere else where it is in constant contact with your dog.
How to Put on a Puppy Harness Correctly
How you put a harness on your dog will depend on the style of puppy harness you purchase. There are two main styles of harnesses; those that fit over the head and step-in harnesses. Regardless of the type of harness you purchase, the key to correctly fitting the harness is to start with a calm dog and practice before you use it outdoors.
If you have an over-the-head harness like the PUPTECK puppy harness or a step-in harness such as the Voyager All-Weather puppy harness, it is best to start with your dog in a sitting position. Have the puppy harness open and ready before you get your dog to sit. Place over the head or, for step-in versions, get your dog to raise one paw at a time and place it in the leg holes of the harness. Once in place, get your puppy to stand so you can reach the straps and clips to secure it.
You need to adjust the straps to provide a secure fit when securing the harness. Your dog should not be able to slip their legs or head out of any part of the puppy harness. However, you still need to ensure that the puppy harness is comfortable and is not so tight that it will constrict breathing or movement and that the straps do not rub. You should be able to comfortably pass your fingers between the straps and your dog's body.
Following these simple steps and our detailed buying guide ensures you purchase a harness your dog will love, increasing the joy of walks for both of you.
Sources:
No-Pull Dog Harnesses for Walking Nicely on Leash, Best Friends Animal Society
Debra Horwitz, DVM, Collar and Harness Options for Training Your Dog, VCA