One of the best things about having a dog is that you can have the fun of enjoying days out together. Smaller pets can be carried in a backpack, but what do you do if you prefer to travel by bike? If you're a keen cyclist and want your four-legged friend to join you on your travels, a dog basket that attaches to your bike could be the perfect solution.
Designed to keep your pet safe and secure while you pedal, these innovative baskets fit easily onto the frame of your bicycle so that you can enjoy a pleasant ride in the great outdoors. Here, we look at ten top sellers and why they're so popular with dog-loving cyclists everywhere.
The 10 Top-Rated Dog Bike Baskets
Best Dog Basket For Bikes: Buying Guide
When it comes to choosing the right dog bike carrier for you, there are several different styles to choose from as well as various features to consider.
Which Type of Dog Bicycle Basket Is Best?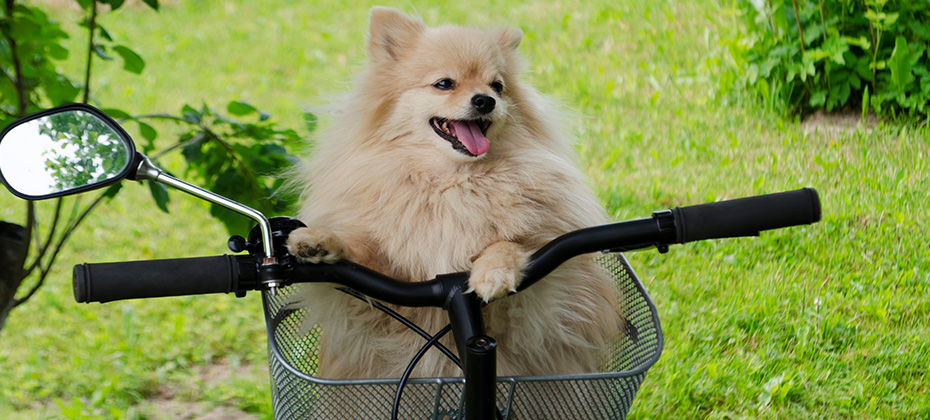 The type of dog basket you need will depend on the size and weight of your pet and the type of bicycle which you have. Here, we look at the different types of baskets on the market today:
Hard Baskets
These are made from high-quality plastic and heavy-duty polypropylene. Featuring ventilation to the sides, they are simple to clean with a simple wipe down. Ideal for smaller dogs, they are safe and sturdy.
Read here our article on the Best Motorcycle Dog Carriers.
Soft Baskets
These carriers are similar in shape and size to a gym bag being made from a soft nylon fabric with a bottom that is hard. Mesh material to the sides offers ventilation and sometimes they feature a zip opening. Usually, they feature shoulder straps to allow for easier transportation.
Check out our guide on Dog Backpack Carriers.
Cardboard Baskets
These are made from cardboard and feature holes to allow air to circulate. The construction features a water-resistant coating with glued joints for added strength.
You may also like our article on the Best Dog Bike Trailers.
Which Types Of Dogs Do Best In Dog Bike Baskets?
Clearly, only small dogs under 20lbs should be riding in dog bike baskets, but if you have a larger pet you could always invest in a bike trailer instead to allow your furry friend to join you on bike rides. Dogs who are anxious or very lively may not do well in a bike carrier since they may try to jump out and will not enjoy themselves. It may take a little time for your pet to learn to enjoy riding in the bike carrier, so try encouraging them a few times until they feel safe and secure.
Things To Consider When Buying The Best Dog Baskets For Bikes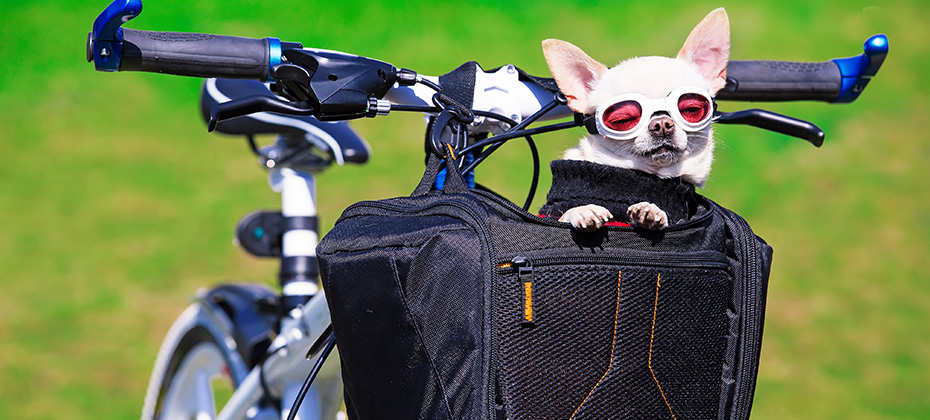 There are several factors to bear in mind when choosing the right dog basket for you and your pet. Some of the features you may wish to consider include:
Harness Hookups
Most of the best bike dog baskets have a dog harness or leash attachment so your pet can stay safe and secure inside the basket without being able to jump out.
Mesh or Dome Top
Some baskets for dogs have a mesh opening or a dome to prevent your pet from escaping mid-ride.
Handy Pockets
If you're heading out for the day you will probably need to take some food, a dog water bottle, a dog leash, and some dog treats with you. Many carriers have handy integrated pockets to allow you to take these things along easily
Positioning
There are some baskets for dogs that fit the handlebars while others sit on the back rack. There are also some models which can fit either. You need to decide which would be the right choice for your pet and their own temperament. A handlebar fixed basket will allow you to keep a close eye on your pet, but if your dog is larger they will need to sit at the rear of the bike.
Multi-Use Baskets
Some baskets can not only be used as a bike carrier, they can also be put into service as a portable carrier, dog bed, or car seat. If you're keen to maximize your investment you should get a multifunctional product, but remember that ease of fitting and removal is also important.
You may also like our article on Car Seats for Dogs.
Safety Tips When Using the Best Dog Baskets for Bike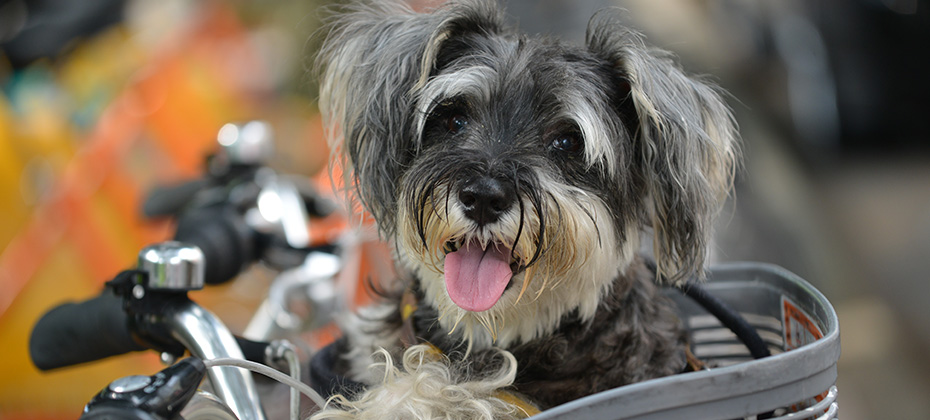 If you're taking your dog out for a bike ride there are a few things to consider when it comes to safety measures:
Ensure your carrier is correctly attached and is secure. You don't want the basket to fall off mid-ride. Take some time to work out how the carrier attaches and make sure you secure it properly before setting off
Make sure that your pet is securely fastened into the basket with the leash attachment
Ensure that your pet will not accidentally get their feet, fur or tail trapped in any of the bicycle's moving parts for their own safety and well-being
Make sure your dog stays well hydrated. They will probably get thirsty on the ride and a basket with storage compartments built-in will ensure that you can conveniently take water along for them to drink
Protecting your pet from rain and snow is important for their comfort, and a hood or cover is a good idea for keeping your pet dry and warm. It will also be useful for calming them down if they get over-excited. Some baskets also have a sunshade to protect from the hot rays too
For short distances, your pet may be able to run alongside you, however, if you're going on a long journey you need to find a safe and comfortable way to bring your dog along. If you have a small pup that you're keen to take out and about, whether around town or on a country jaunt, you could benefit from investing in one of these handy baskets that have specifically been designed for this purpose.
A dog bike basket is an affordable and safe way to allow your small dog to accompany you while your cycle, making them a perfect choice for pet-loving cyclists on a budget. Investing in a bike dog carrier is an incredibly convenient way to ensure your pet can come along with you on bike rides anywhere, whether in the city or country.
When you choose the right basket to suit your own needs and those of your pet you can both enjoy many exciting and fun days out together in the great outdoors. Here, we have looked at five of the best models on the market today, examining their features, pros, and cons so that you can determine easily which is the best one to meet your requirements. Also, consider the breed of pooch you have so you can determine if they'll even fit in a basket!
Make sure to take your time and check out all of the different features and advantages that each basket can offer before you make a final decision so that you and your furry friend can enjoy many fun excursions on the road.
Benefits of a Pet Bike Basket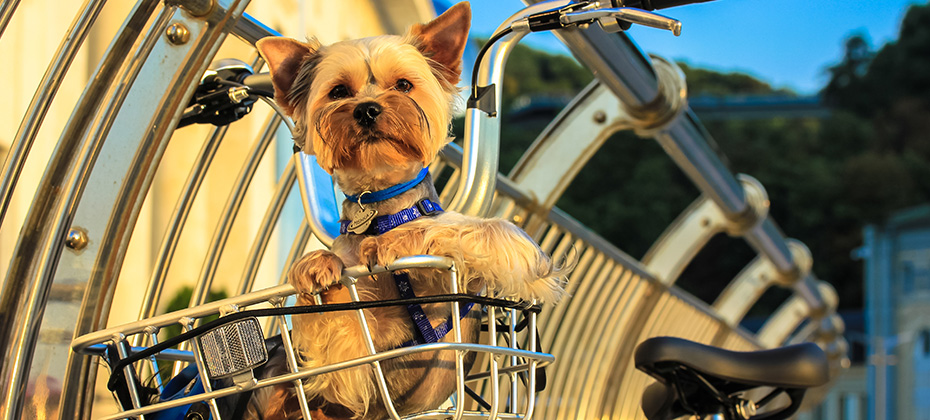 Dog bicycle baskets are a great way to get your dog some outdoor time while cycling without the added burden of having to tug on a leash, your pet slowing you down while you get in some exercise.
Most pet bike baskets come with a restraint that helps keep your dog in place while riding. These restraints can often be attached to the dog's collar. Some dog carriers for bikes even come with a harness-type safety feature.
A pet bike basket is often built for a dog's comfort with most models offering cushioning and breathability with mesh vents for cooling.
FAQs:
Excited as you may be to ride around with your dog safely ensconced in a bicycle dog carrier, doggy might not be as eager as you might have hoped to be in a confined space without you first training it to enjoy it or at least give it a shot. First off, introduce your dog to the basket by firstly placing it in it without mounting it on the bike. Walk around with it in the pet bike basket speaking soothingly and reassuring it should it get frightened and attempt to jump out.
Next, mount the basket on the bike and push it slowly not riding all the while petting and soothing your pet till it relaxes and gets used to the bike's movement. Once that is accomplished, it is time for an actual ride. Keep the rides slow and short as you break your dog into the world of cycling. As your dog acclimatizes, you will see it begin to enjoy the ride, taking in the sights and sounds as you go along. As part of the process, introduce your pet to a bump. It is not always smooth riding. Go over a few small bumps and watch as your securely harnessed dog reacts. Talking softly to it, keep it calm. Riding slowly, build upon the length and speed of the ride till your dog gets fully settled in.
Bicycle dog carriers typically come with weight limits letting you know how much weight it can carry. Weigh your dog first before picking out a dog seat. Look out also for features such as reinforced steel frames for added support.
Dog bike seats can fit well on most bikes but even better on a hybrid or utility bike. The logic behind it is pretty simple. These two models feature more space between the tire in the front and the handlebars. That space not only makes for a perfect nesting spot for a dog bike seat but also reduces the possibility of the seat getting entangled in the brake cables. That being said, as the dog basket for bikes is designed to hang off the bicycle's rack, every bike can carry one.