For active pet parents who like to bring their pups with them wherever they go, dog bicycle trailers are a must-have. These incredibly versatile, convenient canine accessories are ideal for dogs who like the great outdoors but lack the discipline or physical ability to jog alongside their owner's bike. To help you find the right pet bicycle trailer for your pooch, we reviewed dozens of different trailers, including the folding and fixed types, single and double models and so much more. We also put together a handy little buying guide, so read on!
The 14 Top Rated Dog Bike Trailers
Best Dog Bike Trailers: Buying Guide & FAQs
Buying a pup bicycle trailer is like picking the right trailer for your truck or SUV – it really doesn't have to be difficult as long as you know what you're looking for. In this part of our article, we are going to talk about pup trailers in-depth, as well as the things that need to be considered before buying one.
What are Dog Bike Trailers?
A dog bicycle trailer is similar to the trailer that you connect to your truck or SUV whenever you feel like transporting your boat, jet ski, or even a camper. The point is that it is a non-motorized vehicle that resembles a cart but built with a canopy to protect the cargo – in this case a canine passenger – inside. Technically, it is like a mini wagon, a coach that you connect to a specific part in your bicycle so that when you start riding your bike, the trailer moves along with you.
A trailer for pets is defined more as a transporter for dogs, turning them into passengers on the said coach or wagon. The pulling vehicle, in this case, is the bicycle with your legs providing the power of movement.
But why would you want your dog to become a passenger inside this contraption? Can it not just run along with you while you are pedaling your way through the bicycle lanes?
It is true that dogs can run great distances. However, if you happen to time your biking endeavors in the summer, letting your dog run under the sun can have disastrous consequences. Dogs don't have a highly efficient body cooling system like their human parents who can perspire a lot to cool down. As such, it is important to let them ride on a dog bike trailer so they can keep you company. They can also run alongside you but once they get tired, you can easily put them in the pet trailer and continue with your biking.
There is another reason why you may want a bike attachment of this sort. Most of these products typically weigh about 30 pounds. And we haven't factored the weight of your pooch yet. Let us say you've got a canine that weighs 40 pounds. That means you have an additional 70 pounds of resistance behind your bicycle that you need to pull. This increases the work of your leg muscles, especially at inclines. You are essentially adding resistance to your biking which can do a lot of good to your fitness goals. It's true that the wheels of the trailer will somehow negate the resistance afforded by the weight of the trailer and your dog. However, there will still be some form of resistance that you will have to work against.
The same is true if you are going to use the trailer as a jogger. The weight of the device plus that of your dog will present formidable resistance to your arms so you'll be pushing harder. This can also lead to stronger arm muscles, not to mention the muscles of the leg.
Things to Consider When Buying Dog Bike Trailers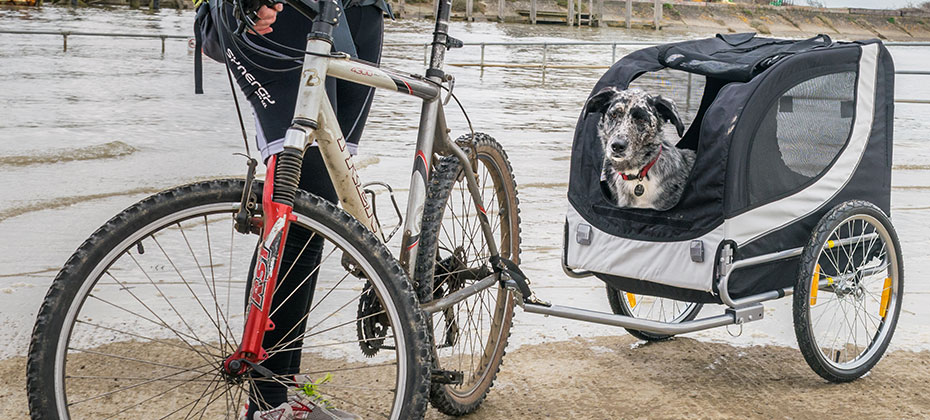 Now that we have an idea of what a canine bicycle trailer is and why you would want to get one for your pooch, it's time to brush up on your knowledge of the things to consider when buying such a canine contraption. Remember, not all bike trailers are created equal.
Size
The size of the canine camper is a very important consideration. You don't want to get a tiny trailer as it will be uncomfortable for your pup. A good rule of thumb is to get a trailer with enough space to allow your pooch to sit and move around easily.
Coupler or Hitch
This will help define the quality of the ride. The quality of the coupler or hitch can affect stopping and cornering so you have to choose those with high quality hitches. This is especially true if you're running at high speed. Low-quality hitches are known to pull on the bike exposing you to accidents.
Handling
Unfortunately, you will never really be able to gauge this without taking the trailer for a test run with your pooch in it. If you can request for a trial run, then try to evaluate how the trailer handles in relation to the movement of your bicycle. If this is not possible, read the reviews about how the trailer behaves on uneven terrain.
Portability and Ease of Assembly
It is one thing to have a product that is already preassembled; it's another matter to get something that requires some assembly. Many products today offer portability in their design, allowing you to fold the device without the need for any hand tools. This is a great option since you will no longer have to worry about bringing plenty of tools to assemble the contraption. However, while it is easy to assemble, make sure that the joints or connectors are made of high-quality materials so they don't undermine the structural integrity of the trailer.
Flooring
A non-slip liner or flooring is a very important consideration when buying dog bike trailers. As a rule, the flooring should stay in its place regardless of how bumpy the road is. While you can always apply a blanket on the floor, this has the tendency to curl up and pose some problems for your pooch.
Other Features
Many of today's bicycle trailers come with a variety of useful features such as safety flags, brake systems, and even suspension systems for ensuring a much smoother ride. Consider where and when you typically go biking so you can get the right model for you and your dog's needs.
You May Also Like: Best Dog Treadmill
Safety Tips when Using Canine Bike Trailers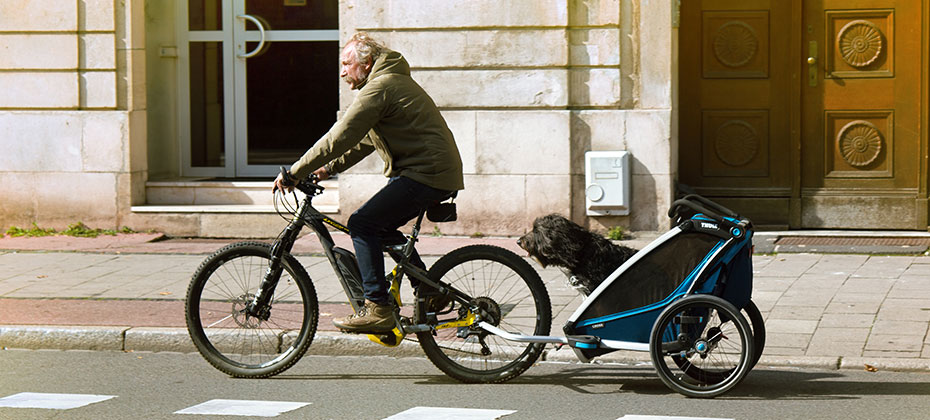 Biking is healthy and fun, especially with your dog in tow. However, it can also be risky, especially if you're biking on unfamiliar territory, uneven terrain, or super-busy city streets. You simply don't want your biking activities to end on a sad note. As such, we're here to share with your some safety tips when using bicycle trailers.
Train Your Pooch on How to Enjoy a Ride with the Trailer
Safety starts with a well-trained pooch. You need a canine friend that can sit still inside the trailer while you're in motion. You also need a dog that will not feel claustrophobic inside and begin tearing the trailer apart. That is why, even before you start on your bike trailing journey, you need to spend ample time training your dog to love its trailer. This also means they need to learn how to get in and out of the bike attachment with a simple command from you.
Know Your Bicycle Course
Rocky and uneven terrain increase the risk of the trailer tipping over. Slippery roads and bumpy surfaces can also increase the risk of accidents. Make sure you have a clear mental picture of where you will be biking so you can accurately map out in your mind where you will be pedaling. This also means you have to be extra vigilant in identifying obstacles on the road.
Get an Appropriate Trailer
Even with the best intentions for safeguarding your dog, if you cannot get your hand on a sturdy and reliable dog bicycle trailer, then you're essentially inviting disaster. Take the time to really look into the various features of a safe bike trailer.
Remember the Laws of Physics
It pays to keep in mind that you are towing a heavy object and that this will significantly impact your momentum and balance. If you're going downhill, you can expect the momentum to be exceptionally great which means it will be much more difficult to control when you want to stop. Stopping will also take considerable time. On an uphill climb, the weight of the object will be pulling you backwards and this can throw off your momentum and your balance.
Use Safety Features on Your Bike Trailer
Always use built-in safety features in your bike trailer. There are those with reflective trims as well as high visibility flags to announce your presence even from afar. Brakes are important, too, and so are LED lights.
Don't Push the Weight Limit of the Trailer
If the manufacturer says that it can hold up to a maximum of X pounds, then don't go beyond this weight limit. The stability and reliability of the vehicle are tested based on this weight limit. While it is theoretically possible to go beyond what is called for, don't tempt it as accidents generally occur in unchartered waters.
In choosing the best trailer, it is important to look at its size, handling, hitch, flooring, and portability. Equally important is knowing how to safely use it so that accidents can be avoided. And with our 10 best dog bike trailers, we're hopeful you can start selecting the most appropriate one for your canine friend.
Training Your Dog to Ride in a Bike Trailer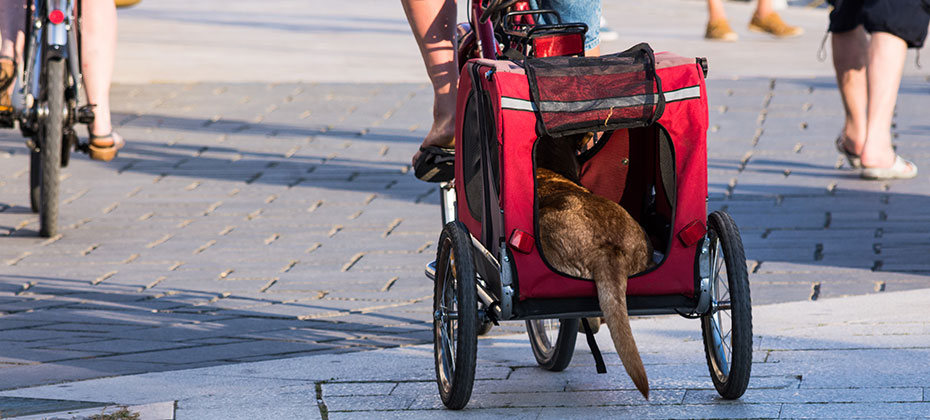 Dog bicycle trailers may be an excellent way to get your dog to join you in your biking. But if your pet simply hasn't been properly trained to ride this mobile contraption, you're actually courting danger as your pet can jump out of the moving carriage anytime. It may come with a leash, but this will only make it worse. The trailer doors may be secure, but this will only agitate your dog if they're afraid. As such, even before you start biking with your chosen trailer it is important to train your dog.
The best way to start is by assembling the dog trailer right in the presence of your dog. Let it sniff through all the different components as you put everything together, just don't put the wheels yet. Once assembled, open the door flaps and just leave it there. Some dogs will get the idea that they can enter through the door. If not, just let your dog be. The important thing is for your pet to become acclimatized to the presence of the dog trailer.
Try tossing your pet's favorite dog toys inside the cabin and see if it will go inside. If it does, then praise it and give it its treats. You can also place some treats at the foot of the trailer door and then a few more inside just at the door. However, don't carry your pet into the cabin -it should go in on its own. Be patient and ready with positive reinforcement once it gets inside. Do this several times until your dog is already accustomed to staying inside the trailer.
Next, install the wheels of the trailer and hitch it to your bike. Call your dog to get inside. At first, it may hesitate since the door is now higher than what it was accustomed to. You can still use dog toys or treats to entice your pet to get inside. Make sure to practice this step many times until your pet is totally comfortable with it.
The next stage is to acclimatize your pet to being secured inside the cabin. Let your dog go inside and secure its leash. Open the windows and close the access door. Give it a few seconds in this situation. Gradually increase the length of time your pet is secured in its leash inside the trailer. Once it's comfy, then you can go for a really short ride. Keep it slow the first time and avoid bumps and potholes. Basically, make the ride as pleasant as possible. Dog toys or treats should keep it busy while you're biking.
If your pet is more than confident riding the trailer you can gradually increase the distances of your ride. This should help prepare your pet.
You might also be interested in the following guides: Dog Baskets For Bikes and Dog Bike Leashes
Sources:
Mikkel Becker, Teach Your Dog to Ride in a Stroller, Vetstreet
Frequently Asked Questions
Dog trailers come with the same fundamental mechanism of attaching a trailer or second unit to your vehicle. So, you'll need to install the universal hitch right onto your bike's axle.
If your bike comes with a quick-release axle you'll have to remove the skewer and insert this through the hitch opening. Push the skewer into the bike axle and secure it well. Push the latch securely. Don't worry about the positioning of the hitch as it will naturally correct itself.
If your bicycle comes with bolted axes you need to remove the axle bolt. Put the dog trailer bike hitch onto it and secure the bolt. If your bike has an internal gear right within the wheel hub, then you need a hitch adapter.
It all depends on the recommended maximum load capacity of the dog trailer manufacturer. The idea is the sturdier the construction, the greater the maximum load capacity. It is always safe to check the owner's manual of the bike trailer to know its weight limits. Plastic frames should always be avoided unless your passenger weighs less than 20 pounds. Generally, you should go for steel frames, especially if you have a dog weighing 50 pounds or more.
Cleaning a dog trailer is not really difficult. Most manufacturers come with removable canopies or panels which you can easily throw in the washing machine. Most fabric materials can be easily machine-washed unless otherwise specified. It's the joints and the moving metal parts that you'll have to manually clean such as the hub, rim, and spokes of the wheels. Thankfully, these can be easily wiped clean with a rag.
Not all dogs like the idea of riding inside a trailer that can get especially bumpy over uneven terrain. While you can always train your pet to 'behave' while it is inside the trailer, there will be instances when they'll be very anxious. As such, it is a good idea to include dog toys as well as treats inside the bike trailer cabin to keep your pet occupied. That said, dog treats and dog toys should never be considered replacements for good 'ol training, of course.