If you are looking for the best dog strollers on the market, it can be hard to choose between the many makes, models, and designs that are available on the market. The best dog strollers differ in everything from color and design, to weight, size, capacity, and how suitable they are for different breeds of dog. To help you through the many options our panel of pet lovers and dog experts have put together a list of the 15 best dog strollers.
The 15 Top Rated Dog Strollers
Best Dog Stroller: Buying Guide & FAQs
Buying the best dog stroller is a big investment and one that you want to ensure you get right first time. While it's useful to know what type of dog strollers there are out there, it can also help to know more about what makes up the best dog strollers, the benefits of having a dog stroller, and why you might need one for your pet pooch. Here, we'll look deeper into these questions to help you make the right decision on what the best dog stroller is for you and your four-legged friend.
Why Dog Strollers Are Important For Your Friend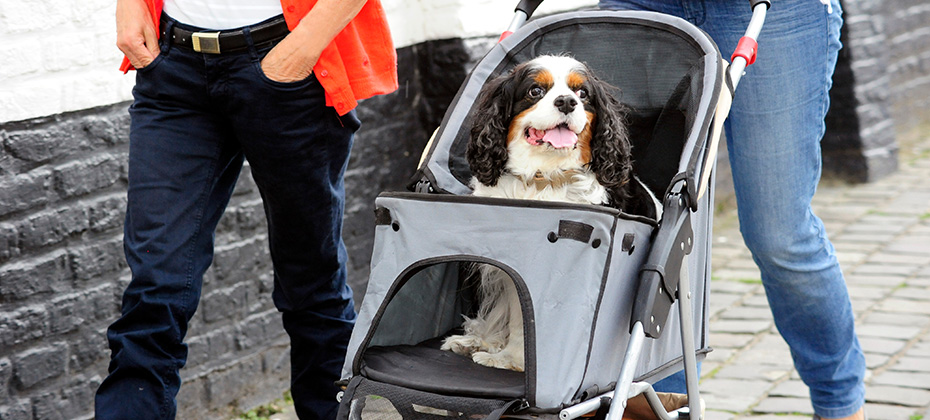 While considering all the things your dog needs, a dog stroller may not even be remotely close to the top of your list. It may not even be on your list at all — especially since all dogs need exercise, and one of the best forms of exercise is walking. However, there are several very good reasons why a dog stroller should be on your list of essential dog items. These reasons include:
Dog Strollers Provide Early Socialization
Before your dog has had all their vaccinations, it isn't safe for them to be on the ground outside the home. Additionally, you also need to be careful around other dogs that may not be fully immunized for risk of illness and disease. However, it is also important that your young puppy is socialized as soon as possible.
Once you buy a dog stroller for your four-legged friend, you can begin this process before they have even completed their immunizations. In fact, dog strollers keep pets off the ground while the cover provides a barrier between them and other animals. However, they are still able to experience the outside world, have some contact with other animals, and have contact with other people, giving them a great head start in life. Plus, if your dog is a rescue or has been bought as an older pup, dog strollers a great way to acclimatize them to their new home and the local area without increasing their nervousness or anxiety.
Dog Strollers Serve as a Lifeline for Little Legs
Whether you like to walk or jog, your pooch may have difficulty keeping up with you over long distances, especially if they are of a smaller breed. Plus, buying a dog stroller for your pet means that when they have reached the end of their walkies, you don't have to give up and go home.
Illness or Injury Recovery
If your pet pooch gets sick or suffers an injury, they might not be their usual energetic selves. A dog stroller can give you the peace of mind so that you can still take them out without the risk of aggravating the injury or condition by overworking your dog.
Taking Care of Them in Later Life
Like us humans, dogs can lack energy and even enthusiasm in later life. It can be tempting to dispense with walks when this happens. However, it is better for your dog's overall health if they remain active and stimulated. Furthermore, dog strollers allow you to do this without tiring out your dog. Even if they are too tired to walk at all, they can still take in their surroundings and enjoy the sounds, sights, and smells.
What Criteria Determines The Best Dog Strollers?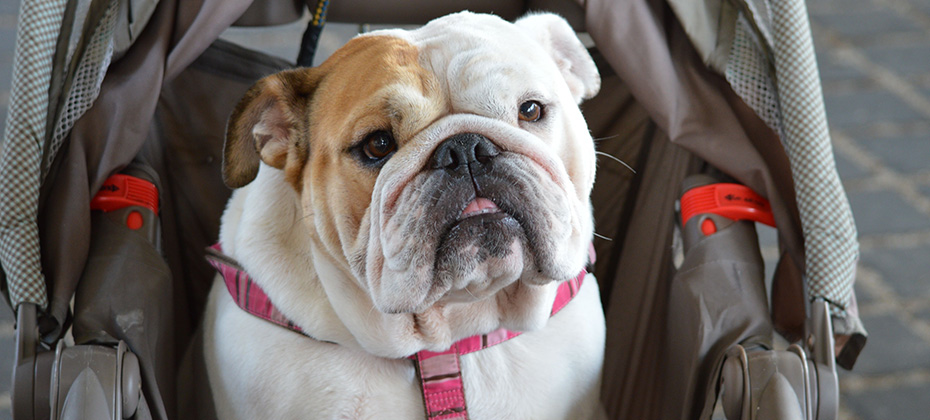 The best dog strollers are the ones that fit your needs and is comfortable for your dog to travel in. In addition, the dog stroller you buy should also be determined by the weight and size of your dog. However, there are certain other criteria that determine what makes for the best dog stroller, including:
How easy is the dog stroller to control while you are out walking or jogging? Can it be pushed with one hand, does it have rotating wheels, can the front wheel or wheels be locked in place? Generally speaking, these all affect how easy the dog stroller is to control while you are out and about. The best dog stroller has at least one of these features.
Are you going to use your dog stroller on a flat paved ground or do you intend to go off road onto dirt tracks and forest paths? Similarly, the type of tires, wheel size, and suspension system all affect the ability of the dog stroller to cope with different terrain types while still providing a smooth and safe ride. As a result, the best dog strollers clearly define the terrain they are suitable for.
The weight of the dog stroller is important as it determines how easily it can be transported, and how easy it is to push once the weight of your dog is added. The best dog strollers are lightweight but still sturdy.
The best dog strollers are able to fold flat and are perfect for transporting in your vehicle, giving you a wider choice of places to walk. They also make storage much easier. The best dog strollers also fold and unfold easily, usually only requiring one hand.
The best dog strollers have safety features built in to ensure your dog is secure while in the stroller. This might include leash style seat belts or dog harness clips. Dog strollers should also have a braking system to stop it rolling away when you stop.
Check out some of our guides, such as Dog Leashes and Hands Free Dog Leashes.
The best way to place your pet in their dog stroller really depends on your dog. This is just one of the reasons why the best dog strollers have multiple access points and easy opening and closing fastenings.
You may also like our guide on the Best Dog Water Bottle.
When you take your dog out, you also need to take everything they need, including dog toys, treats, and water. You may also want space for shopping and water for yourself. This is why the best dog strollers have ample undercarriage storage baskets and trays that include cup holders attached to the handles.
Take a look at our review of Dog Treats.
Ensuring your dog is comfortable on their journey is, of course, the highest priority. The best dog strollers also make this a priority, providing cushioned interiors to ensure your dog travels in comfort and style.
Benefits of Having a Dog Stroller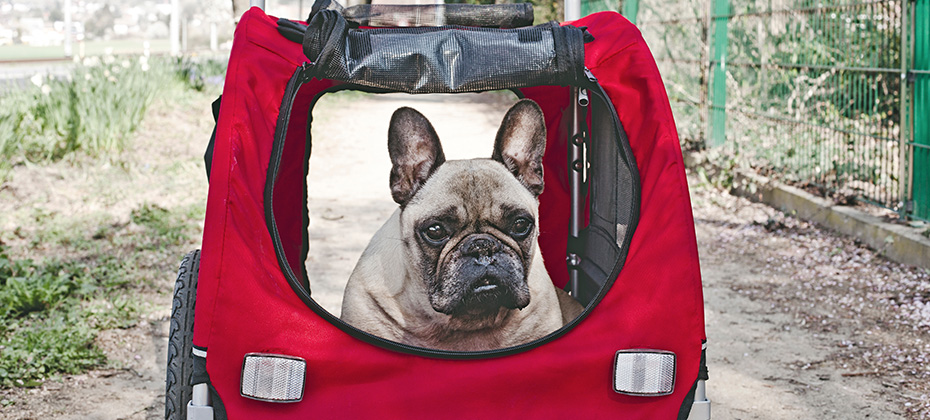 One of the main benefits of having a dog stroller is not having to carry your dog. Even small dogs can get heavy after a short time, especially as very few stay still while they are being carried. Other benefits of dog strollers include:
Still being able to get out with sick or injured dogs
Safer than carrying them
Early socialization for young puppies
Easy transportation to veterinarian appointments
Being able to take your dog to more places
Exploring new places easily
Extending your walks/jogs without tiring your dog
Taking out multiple small animals at the same time
There is such a wide range of benefits from having a dog stroller that once you have it you will wonder how you ever got by without it. However, to feel these benefits you need to ensure you buy the best dog stroller that is right for you and your pet. By following our buying guide, you can ensure that you get the best dog stroller for both you and your dog.
How to Measure a Dog for a Dog Stroller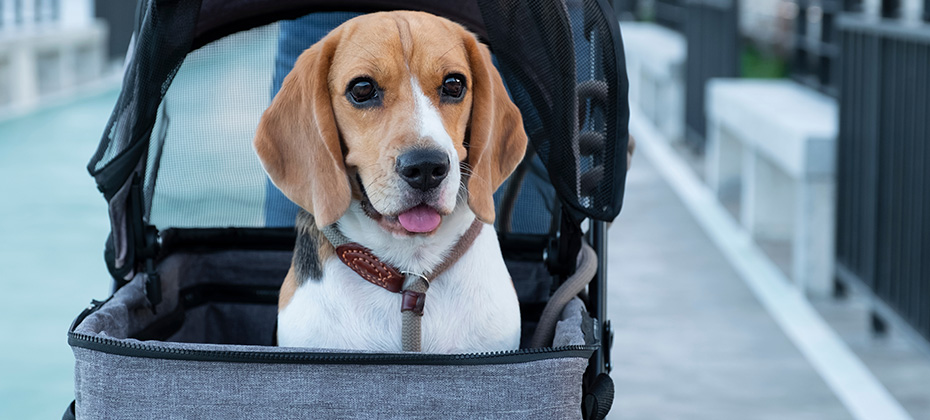 There are two fundamental measurements you need to take to determine the correct size of the dog stroller you need. First, get its height. Let your dog sit on its bottom. Place the tip of a tape measure an inch or two above the level of your dog's head. Extend the tape measure all the way to the floor and read the measurement. You can add another inch or two for allowance.
Additionally, take your pet's body length as some pets inadvertently prefer riding dog strollers with them lying down on the comfy surface rather than sitting up. Let your dog lie down on its belly with its front legs in front of its body. Place the tip of the tape measure an inch or so from the base of its tail. Extend the tape measure all the way to the front of its front legs. This should be the length of the pet stroller you want to buy. Of course, if you prefer your dog to be sitting while you're pushing its stroller, then you may also have to measure its width sitting down.
Another measurement you need to take is your pet's weight. You can have it sit on a bathroom weighing scale and read the measurement from there. Alternatively, you can carry your pet and step onto the weighing scale. Take note of the measurement. Now, put down your pet and step onto the weighing scale again, this time without your pet. Subtract this weight from the weight with your pet to get an approximation of your pet's weight.
Using these height, length, and weight measurements, you can now choose the best dog stroller for your pet.
Our Top Pick
Our top pick is the VIVO Stroller, your lovely and adorable pet will make an easy travel companion with this spacious and easily accessible pet stroller. It is sure to enjoy every moment of outing as it regains confidence and recovery through great aeration and wonderful sightseeing whenever, wherever. This lovely dog stroller from VIVO affords your pet an enjoyable ride from you across the country, in the neighborhood or in town. The spacious protective compartment has zipper outlets for the pet to exit or enter easily. The padded foam bottom gives additional comfort for your pet and the open windows and mesh material allows air to circulate freely within the compartment for the animal and at the same time gives the animal widened viewing area.
The top mesh allows the owner to keep an open eye on the pet easily at all times. The stroller can be completely collapsed by means of simple release buttons on either side of the stroller. This makes it ready for easy transport so it can be conveniently packed in a car for travel or simply for storage. The strong four-wheels underneath makes the stroller move smoothly and steadily. At the back of the rear wheels are locks designed to steady the stroller whenever desired. A large under-basket is located beneath to provide additional storage area. Other innovative elements include double cup holders and a centre tray for storing pet snacks and more, and the pushing handle is fully padded all round for comfortable handling.
Read here our review of Dog Boat Ramps.
Source:
Mikkel Becker, Teach Your Dog to Ride in a Stroller, Vetstreet
Frequently Asked Questions
Not all dogs will like riding in its stroller the first time. However, there are some things you can do to help them get used to dog strollers.
First, introduce the dog stroller as a normal part of its daily life. Let your hound inspect and explore what this wheeled contraption is. Once your dog has developed enough confidence, you can start placing your dog in their dog stroller. Make sure to lock the wheels to let your dog feel more comfortable. You can use treats to entice them to go inside the dog stroller as well. Placing treats and other items inside the dog stroller will help your dog associate this space with pleasurable things.
By the time your pet is comfortable enough going inside the dog stroller, you can start taking it on relatively short strolls. Many dog strollers even have a leash attachment too, so make sure you secure your dog's leash so they don't run away from you. You can start by moving the dog stroller inside or even in your backyard. Whatever you do, it is imperative that you go very slow. You don't want to spook your pet and see it jumping out of their dog stroller. Just push a few inches at a time and offer rewards for your pet for remaining calm. If it remains calm, push on some more. Always use positive reinforcement techniques to help your pet learn to associate the ride with something pleasant.
Once your pet is confident about riding its dog stroller in your home, you can take it for longer strolls. Start with your neighborhood, gradually increasing the distance and length of rides.
It certainly wouldn't hurt to look into all-weather dog strollers since no one can really predict the weather. It may be all hot and sunny now, but raining and windy later on. Besides, you'd want your pet to get the best possible protection from the elements whenever it is riding in its dog stroller.
This is one of the most common questions of would-be owners of dog strollers. Unfortunately, there are no quick and easy answers. As a general rule, however, as long as the establishment or the place allows dogs or any other pet, then you should be able to use your dog stroller. There is this belief that going inside an establishment that has 'no pets allowed' policy is okay as long as the pet is inside of a dog stroller. Unfortunately, this isn't necessarily accurate.
When establishments say 'no pets allowed' they mean no pets should be present inside their establishment. Whether you carry your pet, put it in a dog crate, or even in a dog stroller, you are still bringing your pet inside the premises of an establishment that strictly disallows any pet or animal inside.
The same is true with some parks. There are some parks and other 'public spaces' that do not allow pets. As such, make sure you learn of the existing pet policies of the places you intend to bring your dog stroller in to avoid any unnecessary inconveniences.