Whether you're looking for a convenient and comfortable way to travel with your pet, house-train them or safely transport them from point A to point B, a dog crate is a must-have. Well-constructed dog kennels come with many benefits and can make your and your pet's life easier. They're comfortable and secure and can provide a space where your canine companion feels safe and at home. In addition, they can help keep your furniture and shoes in one piece while you're housebreaking your puppy! The only issue? A wide variety of dog kennels on the market: from metal to plastic to soft-sided, small, big, foldable, and travel-friendly, there are hundreds of different crates to choose from. To help you pick the right product for your pet and budget, we've tested and reviewed dozens of pet cages and kennels. The result is our list of 15 best dog crates, plus a comprehensive buying guide to help you make the right purchasing decision.
The 15 Top-Rated Crates for Dogs
Best Dog Crate: Buying Guide & FAQs
Picking the best dog crate for your pooch is crucial to providing it with the best possible den-like experience. Regrettably, if you are not cautious in your selection, you might end up with a mediocre quality product that it would have been much better if you just built the crate yourself. It is for this reason that we came up with this dog crate buying guide to help dog lovers like you to make the right decision when it comes to purchasing one of these items.
Factors to Consider When Buying the Best Dog Crate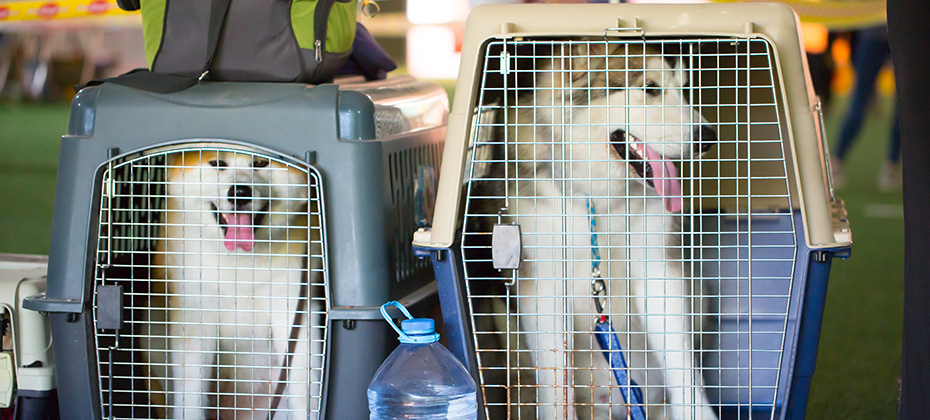 Most of us think of a canine cage as a temporary shelter for our pooches whenever we are away from home or when we do need to travel and we're bringing them along with us. Regardless of the reason why we need to buy such canine shelters, what is important for us is to understand the different factors to consider when buying a dog crate. Understanding these factors should help you make a better informed decision when choosing a dog crate.
Size of the Dog Crate
Every pet deserves ample space to move about within a dog kennel. You yourself wouldn't want to stay in a rather cramped room unless absolutely necessary like those Japanese hotel capsules where the so-called room is actually a hyped-up bunker that looks more like human-sized self-service washing machines. Your pooch deserves substantial space so it can freely move about and rest while you're away or simply to hide from something that it's afraid of. That is why the size of a dog crate is a very important consideration.
Here are some guidelines when it comes to the minimum size requirements of a dog crate:
The length of the cage should be, at the very least, 4 inches plus the length of your pet from the tip of its nose right down to the tip of its outstretched tail. So if you have a pooch that is about 18 inches long, you add 4 inches to this to get 22 inches. This is the minimum length of the cage that you need to get.
For the height of the cage, it should be 4 inches plus the height of your pooch from the floor surface all the way up to the top of its head while standing on all fours. If your mutt happens to be 14 inches tall from the ground surface all the way to the top of its crown, then you add 4 inches to get 18 inches. If you're considering on putting beddings and other accessories that might increase the vertical measurements of your pet, then you should also take these into consideration. For instance, if you decide to place a 2-inch thick bedding, the minimum height of the cage you need to aim for should be 20 inches, not 18.
The width of a dog crate is typically measured within the context of the height and length of the cage. So, if you're done determining the appropriate length and height of your cage, the width is just a formality. However, do check that it should be at least three-quarters the length of the cage. So if the length of the cage is 22 inches, then a width of 16 to 17 inches should suffice. Remember, this is to help ensure your pooch will be able to turn around in its crate.
There are no standards when it comes to what can be considered the 'right' size of dog crate. What is important is for these creatures to be able to move freely inside so they don't have to experience pain, aches, and other problems secondary to limited mobility.
Getting an extra large dog kennel is not good either especially if you intend to use it for crate training. It's perfectly okay to buy a larger than usual crate as long as there are divider panels which you can use to make the space for crate training a lot smaller.
Sturdiness and Durability 
You don't want to live in a flimsy house, do you? The same is true with your pooch especially if it happens to be one that is quite restless inside cages. If it is strong enough, you might end up with a broken cage just a few hours after buying it. As such it is equally important to look at the strength or the sturdiness of the dog crate you want to buy. This is often reflected in the type of materials that are used in the manufacture of the product.
Design of the Dog Crate
While the size, sturdiness, and durability of the dog crate are enough to help you make the right decision on which product to choose, you might want to include the overall design of the cage. Some prefer a very straightforward boxy cage while others would want something fancier. Meanwhile, others would also like it to have a certain degree of modularity so they can create partitions on the crate for more specific purposes. On the other hand, some would also like the crate to be fully collapsible so that they can easily store this when not needed or easily fold it down onto their truck bed when they go out of town with their mutt.
Take a look at our latest review of Dog Crates for Truck Beds.
Safety of the Dog Crate
Dog crates, whether plastic or metal wire, always have metallic poles forming slats in the cage. These fixtures allow the free movement of air in and out of the crate. However, the spacing in between the rods or poles can be a real issue. If the spacing is too wide, there's a chance that your pooch's paws might slip right through, causing injury, highlighting one of the potential dangers of metal wire crates. So, it's ideal to look for crates that have tighter spaced rods to help prevent injuries.
We also mentioned something about plastic cages being constructed of and finished with materials that may not be entirely safe. There's a chance that your pet might lick on these plastic surfaces and thus, ingest some of these harmful chemicals. It is, therefore, imperative that you look for products that are guaranteed not to contain any harmful substance.
Dog Crate's Ease of Maintenance 
This is something that you really need to consider. While it is true that the dog crate serves as a temporary shelter for your pet, it can easily turn into its home, too. And if it is spending more time inside its 'home', then you should be able to keep it spic and span. That is why you also need to consider the ease of cleaning and maintenance.
Different Types of Dog Crates
While they may all look similar, not all dog crates are created equal. To find the best dog crate for your pet, it's important to choose a product that best suits your pup's lifestyle and needs. There are four main types of crates – choose one that seems to best fit your needs, budget and your dog's temperament.
Metal/Wire Crates
Sturdy, well-ventilated and with great visibility, wire crates are the best option for strong dogs and those who like to chew on things. This type of dog kennel is typically the most durable one, although exactly how chew-proof and strong a cage will be, depends on the build materials and the design itself. Wire crates are also the easiest to clean, especially if they come with a removable and water-resistant tray. Some models are also collapsible which makes them perfect for traveling, however, not all are. In fact, many wire crates are heavy, bulky and rigid, meaning difficult to travel with. The weight of the crate and ability/inability to collapse is something to consider when making purchasing decisions.
Plastic Crates
Plastic crates may not be the most attractive type out there but they do the job – and they do it well. Similar to wire cages, plastic crates are quite sturdy and long-lasting, but are not as well-ventilated. While this may seem like a negative thing, it isn't always because the tradeoff is more privacy – perfect for pups who occasionally (or often!) need some time alone. Plastic dog crates are also great for traveling as they keep the pet securely inside (the most difficult type to escape) and are lightweight enough to carry. Plus, most airlines approve of plastic dog crates.
Soft-Sided Crates
Made of softer materials, typically mesh fabric and polyester, soft-sided dog crates are ideal for indoor use. They're comfy and cozy, making them perfect for napping and relaxation, as well as traveling as most are lightweight and foldable or collapsible. They're also super-easy to set up, disassemble and store. On the flip side, this type of dog crate is not suitable for larger and stronger dogs as they can chew right through it. They're also harder to clean than plastic and wire crates.
Wooden Crates
Wooden dog crates are decorative and practical pieces of pet furniture. Most double as an end table and a kennel, making them fit well with pretty much any home décor. As a result, they're also stationary, meaning not suitable for travel. This is fine if you're looking for a cozy place for your dog to sleep while inside the house, but can be a dealbreaker if you need something secure for transport. Wooden or decorative dog crates are also on the heavy side and can easily become damaged if they don't come with a water-resistant bottom or tray. That being said, quality wooden dog crates are durable, look beautiful and can actually add to the style décor of a house.
During the summer months, you may want to consider investing in a dog crate fan.
What Size of Dog Crate Do I Need?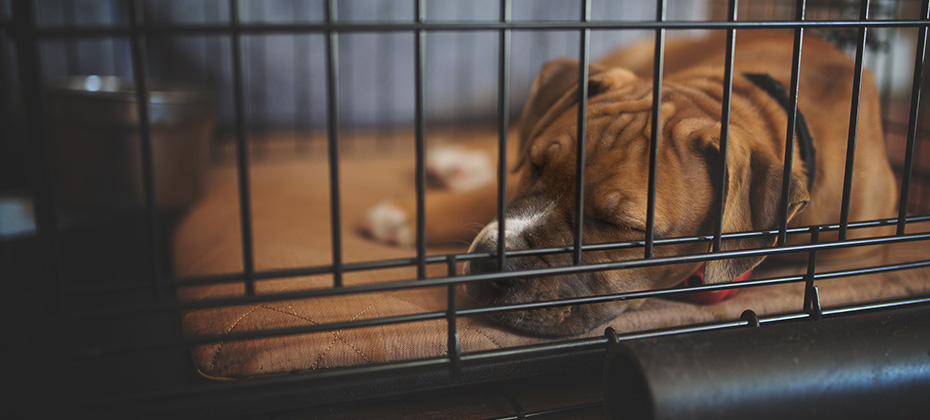 We have already mentioned that the size of dog crate actually depends on the size of your own pooch. It is highly recommended that you measure the length and height of your mutt to get an idea of the minimum size of crate that you need to get.
To get the length of your mutt, you need to place the end of a tape measure on the tip of its nose and stretch the tape measure all the way to the tip of its outstretched tail. Whatever number you arrived at you will need to add 4 inches to it to get the minimum length of the cage.
To obtain the height of your pooch, you need to let it stand on all 4 legs with its head sticking straight up and facing front. Place the tip of the tape measure at a level of the top of its head. Now, stretch the tape measure until it reaches the surface where your pet's paws are firmly planted. Take the measurement and then add 4 inches. This is the minimum height of the cage that you need to buy.
Benefits of Dog Crates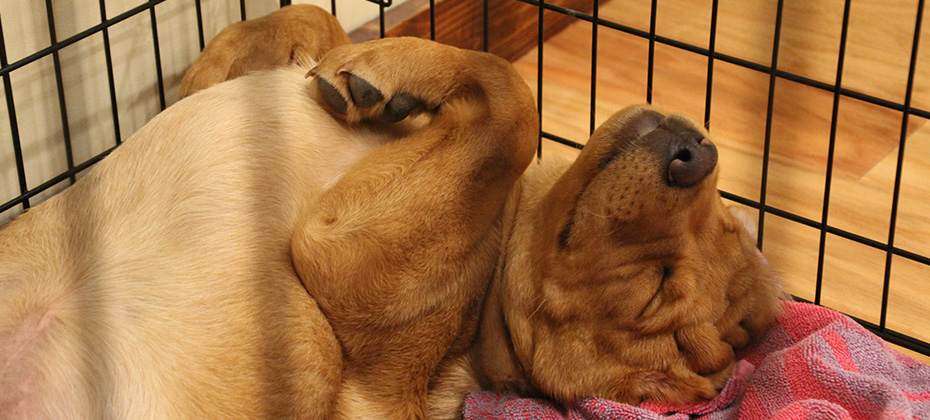 It is understandable that some dog owners don't like the idea of having their pets on a cage, even though on a temporary basis. The fact of the matter is that there are many benefits of dog crates. We've listed here some of the more popular ones.
A Dog Crate Provides a Calm Retreat 
In the wild, canines are known to retreat to their dens because they know it is the safest place to be. It is their home where no one will bother or disturb them. This is especially true if they are anxious as the den provides them with a calm retreat. In like manner, your pooch can re-learn this behavior, too, if only you will teach or train it early on. As you keep on training it, your pooch will soon understand that the crate is for it to have a more comfortable and more peaceful place to rest in.
Check out our ultimate article on the Best Dog Crate End Tables.
A Dog Crate Aids in Healing
If your dog is sick or injured, you can always bring it to the vet. Chances are it will still be placed in a crate to help provide a sense of security. This helps prevent unnecessary stress on your pet to allow for the healing process to progress unhindered. If it were to be let out, it can go to areas where it's not really safe or, worse, it might spread the disease that it has to your other pets.
As cruel as it may look, it is best to keep your pet inside its crate when it is ill or injured to allow for faster healing. Think of it this way. If you're sick, you almost always go to the hospital where you will be confined to a room so professional healthcare providers can look after you and make your healing a lot faster. That's essentially the same thing with the dog crate.
Dog Crates Reduce Anxiety While Traveling 
Not all dogs like traveling. Just as there are some people who have motion sickness, the feeling can be the same for canines. Additionally, there is this fear and anxiety in them related to the unknown. They don't know where they are going or what will happen along the way. Putting them in their crate gives them a sense of comfort, a feeling of calm and peace. For them, it doesn't matter where they are going as long as they are inside their 'den'.
A Dog Crate Provides Security 
One of the most important benefits of a dog crate is that it provides your pet a sense of safety and security, just like the way dens do in the wild for their feral cousins. So, even if you leave your home or travel with your pooch, getting a crate will help safeguard this sense of security. In like manner, you will also feel more confident and more secure knowing that your pet is safe and sound inside its crate. Toss in a comfy bedding and some of its toys and it will be a calm, relaxed, and happy mutt.
Check out some of our guides, such as Dog Crate Covers and Dog Crate Water Bottles.
How Do I Get My Puppy to Use a Dog Crate?
Experts highly recommend training your dog to love its crate at an early age rather than doing it when it is already a fully grown adult. This is very important as you would want your pooch to understand that the crate is not a tool for punishment. Rather, it is your pooch's comfortable and happy place where it can rest, hide from whatever is scaring it, and even take a much-needed nap after intense play. Here's how to get your puppy to use a crate.
Introduce Your Pup to the Dog Crate
The very first thing you need to do is to make sure that your puppy won't feel threatened by the presence of a portable dog kennel. As such, you will need to place the dog crate in your living room or any are in the home where you and your family spend time together. Place your puppy's bedding and favorite toys inside the crate and leave the door wide open. Now, just let it be. Let your puppy explore the 'new' thing inside the house. If it is intuitive enough, it might even go right in even without telling it to. Give it several days for your pup to fully explore every square inch of the crate. Make sure that the door is always wide open. The point is for your puppy to look at the crate as a very ordinary thing that it should not be afraid of.
Feed Your Pup Inside its Dog Crate
Once you see your pup going in and out of the crate on its own, it's time to introduce some activities inside the cage. Start feeding your pup inside the crate but with the door still wide open. You have to do this one step at a time. Make your puppy feel that it is okay to eat inside the crate.
After several days, you can start feeding your puppy with the door of the dog crate closed. First, you give the pup its meal. Once it is eating, gently close the door. By the time it is done with its meal, you can open the door and give it praise.
If your pup whines as soon as you close the door, do not open it immediately. You have to wait until it stops whining before opening the door so as not to give it the idea that whining will lead to an open door. If it whines, it just means you're too fast in transitioning from feeding with open doors to feeding with closed doors. So, you'll need to restart and do it at shorter time periods.
Begin Conditioning Your Pup to Stay in the Dog Crate for Longer Periods
This is a very tricky part since it all depends on how well your pup was able to master the skills in the preceding step. Nevertheless, the idea is to get your pup to go inside the dog crate, close the door, and stay with it for about 10 minutes. Now leave it alone, go to another room, and stay out of sight for another 10 minutes. Return to your puppy and simply sit there for about 10 minutes before opening the door and letting your puppy out. Do this several times every day for several days before increasing the length of time that you are 'away' from your pup.
The trick in crate training your puppy is to take each step slowly. It also requires absolute patience.
Providing your pet with the most appropriate dog crate involves understanding the different factors you need to consider when buying a crate such as the size, sturdiness and durability, ease of maintenance, safety, and design. Equally important is learning how to train your pup how to use its crate without ever making it feel that the cage is an instrument for punishment. If you can train your puppy well, it will be able to reap all the benefits of a dog crate including calmness, relaxation, security, and safety. The 12 dog crates we've listed will also help you start on the right track.
Our Top Pick
While all the products featured on our Top List are trusted, quality dog kennels, the iCrate Folding Metal Dog Crate by MidWest Homes for Pets is our top choice. Simple, sturdy and secure, this heavy-duty metal cage is perfect for both puppies who are yet to learn how to use crates properly and experienced kennel users. It comes with a divider panel which is a godsend when training a growing puppy, as well as a plastic leakproof tray that makes cleaning a piece of cake. It also helps it comes in various sizes and styles as it's easy to find the right model for just about any pet.
Sources:
Sherry Woodard, Crate Training: The Benefits for You and Your Dog, Best Friends Animal Society
Crating Dogs, PETA
Frequently Asked Questions
If your dog is just starting with crate training, it's best to put the kennel in a high-traffic area, meaning in a room where you and our family members spend a lot of time in. Why? For one, because you can frequently check on your pet to see how they're doing in their new little house (super important for very young pups). Two, because dogs are social creatures who usually like being near their human family, especially when they're learning something new. So, you can keep the crate in your living room during the day – if that's where you spend most of your time – and in your bedroom during the night so your pup can sleep near you. On the other hand, if you know that your dog is independent and likes spending time alone while relaxing, it may be a good idea to place the crate somewhere secluded so they can have some privacy.
In the end, it really does depend on your dog's needs and preferences. All dogs are different so it's good to experiment a little and see what works best for both you and your pet.
Crate-trained dogs have no problem staying in a kennel for hours on end. Most adult crate-trained canines will gladly stay inside a kennel overnight. However, it's not a good idea to keep younger dogs locked inside a crate overnight simply because they're not able to hold their bladder for so long. Puppies should be let out at least twice overnight so they can do their business in peace. In general, though, puppies should stay in their crate for three to four hours at a time. Similarly, senior dogs may need to be let out once or twice a night if they struggle with urinary problems.
To keep your dog healthy and happy, it's crucial not to crate them for too long. All dogs need daily exercise and social interaction, so it's not a good idea to keep them locked for more than a few hours at a time (excluding the nights, of course).