Cats are natural hunters climbers and scratchers but these needs can rarely be met indoors, hence the expectation that a new feline owner will have to be prepared to sacrifice a couple of pieces of furniture to keep their cat happy. Cat condos or cat trees are a great way to give your kitty their own playground and sway them away from the clawing at the couch.
Cat trees are somewhere where they can exercise their natural climbing instincts as well as allow them to perch and scratch to their heart's content. With various nooks and crannies for privacy, kitty condos are also great for providing your cat with a little bit of privacy and security. Listed below are 10 of what we believe to be the best cat trees available on the market today.
Key Takeaways:
Tall cat trees should always be placed in a secure area where they can be fixed to the wall.
Always try to pick the cat tree best suited to your cat's size and needs.
Stick with a cat tree that has at least one scratching post for your cat to clean its claws.
Cat trees with additional entertainment features are great for energetic young kittens.
Not all cats will take to a new cat tree immediately and may require some training.
Always ensure your cat tree has at least one place for your cat to rest.
The 10 Top Rated Cat Trees
Pros
Cons
Bottom Line
Rating
Best Cat Trees: Buying Guide & FAQs
Whether you live in a big house with multiple cats or a smaller apartment with one kitty, having a cat condo can make both of your lives easier. A nice cat tree will allow your pet to play, exercise, scratch and relax in one place, promoting their health and well-being while keeping your furniture intact. But how to pick the best cat tower for your budget, space, and your cat's needs? Take a look at our buying guide to find out what to look for and what to avoid.
What to Look for in a Cat Tree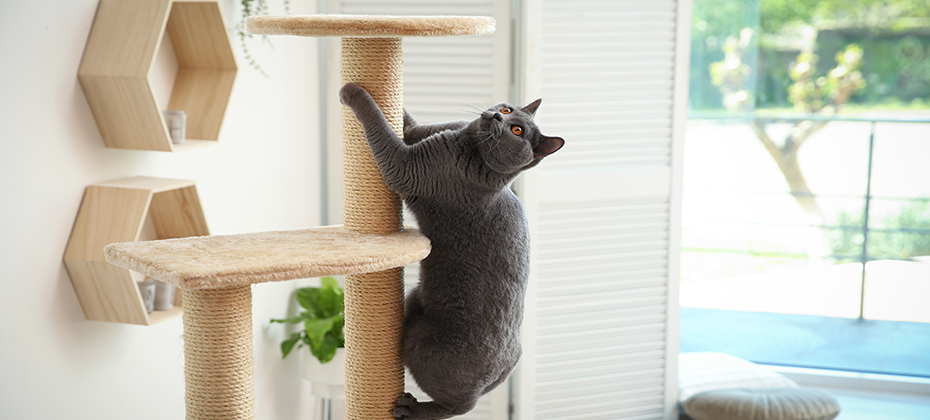 A cat condo should provide your pet with levels to climb and perch from, surfaces to scratch, toys to play with, and, yes, a nice place to relax and nap. With that in mind, here are the two most important things to focus on when selecting a condo for your cat.
A Proper Size and Construction
Size matters when it comes to cat trees. A cat tree should first and foremost be able to fit into your house or apartment. This means that you should pick the size of the condo depending on your living space: smaller condos for smaller apartments, and bigger condos for bigger living spaces. Take your cat's size into consideration too: if your feline friend is quite large, you'll definitely need at least a slightly bigger condo with a sturdy and stable construction.
Similarly, if you own multiple cats, make sure the condo can actually withstand the weight of several cats at once. On the other hand, if you have one kitten or a regular-sized adult cat, smaller cat trees are perfectly fine. As long as they're properly constructed, the portable and easy-to-store ones are also great for small apartments.
Plenty of Opportunities for Playing and Exercising
One of the most important reasons pet parents buy cat trees is so their feline companions can safely play and exercise. Look for pieces with multiple levels for your cat to climb and perch from, as well as a few scratching areas so they can safely exercise their natural behavior. A nice little condo or a private area for napping can't hurt either.
Of course, the number of platforms and other accessories should depend on the space you have available – if you live in a smaller apartment, even one platform plus a toy and a scratching post are great; certainly, better than none. If you can fit larger cat trees though, definitely go for them as they typically provide plenty of fun and exercise, even for multiple cats.
Why You Should Invest in a Good Cat Tree
Having a cat condo comes with a host of benefits. For one, instead of scratching your furniture, your kitty will have a convenient and safe place to sharpen its claws. They'll also have proper mental and physical stimulation, which, we're sure all apartment dwellers would agree, can sometimes be hard to provide for a cat living in a small space. Not to mention, a cat condo will give your pet some seclusion and privacy when they need some "me time".
So, to sum up, here are the most important reasons why you may want to purchase a cat condo:
Scratching
Like it or not, all cats have to sharpen their claws. It's a good idea to have something dedicated to your pet's little claws so they don't end up sharpening them all over your furniture.
Exercising
All indoor pets require regular exercise in order to be healthy, cats included. Since daily walks are not particularly practical for most owners, cat condos make for the second best. With platforms for climbing and perching from, condos let cats exercise their natural behavior, which is good for their mind and body.
Playing
Most cat trees come with cat toys such as balls and ropes, which provide plenty of fun for both young and old cats. Small hideaway areas and levels with comfy materials are also great for keeping them entertained.
Relaxing
Finally, a cat condo will provide a safe and secluded area for your pet to relax and nap. Similar to humans, cats sometimes need some privacy in order to relax and sleep, and cat condos are perfect for this.
How to Train a Cat to Use a Cat Tree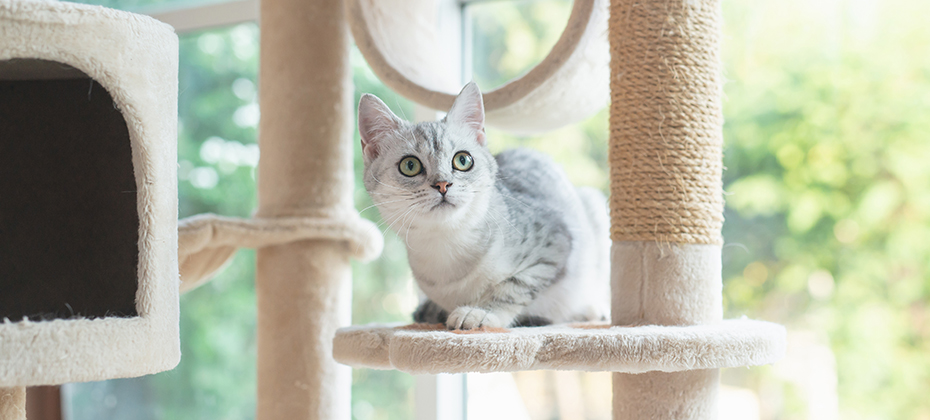 Like anything new, your cat may be reluctant to accept their new condo. Thankfully, you can train your four-legged companion to use and like their new furniture in a few simple steps:
Choose the Location Carefully
Place the cat tree in a room or area your pet spends most of its time. If this is not possible, make sure you don't place it in an area they don't frequent much. Furthermore, the best cat tree location is somewhere where it is less likely to be knocked over – ideally the corner of the room where it can be supported on multiple sides.
You'll also find that an especially tall cat tree will come with supporting mechanisms such as tabs that can be secured to the wall to prevent toppling. Therefore, you should always try to place a tall cat tree against the wall in order to make use of this feature.
Reward Spending Time in a Condo
To first lure your cat to the cat tree, place some cat treats or catnip onto the tree itself. Then, whenever your kitty spends their time on their new climber, reward them by offering their favorite food or some more treats. Don't forget to pet them and shower them with affection too!
Make the Tree Inviting
Sometimes, a cat doesn't like new furniture because they find it uncomfortable. To make the condo a little more inviting, try putting cushy, soft bedding (preferably their favorite material) in certain areas, which will encourage them to relax there.
Common Cat Tree Materials
There are three main material areas that are normally considered when designing cat furniture; the material that the base and platforms are made from, the material for pillars, and the covering used. Normally, there are additional materials used to create the attachments, such as scratching posts, which are generally wrapped in sisal.
Commonly, cat trees are constructed from either compressed wood or particleboard, with the pillars often made from strong and durable cardboard. There is a lot more variance in the fabric coverings of most cat towers, with common materials including; faux fur, carpet, faux fleece, or plush, with some towers also featuring ultra-soft versions of the materials.
Common Activities & Features Included
While the design of each cat tree is generally quite different, there are many similar activities and features that carry through the different cat tower designs. One of the main ones is the sisal scratching post, which helps your cat to stay groomed and keep its claws sharp. Some designs feature only a few scratching posts, whilst others can feature 10 or more.
Other Common Activities and Features Include:
Perches
Toys
Condos
Ladders
Hanging rope
Hanging balls to bat at
Lounging platforms
Sleeping tunnels
How many features are included will generally depend on the size of the condo. Larger condos are likely to feature most of the common activities, and in volume, which makes them very suitable for multiple cats or those who like plenty of variance in their play. Smaller condos may only feature a couple of the common activities listed above.
Sources:
Matt Wildman, Cats: Destructive Scratching, The Humane Society
Mikkel Becker, How Can I Teach My Cat to Love Her Cat Tree?, Vet Street
Frequently Asked Questions
A cat tree/condo is a piece of furniture that allows cats to play, exercise, relax and sleep on. Whether big or small in height and width, cat trees help satisfy natural feline instincts, especially if they come with scratching areas or posts. As a bonus, they're perfect little hiding places for when your kitty needs some alone time.
If your pet suddenly stops using their cat tree, including sleeping in their little condo, they may find that something is "off" with the furniture. There are a few reasons why this can happen:
It's not sufficiently clean: super fussy cats will often require super clean condos. If you notice a lot of hair or stains on the carpeted areas, make sure you clean them thoroughly. Also, if any cover/cushion is machine washable, wash it on the delicate cycle to get rid of most dirt and hair.
It smells funny: sometimes, a cat will stop using their favorite toy or a piece of furniture if it starts smelling funny. The "strange" smell may be due to dirt or excess hair, or, more commonly, due to other pets. If you have more than one cat or other small animals who also use the condo, your kitty may not appreciate their scent.
It's too hot: while it's wonderful to have a thickly padded, cushioned little condo in the cold months, it may be too much in summer. If you find that your cat avoids the tree during high temperatures, try removing the cushions to allow for more air circulation. Speaking of which, consider moving the entire tree to a more ventilated and cooler room during the summer months.
If your cat tree comes with removable covers that are washing machine safe, definitely toss them in the machine from time to time to keep everything clean and tidy. If the materials are removable but cannot be machine washed, soak them in a mixture of warm water and mild detergent and give them a little scrub. If none of the materials are removable, you can always vacuum the tree first and then use a damp microfiber cloth with a pet-safe cleaning agent to remove any dirt and hair. There are also special pet hair removal brushes that are highly effective at removing fur hairs from carpets and other textiles.
This really depends on the cat in question. Generally speaking, yes. Most cat trees are loved by cats as they typically love to have an area that they can call their own and a cat tree is a perfect way to provide that. Additionally, a cat tree condo has multiple platforms to allow a cat to find a higher perch which heightens their sense of security.
If possible it's best to keep the cat tree in the corner of the room where it can be supported on more than one side. This will keep it from tipping over when the cats jump on it and generally keep it more secure for day-to-day use. Alternatively, your cat may prefer to be kept somewhere near sunlight so that it can bask during the day. In which case, you may prefer to place the cat tree near a window to provide them with the desired sunlight.
The size of the cat tree you decide to purchase will depend very much on the space that you have and the needs of your cat. If you have more than one cat you may wish to purchase a tall cat tree with multiple platforms in order to allow all of your feline friends plenty of space to call their own. If you have a single low-maintenance cat, you may not need to be quite as extravagant, meaning a simple small cat tree should suffice.