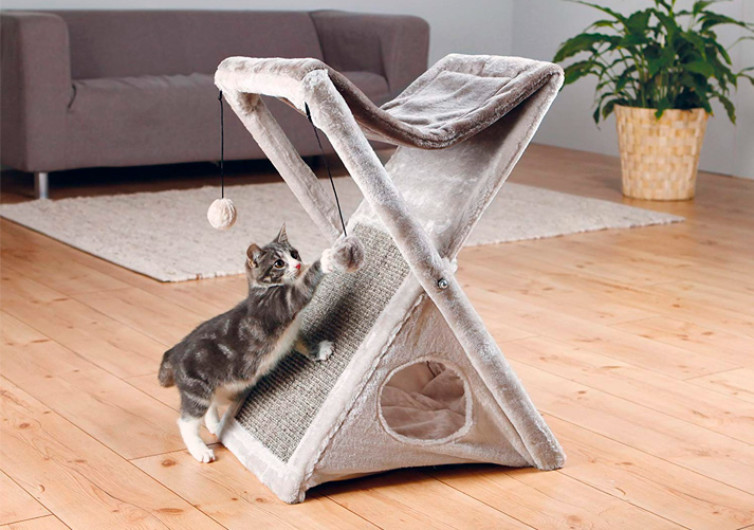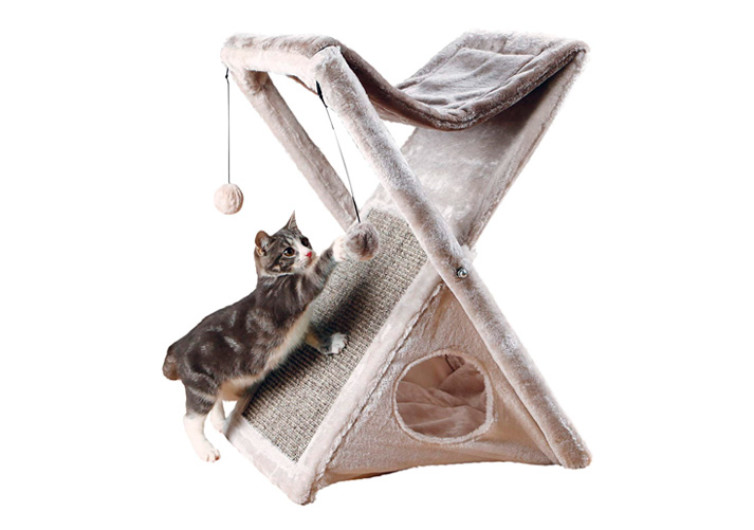 TRIXIE Pet Products Miguel Fold and Store Cat Tower
Cats need a variety of pet accessories to be happy in their respective homes. They need a scratching post, a cat tower, toys, and a nice bed, among other things. Instead of purchasing each one, it would make more sense to get a cat accessory that already has some of these things in one package. Such is the Miguel Fold and Store Cat Tower.
The Miguel Fold and Store Cat Tower is a neat cat accessory that combines 4 different accessories in one convenient design. TRIXIE Pet Products designed the Miguel after a folding stool, turning the top into a cat hammock. The lower section of the Miguel serves as a den or a hideout for cats. One side of the Miguel features a scratching surface made of natural sisal. The top of the legs comes with dangling soft balls which the cat can bat or swipe.
This TRIXIE cat tower is available in 2 sizes to accommodate the different sizes of cats. The hammock and the teepee-like den consist of plush fabric materials. This provides a comfortable surface for cats to sleep on. The foldable design means that the Miguel is very easy to take along with you as well as store in your closet when not in use. To see how it stacks up to the competition, see our article on the best cat scratching tower.
Combination of cat condo and feline hammock
Scratching surface made of natural sisal
Machine-washable cushion insert
Foldable and lightweight design
How Does This Product Work?
The TRIXIE Pet Products Miguel Fold and Store Cat Tower works like any other cat tower, but with a few improvements. Once "unfolded", the Miguel reveals a perch for cats to spend on while observing the things on the ground. The cat scratching surface is perfect for flexing the paws of the cat, allowing it to be in tip-top shape for its hunting activities.
The teepee-like space at the lower half of the Miguel can serve as the cat's hideout. It is especially useful when the cat needs some peace and quiet. It can also serve as a den for the cat to escape to when frightened. On the legs of the Miguel are soft balls dangling from the top of the legs. It is perfect for feline play.