When the sun is out and the temperature rises, there's nothing like an ice-cold treat to keep your cool. And no doubt, those puppy-dog eyes of your pet are enticing you to share your ice-cream. As we know, human sweet treats are not good for your pooch, so when the heat is on, why not make him some canine-friendly ices all of his own?
Here are the best DIY frozen dog treats that are easy to make and will be a sure-fired recipe for success this summer.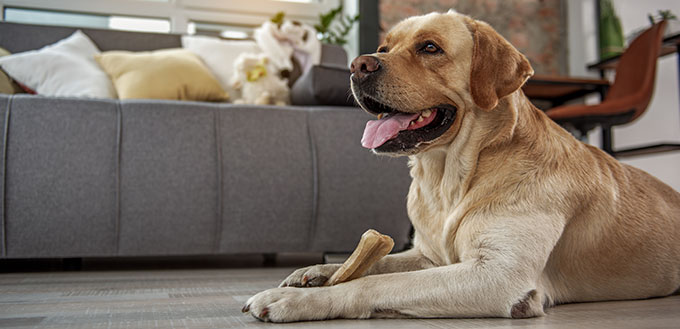 Before you Start
There are many ingredients – including processed items – in human treats that are not good for your dog so making your own frozen versions of pooch-friendly dog treats is the most nutritious and safe way to go. And healthy frozen dog treats will not only make his mouth water but can be packed with vitamins and minerals as well as help him to keep his cool.
However, before you start making your DIY frozen dog treats, there are some key things to keep in mind:
Always ensure any ingredients you are using in your frozen dog treat are dog safe. Even some fruit and vegetables are not recommended for canine consumption so if you are in any doubt, check out the American Kennel Club's guide. Avoid processed products and if using peanut butter (which many dogs love), ensure it is dog-safe and doesn't contain xylitol, which is a sugar substitute that can be toxic to dogs.
Treat your dog in moderation. All dogs are prone to weight gain if overfed and giving them too many treats, too often, on top of their daily food is not good for their health. Be mindful of how many frozen dog treats you are giving your pooch and if the weather is hot, always ensure they have direct access to plenty of fresh, cool and clean water.
Our Top Frozen Dog Treat Recipes
All our frozen dog treat recipes are quick and easy to make, using ingredients found in most kitchens, and are guaranteed to keep your hot pup cool and happy. They can also be saved for those hot, steamy days and are perfect for using with a special dog treat pouch.
Yoghurt Pupsicles
This is the ultimate 'dog ice-cream recipe' which will give your pooch that creamy taste without packing pounds on to their waistline! Instead of fattening cream, you use non-fat Greek yogurt alongside tasty dog-friendly ingredients to give your pet the perfect hot weather treat.
Choose to keep it simple or add in a few of his favorite fruits and with our yogurt pupsicles, you have a frozen dog treat winner.
Recipe Ingredients
1 large, frozen banana, 2 tablespoons honey, medium sized container of non-fat plain yogurt. Optional extras can include a couple of tablespoons of peanut butter, chopped up strawberries or blueberries.
Method
Chop up the frozen banana into small chunks and blend in a food processor with the plain yogurt and honey until you get a thick and creamy 'milkshake' texture. Add any additional ingredients and stir well.
You can then pour into ice cube trays and freeze for mini treats or pour into small paper cups and insert a small toy dog bone as the popsicle stick, before freezing. Voila, you have a healthy alternative to doggy ice cream!
Peanut Butter Cubes
A sticky favorite for many dogs, peanut butter works so well in a frozen treat and can be used in a wide range of tasty combinations. Our favorites are peanut butter and jelly and banana and peanut butter.
It is important however, to ensure that the peanut butter you use does not contain the sugar substitute xylitol, which can be harmful to dogs. To be sure, check out our guide to dog safe peanut butter brands.
Peanut Butter and Jelly
Chop up a handful of strawberries and mix with a dash of water before pouring into an ice cube tray. Once frozen, smear a layer of peanut butter on top of each strawberry cube to create that moreish PB&J experience for your hot dog.
Banana and Peanut Butter Freezies
Another of our favorite homemade frozen dog treats, these freezies are also super-easy to make. Simply blend one banana and a tablespoon of peanut butter with around 150ml of unsweetened almond milk in a food processor. When smooth, pour into ice cube trays and freeze for irresistible frozen peanut butter dog treats.
Filled Frozen Kong
The ever-popular Kong toy is the perfect receptacle for an easy frozen dog treat and can be filled with a whole host of tasty titbits. A filled and frozen Kong can keep your pooch occupied for hours and once emptied can still be used as a toy.
No doubt your dog has his favorite Kong fillings, but here are some recipe ideas we think work particularly well when the temperature is on the rise.
Filling Ingredients
Savory – one boiled potato, ½ cup of plain cottage cheese, a small handful of grated low-fat cheese
Sweet – cup of plain yoghurt, teaspoon of honey and one banana, ½ cup peanut butter
Method
Mix your chosen ingredients together in a bowl until a smooth consistency, then spoon into the Kong until it is filled. Smooth over the top and then pop into the freezer until frozen solid for a long-lasting dog treat.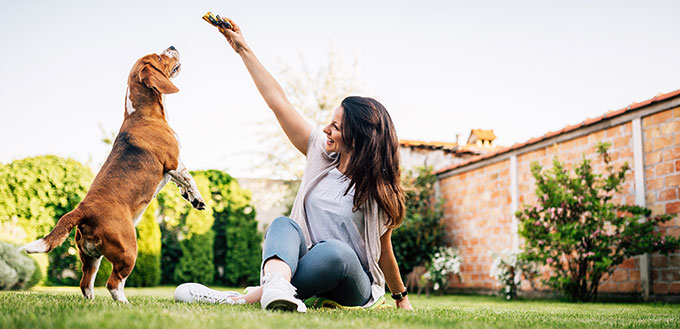 Watermelon Treat
Made up of 92% water, watermelon is a fantastic hot weather treat for your dog and can help you keep him hydrated and happy. And the subtle sweet flavor of this fruit will give him something tasty to chew on while he keeps his cool. And the beauty of this recipe for a frozen dog treat is that you only need two ingredients!
Recipe Ingredients
Sliced watermelon, pips and skin removed plus coconut milk.
Method
Mash the watermelon slices in a bowl until smooth then add a dash of coconut milk until you get a thick but pourable consistency. Pour the mixture into an ice cube tray and pop into the freezer for succulent watermelon dog treats.
Frozen Carrot and Apple Bites
Carrots and apples are a nutritious combination for your pup, providing vitamins and fiber as well as a tasty treat on a hot summer's day. But as with any sweet treat, moderation is key.
These are a good treat to make up, ahead of a car journey or a trip to the beach – simply pop the frozen bites into a cool bag along with your picnic and your doggo will get a cool surprise come lunchtime.
Recipe Ingredients
As quick and easy ice treats for dogs, this recipe really couldn't be simpler! All you need is a carrot and a medium sized apple.
Method
Peel the carrot, then peel and de-core the apple, making sure the pips and stalk have been fully removed. Then chop the apple and carrot up into small pieces and whizz up in a food blender until it is a thick but pliable pulp. You can also add a dash of water if the consistency is a little too thick.
Now spoon into each section of an ice cube tray and smooth off any excess before freezing. The result will be subtly sweet and nutritious frozen dog treats your pooch will love. And this is a great option if you prefer to give your pet vegan dog treats.
Strawberry Banana Smoothies
Who doesn't love a smoothie? And if your dog thinks he is missing out on this creamy treat then check out our recipe for dog-friendly strawberry and banana smoothies to get his tastebuds tingling. A safe alternative to ice-cream, this recipe uses low fat plain Greek yogurt and is the base for a whole range of other flavored smoothie treats if your pooch has other favorite pet-safe fruits.
Recipe Ingredients
1-2 cups plain low fat Greek yogurt, one sliced banana, ½ cup skimmed milk (you could also use unsweetened almond milk or coconut milk), 3 tablespoons of honey. A dollop of peanut butter can make this a luxurious dog treat too!
Fruit of your choice – we've used 2 cups of sliced strawberries but blueberries, watermelon, mango or vegetables such as pumpkin or carrots work just as well.
Method
Once all the fruit or vegetables have been prepared (peeled and de-seeded where necessary, then chopped or sliced), put all the ingredients into a blender and whizz up into a thick puree. You can add a little more milk if this consistency is too thick, then pour into ice cube trays or small silicone molds and freeze.
These delicious frozen dog treats can last in the freezer for up to two months, so you can always have some cool dog treats to hand when the thermometer starts to rise.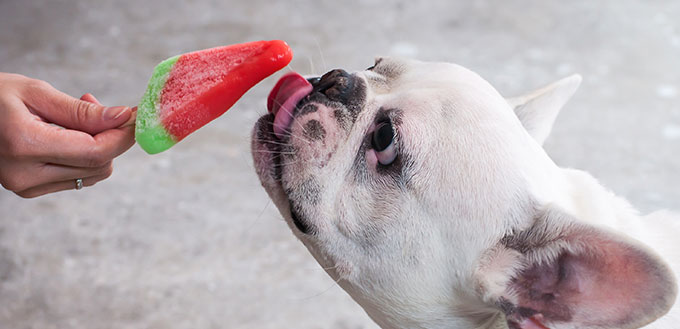 Chicken Stock and Parsley Treats
We finish on a savory frozen dog treat that is lipsmackingly good and really easy to make. And for your dog, that mix of meaty flavor and cool, palatable texture will be a satisfying way to keep fresh in the summer heat. Served alongside or added to a bowl of fresh water and he should keep his hydration levels topped up too.
Recipe Ingredients
450ml of chicken stock (make using reduced salt chicken stock cubes), a couple of spoonfuls of peanut butter, small handful of fresh parsley.
Method
Start by combining the peanut butter and chopped parsley in a bowl, then set aside. Take your jug of freshly made chicken stock and evenly pour into the sections of an ice cube tray, but only fill each one to halfway. Put into the freezer until set.
Take the tray out and spoon on to each ice cube the peanut butter and parsley mix as a topper so that each section is full. Pop back into the freezer until hard. Not only will these meaty frozen treats help to keep your doggo cool, but the parsley will help to keep his breath minty fresh. Winner!