All dogs love peanut butter and homemade peanut butter dog treats are super easy to make. Have you ever read the ingredients list of store bought treats and thought that you could make them for yourself for a fraction of the price? Homemade dog treats are great fun to make and if your dog loves peanut butter (and they all do) this is the obvious ingredient to include.
Dog cookies make great Christmas gifts for the fur baby in your life. You can also give them as a welcome present for a new dog, birthday dog treats or as a welcome to your new home gift.
We've spent hours trawling the web for this wonderful recipe that our dogs go crazy for. We hope that yours will too.
Why Make Homemade Peanut Butter Dog Treats?
Peanut butter dog treats have a lot going for them! Here are the main things that we and our dogs love about them.
They taste amazing: Of course all dogs are different and dog treats that are adored by one dog will receive a lukewarm response from another. However, peanut butter is one of those flavors that appeals to most dogs and so it is highly unlikely that these homemade treats will be wasted. You could always try your dog with some store-bought treats first, here are our favorites.
They are fun to make: Homemade dog treats are great fun to make. Unlike some recipes that contain tuna and egg and can make your kitchen smell quite unpleasant, these treats smell wonderful when they are baking.
They are perfect training treats: When you are teaching your dog a new trick or reinforcing a desired behavior, these homemade dog treats just what you need. For when you don't have time to make your own, we've listed our top store-bought alternatives in The Best Dog Treats Review
You can stuff a Kong with them: Kongs keep dogs amused for ages and you can get a whole range of fillers. We list the top healthy ones here.
They are cheaper: If you buy a peanut butter dog treat selection from your local pet store, you will soon see that they are quite costly. Making your own is much cheaper.
They are better for the environment: By using your own treat recipe you use up less packaging and there will be less transport pollution than when you buy peanut butter treats.
You are in control: As a responsible dog owner, you will want to know exactly what your dog is eating. Even if you read ingredients lists, you do not get the full information. However, if you make the treats yourself, you know exactly what your dog is eating. This is critical if they have food allergies or sensitivities.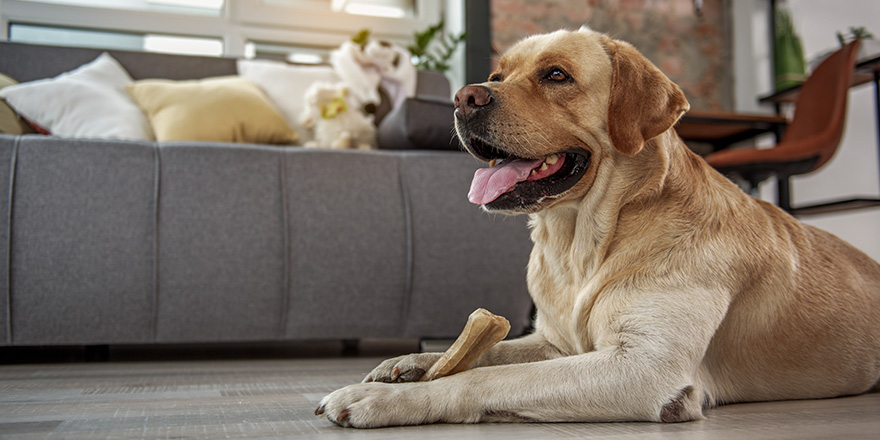 Basic Peanut Butter Dog Treats Recipe
We've found this awesome recipe for peanut butter dog treats that is super easy to make. The other reason we love this great recipe is that it is so versatile. You have the option of swapping and adding ingredients to suit your dog's taste and what you have in your kitchen cupboard! So, here's our super quick peanut dog biscuit recipe
Ingredients
2 cups wheat flour
1/2 cup peanut butter – this must be dog safe and not contain xylitol
2 eggs
1/4 cup water
Method
The method is very similar to making sugar cookies for humans. If you can make them, you can make homemade dog treats.
Step 1: Preheat oven to 350 degrees F
Step 2: Cover a large baking sheet with parchment paper ready for baking your treats.
Step 3: In a large mixing bowl combine flour, peanut butter, eggs and water. These can be mixed by hand but it is quicker and more effective if you combine the ingredients in a large bowl using a food processor. If the mixture is too dry, add another splash of water.
Step 4: Tip out the mixture onto a lightly floured surface and using a floured rolling pin, roll out the dough to a thickness of around a quarter of an inch.
Step 5: Use a cookie cutter to cut out cookie shapes. Cookie cutters in the shape of dog bones are super cute.
Step 6: Bake for 15 minutes or until each dog treat is firm and golden brown. If your dog prefers a crunchy dog treat, let them cook for a few more minutes. Let the treats cool completely before serving them to your dog.
Luxury Peanut Butter Dog Treats Recipe
The above very easy recipe is for basic peanut butter dog treats but that is just the beginning. You can add to the recipe and make it as elaborate as you want as long as all the ingredients you use are dog safe. Here are our top ideas:
Peanut butter variations: There are lots of different types of peanut butters that you could try. How about adding a more creamy peanut butter, a natural peanut butter or even a chunky peanut butter for texture. If your dog is a huge fan of the taste, you could even add more peanut butter than in the ingredients list above.
Flour variations: You could replace the regular flour with whole wheat flour or white whole wheat flour. This is a great option because whole wheat flour contains more fiber and nutrients. Brown rice flour and coconut flour and oat flour are alternatives for dogs that cannot tolerate wheat.
Added taste: This is where you can experiment and see what tastes your dog loves. Here are some ideas on what you can add: sweet potato, coconut oil, mashed banana or unsweetened applesauce.
Combine flavors: Why not make some pumpkin dog treats using leftover pumpkin puree or some meaty treats using chicken broth or beef broth.
Cookie cutter imagination: There are a huge range of cookie cutters that you can use to make your treats. Look out for paws, different breed outlines, kennels and bones of different shapes and sizes.
Nutritional Content of Homemade Dog Treats with Peanut Butter
Homemade dog treats are a healthy treat for your dog because they do not contain any artificial ingredients. There are many peanut butter brands and you must choose one that does not contain xylitol as this is toxic for dogs.
Flour contains carbohydrates for energy and wholewheat flours also have plenty of fiber. Peanut butter delivers carbohydrates, fiber, and protein. Eggs provide iron, vitamins, minerals, and carotenoids as well as healthy fats.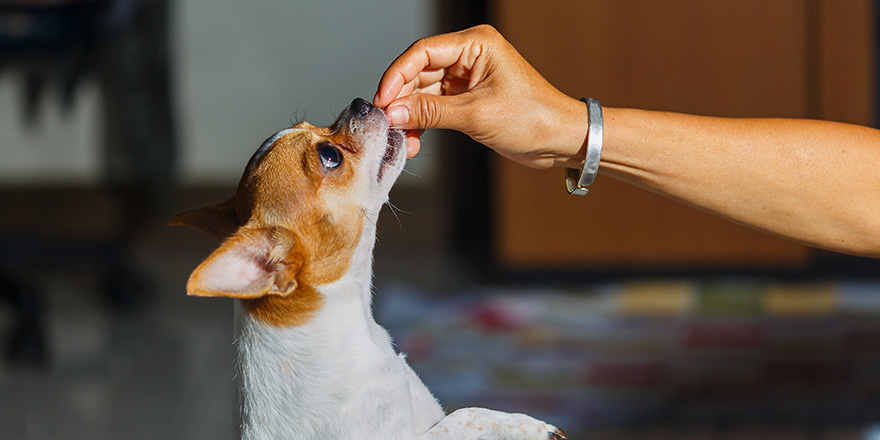 Top Tips for Making Peanut Butter Homemade Dog Biscuits
We have had great success with this recipe and here are our top tips to make sure that you have success too!
Our furry friends love the smell when we are baking this dog cookie recipe so you may want to keep them out of the kitchen.
If you add too much flour just pour in a little more water or unsweetened apple juice to loosen the dough.
Store the treats in an airtight container to keep them fresh.
You can also freeze them to use later. Although you could also check out this list of frozen dog treats.
Don't overdo it. Keep track of how many treats your pooch has eaten. They should only have three or four a day but you can break them up so that it seems like more. This applies to all dog treats. You need to know how many dog treats your dog is eating as they can be full of calories and this can lead to obesity.
The only problem you have now is that all the dogs in the neighborhood will want to visit your home!
Wondering if your dog can eat pecans? Check out our article on: Is it Really Safe to Feed Pecans to Your Dog?