In March of this year, pet parents, animal rights activists, and avid pet lovers took to social media to decry the unfortunate fate of a dog that died after an airline attendant put the hapless canine in the plane's overhead compartment. This is just another statistic to the growing number of pets dying in flights. Last year, the government reported 24 animals dying while in the 'care' of major airlines, 18 of which were from the same airline whose attendant packed the poor French bulldog in the overhead compartment. And while the airline apologized for the incident, one cannot overlook the need to stay vigilant and to ensure the safety of these noble 'members' of the family. Here's what everything you need to know about flying with pets.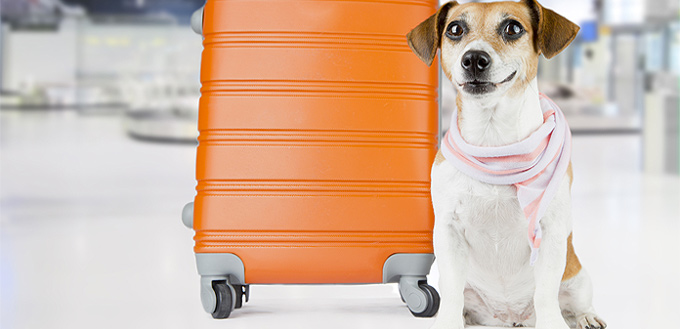 What the Government Says
According to the Federal Aviation Administration, the decision to allow pets into the passenger cabin of commercial airplanes is left to the airliner itself. However, when it comes to service animals, the government has a very strict stance. This is because service animals are not regarded as pets, but rather as working 'animals' that are employed by the passenger to provide assistance in his travels. This is written in 14 CFR Part 382 of the Department of Transportation requiring airline operators to allow the service animals of passengers flying with them to stay in the passenger cabin.
The guideline is in keeping with the Air Carrier Access Act as well as the increasing number of persons with disabilities traveling by air. Specifically, the guidelines instruct airline crew to differentiate between a pet and a service animal and whether the person using the service animal indeed qualifies as a person with disability. The guidelines also provide the framework on how such a passenger and his service animal can be accommodated inside the passenger cabin of an aircraft. Also included is the identification of the right circumstances when a service animal can be legally refused carriage inside the cabin.
As such, while the government may have a legal framework for allowing service animals to accompany their human 'users' in flights, airlines can still make a good case of refusing carriage. There are two things that they can cite for refusing carriage even of a service animal. First, if the service animal can be proven that it poses a direct threat to the safety or health of other passengers in the airline cabin, then it may be refused carriage or access to the plane. Second, if the service animal is deemed a significant threat to the smooth flow of passenger services inside the cabin of the airline, then the service animal may also be refused carriage.
When it comes to pets that are not really trained as service animals, airliners can be rather strict. The FAA maintains that the decision to allow pets to travel with their respective human masters in the passenger cabin is still with the airliner. The agency also states that airlines have the right to refuse carriage of any animal that they deem as pets and not as service animals.
However, the FAA also rules that passengers traveling with pets should consider putting their pets in appropriate airline approved pet carriers, dog crates or even dog backpack carriers that can be safely placed inside the passenger cabin. The following guidelines apply.
The pet container should be small enough that it can be safely and easily placed under the seat without necessarily blocking another passenger's 'right of way' towards the main aisle of the aircraft. This means that if you happen to be seated on the aisle section, passengers in the window and middle section should be able to move freely towards the main aisle without bumping into your pet carrier.
The dog crate or dog backpack carrier should be stowed and secured properly before the last door on the plane is closed. This will allow the plane to safely leave the gate. Otherwise, if your pet carrier is not yet stowed properly, then this can cause significant delays in the flight which can also be a major inconvenience for other passengers.
Throughout the entire time that the airplane is still on the ground, the pet carrier should remain in its properly stowed position. The same is true during landings and takeoffs. Depending on the airline, you can reposition or even allow your dog or pet to relax a bit once the plane is already in the air. However, for safety reasons, it is best to keep your pet in its dog crate.
Flight attendants can help you properly stow your pet carrier. It is imperative that these instructions be followed to the letter.
Related Post: Best Dog Crates
What the Airline Industry is Doing
There is mounting pressure on airlines to institute concrete measures to allow passengers to board their planes with their respective pets. And while they cannot be held legally liable for refusing pets on board their aircraft, they are nonetheless required by law to accept service animals. The good news is that majority of airlines today are now implementing pet-friendly programs in their passenger services and it will be wise to know what they are up to.
The pet flight policy of American Airlines is quite interesting. The airline accepts 7 dogs on American flights and this excludes service animals. The American Eagle, on the other hand, can accommodate only 5 plus 1 high-class hound up in the first class section. There's a $125 fee for each dog and you're required to observe three cardinal rules. One, your pet should not weigh more than 20 pounds and this already includes its dog crate or dog backpack carrier. Two, the pet carrier itself should be easily stowed under the seat up front. The size of a non-collapsible dog crate should not exceed 19x13x9 inches. Soft-sided kennels should be well-padded, with mesh windows, and water-repellent. Three, your pet should be at least 8 weeks old.
Flying your pets on Delta typically means you'll have to follow almost the same policy as that of any other airline. The only difference is that the airline can actually accommodate up to 8 pets inside the passenger cabin. Four can stay in the economy section and two each in business and first class. Of course, they should still be in their respective pet crates that can be easily stowed under the seat without any protruding crate part. A $125 fee per pet per flight also applies.
A lot of pet parents who simply cannot travel without their pets in tow love JetBlue especially its JetPaws Pet Program. Having a specialized program specially dedicated to pets and their respective human parents is simply phenomenal for a member of an industry that is not really known for taking too kindly on these members of the modern family. While JetBlue only allows 4 pets per flight, they do ask for a really friendly fee of $100 per pet. You might want to book early as the pet flight slots can easily run out.
Budget-conscious pet parents can rely on the $95 per pet per flight policy of Southwest. And while 6 dogs in the passenger cabin pales in comparison to the 8 of Delta, you'll surely have more leverage than the 4 on JetBlue. There's a catch though. Pets cannot go on international flights. Pups should also be at least 8 weeks old for them to be allowed carriage on Southwest flights.
The airline has the same policy with JetBlue when it comes to the number of pets allowed per flight at 4. As always, a $125 fee applies for each pet on each flight. Do take note that United charges you an additional $125 if there is a stopover of at least 4 hours within US airports or at least 24 hours outside the country. Pets flying to international destinations also have to be at least 4 months old at the time of travel. Hardtop kennels should not be more than 17.5 x 12 x 7.5 inches while soft-sided kennels should not be more than 18 x 11 x 11 inches.
For a minimum fee of $125, you can get your furry pal traveling right inside its favorite dog crate conveniently stowed underneath the airline seat of the US Airways passenger in front of you. You can also bring another hound on board provided you purchase an additional seat. The airline allows up to 6 pets in the passenger cabin of its airplanes. The kennel requirements on American Airlines also apply to US Airways flights.
The Sir Richard Branson-owned airline features a special compartment in the cargo hold specially designed for dogs and other pets. These roomy animal accommodations come with heating and air conditioning facilities to make the flight more convenient for your pet. They do allow service dogs in the cabin, though. Additionally, you get mileage points for the airline's Flying Club, too. Currently, the airline doesn't put any restrictions on the number of pets they can accommodate on board since the section is essentially in the cargo hold. Moreover, you may also want to check if your dog breed qualifies because there are certain breeds that Virgin Atlantic that are not really allowed on board whether it is in the cargo hold or the passenger cabin.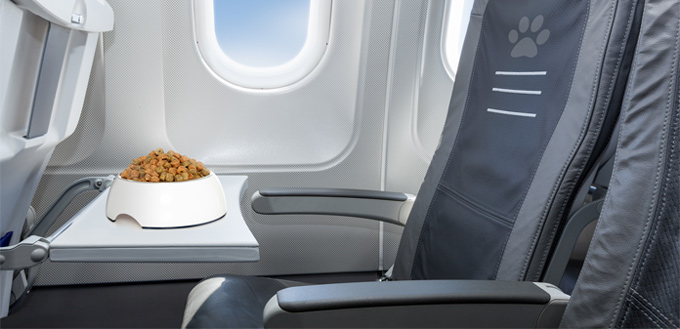 Related Post: Dog Backpack Carrier
What You Can Do as a Pet Parent
The government has provided the rules and airline companies have, for their part, managed to keep their end of the bargain. But for everything to work seamlessly, it is also important to exercise your responsibility as a loving pet parent. Additionally, you should also consider the welfare of others on the flight. You may be a very loving pet parent, but not everyone on the flight may see it this way. So here are some tips that you can observe to make your flight as peaceful and comfortable as possible for both you and your pet while also respecting the rights of other passengers on the flight.
Get a clean bill of health for your pet from its vet 
The very first thing you need to do is to get your pet's clean bill of health. Just as air travel can be very stressful for humans, it is doubly stressful for pets. According to the American Humane Association, puppies, kittens, pets in heat, pregnant pets, frail or weak pets, and sick animals should never travel by air. Dogs that have short snubs such as pugs and bulldogs are typically not allowed by airlines in their flights. Additionally, certain destinations require pets to have their complete vaccinations prior to travel. It is best to have their health certificate and veterinary records ready just in case.
Invest in appropriate TSA-approved pet carriers 
Always go for TSA-approved pet carriers whether they are the non-collapsible dog crates or even the soft-sided travel crates. It is important to look at mesh windows on at least two sides of the carrier to allow for adequate ventilation. Size is a very important consideration as all airlines that allow in-cabin pet carriage require the pets to be in TSA-approved pet carriers that can be fitted under the seat. Unfortunately, there are no standard sizes as the vertical clearance of airplane seats may vary from carrier to carrier. It is wise to check the maximum sizes of pet or dog crates in the carrier you're flying on.
Help your pet get comfy for the flight 
Soft-sided dog crates as well as dog backpack carriers provide the most comfort for pets. However, if you do decide to travel with a hard-sided kennel, you can still turn this into a comfy abode for your pet. Take note, however, that the overall weight should be less than 20 pounds – dog, crate, and all – as most airlines put their weight limit at this level. A comfy crate is one where your pet can easily stand up, turn around, and lie in. Mesh panels and ventilation holes help. You may also want to ask your vet for canine calming aids that you can give to your pet just before the flight. Alternatively, you can train your pet how to stay relaxed and calm inside its crate while you're traveling by air.
Don't forget your pet's essentials 
Crate water bottles are a must whenever traveling with your pet. While a water bowl is ideal, it may not be suitable for placing it inside your pet's crate as it can get too cramped. If your pet has motion sickness, you may also want to ask your vet for its medication. Bringing your pet's favorite toy is not a bad idea either as it can help allay pet anxiety.
Related Post: Dog Anxiety Vest
Observe the guidelines set by airlines 
Different airlines have different protocols when it comes to accepting pets in their flights. Some may allow advanced booking while others come on a first-come first-served basis. If you're choosing an airline that observes the former, make sure you book in advance; if it's the latter make sure to be at the airport early enough to get a seat for your pet.
Always adhere to the guidelines set by airlines especially the size of the dog crate. Airlines also require all pet carriers to be stowed under the seat of the passenger in front of you. The pet carrier should have no parts of it that are protruding or can get in the way to an effortless passage by other passengers in your row. Make sure that the pet carrier has been stowed properly even before the aircraft heads out from the gate.
Your pet's name and other critical pieces of information should be placed in an identification tag worn on your pet's collar. The pet carrier should also have its own identification tag. Some airlines today now include a brightly colored tag to be placed on pet carriers to avoid the same incident as the French bulldog that was placed in the overhead cabin. If you can, you can have your dog microchipped. At the very least you won't have to worry about your pet not being returned to you in case it gets lost.
Related Post: Best Dog Collars
Don't travel during the peak season. Always travel in the off-peak as the lower volume of passengers can substantially improve overall comfort for both you and your pet. A fully-loaded plane can be very stressful since you'll have to mind more passengers. Additionally, go for direct flights instead of those with connecting flights. This helps minimize stress on your pet. Some airlines may also charge you an additional fee for the layover.
Flying with pets can be a very enriching experience for both you and your pet. However, it can also be very stressful and may turn out deadly if things go out of hand. Knowing what the government is doing as well as which airline companies are prepared to accommodate your pet can help make things a lot easier for you. Now you only need to observe the tips we have outlined herein to ensure a safe and more peaceful flight for you and your pet.
Sources:
Bill McGee, Flying with Pets: How to Ensure Safe Passage, USA Today