Shipping your pup? That seems like a HUGE deal, especially if it's the first time. But well, nothing's impossible!
In fact, a Harris poll found out that there are about 90% of pet owners, who consider their pets as their family members (like duh!). If you're thinking about traveling or shifting, you should definitely think about a comfortable method of shipping your dog too. Many families while moving leave their dogs behind or set them up for adoption fearing the major hassle behind it. This is a common myth and should be busted immediately. Shipping your dog is now easier than ever.
Yes, we definitely understand moving can be awfully stressful for all the members of your family, including your pet dog. Plus, if you're moving to a completely new surrounding that is at a great distance from your present location, it could prove to be quite stressful for your little buddy.
Well, with all the necessary information that you need to know about shipping your pet dog, we've listed the 5 best ways of transporting them. Take a look: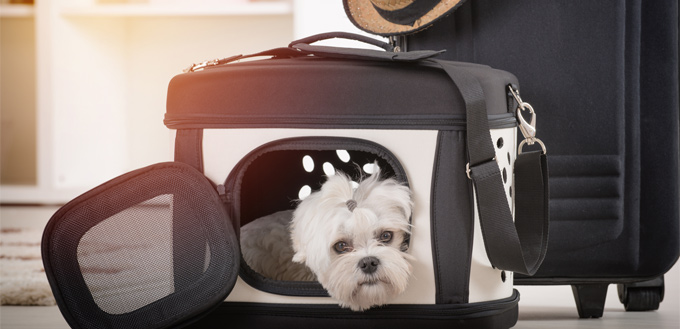 1. With You in Your Car
Bringing your pet with you in your car is by far the safest and best option, without any doubt. We're sure you can already guess a little bit about why we'd classify this as the best. Your dog must be familiar with your car and its scent. This will give them the surety that they are in a safe place. Added to that, you will have control over the surroundings, making your pet feel comfortable in their own way. You may initiate this by taking your dog for short trips that will gradually acclimate them to it.
Take a look at our review of the Best Dog Seat Belts.
Don't forget to stop by every once in a while when you're driving with your dog for longer hours. You might be able to drive for a long stretch of hours, but be sure to stop every couple of hours while traveling with your pet. They too need to unwind and stretch their legs just like us so make sure to stop by to stretch and relax to relieve ourselves from the distress.
Also, you need to carry enough bottled water with you and that your pet has easy access to it. If your road trip requires you to lodge somewhere, remember to plan your route accordingly and book hotels or motels that are pet-friendly. Additionally, it's always a good idea to keep your pet health records handy, just in case, if the hotel authorities ask for them.
Check out our guide on Dog Travel Water Bottle.
In some extreme cases, it might not be possible for you to ship your pet dog in your car with you. That's when you need to turn to other possible options such as the one below.
Read here our article on the Best Dog Car Seat Covers.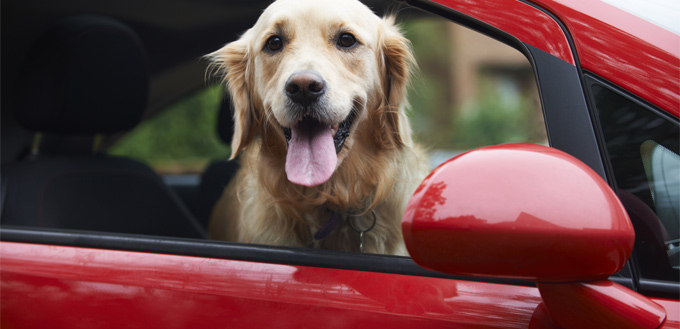 2. Pet Shipping Companies
You might not have been aware of this but there are numerous ground shipping companies out there that provide door-to-door services. However, there are some things you need to know about these ground shipping companies. Some companies offer "group transport", meaning your pet dog would be traveling with other animals, while others provide "private transport", whereby, your pet is the only animal in the truck or van.
Believe it or not but these services are cheaper compared to shipping your dog along with you in the airplane cabin. It's also more convenient for both you and your pet dog when you are just traveling from one state to another.
If you are considering using the ground pet transportation service, here are a few questions that you certainly need to ask them to clarify yourself:
How many stops will the vehicle make for the deliveries?
Only and only if you have paid extra to the company for their service, they will provide you with a specialized service for your pet dog. Quite a number of stoppages will add to the travel time of your pet, causing high levels of stress for them.
What other species of animals will be traveling together?
A variety of animals traveling together can be unnerving for your dog. Try to avoid options where there are a few types of pets traveling together in one single transport.
Do they have a climate-controlled environment in their transport?
Enquire about how they manage the temperature of their transport and what type of ventilation is present. Although most shipping companies provide a climate-controlled compartment for pets, it might not be the same in your case.
Do they provide any exercise for the pets they are transporting?
If the journey is longer than 4 – 5 hours, your pet dog will need to be exercised. Know the details about what type of exercise will be provided. Inform the company if your dog is suffering from some medical conditions or behavioral issues.
Ask them about the type of carrier that they will use to transport
If the transport company is providing with the carrier, make sure to check it before you hand over your pet to them. All you need to check is if it's big enough for your pet and that there is enough ventilation. If your hyperactive furry friend is easily suffocated, think twice about this option. Or you could even help them get used to a similar crate a few weeks ahead of this journey. Typically, pugs and bulldogs face suffocation issues when they are put inside a crate. So, pug owners, take note!
What about the feeding schedule?
Check what, when, and how your furry friend will be fed. Perhaps, you could provide them with what you feed your pup. And if that's not possible, try to ensure that they receive their regular diet.
What if the trip is overnight?
Find out about the sleeping arrangements. Where will your pet sleep? Will they be left alone in the vehicle over the night? What if your pet requires special attention, just in case. Who will attend your canine in that case?
Therefore, if this seems like too much work for you, especially for a lengthier distance, you may consider shipping your pet dog by air. And that's what we would regard as the reliable way that does not cause as much stress to your pet.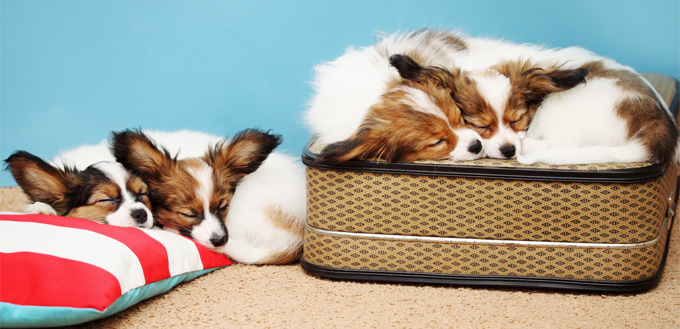 3. By Air
Basically, there are 3 major ways you can fly your pet dog with you. If you're wondering about how much does it cost to ship a dog on a plane, below are all the details:
If you're an owner of a small dog, you can easily carry them with you in the cabin. Although the procedures may vary by different airlines, generally, the rule is the dog and their carrier together must not weigh any more than 20 lbs. and must be able to fit underneath the seat that is in front of you. Make sure that the airline that you're flying with is aware that your pet is also flying with you. That's because there's a quota that each flight can only bring a specific number of pets. Also, there's a fee associated with transporting your pet via airplanes that vary from $ 50 – 125. That's why they say that transporting pets is expensive!
In the same plane with you but in the cargo area
Is your dog too big for the airplane cabin? They can always take the flight but in the cargo hold. Now here's a concerning issue: is it safe to leave your pup in the cargo area? It's no surprise that each year, pets are injured, lost, or even killed when they are being flown in the cargo area. Many airlines have also forbidden brachycephalic breeds (the snubbed-nosed ones) because they are likely to face breathing problems even in ideal conditions.
It's certainly a risky decision to fly your pet dog in the cargo, but if the situation seems unavoidable, here are a few tips:
Avoid transits.
Notify the flight attendant and the captain that your pet dog is flying in the cargo area. The captain would take precautions while taking off and landing to keep your beloved pet unhurt.
Book your tickets according to the season. While early morning or late evening flights are ideal in the summertime, afternoon flights are healthier for your pet in winter.
Dog tags are a MUST! Choose one that cannot get caught up easily on anything. Fasten a permanent ID card with your name, address, contact number, and email on it. You may also choose to attach a travel ID with the contact number and address of a person, who can be reached if you feel you cannot be reached.
Just to be on the safer side, label their carrier with your name, address, contact number, email, final destination, and where another person can be contacted.
Trim your dog's nails to prevent them from curving onto anything.
Use their regular carrier or give them at least a month to familiarize themselves with the carrier that they are going to travel in. This is to minimalize their stress levels during the flight.
Do not give your pet dog any type of sedatives or tranquilizers unless your vet has prescribed it especially for the flight.
Do not feed your pet dog 4 – 6 hours prior to the flight. This will induce vomiting. But do give them a small quantity of water and possibly place ice cubes in the water container inside their carrier. The reason why we'd recommend ice cubes is that a full bowl of water is likely to spill around.
Once you land your destination, open the dog crate as soon as possible. If you feel that they are showing unusual behavior, take them to the nearest vet.
In another plane unaccompanied by you in the cargo area
This means that you'll be sending off your dog in a cargo plane. As a rule, the price of this means of transportation is higher if you and your pet are not flying on the same flight. Plus, the cost will also depend on the weight and size of the crate.
But before we dig into this option of transportation, let's focus on the safety issues. Have you come across news stories whereby, dogs have been found sick, injured, or even dead at the end of an airline flight? These stories are relatively tragic and leave pet owners with traumatic perceptions. It's best if you could provide your own carrier rather than using the ones that the airline's company has to provide you with. That's because your pet is definitely more familiar with his usual carrier. Furthermore, you're likely to provide a sturdy, suitably ventilated carrier, where your canine will be able to move about freely, stand freely or even lie down.
Finally, do take note of any flight delays or re-routing due to the weather conditions.
See our round-up of the Best Airline Approved Pet Carriers.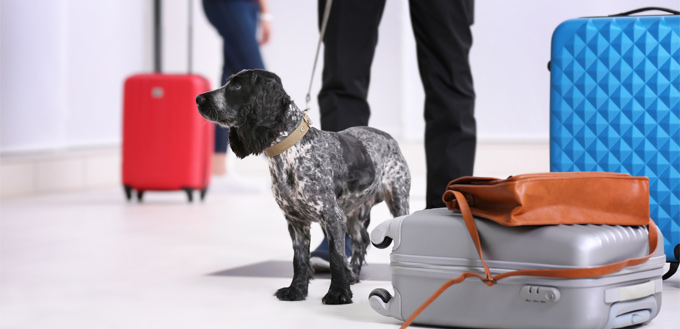 4. Ship Your Dog Through Professional Dog Shipping Companies
All these given situations may create more complexity rather than minimizing it. Another one of the safest and greatest ways of transporting your pet dog would be via a professional dog shipping company. Many families have already used this service and consider this method to be peace of mind. Besides, these professional agencies are said to have extensive knowledge about providing the easiest and safest traveling experience for dogs. Starting from airline policies to travel carrier requirements, boarding, accommodation, veterinary procedures to proper identification, they know it all! That makes your pet transporting experience to be stress-free. Most of these organizations are run by dog enthusiasts, who take great interest in helping you with transporting your pet dog. They understand the value of what your pet means to you and how they should be treated.
5. By train
If you're traveling by train, is that even a feasible option to take your pet dog along with you? While you're still in the dilemma, let us clear the air for you. Of course, you can carry your dog on the train, but as usual, there are certain rules and regulations for you to follow. The most basic rule would include keeping your dog closed inside a crate/carrier and they should reside only within your compartment. Other than that, here are a few other factors that you need to take into account when moving your pet dog via train:
1 pet/passenger.
The trip must not exceed more than 7 hours.
The dog must be at least 8 weeks old.
The pet must be in its carrier at all times and stowed underneath the passenger's seat.
Altogether (the pet and their carrier) should be 20 lbs.
Most medically certified pets can travel through any train with the American continent. If you are carrying your pet to travel with you in subways, make sure that they are leashed or in their carriers.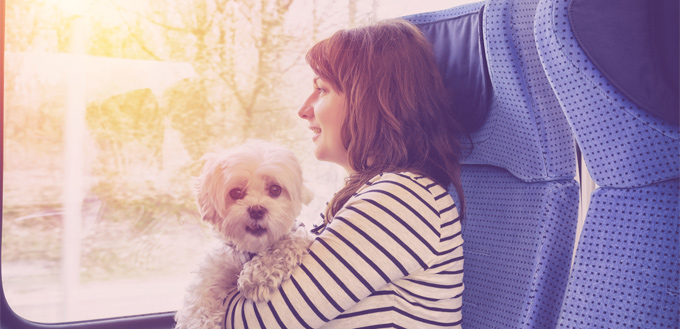 How Much Does it Cost to Ship a Dog?
Every pup is unique and they all have their own needs. However, the cost of moving your pet can vary with several different factors. Are they flying to a different city? Country? What's the size of your dog? How much do they weigh? You see, all these factors affect the cost of transportation.
With that being said, you can hold onto some basic items a part of the fixed cost. These are some of the typical items that you'll definitely need to move your dog:
Travel carrier
Airfare
Moving cost to and from the airport
Vet consultation fees before the journey
International health reports and import permit
Government authorization
Customs fees
Put in solitary fees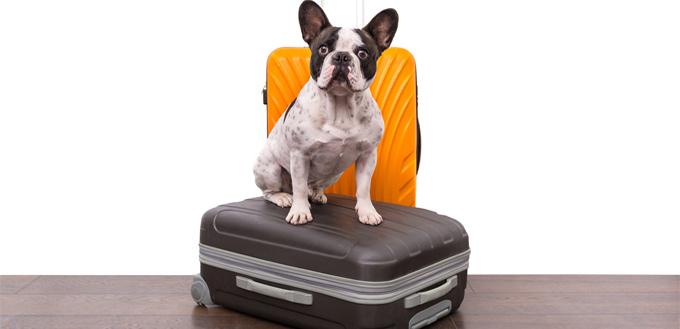 When Shipping Pet Dogs are NOT Recommended
All this while you've known how to ship a dog from one place to another. You must have also read the tips on how safely you can ship your dog. Are you sure that your pet can be shipped?
Particularly for safety issues, many dog shipping companies or agencies do not ship puppies who are younger than 16 weeks of age. It is believed that dogs develop a stronger ability to handle air pressure when they become at least 4 months old. This also enables them to be vaccinated properly before the flight.
One Important Final Note
Do take note of the fact that puppy scams are very common. Unfortunate, but true. If you are already in the tension of how to ship a dog and you came across a breeder or an individual who can help you with the process, beware of some of these red flags:
Do they want their payment to be made via Western Union or Money Gram?
Does their email address seem unofficial or spammy?
Do the other items come for free apart from the transportation cost?
If the transaction seems suspicious, it might just as well be. Try looking more into puppy scams and how you can avoid them. Be very careful when you're dealing with unknowns.
Bottom Line
Are you shipping your pup from one place to another? Try to look for the best possible way of shipping your dog that suits both you and your beloved pet. Make sure that your dog is comfortable traveling whichever method you have chosen. If you're still in doubt as to shipping your pet using the ground services or professional dog shipping companies, consider taking them with you on the same flight. Whatever the situation is, ensure that they remain unhurt. An anxious dog can get sick pretty quickly, so take good precautions beforehand! Remember to smile and be happy when you see your little puppy again after the flight.